Spinach Rice- Rice cooked with fresh sauteed spinach, spicy red chillis, and sweet onions, fluffed to perfection, then lightly drizzled with tangy lemon juice to make a light and refreshing side that can easily be customized to make a hearty main dish that everyone will ask for time and time again.
Rice reigns supreme as one of the world's most popular side dishes, and for a good reason! It's a versatile dish that can be served with just about anything. Rice is the perfect easy, and affordable option when you need something quick yet delicious to put on the table. This recipe for spinach rice is a simple and tasty way to get your daily dose of greens while enjoying a comforting bowl of rice.
Calling all spinach lovers! This recipe is for you. I've always been a fan of rice, but I have to say that this spinach rice takes the tasty factor to a whole new level. Spinach rice is delicious! It's simple to make and can easily be tailored to your taste. In addition, spinach gives this dish a vibrant green color and amps up the nutrition factor. When cooked properly, spinach has a delicate flavor that pairs perfectly with rice.
Why You'll Love This Spinach Rice Recipe
Versatile- While this rice can be enjoyed as a side or a main dish, it can also be customized with different herbs and spices to fit any type of cuisine.
Flavorful- This spinach rice is bursting with flavor thanks to the addition of spicy chili peppers, sweet onions, and tangy lemon juice.
Crowd-Pleaser- Whether you are feeding your family or a large group, this rice is sure to be a hit with anyone.
Easy- From start to finish, this rice can be ready to enjoy in just 30 minutes, plus it doesn't require any complicated ingredients or equipment.
Nutritious- This vegan spinach rice recipe is delicious, but it is also packed with nutrients such as vitamin A, iron, and fiber.
Equipment Needed To Make Spinach Rice
Large Bowl
Large Skillet With Lid
Stirring Spoon
Fork
Measuring Cups
Measuring Spoons
Ingredients For Vegan Spinach Rice
Rice (Like Arborio)
Olive Oil
Onion
Chilli Pepper
Spinach
Salt
Black Pepper
Water
Lemon Juice (Optional)
How To Make Rice With Spinach
To prepare spinach rice, simply start by rinsing the rice until water runs clear and then drain well. Heat olive oil in a big pan and add the onion to sauté until translucent. Add the chili pepper and cook for a minute before adding the spinach. Season with salt and pepper, then simmer until wilted. Stir in the rice and water, cover, and let it simmer for about 15 minutes while stirring once or twice. Fluff with a fork before serving, drizzle with lemon juice, and enjoy!
What to Serve/Pair With Your Vegan Spinach Rice
This vegan spinach rice pairs well with just about anything. It can be served as a main course or as a delectable side dish.
Main Course:
Enjoy spinach rice mixed with tofu or tempeh for a more protein-rich meal.
For a heartier meal, add some cook beans or lentils to the rice.
Side Dishes:
Vegetable Curry
Stir-Fried or Roasted Vegetables
A Simple Salad
Grilled Tofu
Baked Tempeh
Popular Substitutions & Additions
If you're looking to add some extra protein to this meal, consider adding cooked chickpeas or tofu.
Don't like chili peppers? No problem! Just leave them out, or swap them out for your pepper of choice.
Not a fan of spinach? Feel free to substitute with other leafy greens like kale or Swiss chard.
Looking for an even more flavorful dish? Add some garlic while cooking the onion.
How To Reheat & Store Vegan Spinach Rice
What Is The Best Way To Store Spinach Rice?
Rice cooked with spinach is best stored in an airtight container in the refrigerator.
How Long Will Vegan Rice With Spinach Last In the Fridge?
When stored properly in an airtight container, spinach rice will keep in the refrigerator for up to 4 days.
Can I Freeze Spinach Rice?
Yes! This rice freezes beautifully. Simply store the prepared rice in an airtight, freezer-safe container for up to 3 months. Allow the frozen rice to thaw in the refrigerator overnight before reheating.
How To Reheat Vegan Spinach Rice?
When you're ready to enjoy stored spinach rice, simply reheat in the microwave until warmed through.
Spinach Rice FAQs
Can I Make This Recipe In Advance?
Yes. This recipe can easily be made in advance. Simply cook the rice according to the instructions and store it in an airtight container in the refrigerator for up to 4 days. When you're ready to enjoy, simply reheat in the microwave until warmed through.
Is this recipe spicy?
The level of spice in this dish can be easily adjusted to your preference by omitting the chili peppers or adding more or less to the dish.
Can I use a different type of rice?
Yes, you can use any type of rice you like in this recipe. Keep in mind that the cooking time may vary depending on the type of rice you use in this recipe.
Do I have to use lemon juice?
No, lemon juice is not required for this recipe. However, it does add a nice touch of brightness and acidity to the dish. If you don't have any lemon juice on hand, you can also use lime juice, white vinegar, or apple cider vinegar.
Do I have to use fresh spinach?
No, you can use canned or frozen spinach in this recipe. If using frozen spinach, simply add it to the pan after the rice has been cooked. If using canned spinach, be sure to drain it well before adding it to the pan.
Can I make spinach rice without oil?
Yes, you can. Simply omit the oil and cook the onion in water or vegetable broth.
Don't Forget To Come Back And Let Me Know How Your Vegan Falafels With Spinach Turned Out!
📋 Recipe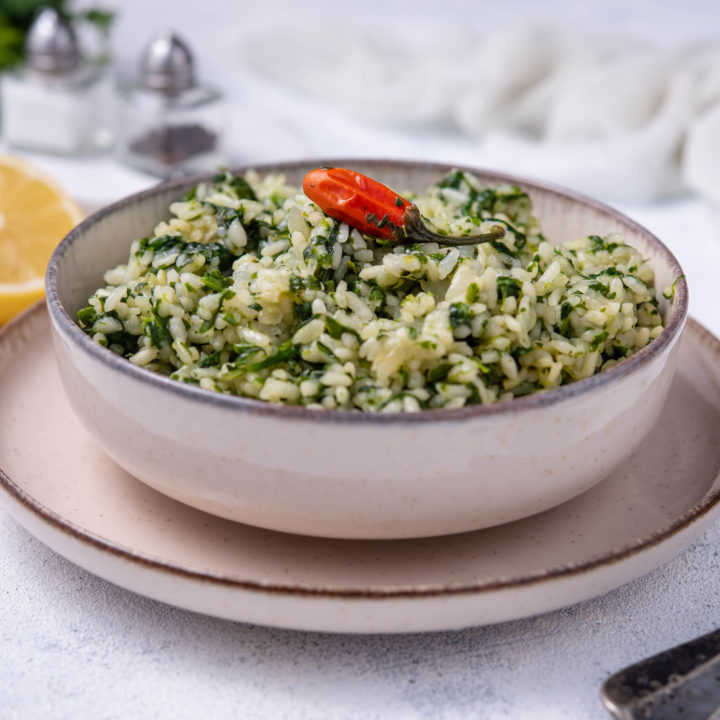 Spinach Rice with Chili
Rice cooked with sauteed spinach, spicy chilis, onions, fluffed and drizzled with tangy lemon juice for a light and refreshing side dish or hearty main course.
Ingredients
1

cup

rice

like Arborio

1

tbsp

olive oil

1

onion

chopped

1

chili pepper

2

cups

fresh spinach

½

tsp

salt

½

tsp

black pepper

2

cups

water

Lemon juice

optional, as desired
Instructions
Place rice in a large bowl, and rinse until water runs clear.

Heat olive oil in a large skillet over medium-high heat.

Add onion and cook, stirring for 3-4 minutes.

Add chili pepper and cook for 1 minute.

Add spinach and season with salt and pepper. Cook until the spinach is just wilted.

Cook the rice, covered for 15 minutes. Remove the rice from the heat and let it sit, covered, for 5 minutes.

Fluff the rice with a fork and serve warm, drizzled with some lemon juice.
Nutrition
Calories:
439
kcal
Carbohydrates:
82
g
Protein:
9
g
Fat:
8
g
Saturated Fat:
1
g
Polyunsaturated Fat:
1
g
Monounsaturated Fat:
5
g
Sodium:
626
mg
Potassium:
433
mg
Fiber:
3
g
Sugar:
4
g
Vitamin A:
3031
IU
Vitamin C:
45
mg
Calcium:
81
mg
Iron:
2
mg