Vegan Sloppy Joes stem from an American favorite and it turns out they are very easy to make from scratch. A great sandwich will be ready to eat in about 25 minutes.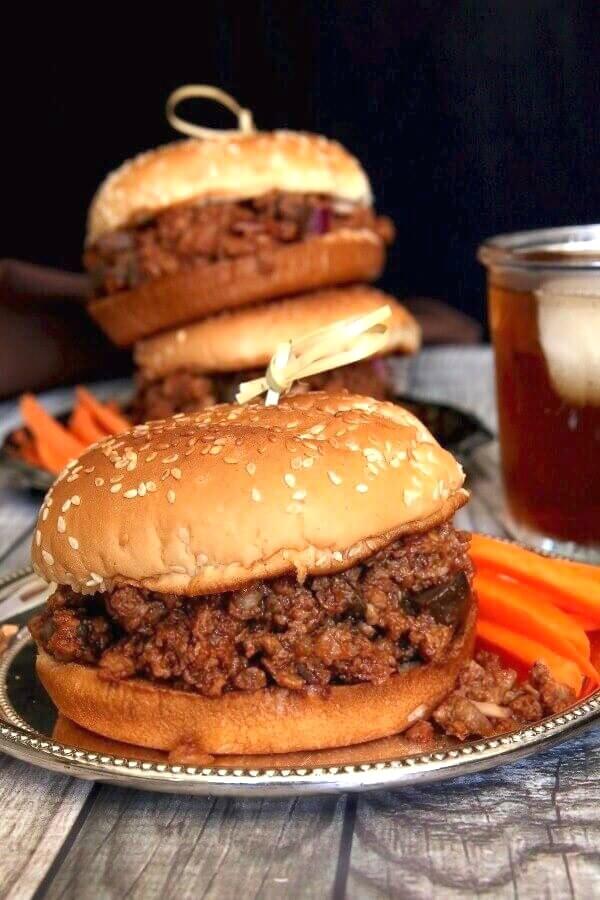 Vegan Sloppy Joes are overflowing with a spicy and tangy plant based filling that is high in protein.
You can make your own seitan and process it in a food processor or you can use the pre-packaged crumbles and have everything ready in about 25 minutes.
If you make seitan ahead of time it would also be a time saver because you'd already have a stock in either the refrigerator or freezer.
Since it freezes so well I keep a variety of seitan tastes and types in the freezer.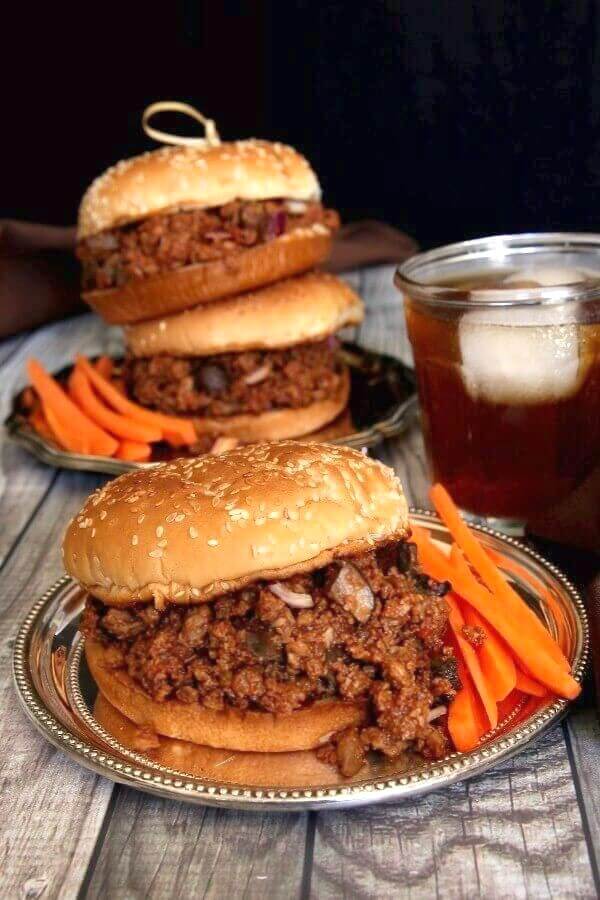 This sandwich is hard to make pretty in a picture but I think you get the idea of how delicious these modern day sloppy joes can be.
There are only five ingredients to make this classic sauce and they are pretty basic staples.
Thank means you can whip up a pile of fantastic sandwiches just about any time it strikes you.
How To Cook Without Oil
For this recipe as in many others, all you would have oil for is to start the onions and/or mushrooms cooking in a skillet.
You don't ever need oil to sauté these veggies.
If you are only cooking onions with no mushrooms then add a tablespoon or two of water. Heat in the pan and as soon as it gets hot add the onion and start cooking. The onions start to glaze and cook in their own juices.
If you are cooking mushrooms, only, then add a tablespoon of water and heat in the pan. As soon as it gets hot add the mushrooms and start to sauté. I'm sure you've noticed before how much liquid cooks out of mushrooms.
Just keep cooking for about 15 to 20 minutes.
If you're cooking onions and mushrooms together then start with the mushrooms in a little bit of water. After cooking 5 minutes add the onion and continue sautéing for another 10 to 15 minutes.
That is what this recipe calls for.
You can do this every single time a recipe calls to saute onion or mushrooms in oil. Sub the oil for water.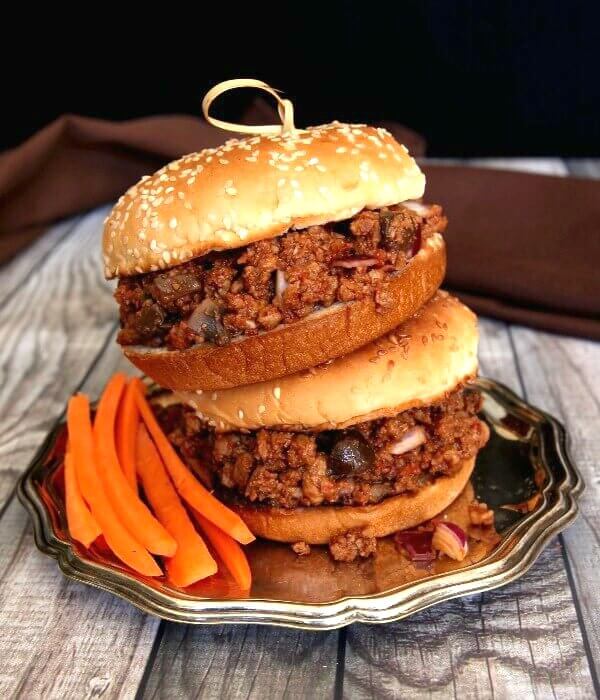 Can you see the onions and mushrooms in there? Not too much but just right. It adds enough of a different texture to make this classic even better.
You can also add some sautéd bell peppers too that might add a little too much of a flavor contrast. It just depends on what you're looking for. If you're looking for a classic Sloppy Joe sandwich then this is it.
Because of it's 'sloppieness' this is a good 'at home' sandwich. It's a little too hard to pack. Don't hesitate to carry it out to the backyard though. I all about eating al fresco. Especially on these beautiful warmer days.
What are Some Meatless Sandwiches?
Besides Vegan Sloppy Joes I have quite a variety of popular sandwiches that come up on top in google search. As I mentioned above I'm kind of a sandwich freak.
I won't list them all but a few that are different from each other.
Loaded Chickpea Salad Sandwich has a couple of ingredient twists that really add the goodness of this lunch mix.
If you can take a few minutes to roast a few veggies then this Roasted Vegetable Sandwich will knock your socks off. Just make sure you take a bite over a plate. It's juicy good.
Vegan Banh Mi Sandwich takes advantage of a famous Vietnamese sandwich and uses marinated and baked tofu. There are directions to make everything homemade if you so choose.
In fact, let me sneak in one photo for one of these sandwiches. Let's go for Loaded Chickpea Salad Sandwich!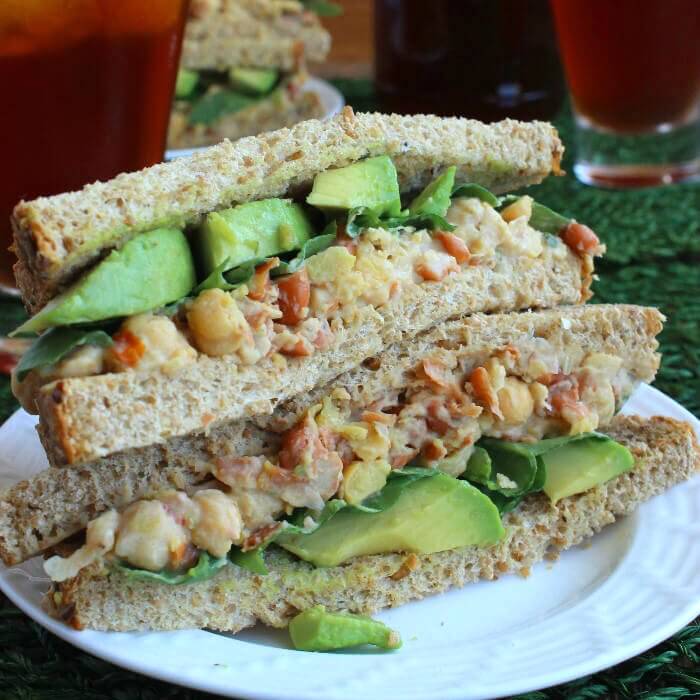 So there ya go. Three completely different sandwiches to whet your appetite for another day. I left out all the bean burgers, sliders and other seitan sandwiches because then you'd be here all day and couldn't get to making your lunch.
So check out today's special and don't hesitate to dive right into the recipe.
Just buy your favorite hamburger buns for authenticity. Make a pot full for an easy lunch or dinner and you can even freeze the leftovers for a quick lunch - which I have done many times. Love em!
📋 Recipe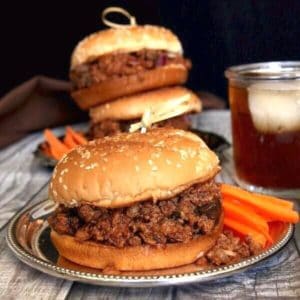 Vegan Sloppy Joes
Vegan Sloppy Joes are a great sandwich and they'll be ready to eat in about 25 minutes.
Ingredients
8

counces

mushrooms, chopped small

¼

cup

onion, diced small

10

ounces

beefless ground beef crumbles

8

ounces

tomato sauce

⅓

cup

organic ketchup

1

tablespoon

vegan Worcestershire sauce

2

tablespoons

red wine vinegar

1

tablespoon

coconut sugar

6

hamburger buns
Instructions
In a large skillet preheated to medium-high heat, add a tablespoon of water and then add the mushrooms. Cook for 5 minutes.

Add onions and the beefless ground beef crumbles and sauté for 10 more minutes.

Add tomato sauce, ketchup, Worsestershire sauce, vinegar and coconut sugar. Mix well. Cook for 5 minutes.
Nutrition
Serving:
1
Sandwich
Calories:
237
kcal
Carbohydrates:
36
g
Protein:
11
g
Fat:
4
g
Saturated Fat:
1
g
Cholesterol:
2
mg
Sodium:
643
mg
Potassium:
286
mg
Fiber:
3
g
Sugar:
9
g
Vitamin A:
70
IU
Vitamin C:
4.1
mg
Calcium:
144
mg
Iron:
2.8
mg
Can you Freeze Vegan Sloppy Joe's?
Yes!
IF FREEZING:
Freeze the mixture only - not the buns. Let the mixture cool to room temperture and freeze in a rigid sided glass container. You can freeze them in smaller sizes for just a sandwich or two at a time.