Dairy-Free Pasta Alfredo Soup has all the flavors of the famous pasta dish but it is completely dairy-free. Rich, creamy, fast, easy and memorable.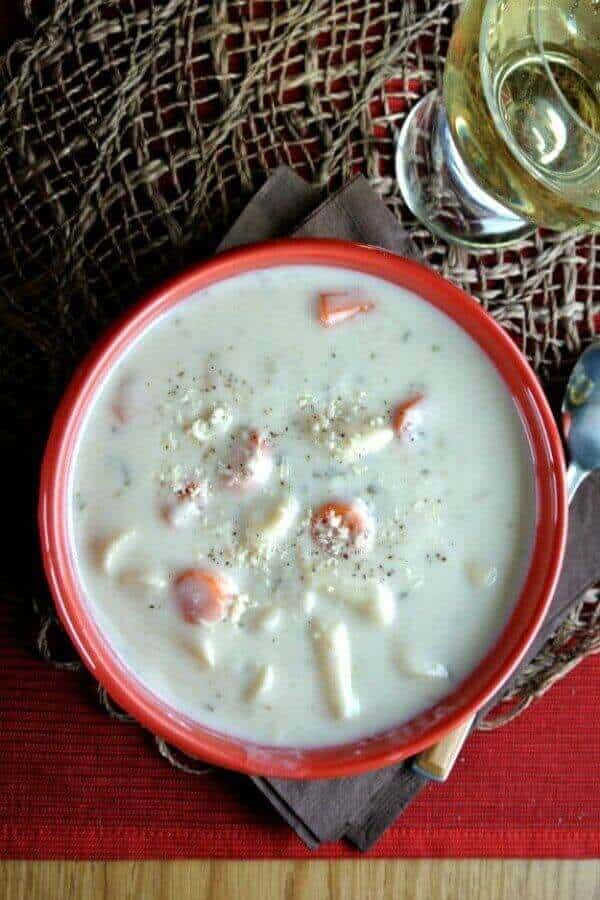 The cooler the weather the more I want to get my soup on. What could be better than to turn an old classic favorite into a rich and creamy soup?
Dairy-Free Pasta Alfredo Soup is just that recipe. What makes it even more fun is that this recipe is vegan, through and through.
There are a couple of hints to making this Alfredo easier and fool-proof. They are to precook the carrots and also the pasta.
Then you just concentrate on making the creamy rich soup base. Combine it all together, heat and eat it all up.
You would think that a recipe like this would be packed full of fats but that isn't true. The original non-vegan version is high fats but not this one.
My life is so much healthier since I became a plant-based eater.
I breathe much easier as I treat my family to Mac 'n Cheese, Scalloped Potatoes, Spaghetti Carbonara and all of the other 'cheesy' and creamy meals out there knowing that they are all dairy-free.
I just have to show you a picture of my Dairy-Free Scalloped Potatoes recipe. I have been making them for years and they are #1 on the blog.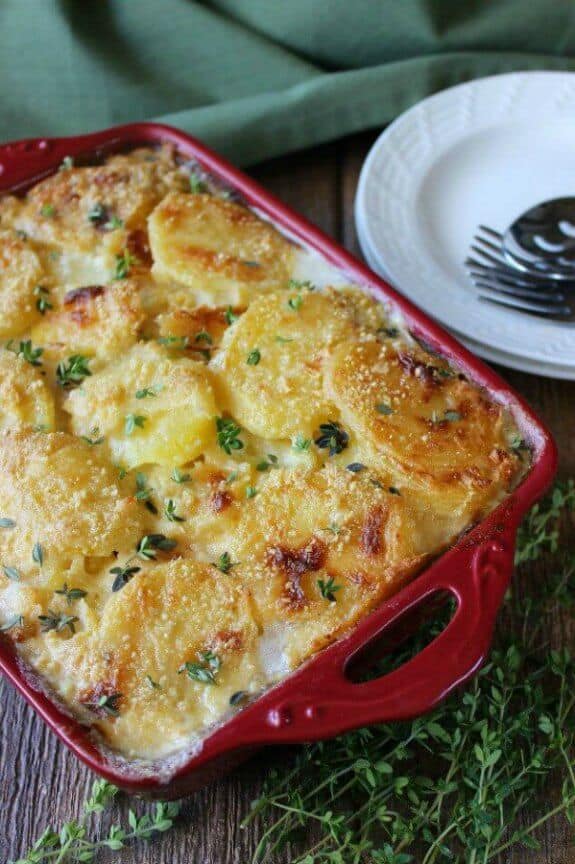 And people ask what vegans eat! Little do they know that we can enjoy almost any recipe in the world with just a few tweaks.
Below I shared a few ways that can help you stay in shape and cut calories over the upcoming holiday. Thank goodness for all of the wonderful products that are out there now.
Most of all Silk and their line of great dairy-free choices. Now we can easily transform our old favorite dishes into plant-based recipes. #DoPlants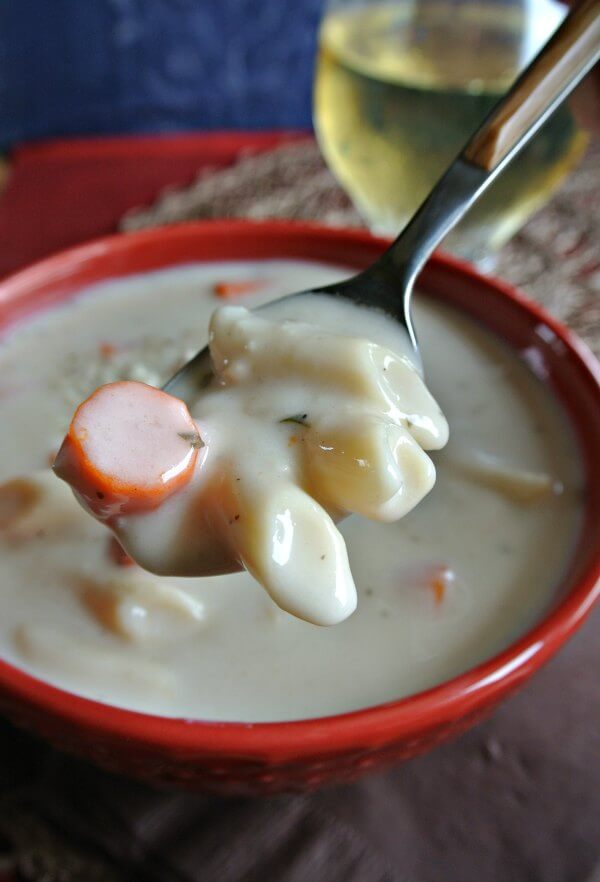 A nice bite of Dairy-Free Pasta Alfredo Soup
It's not hard to keep your health in check during the holidays. If you have thick and rich soups like " Dairy-Free Pasta Alfredo Soup " where the dairy-free milk is half the calories of regular milk.
What are Some Tips on Keeping Calories Down Over the Holidays?
Have nuts and dried fruits as a snack and have a few when you are craving a treat. I mix a huge bowl of a variety of goodies and keep it in an airtight container. Right now it's almonds, walnuts, dates, sunflower kernels, pepitas, dried cranberries, and peanuts. Keep the snack to about ¼ of a cup.
Make sure you have fresh fruit in the house to satisfy your sweets craving. Bananas are great. Whoever started that myth that bananas add belly fat caused a lot of trouble in our innocent minds. They do no such thing.
Soup for lunch is a great way to get your protein, vitamins, and nutrients while keeping the carbs to a minimum. Who needs bread?
Believe it or not, try to leave out the coconut oil as much as you can. I know it tastes fabulous but it is loaded with saturated fat.
Some ways to see calorie and saturated fat reduction is to always use plant-based milk in any nut variety that you want - that equals at least 50% fewer calories than dairy milk and 0% saturated fat.
Try to stay away from treats with refined sugars. There are endless recipes and pre-made candies that are sweetened with maple syrup, coconut sugar, dates or stevia. Whichever you prefer.
Drink water throughout the day. Not only is it good for you but it really does help to space out your meals and snacks.
📋 Recipe
Dairy-Free Pasta Alfredo Soup
Dairy-Free Pasta Alfredo Soup has all the flavors of the famous pasta dish and it is rich, creamy, fast and easy.
Ingredients
4

carrots

cut into bite size chunks

10

ounces

penne pasta

¼

cup

onion

chopped

3

cloves

garlic

minced

½

cup

dairy free butter

½

cup

flour

32

ounces

vegetable broth

4

cups

dairy-free milk

unsweetened, I used almondmilk

½

cup

nutritional yeast

processed fine

½

cup

vegan parmesan cheese

processed fine

½

teaspoon

garlic powder

dash

nutmeg

1 ¼

teaspoons

white pepper

1 ¼

teaspoons

sea salt

¼

cup

homemade vegan 'parmesan cheese' for sprinkling over the top at serving time, optional
Instructions
In a saucepan over the carrots pieces with water, bring to a boil, turn down the heat to medium-high and cook for 15 minutes. Set aside.

Cook the pasta according to directions on the box, drain and set aside.

Heat dairy-free butter over medium heat in a stockpot.

Sauté onion for 5 minutes, add the garlic and cook for 2 more minutes.

Add flour and cook, stirring 2 more minutes.

Stir in vegetable broth, dairy-free milk, nutritional yeast, vegan parmesan cheese and cook over medium heat, stirring frequently, until thickened.

If the soup is thicker than you like you can add a little water and heat through, between water additions, until you get the thickness you like.

Add cooked carrots, seasonings, and prepared penne pasta and heat through.

Serve sprinkled with homemade parmesan cheese and black pepper (optional).
Notes
Keeps about 4 days in the fridge.
Nutrition
Serving:
14
ounces
Calories:
401
kcal
Carbohydrates:
52
g
Protein:
12
g
Fat:
16
g
Saturated Fat:
3
g
Sodium:
678
mg
Potassium:
465
mg
Fiber:
4
g
Sugar:
3
g
Vitamin A:
6795
IU
Vitamin C:
3.4
mg
Calcium:
32
mg
Iron:
1.8
mg