Citrus Watermelon Popsicles! What could be more refreshing or healthier than fruit on a stick? 3 ingredients – and that is it!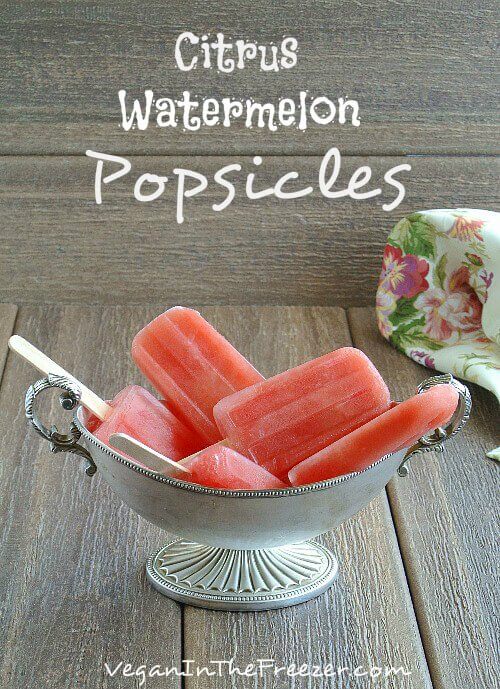 I am so excited that a challenge was made or maybe it was an idea planted but I am going to tackle popsicles of some sort throughout the summer.  What could be more refreshing or healthier than fruit on a stick?  There are so many combinations and so much fun to be had.  What I came up with this time is Citrus Watermelon Popsicles.  3 ingredients – and that is it!  I put a clickable link in my directions for this popsicle mold and I love the shape.  Lots of popsicles came out of a whole baby watermelon so I reused the mold twice.  Funny how quick those popsicles are disappearing.
If you need more popsicles you might also like to try Pineapple Kiwi Popsicles. Only 2 ingredients in this one!
Citrus Watermelon Popsicles
Ingredients
1

small seedless baby watermelon

2

ruby red grapefruit

2

large oranges
Instructions
That is it! 3 ingredients.

Cut the watermelon off the rind and then cut into chunks.

Place in a food processor, chopper, blender. I used the Ninja and it really makes a smooth job of this process. Here is a link to the exact one that I have - Ninja Master Blender.

After you have your watermelon all blended - pour it through a sieve. The amount will equal about 4 cups. Do not worry about exact measurement. If you get 6 cups it will be a pretty sweet popsicle but why not.

Set aside.

Squeeze all the juice you can out of the grapefruit. I use one of those little wooden hand reamers.

Pour this liquid through a sieve also.

We want about 2 cups of grapefruit juice.

Again, don't stress about exact measurements.

Set aside.

Next get all the juice from the oranges. I used the reamer again.

Put through a sieve and this should measure about 1 cup of orange juice.

Mix all three of the juices together and stir.

That is it.

Pour into you popsicle molds and freeze at least 6 hours. I used Norpro Ice Pop Maker.

The measurements I gave you makes 20 popsicles so the extra juice can be put into a container until the first batch is frozen.

Take the frozen popsicles out of the mold and put in a freezer bag.

Replace in the freezer.

Fill the molds, again, with the remainder of the juice and freeze.