Citrus Watermelon Popsicles are one of the fruitiest and juiciest frozen treats that you will want to make this summer! What could be more refreshing or healthier than pure fruit on a stick? 3 ingredients – and that's it!
If you have been following my blog for a while now, you know that vegan popsicles are one of my favorite desserts. I am always trying to come up with new seasonal fruit combinations to make the easiest and juiciest frozen treats.
There are three simple ingredients and you're going to love the sweet flavor of a mini watermelon with the tart and sweet fruit of grapefruit and oranges.
Popsicles with real fruit are also very simple to make. Natural fruit juice is super delicious to drink so why not help make it last longer.
MINI WATERMELONS
Mini watermelons are about the size of a cantaloupe. Their flesh varies from deep pink to deep red.
You can find them everywhere right now in grocery stores and markets. They come in earlier in the summer than their larger counterparts.
I love these babies. In fact, one variety is even called Sugar Baby.
They are super sweet.
Deliciously crispy and incredibly juicy.
They are also seedless, which makes it even easier to slice them open and enjoy as a snack or juice them to make these sweet pops.
There's an abundance of sweet juice in watermelons and they have a very high water content. It makes them the perfect fruit to add in juices or to make popsicles.
Look for a melon that has a large spot with a creamy, white appearance where the melon sat on the ground. It means that they had time to ripen sufficiently and are most likely incredibly sweet in flavor.
RUBY RED GRAPEFRUIT
There are so many good fruit combinations and they are so rewarding when you turn them into popsicles.
For this watermelon popsicles recipe, I wanted to add a touch of citrus to the sweet melon but use something different than lemons.
Ruby red grapefruit (pink grapefruit) is one of the largest and juiciest grapefruits you can buy. They are perfect for making refreshing juices or frozen desserts.
It is yet another fruit that is;
Low in calories and high in antioxidants.
They have a distinctive red-pinkish color that compliments the watermelon and they are sweeter than yellow grapefruit.
They contain more water than almost any other fruit, which makes them a perfect choice for making refreshing and hydrating pops.
You can see in the photo below that I used a different mold than in the photo above. I even have another set that makes pretty small popsicles. Not for this recipe though.
LARGE ORANGES
I wanted to add another fruit that belongs to the citrus species. It's a sweeter citrus fruit and helps add a more sweet flavor.
Oranges add so much to the mix. To pick the best ones;
Look for oranges that are quite firm and heavy for their size. They will have a higher juice content.
Try to avoid those that have soft spots or feel spongy. They probably have been sitting too long and have lost their flavor.
I like navel oranges the most. They also peel easier too.
Now all you have to do is juice the fruits, blend, and you have one colorful and delicious frozen treat!
You can make a lot of watermelon popsicles with this recipe. That's a good thing because those pops are disappearing quickly.
I put a clickable link in the directions for the popsicle mold below, and I love the classic shape.
More Popsicles with Real Fruit
Now's your chance to go out and buy a sweet ripe watermelon and citrus fruits to make a refreshing treat for everyone and yourself.
It can't get easier and they are the ultimate healthy treats for kids too.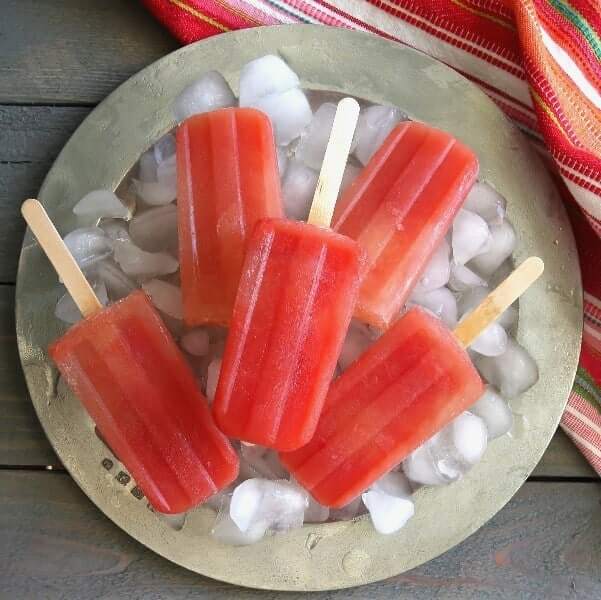 This post contains affiliate links. Read my disclosure policy here.
What Do You Think?
If you take a photo of your refreshing cold watermelon popsicles I would love to see it. Follow me over on Instagram and tag me on your photo @vegan_in_the_freezer.
Your opinion means a lot to me and if you'd like to leave a comment and possibly a star rating I'd love to hear your thoughts.
📋 Recipe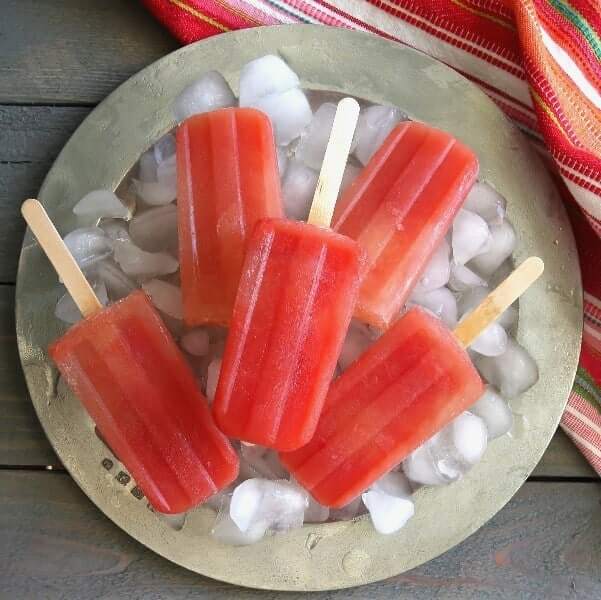 Citrus Watermelon Popsicles
Citrus Watermelon Popsicles! What could be more refreshing or healthier than fruit on a stick?
Ingredients
1

watermelon

- small seedless baby

2

grapefruit

- ruby red

2

oranges

- large
Instructions
That is it! 3 ingredients.

Cut the watermelon off the rind and then cut into chunks.

Place in a food processor, chopper, blender. I used the Ninja and it really makes a smooth job of this process. Here is a link to the exact one that I have -

Ninja Master Blender.

After you have the watermelon all blended - pour it through a sieve. The amount will equal about 4 cups. Do not worry about the exact measurement. If you get 6 cups it will be a pretty sweet popsicle but why not.

Set aside.

Squeeze all the juice you can out of the grapefruit. I use one of those little wooden-handled reamers as shown in the citrus photo above.

Pour this liquid through a sieve also. You want about 2 cups of grapefruit juice. Again, don't stress about exact measurements and if it's less you'll just have sweeter popsicles. Set aside.

Next get all the juice from the oranges. I used the reamer again.

Put through a sieve and this should measure about 1 cup of orange juice.

Mix all three of the juices together and stir. Taste the juice. If it isn't as sweet as you think your family will like then add a tablespoon of maple syrup. It's the grapefruit flavor that you're working with. Add maple syrup one tablespoon at a time and taste each time. Don't make it too sweet.

The measurements I gave you make 15-20 popsicles, depending on the mold that you have, so the extra juice can be put into a container until the first batch is frozen.

Take the frozen popsicles out of the mold and put in a freezer bag. Replace in the freezer.

Fill the molds, again, with the remainder of the juice and freeze.
Nutrition
Serving:
1
Popsicle
Calories:
83
kcal
Carbohydrates:
21
g
Protein:
1
g
Sodium:
2
mg
Potassium:
308
mg
Fiber:
1
g
Sugar:
16
g
Vitamin A:
1595
IU
Vitamin C:
32.8
mg
Calcium:
26
mg
Iron:
0.6
mg
This recipe has been updated from when it was originally published in the summer of 2012. There has been information added for clarity and also new photos have been taken.