Cauliflower Pizza Bites are such an unusual appetizer but one that disappears in no time. Simple cute little mini muffins that are great alone or dunked in pizza sauce.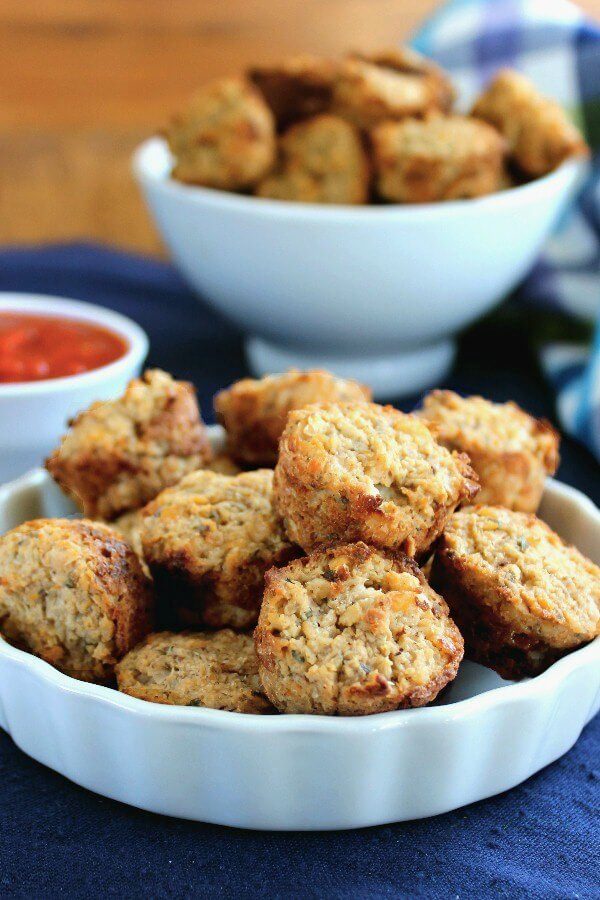 Cauliflower is such a versatile vegetable. Here it is combined with lots of complementing ingredients and baked into the shape of a mini muffin. So easy to pop in your mouth.
Well, in one or two bites anyway. They're mini muffins but not that mini 🙂
This batter makes 36 to 48 muffins depending on the size of your mini muffin tins. There are some really small muffin tin sizes out there.
I have these photos taken with the muffins sitting next to red pizza sauce. Well, you know what else they are great dunked into. White Pizza Sauce! You've just got to try it.
Here's a picture of what it looks like and it's good stuff!
So this brings me to an important question.
What Dips and Sauces Can Be Used with Pizza Bites?
The same ones that you like to dip with your pizza slices.
I already showed you White Pizza Sauce but how about Vegan Ranch Dressing? It's fantastic whether it's homemade or store-bought.
Traditional red marinara or pizza sauce is a go-to.
Barbecue sauce works too.
Garlic butter - vegan of course.
One way or the other they taste great when dipped. Not that you have to dip though. These are also great to grab and take back to your chair with you.
They're not messy and are still delicious as is. So don't hesitate to make them for your own stash of grab-and-go's. Cauliflower Pizza Bites travel well.
How Do You Make Cauliflower Pizza Bites From Scratch and Some Tips
Buy a medium sized head of cauliflower. 3 to 4 cups of cauliflower florets work for this recipe.
I use ground chia seed mixed with 3 tablespoons of water for my egg - almost all of the time. But you can sure use any of your favorite egg substitute such as flaxseed meal.
After you rinse the chickpeas lay them on a paper towel so it can absorb some of the water.
Make this gluten-free by simply using fresh gluten-free bread crumbs. There's no flour in this recipe.
The dried herbs and spices really add to the flavor so don't forget to use them.
📋 Recipe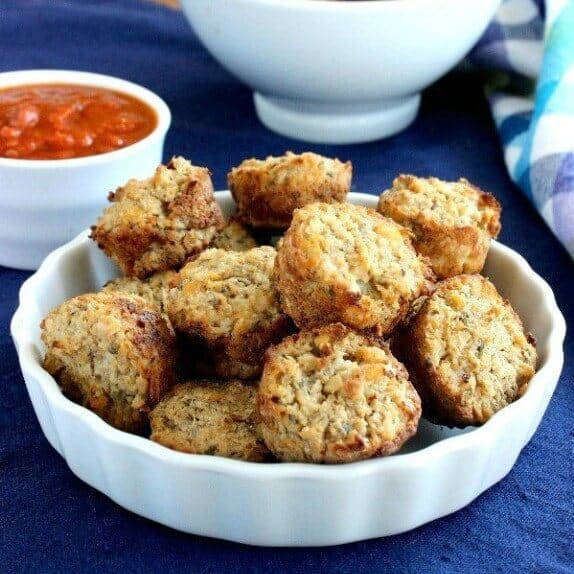 Cauliflower Pizza Bites
Cauliflower Pizza Bites are such an unusual appetizer but one that disappears in no time.
Ingredients
2

tablespoons

extra virgin olive oil

4

cups

cauliflower

- 1 head cauliflower - 3 to 4 cups will work

15

ounces

chickpeas

- chickpeas, one can drained, and rinsed

1

tablespoon

ground chia seed, or your favorite egg substitute

½

cup

fresh breadcrumbs, not from a can

¼

cup

dairy-free mozzarella cheese

- dairy-free mozzarella cheese, grated

1

teaspoon

tabasco or schiracha

, any of your favorite hot sauce

1

teaspoon

dried oregano

1

teaspoon

dried parsley

½

teaspoon

garlic powder

½

teaspoon

onion powder

1

teaspoon

salt
Instructions
Preheat the oven to 350°F.

Lightly grease 36 to 48 mini muffin tins. This depends on the size of your tins. Use the oil mentioned in the ingredients. You can use an olive oil spray instead to cut down on oil. You could also use mini muffin cups if you didn't want to use oil at all. It should work just fine.

Cut the cauliflower into florets. Steam until the florets

are easy to pierce, about 15 minutes.

Transfer to a

large bowl. Add the chickpeas and mash with a fork or

a potato masher.

The mixture will not be smooth but a little bit chunky. You may do this in a food processor but just don't make it smooth.

Add the remaining

ingredients to the cauliflower mixture and mix well by hand.

Spoon the mixture into the prepared mini muffin cups,

pressing the mixture down firmly so that the ingredients

stick together.

Bake for 30 to 35 minutes. Let the

muffins cool in the pan so that they will stay together

when removed.

Serve with warm pizza sauce for dunking or any sauce of your choice.
Nutrition
Serving:
1
Muffin
Calories:
34
kcal
Carbohydrates:
4
g
Protein:
1
g
Fat:
1
g
Sodium:
81
mg
Potassium:
71
mg
Fiber:
1
g
Vitamin A:
5
IU
Vitamin C:
5.9
mg
Calcium:
12
mg
Iron:
0.5
mg
Storing in the refrigerator:
These Cauliflower Pizza Bites will keep in a tightly sealed container in the refrigerator for 3 to 4 days.
You can serve at room temperature or slightly heated. Freezing:
Freeze in a hard-sided freezer container for 1 to 2 months. To defrost, put in your refrigerator overnight.
Reheating:
To serve, heat on a baking sheet in a 350°F oven for 5 minutes. The muffins don't need to be hot.
Alternatively, you can microwave 10 at a time on a microwave-safe dinner plate, on high power for about 15 seconds.
Great at room temperature.