Best Date Bars Ever are two layers of a delectable oatmeal crust that are filled with a sweet date mixture then baked to vanilla/almond scented treat.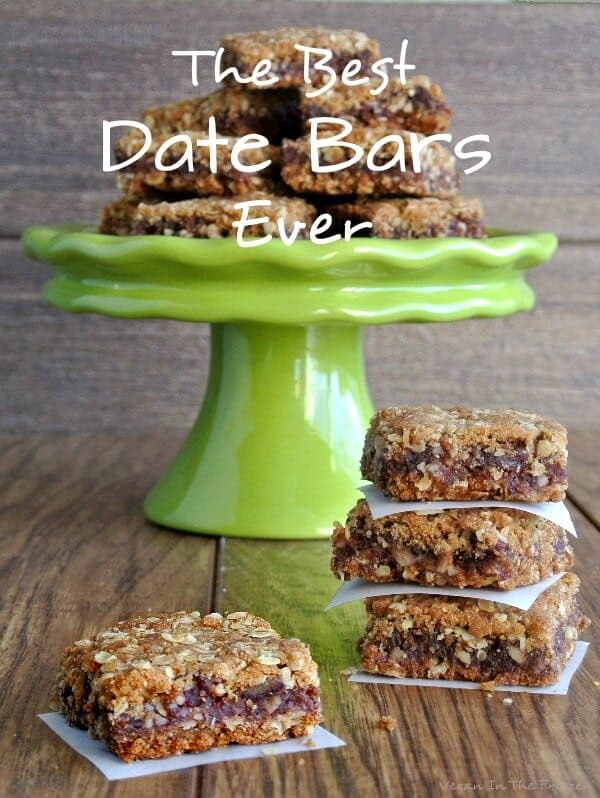 Best Date Bars Ever came to me while I was wanting to create a type of Fig Newton cookie.
Since Ed and I are date crazy I decided to go with dates instead of figs and also because they have so much natural sweetness.
I knew they would be easy to work with – so the process began.
I keep tackling recipes that I would have thought impossible for me to make – just a few years ago.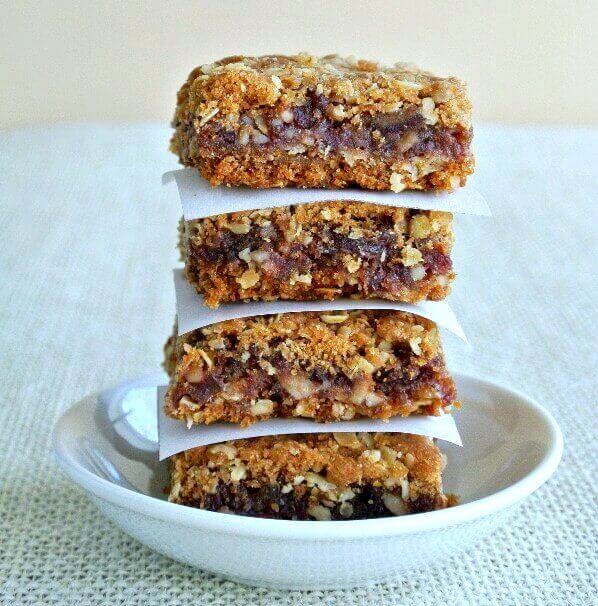 It is so exciting when I get all done and the recipe works. I want to tell everybody about it. Especially a pastry type baked recipe like Best Date Bars Ever.
Anyway, I have to calm down and tell you all about the bars.
There are 2 layers of a delectable oatmeal crust that are filled with a sweet date mixture and baked to a vanilla/almond scented treat.
Let me show you a before and after of the date filling mixture. The first is uncooked and the second is cooked.
I just want you to see how thick the spread is. Spreadable but it holds its shape too.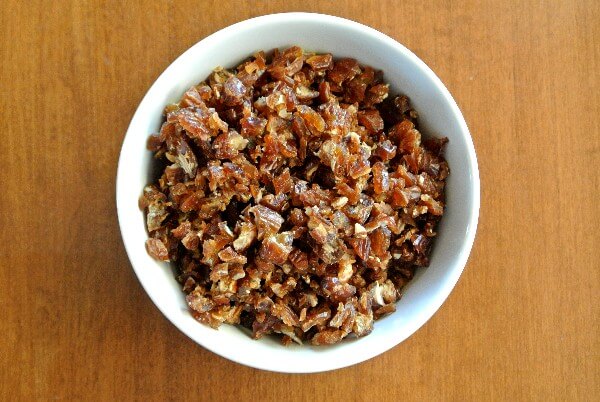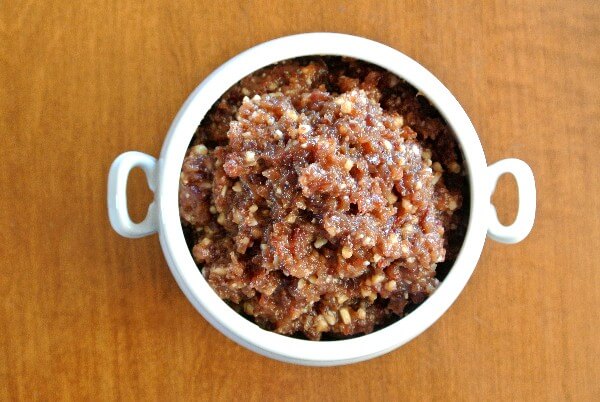 Can You Freeze these Best Date Bars?
A resounding, Yes!
TO FREEZE:
A freezer bag or rigid sided container would both work well.
They defrost quickly so it really doesn't take any planning. Just put them on a plate for an hour or two and enjoy.
They really are simple and you will feel accomplished when you are done because they are so pretty and taste so darn good.
Please make them. You will love them. I guarantee.
Not only that scroll down below the recipe and I'll show you a pic of the fabulous Pina Colada Bars and also a super simple and delicious Slow Cooker Strawberry Crisp.
This post contains affiliate links. Read my disclosure policy here.
Check out the video too! It is right here if you're on mobile or at the top of the page if you're on desktop.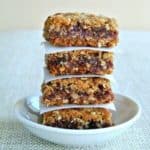 Print
The Best Date Bars Ever
The Best Date Bars Ever are three layers of heaven.
Total Time
1
hour
10
minutes
Ingredients
Make the date filling first because it needs to cool.
Date Filling
2

cups

dates

pitted and chopped

1/2

cup

coconut sugar

1 1/4

cups

water

1/2

cup

almonds

, finely ground - not to a meal but finely ground

1

teaspoon

vanilla extract

1

teaspoon

almond extract
Oat Crust
3/4

cup

dairy-free butter

, softened

1

cup

brown sugar

, packed

1 1/2

cup

whole wheat flour

1 1/2

cup

quick cooking oats

1/2

teaspoon

baking soda

1/2

teaspoon

salt
Instructions
Date Filling
Put the dates in a Food Processor, and chop too fine pieces.

In a medium-sized saucepan add chopped dates, water, and sugar.

Stir and cook over medium-high heat and then turn down and cook until the mixture is thickened.

Add the vanilla extract, almond extract and finely ground almonds.

See it's thickness in the photo below. It is very very moist.

Spoon into a bowl and let cool down because you will be pressing this out, with your fingers, onto the bottom layer of the crust.

Lightly grease a 9" x 13" baking pan - set aside.
Oat Crust
Cream the butter and brown sugar with a Hand Mixer, until light and fluffy. About 5 minutes.

Add the flour, baking soda and salt. Mix.

Add the oats and mix well.

It will be a crumbly mixture but it will press together.

Sprinkle half the dough into the prepared baking pan.

Press down with your fingers to an even layer all across the pan bottom.

Now take the date mixture and dab teaspoons full here and there across the bottom layer in the pan. It will be easier to spread this way.

With your fingers - gently press out the filling for a solid layer across the complete bottom of the crust.

Sprinkle the rest of the dough over the filling layer.

Make sure it is even. Then press the top crust with your hand to make a solid layer. I use my fingers and the palm of my hand. It doesn't take much pressure.

Bake at 375 degrees for 25 minutes.

Cut into squares while it is still warm.

Cut to make 4 squares across and 6 squares down and that will be 24 bars.
Nutrition
Nutrition Facts
The Best Date Bars Ever
Amount Per Serving (1 Bar)
Calories 195
Calories from Fat 72
% Daily Value*
Fat 8g12%
Sodium 129mg5%
Potassium 158mg5%
Carbohydrates 30g10%
Protein 2g4%
Vitamin C 0.1mg0%
Calcium 25mg3%
Iron 0.8mg4%
* Percent Daily Values are based on a 2000 calorie diet.
Here are the two fruity dessert pictures, as promised.
Click on either picture above or below and a page will open with the recipe and more photos of the dessert.
Just to tempt you!