Pina Colada Crumb Bars are three layers of goodness that just happen to have a fun name. Pineapple coconut filling in the middle and all are easy to make.
Pina Colada Crumb Bars are layers of sweet goodness that just happen to have a fun name too. I think bars can be for breakfast, snacks or a dessert.
Wouldn't three layers with the middle layer being a pineapple coconut filling be perfect with a cup of coffee in the morning?
Normally breakfast bars are packed full of granolas and other wonderful ingredients but, hey, once in a while you can go a little crazy … and these do have oats, you know.
If I like appetizers for dinner then you know I like snacks for breakfast. If you cook these with the intention of freezing them for quick snacks – have no fear.
Can You Freeze Pina Colada Crumb Bars?
The bars freeze perfectly so it is one of those things that you can grab right out of the freezer as you are running out the door.
They also defrost in no time so they are wonderful for a grab and go.
I thought I was going to freeze some but it turns out that Ed really really really likes them. The bars aren't all gone but they will be fine in the fridge for the few days that they are going to last.
I will admit Ed isn't eating them all. You know I have to test them. So I tested them three times!
The crumb topping is crumbly and perfect and all layers are very easy to make.
What Other Homemade Bars Are There for Variety?
You came to the right place. Not only are dessert bars delicious but you can freeze some for On-the-Go snacks.
Cranberry Date Breakfast Bars have three different kinds of dried fruit inside.
Irish Blackberry Cakes are called a cake but can be handled and enjoyed like any other bar.
Just for a visual, I'd love to show you a picture of the Cranberry Date Breakfast Bars. Here they are!
This post contains affiliate links. Read my disclosure policy here.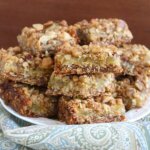 Print
Pina Colada Crumb Bars
Pina Colada Crumb Bars are three layers of goodness that just happen to have a fun name.
Ingredients
1

cup

whole wheat flour

1/2

cup

dairy free butter

1

cup

rolled oats

2/3

cup

packed brown sugar

1/4

teaspoon

baking soda

1/2

cup

chopped macadamias, walnuts or pecans - your choice - to keep with the theme I used macadamias
Instructions
I used the food processor to cut up my dried pineapple and it actually made it all roll up into a ball because it was chopped so fine and it stuck all together. That is good because when it is cooked it will be a smooth filling. If you want to chop it by hand into small bits - that is good too. It will just be a little more textured filling.
For the filling:
In a small saucepan add the water, coconut sugar, cut up dried pineapple and cornstarch.

NOT the coconut - yet.

Cook over medium high heat until sauce thickens.

Take off the heat and stir in the coconut.

It will thicken even more as it cools. It takes about 5 to 10 minutes.

Set aside.
For the crumb mixture:
To a large bowl add the flour and butter.

Cut the butter into the flour until it is like a coarse meal.

To this mixture add the oats, brown sugar and baking soda.

Mix well and I use my fingers to really get it well incorporated.

Take out 1/2 cup of the mixture. Add the nuts to this 1/2 cup and set aside.

Press the remaining mixture into an ungreased 8x8x2 or 9x9x2 inch baking pan.

I used 8x8x2 but I will tell you the different cooking times at the end during the baking instructions.

Spread you filling evenly all over this layer.

Sprinkle the crumb mixture that you set aside - all over this filling mixture.

Spread it out evenly and press, lightly, with your hand.

Bake at 350° for 30 to 35 minutes for a 9x9x2 pan and 35 to 40 minutes for an 8x8x2 pan.

The 8x8x2 pan will make your bars a little taller as in my photo.

Let the bars cool completely in the pan.

I cut all around the edge of the pan to separate to get anything unstuck.

The whole piece actually lifted out of the pan and I was able to place it on a cutting board and put it there.

I made three slices in each direction and got 16 nice size square bars.
Nutrition
Nutrition Facts
Pina Colada Crumb Bars
Amount Per Serving (1 Bar)
Calories 194
Calories from Fat 81
% Daily Value*
Fat 9g14%
Sodium 75mg3%
Potassium 82mg2%
Carbohydrates 27g9%
Protein 2g4%
Vitamin A 270IU5%
Vitamin C 1.1mg1%
Calcium 20mg2%
Iron 0.9mg5%
* Percent Daily Values are based on a 2000 calorie diet.