Autumn Oreo Brownies are easy to mix and have Oreo cookies as the layer in the middle of the chocolate batter. Perfect vegan dessert or treat recipe for Fall, Halloween, and Thanksgiving!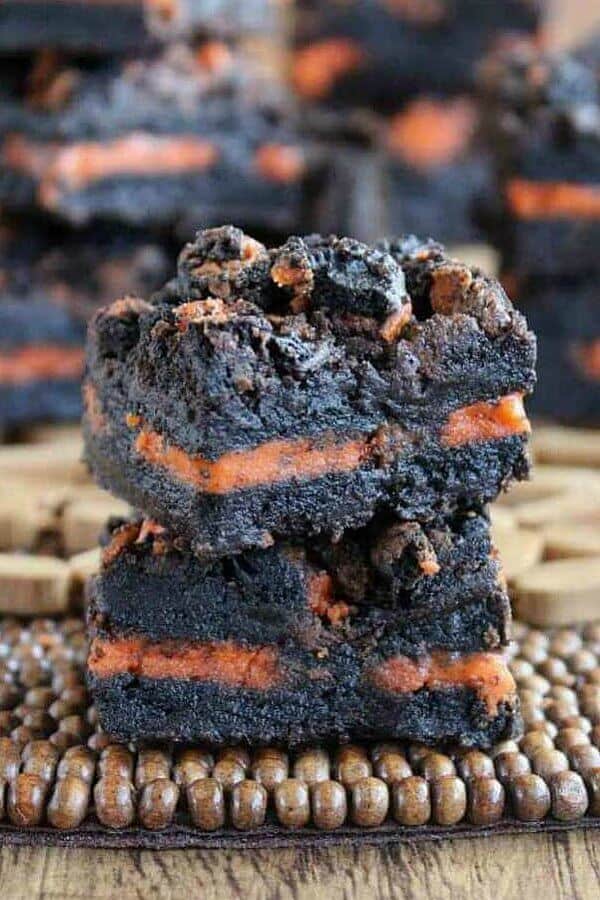 Autumn Oreo Brownies are giving me a firm foundation in 7th heaven. I am really getting into chocolate with Halloween coming but I promise, I will be doing side dishes galore when we get a little closer to Thanksgiving.
When the kids start to go back to school (some of them, in just a few days) I start thinking of sweets and the holidays. That is how big of a kid I am.
I don't have to go to school anymore but running a blog keeps me needing to learn new things all the time. That is one of my mottos anyway, 'Learn something new every day'.
Maybe it should also be 'Make brownies often'.
So let's get making something chocolate. Chocolaty layered brownies are first up and just in time for Halloween festivities.
But, hey! You can serve these at Thanksgiving too. I mean pumpkins are orange and so are the centers of these beautiful and festive Oreo cookies.
Watch for the pretty colors as soon as they get in the stores. It won't be long.
This is giving me an idea for Christmas, St. Patrick's Day and Valentine's Day too. I need to see if the green and red stuffed Oreos are vegan. Same brownie recipe, just switch out the cookie.
Another autumn treat that I have on the blog is even more narrowed down because it's actually for Halloween. Copycat Almond Joy Candy Bars are delicious and cute, to say the least.
But to bring us all back into the fall don't forget these layers of sweetness.
These autumn oreo brownies are a wonderful recipe all on their own and all you have to do is lay cookies in between two layers of the batter.
Now you've taken your brownies to the next level.
Sprinkle coarsely chopped Oreo's over the batter and it really makes them irresistible. Easy and fun!
This post contains affiliate links. Read my disclosure policy here.
What Do You Think?
If you take a photo of your festive and fun brownies I would love to see it. Follow me over on Instagram and tag me on your photo @vegan_in_the_freezer.
Your opinion means a lot to me and if you'd like to leave a comment and possibly a star rating I'd love to hear your thoughts.

Autumn Oreo Brownies
Autumn Oreo Brownies is a wonderful recipe and all you have to do is lay cookies in between two layers of the batter.
Ingredients
2

egg substitutes

- I use a chia seed egg = 1 egg equals 1 Tbsp. chia flour and 3 Tbsp. water so double that for 2 eggs

1

teaspoon

coconut oil

- for lightly oiling the pan

2/3

cup

whole wheat pastry flour

1/2

cup

cocoa powder

- unsweetened

1

teaspoon

baking powder

1/4

teaspoon

salt

4

tablespoons

coconut oil

1/4

cup

peanut butter

- creamy

3/4

cup

coconut sugar

1

teaspoon

vanilla extract

24

oreos

- in the autumn colors
Instructions
Mix the chia eggs and set aside. - A chia egg is actually made with chia seed meal/flour not the bare seed. The way you make meal/flour is by grinding the chia seed in a processor such as one for your coffee beans or a spice grinder. I use mine to strictly grind seeds so that I do not mix flavors. Grind until it is a fine meal. I do about 4 ounces at a time and keep it in a little freezer safe canning jar - in the freezer. When I need a Tablespoon or so it is all ready to go.

Lightly oil an 8" x 8" baking pan with coconut oil.

In a medium bowl mix the flour, cocoa powder, baking powder and salt together.

In a large bowl use a Hand Mixer and beat the oil, peanut butter, brown sugar and chia eggs mixture together.

Add in the flour mixture - half at a time.

Pour half of the batter into the prepared baking pan and smooth out evenly to all edges.

Layout 16 oreo cookies - 4 across and 4 down.

Dab the rest of the batter onto each cookie. Then lightly spread out the batter evenly without disturbing the cookies.

Coarsely chop about 8 Oreos (use your discretion) but leave some a little chunky. Sprinkle all over the top layer of batter. Lightly press in with the palm of your hand. Just so there is a better connection between the batter and some of the crumbled cookies.

Bake at 350 degrees for 23 to 28 minutes.

Cool on a wire rack.

I cut the first slice a little from the left side so that I think I am cutting through the center of the first cookie. Do this in all directions.

The little bit of the first and last slice can be a quick snack for you or the hubby or the kids.

You will have 12 perfectly sliced brownies with the Oreo cookies showing at each corner and you will have those leftover edges which equal 4 brownies.
Nutrition
Serving:
1
Brownie
Calories:
263
kcal
Carbohydrates:
38
g
Protein:
4
g
Fat:
13
g
Saturated Fat:
6
g
Sodium:
202
mg
Potassium:
250
mg
Fiber:
2
g
Sugar:
23
g
Calcium:
67
mg
Iron:
3.1
mg
TO FREEZE:
After they have cooled you may freeze them for up to 6 months.
They defrost quickly so it really doesn't take any planning.
Just put them on a plate for an hour or two and enjoy.
Here's a super long photo image that I use to use for pinterest. Oh, the rules change so now we aren't supposed to pin them anymore.
My problem is I really like those old long pins so I'd like to show it off anyway. It was fun to be able to play with the fonts too.
Thank goodness they are still just as delicious to eat!