Almond Sugar Cookies are a mix of everything good with a sweet almond flavor. Baked to a golden melt-in-your-mouth cookie. They're quick and easy to make and are a perfect every day cookie.
Do you know that sugar cookie recipes have been around for over 300 years? Probably further back than that if you go to Europe.
I'm sure they had to take a break during WWII when sugar was rationed but the delectable little cookies came back strong.
Can you blame them? Just take a look at those beautiful bright cookies. You may have some questions as you're checking out the recipe so I thought I'd add some information below that may just answer those questions.
Do I Need to use Granulated Sugar?
The tradition is sugar cane sugar and I have also used it in this recipe for the classic flavor. Just make sure it's organic so that it's vegan and bone char isn't used in the refining.
You could use coconut sugar too for more of a maple taste but just expect the color to be a little more brown.
Still pretty just a darker color. Also, a little bit of almond flour is used for another nice addition to the texture.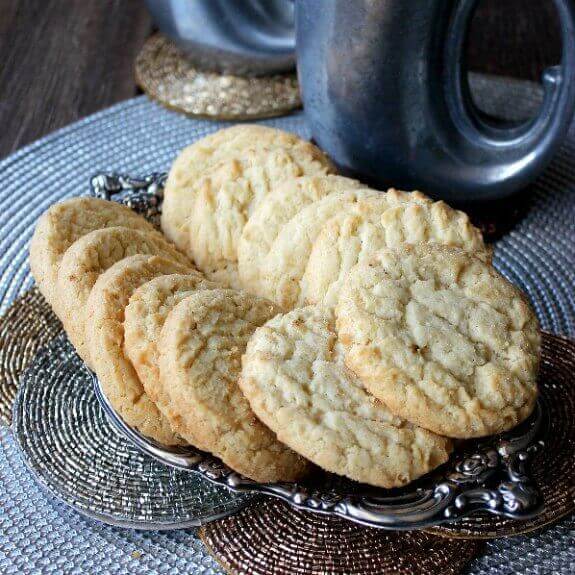 How About The Flour?
You can certainly use the complete amount of flour as all-purpose flour if you so choose. They will still be delicious.
Just make sure you use almond extract instead of substituting with vanilla extract to get the almond cookie that we're looking for.
Almond flour gives a really nice flavor without changing how the ingredients work together. But if you don't normally have almond flour on hand then, by all means, use all purpose flour.
Mixing Tips!
I use a hand mixer a lot when I make cookies. Meaning I don't usually use a big stand mixer. You can sure use a stand mixer though.
I think the only reason is that I use a hand mixer is that I have one sitting right there on my counter, so I pick it up.
The one main point that I'm trying to get at is to be sure to use an electric mixer of some kind when you're whipping the dairy-free butter and sugar together.
You may think that it might not get light and fluffy because it's not dairy butter but it does. You'll see. Just turn on the mixer and see how beautiful the mix gets.
HELPFUL TOOLS:
After you've made these Almond Sugar Cookies you'll see how easy they are to make.
Don't let me take your eyes off today's cookies though. It's unique enough where you'll want to hang onto the recipe.
How should I Store these Sugar Cookies?
Airtight containers are always a good way to go. A ziplock baggie should work for a few days. That's long enough in my house.
They will also keep in the freezer for up to six months. Just in case you want to make some treats ahead for company.
I love the hard-sided containers you can find and home stores and some of the discount home stores too. They are glass with four snap down clips on the lid. Really nice and snug and nothing gets smashed.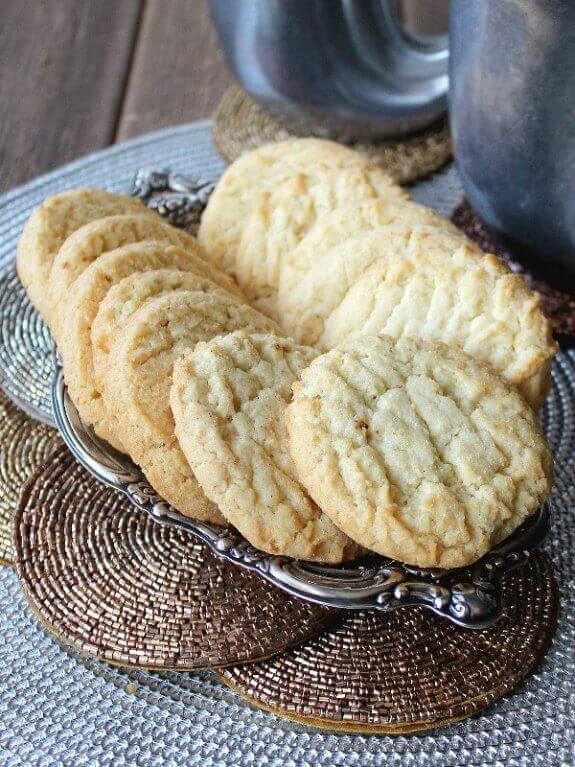 📋 Recipe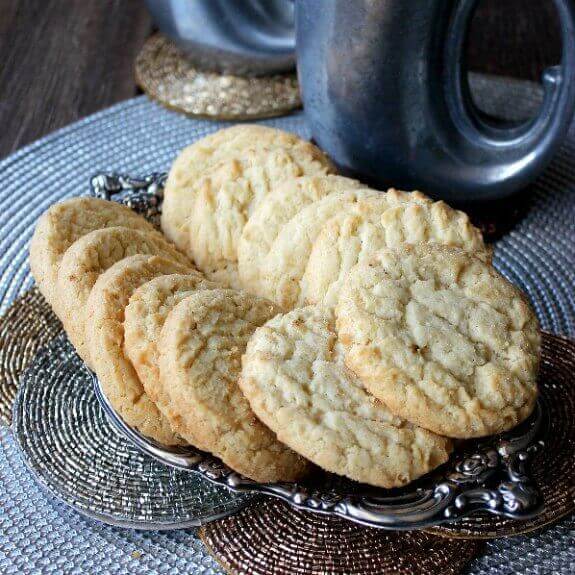 Almond Sugar Cookies
Almond Sugar Cookies are a mix of everything good with a sweet almond flavor.
Ingredients
½

cup

dairy free butter, softened

1

cup

organic granulated sugar

1 ½

cups

all-purpose flour

½

cup

almond flour

1

teaspoon

baking powder

½

teaspoon

baking soda

½

teaspoon

salt

¼

cup

water

½

teaspoon

almond extract
Instructions
Line cookie sheet with parchment paper.

Add the dairy free butter to a large bowl. Add the sugar and beat on medium with a hand mixer until light and fluffy. About 5 minutes.

In another bowl add the flours, baking powder, baking soda and salt.

Mix half with the butter mixture and then add the other have. Mix a few times and then add the water and almond extract. Mix well.

The make fatter cookies place in the refrigerator for about 1 hour. They will spread out more slowly and become nice round fat cookies.

Use a cookie scoop that holds about 1 ½ tablespoons to 2 tablespoons dough and space the dough 2" apart on the prepared cookie sheet. If you don't have a scoop you can use your hands to roll into a ball.

With the back of a fork lightly press down on the balls, lightly, for a light striped pattern.

Bake for 10 minutes at 375°. Remove from oven and let rest for a couple minutes. Remove to a rack to cool.
Nutrition
Serving:
2
Cookies
Calories:
101
kcal
Carbohydrates:
14
g
Protein:
1
g
Fat:
4
g
Sodium:
102
mg
Potassium:
25
mg
Sugar:
8
g
Vitamin A:
180
IU
Calcium:
13
mg
Iron:
0.5
mg