A vegan twist on a traditional chicken salad is made with chickpeas, creamy vegan mayonnaise, crunchy vegetables, and flavorful seasonings. This easy-to-make salad is a great way to enjoy a delicious and nutritious meal anytime!
What Is Vegan Chicken Salad?
Chicken salad is a classic dish that has been around for generations. Traditionally it's made with chicken, mayonnaise, celery, and onion and served between two pieces of bread, atop a bed of lettuce, or eaten right out of a bowl.
What's so special about mock chicken salad, you might ask? It's one of the best recipes to incorporate leftovers from a previous meal and create something exciting and new! Not to mention, this recipe is incredibly versatile.
Chicken salad has always been one of my favorite go-to meals, especially when I'm on the hunt for something quick and easy. Whether it's accompanying a cozy dinner at home or being packed in my lunchbox to take on the go, it is a great way to add both flavor and nutrition to any meal. Even better? You can enjoy chicken salad even if you are vegan! With a few simple replacements like chickpeas and vegan mayo and incorporating other vegan-friendly ingredients like lettuce and tomatoes, anyone can make their own unique version of vegetarian chicken salad. No matter how you choose to prepare it, it is sure to be a tasty option that'll come in clutch.
Why You'll Love This Recipe
No Cook Recipe- You don't need to turn on the stove! Just combine some simple ingredients, and you'll have a delicious easy vegan chicken salad in no time.
A Crowd Pleaser- Everyone loves chicken salad! It's the perfect party food, and everyone will ask you for the recipe.
Simple Ingredients- This recipe is made with a few simple ingredients, like chickpeas, vegan mayo, celery, and onion. No hard-to-find ingredients here!
Versatile- From vegan chicken salad sandwich to toast, crackers, or just by itself! You can also mix it up with different herbs and spices to customize the flavor.
Equipment Needed
Large Mixing Bowl
Colander
Fork
Cutting Board
Knife
Spoon For Stirring
Measuring Cups and Spoons
Ingredients
Canned Chickpeas- The star of the show! Make sure to drain and rinse them before using them.
Celery- Adds a nice crunchy texture to the salad.
Red Onion- A mild flavored onion that also adds a bit of crunch.
Chicken Seasoning Blend- This is a combination of garlic powder, onion powder, paprika, cayenne pepper, and salt. It gives the vegan chickpea salad a nice chicken-like flavor.
Garlic Powder- Adds a bit of garlic flavor to the salad.
Dill- Fresh or dried dill adds a subtle hint of flavor.
Black Pepper- For an extra pop of flavor.
Salt- A pinch of salt to bring out the flavors.
Apple Cider Vinegar- Gives a bit of tanginess.
Vegan Mayonnaise- To give the vegan chicken salad a creamy texture and flavor.
How To Make Vegan Chicken Salad
This recipe is so simple; anyone could follow it! Just start by draining and rinsing the canned chickpeas. Then add them to a large bowl and mash with a fork, being sure not to over-mash it. Leave some chunks for texture. Finally, stir in the celery, onion, seasonings, and vegan mayo until combined.
Allow the salad to chill in the fridge for 30 minutes before you serve it. And that's all there is to it! You can't get much easier than that. I hope you enjoy it!
How To Serve
This vegan chicken salad is excellent as a sandwich filling, on top of a bed of lettuce, or simply by itself. Serve it alongside some chips and veggies for a tasty vegan lunch that everyone will love! It's also perfect for taking to a potluck or picnic.
Popular Substitutions & Additions
Want to try something different? Feel free to switch up the ingredients or add some additional flavors. Here are a few ideas:
Add some diced apples, grapes, or raisins for a sweet crunch.
Swap out the chicken seasoning blend for curry powder, Italian seasoning, or any other herbs and spices you like.
Add some chopped nuts or sunflower seeds.
Trade in the celery and onions for bell peppers, carrots, cucumbers, or other veggies.
There are so many possibilities! Have fun creating your own unique vegan chicken salad recipe.
Can You Freeze?
It stores well in the fridge for up to 4-5 days. However, it does not freeze well, and I would not recommend freezing it.
FAQs
Do I have to use a chicken seasoning blend?
No, you can definitely leave it out or substitute it with another herb or spice of your choice.
Can I use dried herbs instead of fresh ones?
Yes, absolutely! If using dried herbs, reduce the amount by half, as they are more potent than fresh.
Is it better to buy canned chickpeas or cook them myself?
Ultimately, the choice is yours; both work well! I prefer to use canned goods because they're simpler.
Can I make this chicken salad ahead of time?
Yes! You can make this salad up to 5 days ahead of time. Just store it in an airtight container in the fridge until you're ready to serve.
📋 Recipe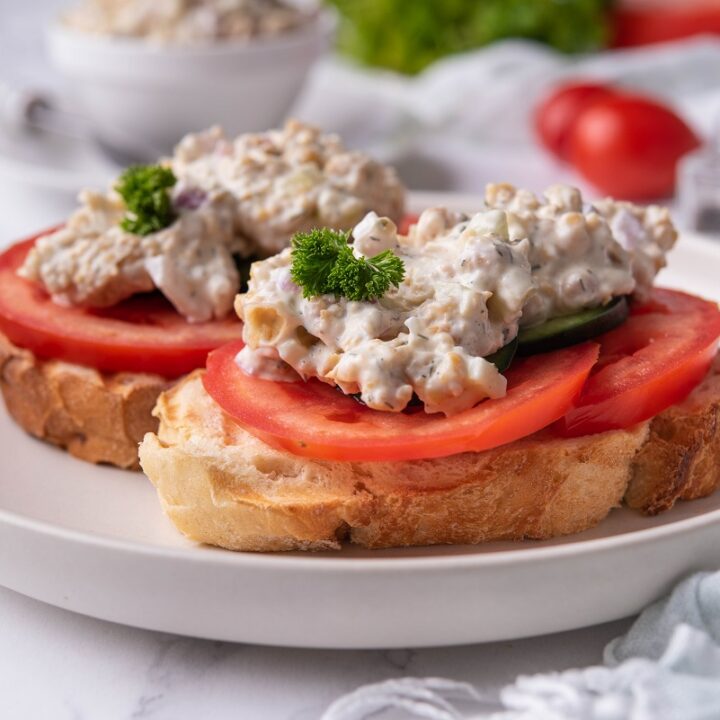 Vegan Chicken Salad
This vegan take on the classic dish uses chickpeas, vegan mayo, fresh veggies, and zesty spices. It's a quick, simple, and delicious meal you can enjoy anytime.
Ingredients
12

oz

canned chickpeas

rinsed, drained

½

cup

celery

chopped

½

cup

red onion

chopped

1

tsp

chicken seasoning blend

1

tsp

garlic powder

1

tsp

dill

1

tsp

black pepper

1

tsp

salt

1

tbsp

apple cider vinegar

¾

cup

vegan mayonnaise
Instructions
Place chickpeas into a large bowl.

Mash the chickpeas with a fork, leaving some chunks. You do not want to have chickpeas paste.

Add celery, onion, chicken seasoning, garlic powder, dill, black pepper, salt, and Vegan mayonnaise.

Stir the ingredients until well combined.

Refrigerate the salad for 30 minutes, and serve as desired.
Notes
Recipe measurements are for dried dill based on simplicity. I prefer fresh dill when available. If you using fresh, you would want to use 1 tbsp instead.
You can use chopped celery or diced celery, based on your personal preference.
A tad of dijon mustard or lemon juice can go a long ways if you'd like a little twist in flavor.
Nutrition
Calories:
702
kcal
Carbohydrates:
31
g
Protein:
9
g
Fat:
57
g
Saturated Fat:
6
g
Polyunsaturated Fat:
2
g
Monounsaturated Fat:
1
g
Sodium:
2140
mg
Potassium:
348
mg
Fiber:
8
g
Sugar:
0.4
g
Vitamin A:
148
IU
Vitamin C:
1
mg
Calcium:
78
mg
Iron:
2
mg