Vegan Cabbage Rolls Recipe is a special comfort food. Steamed cabbage becomes the perfect holder for a flavorful mushroom, lentils and rice mix. It can be made ahead too.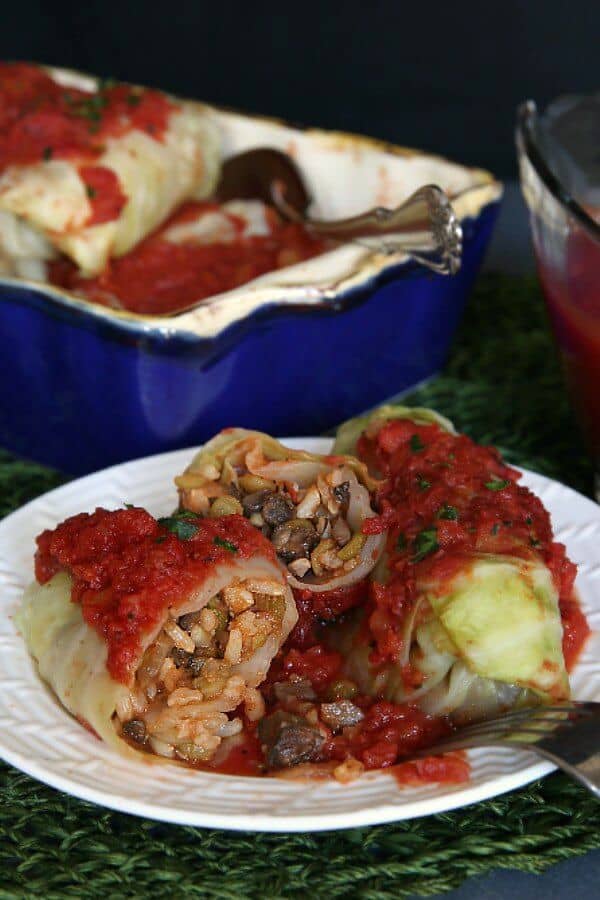 Let's Talk Cabbage Rolls
Stuffed Cabbage rolls are such a great comfort food. They are made in all corners of the world and are stuffed with favorite vegetables, grains and spices of the region.
You may even have a family recipe from your ancestry line.
I've kind of forgone a nationality for these cabbage rolls and just call them vegan. They're not exactly Irish, Slovak, Russian or Greek so they are just good ol' vegan.
One way or the other they are delicious.
I've been wanting to put this recipe on the blog for a very long time. Stuffed cabbage rolls and stuffed grape leaves to tell you the truth.
The stuffed grape leaves recipe is very Slovakian and that will make it's way onto these pages very very soon.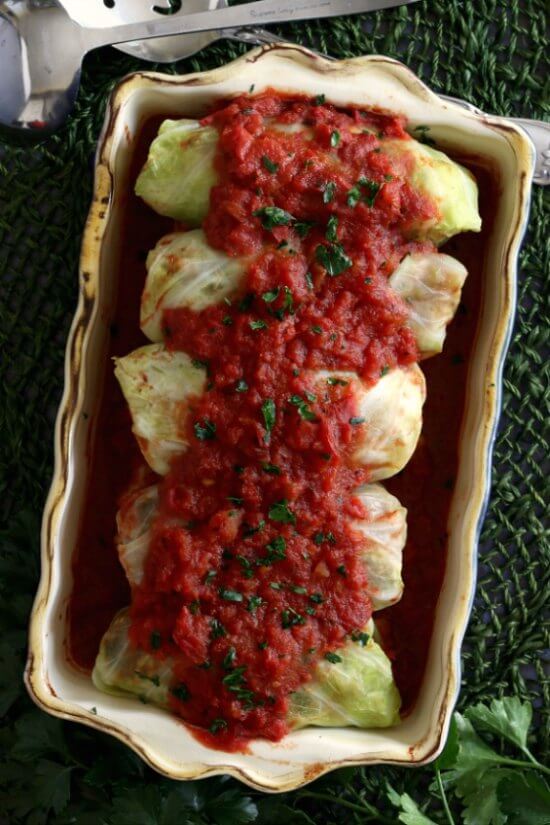 There are a few steps in making this stuffed cabbage rolls recipe.
You can make it all at once or you can break in down into two or even three days. Your choice.
Sometimes I just like to dive in and spend 30 minutes making up the stuffing and then complete it all at the same time.
What are Some Steps in Making an Easy Vegan Cabbage Rolls Recipe
You can pre-make many parts of the recipe and set them aside for the final rolling or just start at the beginning and go all the way through.
Cook the lentils.
Cook the rice.
While these are cooking make the red sauce.
Sauté the mushroom, onion and spice mixture.
As you can see you have four separate steps here and the prepared ingredients can all be placed in the fridge at this point and then combined for stuffing later.
When you get to cooking, the actual recipe card below will give you the exact recipe and instructions.
What are Good Side Dishes to Serve with Cabbage Rolls
The typical go-to would be a green salad and firm rolls or rye bread.
Mashed potatoes go really well with cabbage rolls. You can eat them plain or top with a dollop of dairy free butter.
Green peas are good too. They add a nice sweetness to your dinner and they also go with mashed potatoes.
How about three different salads? A carrot salad, beet salad, and coleslaw. Perfection.
Rolled Cut Carrots would be perfect.
Here's a pic of the rolled cut carrots and if you click on it you can see that recipe too.
Cornbread or corn muffins.
Wine or beer!
A Few Helpful Cooking Tools
These spiffy little rice cookers cook lentils too. So very easy.
Here is a set of two beautiful casserole dishes by Staub.
The indispensable stock pot.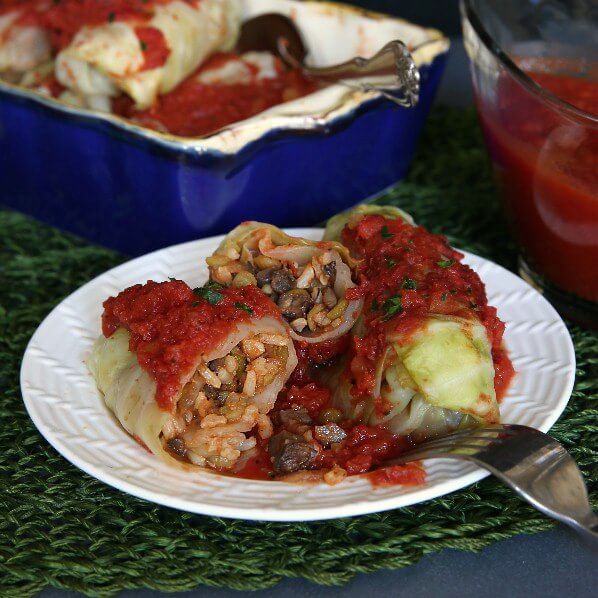 📋 Recipe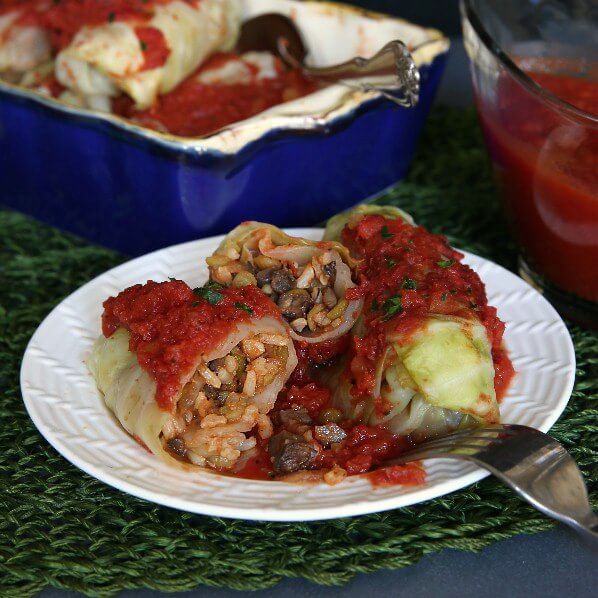 Vegan Cabbage Rolls Recipe
Vegan Cabbage Rolls Recipe is a special comfort food.

Ingredients
1

head

green cabbage

1

cup

lentils, cooked

2

cups

vegetable broth

1

cup

rice, cooked

8

ounces

cremini mushrooms or portabella mushrooms, chopped

1

cup

white onion, diced

1

teaspoon

paprika

1

teaspoon

ground cumin

½

teaspoon

garlic powder

½

teaspoon

sea salt

dash

ground black pepper
Red Sauce
15

ounces

roasted tomatoes

1

tablespoon

tomato paste

¼

cup

water

1

tablespoon

cider vinegar

½

teaspoon

garlic powder

½

teaspoon

sea salt

dash

ground black pepper
Instructions
To Cook the Cabbage
Fill a large stock pot with water to cover the cabbage. Do not add the cabbage yet. Cover and bring to a boil.

Add the head of cabbage, turn down heat and simmer for about 10 minutes. The cabbage tries to float so bob it down and turn it a couple of times while cooking.

When done life out of the water with a large slotted spoon. Set aside and start to carefully peel off the cabbage leaves. Cutting the attached end from the core. The outer one or two leaves might tear. Pull off 5 big perfect leaves. There will be some cabbage left over. Set aside and let cool for using in another recipe such as cabbage soup. Recipe link is below in the notes.
The Stuffing
Cook lentils in vegetable broth. set aside.

Add a couple of tablespoons water to a large skillet. Heat and add the chopped mushrooms. Cook for 10 minutes.

Add the diced onion and cook 10 more minutes.

Add paprika, cumin, garlic powder, salt and pepper. Mix and heat through.

Add the cooked lentils and rice. Mix well and heat through. Set aside.
Make the Sauce
To a large saucepan add all of the sauce ingredients. Bring to a boil and then turn down the heat to simmer and simmer for 15 minutes.
Stuff the Leaves
Spoon some sauce into the bottom of the casserole dish. I used about a 7" wide x 10" long casserole dish.

Lay a cabbage leave out and you will see how it naturally curves up. Place soe of the filling at the base of the leaf. Roll one round and then tuck in the sides and continue rolling. Place in the casserole dish. Continue until all the rolls are done.

Pour the remaining red sauce down the center of the rolls.

Bake at 350° for 30 minutes.
Notes
You may use the leftover cabbage in any way you like. You could shred it and stir it in the sauce for a thicker topping or go for a cabbage soup such as this one from Simple Vegan Blog.
Nutrition
Serving:
1
Serving
Calories:
404
kcal
Carbohydrates:
84
g
Protein:
23
g
Fat:
2
g
Sodium:
866
mg
Potassium:
1315
mg
Fiber:
23
g
Sugar:
14
g
Vitamin A:
975
IU
Vitamin C:
90.9
mg
Calcium:
176
mg
Iron:
6.4
mg
FREEZING:
Cabbage Rolls are tough to freeze as there is so much liquid in cabbage leaves. It can be done though.
You have to start with placing the cooled rolls in the refrigerator first to get them cooler that way. Overnight is best.
Now move them to the freezer to freeze completely. Make sure they are in freezer safe container and sealed tight.
TO DEFROST:
This also has to be done slowly. Take them out of the freezer and let them defrost at least 24 hours in the refrigerator.
If there seems to be too much liquid in the bottom of the conyainer, drain that off.
To bake, cover with the casseroles lid or foil. Bake at 350 degrees for 20 to 30 minutes. Make sure they are heated through.