This rustic looking pasta and beans dish is made with protein-rich and filling white beans, healthy fats, crunchy vegetables, and a heavenly Basil Tomato sauce that brings a comforting taste of Italy to your dinner table!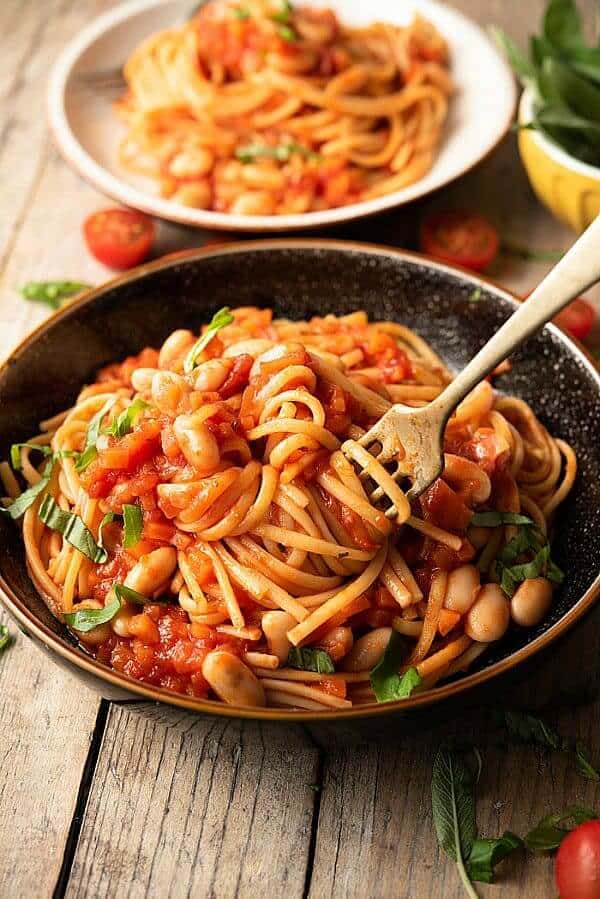 ;nbsp;
Don't you love making wholesome meals that are deliciously satisfying but are also put together in no time? Well, then this recipe is for you.
It truly is so easy to make and you can have this ready in less than 30 minutes.
Healthy Pasta Recipe
This Tuscan Pasta and Beans recipe is a perfectly balanced weeknight meal with a lot of simple and fresh ingredients:
The cannellini beans add healthy proteins.
Extra virgin olive oil not only coats it with healthy fats but gives you that wonderful aroma of Italian pasta.
Vegetables such as white onions and carrots compliments this dish with a lovely natural sweet flavor and a slightly crunchy texture!
But it is not just the hearty beans or the fresh vegetables or even the added sage herbs. Nope, it is the Basil Tomato sauce!
And what is not to love about using a great ready-made pasta sauce to make a hearty meal on busy weekdays?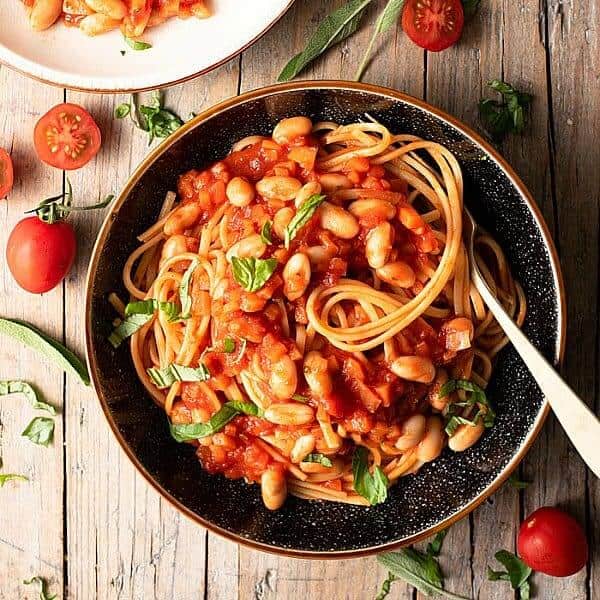 I usually plan ahead of time about what to make during the week and go well prepared to the supermarket with notes in hand and dinners all planned out.
Sometimes this doesn't happen. You know, those weeks when things fall behind and you end up in the store totally unprepared.
You end up wandering around up and down the aisles trying to figure out what to make? That's what happened to me this week.
I was picking up goodies here and there. Then I turn the corner and I am faced with a bunch of beautiful jars of premade pasta sauces.
They reminded me of a delicious white bean and pasta dish I enjoyed in an Italian restaurant in Southern California. My memory glommed onto the flavors and I was sold.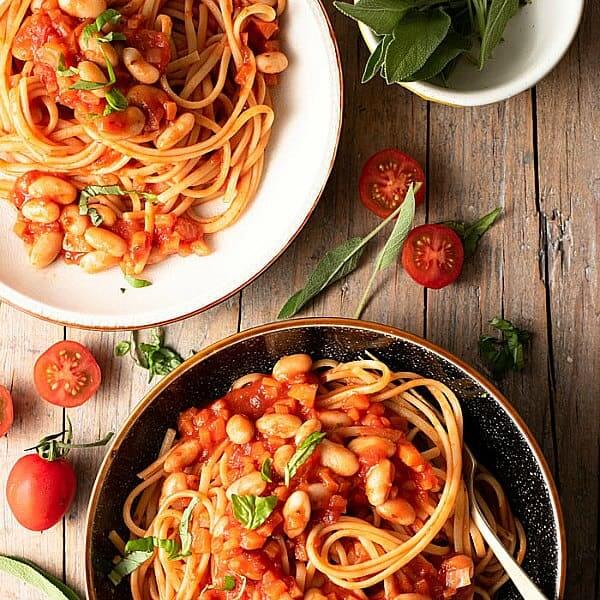 Three sauces really grabbed my attention:
The basil & tomato flavored sauce
The tomatoes and Vidalia onions sauce
and then there was a spicy Arrabbiata pasta sauce
For this Tuscan inspired recipe, I ended up choosing the first one, basil and tomato.
Well, I'll admit I bought all three of the pasta sauces. I couldn't resist because premade spaghetti sauces can make dinner so much easier when you haven't anything pre-planned or have one of those busy days!
They're also great to dunk in with so many appetizers or side dishes such as these Vegan Chickpea Cauliflower Tots.
The sauce that I chose for this dish only had a few ingredients but tastes just like homemade. It coats the linguini and vegetables with a creamy, sweet flavor and makes this Tuscan Pasta and Beans incredibly satisfying!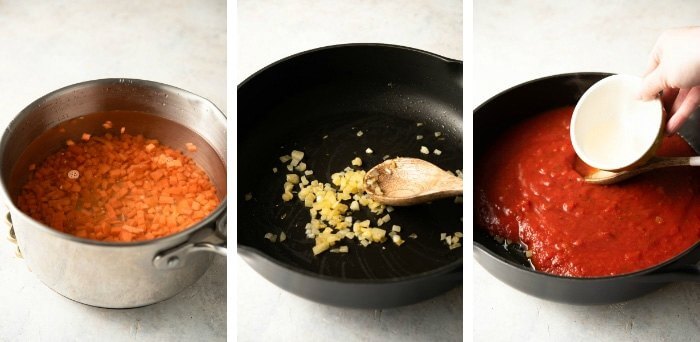 Above are a few photos so that you have a visual for the beginning of this healthy pasta meal.
First, is a pot starting to boil the small carrot cubes then sauteing the onions and next it's adding some of the 'carrot water' to the sauce.
A special note on the recipe:
You'll notice that in the instructions I add to the sauce ¼ cup of water in which the carrots were cooked. This is to make sure that the overall dish does not become a little too dry when adding the white beans and the linguini. It also adds more flavor to the sauce!
Also, a really good toasted garlic bread would be perfect with this pasta meal and using a few slices of this Best Homemade Vegan Bread would be ideal.
You are Going to Love Tuscan Pasta and Beans
It is so easy to make
It is a beautiful and wholesome family meal with fresh ingredients
The premade spaghetti sauce is rich, creamy and offers beautiful Italian flavors as if it was made from scratch.
The leftovers are even better!
Add the carrots, beans, herbs and spices to your prepared sauce for a beautiful mix.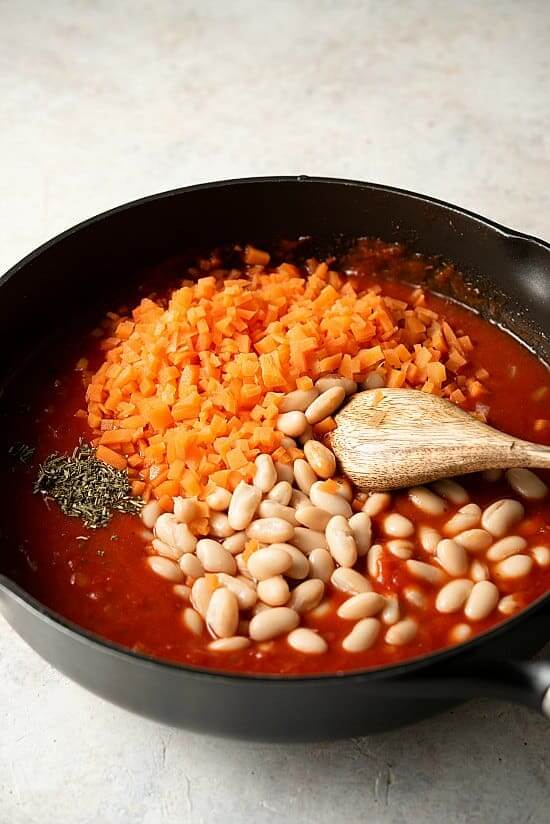 Next, stir and heat through and then remove half of the sauce from the skillet and set aside.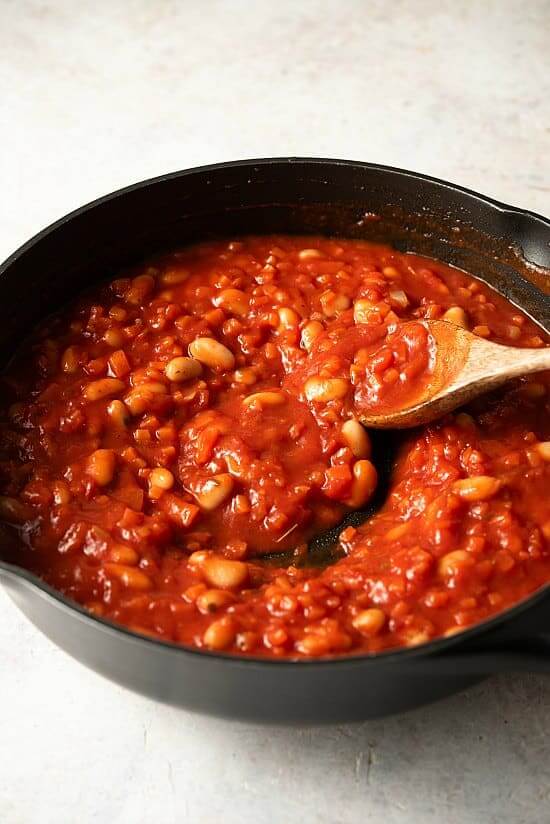 Add the cooked linguine and stir through the sauce that is in the skillet. Serve on plates or in pasta bowls with the remaining sauce on the side.
A true Tuscan classic.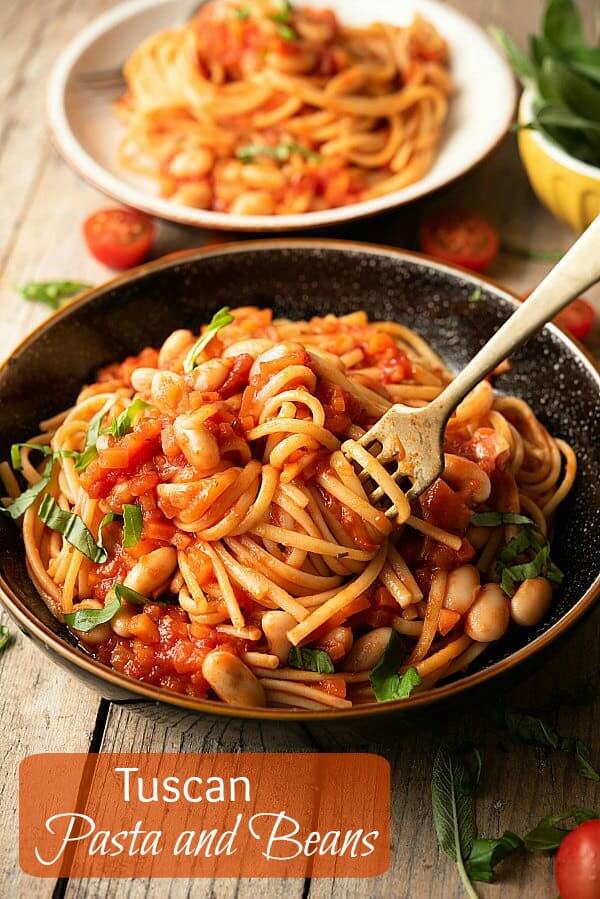 All you have to do is make it for dinner tonight!
📋 Recipe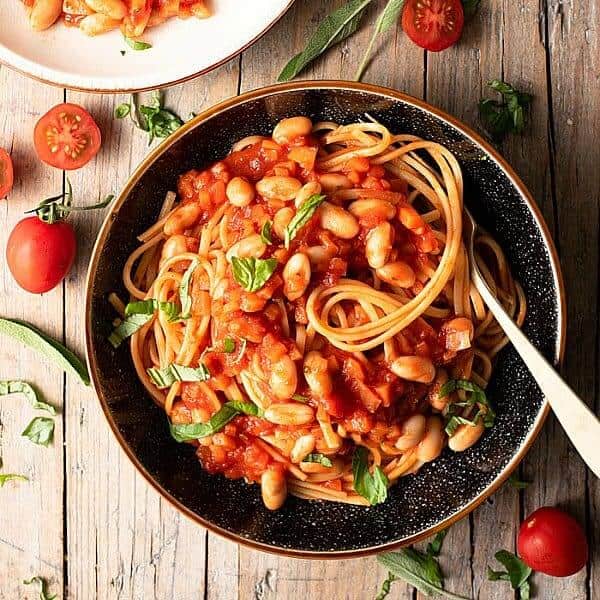 Tuscan White Bean Pasta
Tuscan White Bean Pasta is a comfort dinner that can be put together in no time.
Ingredients
1

tablespoon

extra virgin olive oil

¼

cup

diced white onion

1 ½

cups

carrots, diced small

- 2 carrots

¼

cup

water reserved from the carrot water

28

ounces

your favorite spaghetti sauce with basil

15

ounces

cannellini beans

½

teaspoon

dried sage

1

teaspoon

sea salt

¼

teaspoon

ground black pepper

10

ounce

linguine, uncooked
Instructions
Heat the oil in a large skillet.

Add the onion and saute for about 10 minutes.

While the onion is cooking, add the carrots to a medium sized saucepan and cover with water.

Cover and bring to a boil. Remove the lid and lightly boil for 10-15 minutes or until the carrots are pierced easily with a fork.

While the carrots are cooking - cook the linguine according to package directions.

Drain the carrots (reserving ¼ cup of the water).

When the onions are done add the sauce and reserved water to the skillet.

Add the beans, carrots, sage, salt and pepper and heat through.

Drain the linguine and toss with half of the tomato vegetable sauce.

If it has cooled off too much - turn the heat back on and heat through quickly.

Serve with the remaining heated sauce to be added over the top when served.
Nutrition
Serving:
1
Serving
Calories:
294
kcal
Carbohydrates:
56
g
Protein:
12
g
Fat:
3
g
Sodium:
1258
mg
Potassium:
655
mg
Fiber:
7
g
Sugar:
8
g
Vitamin A:
5920
IU
Vitamin C:
11.6
mg
Calcium:
80
mg
Iron:
3.6
mg