Vegan Chickpea Cauliflower Tots uses one head of cauliflower and it makes a lot of tots. A delicious and simple mix including chickpeas and seasonings would be perfect in an air fryer too.
This Cauliflower Tots recipe is just the perfect combo of flavors and it's a simple mix including chickpeas and seasonings.
You think of a side dish when you think of tater tots but this recipe is also great as an appetizer.
They're easy to handle and easy to dip. Another reason they can be used as an appetizer is that they are also delicious at room temperature.
Either way you'll want to make these tots over and over again. I will admit that it takes a little time to smash the mixture into little logs but it goes more quickly than you think.
The mixture sticks together really well and there's no breading on top so that makes the process very quick. The finished product is perfection.
We had these just last week and I served them as a side with this Roasted Vegetable Sandwich.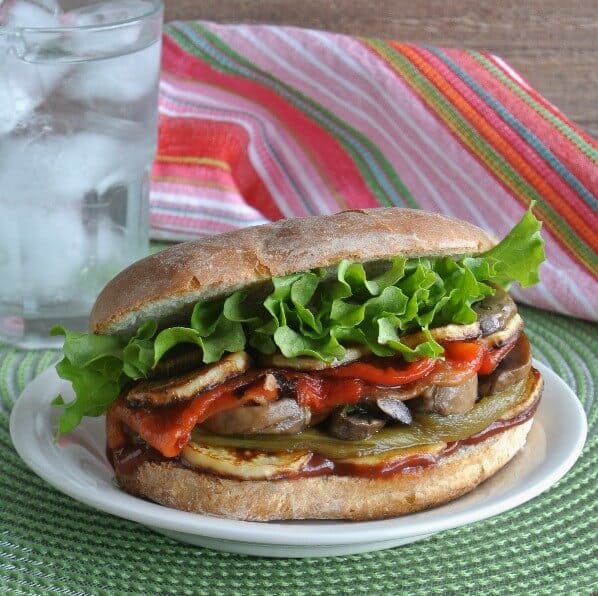 What a meal! You don't need to dunk the tots if you don't want either. The flavor speaks for itself.
But then if you have kids you might as well get out the ketchup. If you're using them as an appetizer then vegan ranch style dressing or vegan chipotle mayo goes really well too.
Can Vegan Chickpea Cauliflower Tots be made in an Air Fryer?
Yes! Very simply and the tots are even easier to handle.
If you have a paddle that automatically turns the food around then that should be removed.
Lay the tots on the bottom of the air fryer. I lightly spray the tops with an organic oil spray. This helps to get the tots browner since they won't be truly fried.
Cook for 8 minutes at 350 F or 180 C. Open the air fryer and use a spatula to flip around the tots. You can shake the handle too. Just watch and see if they get turned pretty evenly.
Cook 8 more minutes and done!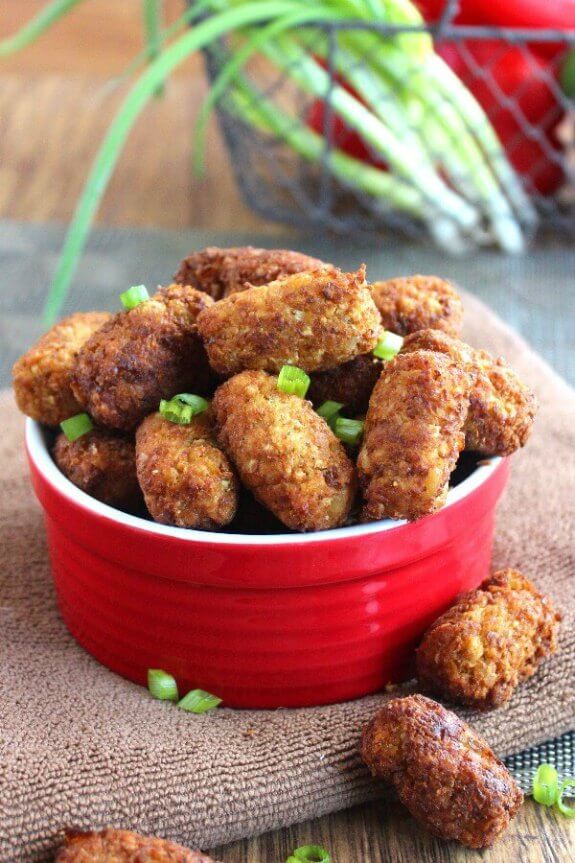 What if I Don't Have a Food Processor?
No problem! It will just be made the way we made everything - not to long ago.
Separate the cauliflower florets from the heavier stems. Chop as small as possible. The florets will even crumble apart for the most part.
Use a food grater for the larger pieces of stems and chop any of the smaller pieces until they are finely diced.
Add the drained chickpeas to a bowl and mash with a potato masher or the back of a dinner fork.
Chop or grate the onion.
Mix all of the ingredients in a large bowl and begin to shape the logs.
Helpful Tools
A food processor makes the whole recipe go as quickly as a snap of the fingers.
Potato mashers aren't just for potatoes. They will mash the chickpeas up very quickly.
If you go with an air fryer this one is a good choice.
📋 Recipe
Vegan Chickpea Cauliflower Tots
Vegan Chickpea Cauliflower Tots uses one head of cauliflower and it makes a lot of tots.
Ingredients
1

head

cauliflower, cleaned and roughly chopped

½

cup

onion

- white onion, diced

¼

cup

nutritional yeast

15

ounces

can chickpeas, drained

1 ½

cups

bread crumbs

1

teaspoon

salt

¼

teaspoon

ground black pepper

¼

cup

coconut oil for frying
Instructions
Put the cauliflower in a food processor and process until

the cauliflower is in small pieces that almost looks like

rice.

Lay a double layer of paper towels on the counter and spread the cauliflower on top. Press down evenly over the cauliflower with more paper towels to remove as much excess liquid as possible.

Add the rest of the ingredients (except the oil) into the food processor and pulse until well chopped.

Add the cauliflower and the rest of the mix to a large bowl and mix well. Form into small oval balls; you will get 55 to 65 tots.

Heat the coconut oil in a large skillet over medium-high heat. When the oil is hot, start adding the cauliflower tots and fry on all sides. Do not crowd.

Transfer to paper towels to drain. Proceed until all the tots are fried. See the directions above the recipe card to see how to make these tots in an air fryer.
Nutrition
Serving:
10
Tots
Calories:
260
kcal
Carbohydrates:
30
g
Protein:
5
g
Fat:
5
g
Sodium:
320
mg
Potassium:
450
mg
Vitamin C:
12.6
mg
Calcium:
19
mg
Iron:
1.9
mg
Can You Freeze this Cauliflower Tots Recipe?
Storing in the refrigerator: Will keep covered in the refrigerator for 3 to 4 days.
Freezing: Freeze in hard-sided freezer containers for up to 3 months to help hold their shape. To prepare after freezing, defrost in the refrigerator overnight.
Reheating: Heat on a baking sheet in a 350°F oven for 10 to 15 minutes.
Would you like another way to use a head of cauliflower and also some nutritional yeast? Here is a side dish for all of the cauliflower lovers out there. It's the perfect casserole and is called Cheesy Vegan Cauliflower Mushroom Casserole.