Sage Dill Bread has a generous addition of sage along with dill and fennel which really makes a tasty bread. A large loaf that is so flavorful.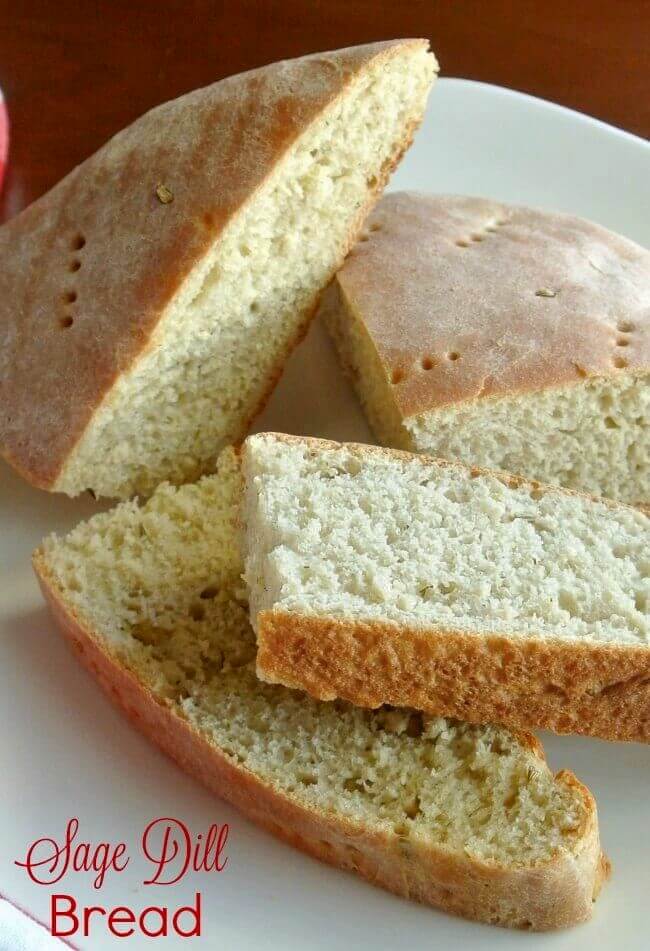 I have considered every option.  Happily, there is more than one option for this Sage Dill Bread recipe.  You can eat it as a side bread with your dinner, make your favorite sandwich as you would with a dill or pumpernickel bread or eat it alone as a snack.
That is what my husband does and he loves it.  The dough has a generous addition of sage along with dill and fennel which really makes a tasty bread.  Can you imagine being able to turn out something like that?  Just like a bakery and you are the baker.
Making homemade bread is so rewarding.  It is really simple.  Don't let kneading scare you away.  All you do is fold over and push out with the palms of your hands, fold over and push out with the palms of your hands and so on and so on.  Simple.
Another plus is when it comes right of the over.  The smell, mmmm.  Then, as soon as it cools enough so you can touch it, you take a slice.   No one can resist.  At least no one in this family. Now I'm curious – please comment below if you are actually able to wait.  It can't be just us can it?  Okay, maybe if it is for company but that can be rectified.  Cut some slices for the bread plate and who'd know!
If you have children then there is another pleasure that comes from homemade bread. Nothing is as rewarding as the big smiles of the little faces of your kids.  They see the homemade Sage Dill Bread and all is right with the world.
Connect with Vegan in the Freezer
Facebook | Pinterest | Instagram | Bloglovin
Sage Dill Bread
Ingredients
2

tablespoons

active dry yeast

1/2

cup

lukewarm water for the yeast, 100°-110°

3/4

cup

lukewarm water - for later

2

cups

all purpose unbleached flour

2

cups

whole wheat pastry flour

1/8

teaspoon

" beet granulated sugar

2

teaspoons

salt

1

tablespoon

coconut oil for coating the dough

1/8

cup

coconut oil for working in the dough after it has risen once

1

tablespoon

ground sage

1

teaspoon

dried dill

1

teaspoon

fennel seed
Instructions
Add yeast to 1/2 cup lukewarm water (100°-110°)

Set aside for about 10 minutes.

Add flours, sugar and salt to a large bowl.[

Pour the yeast mixture and the other 3/4 cup lukewarm water into the well.

Stir from the center of the well and slowly stir in the flour from the edge.

When incorporated, turn the dough out onto a floured surface.

Knead about 5 to 8 minutes and add more flour if it seems too sticky.

Form into a ball and transfer into a large bowl that has been coated with oil.

Turn the ball so that it is evenly coated.

This is important so that a dry layer doesn't form on the dough.

Cover with a towel and set in a warm dry place (I put mine inside the oven, not turned on).

Let rise about 1 hour or until doubled in size.

Uncover the dough and punch down to expel the excess air.

Work in (in a folding and kneading motion) 1/8 cup olive oil a little bit at a time and at the same time work in the sage, dill and fennel.

Roll out to a 1/2" thick round.

Place on a lightly oiled cookie sheet.

Cover and let rise, again, about 1 hour.

Prick the dough, lightly, a few times around the top of the dough (see the photos below).

Bake at 400• for 25 minutes or until golden brown.

Let cool a bit before cutting.