With only 6 ingredients these beautiful Stars Shortbread Cookies can color your dessert table for this coming 4th of July! They put smiles on everyone's faces and are easily customizable to match any celebration.
I am guilty of being a little love-struck with shortbread cookies. And it dates all the way back to my childhood.
They are the most straightforward type of cookie, yet delicious, and they just melt in your mouth as a good shortbread cookie recipe should.
Lorna Doone's were one of my favorite's growing up, but they are also one of the most expensive cookies you can buy.
Well, now you can make your own at home, and it will be a whole lot cheaper. You can make them festive too.
6 Ingredient Easy Shortbread Cookies
>This recipe uses 5 basic ingredients: whole wheat pastry flour, dairy-free butter, powdered sugar, almond extract, and cornstarch.
And then, of course, the red and blue vegan sugar sprinkles — the sixth ingredient — because you want to make them festive too.
A traditional shortbread recipe has very few ingredients, yet has a beautiful crumbly texture and a delicious buttery taste.
With just a few adjustments this vegan recipe nails it and I haven't met a person yet who didn't devour them.
To make these shortbread cookies:
I kept it simple so these baked goods are easy to make.
I use original flavors made from a beautiful blend of wheat pastry flour, dairy free butter, and almond extract.
I don't steer away from a delicate soft texture that everyone loves so much with shortbread.
If you cut them into shapes that don't call out for colored sugar then you get a healthier version too!
Baking Sprinkles in All Natural Colors
Stars Shortbread Cookies are a lot of fun to make, and kids will gladly help you in the kitchen with this one—just expect a bit of a mess.
You can roll out the dough and, depending on the child's age, let them use the cookie cutter and sprinkles or both.
I used to have to buy my actual sugar sprinkles through Amazon because that was the only place I could find a vegan brand. The blue in the link I left here is a more navy color too.
I'll still do that occasionally but now they are more readily available at almost any grocery store. So sprinkle away when making these delicious cookies for our Patriotic holiday!
4th of July Star Cookies
Don't you love the 4th of July? It is on the way, and it is so fun to celebrate. All across the nation, the weather seems to be just right in July.
Parades and parties abound with lots of activities and fireworks. Our nation's red, white and blue, is everywhere.
The excitement is in the air with menus and activities being planned. From the beaches to the mountain tops people are running around anticipating the fun.
There will be sandwiches and side dishes galore where potato salads and baked beans take over picnic tables.
Drinks and cocktails will be passed around and I have the prettiest cocktail too. It's called the Patriotic Passion and it will also help put you in the spirit. Just the color of it is fun!
You must have a dressed-up dessert to celebrate our Independence day properly. Don't you think?
These shortbread cookies are going to be the star on your table. And with around 36 other patriotic treats, you will have plenty to offer to your neighbors!
So, keep this recipe around because you can use it over and over with any other cookie cutters and colored sugars you like to match the celebration. But for now, stars it is!
Have a wonderful long weekend!
📋 Recipe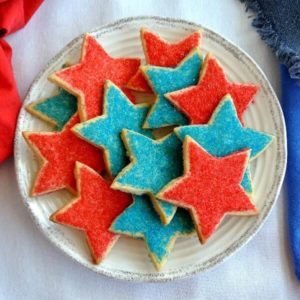 Stars Shortbread Cookies
Stars Shortbread Cookies will add a lot of color to your table and put smiles on everyone's faces.
Ingredients
3

cups

whole wheat pastry flour

2

cups

dairy free butter, softened

2

cups

organic powdered sugar

2

teaspoons

organic almond extract

¾

cup

non GMO organic cornstarch

red and blue sugar sprinkles, natural vegan options
Instructions
Mix the flour, organic powdered sugar and organic cornstarch together. Set aside.

In a large bowl beat the vegan butter until creamy.

Mix in the dry ingredients and almond extract. Mix well.

Separate the dough into two balls. Wrap in plastic wrap and slightly flatten.

Place in the refrigerator for one hour.

Take one of the balls out of the refrigerator.

Place the ball onto a cookie sheet and roll out to about ⅓" thick.

Cut stars close to each other on the cookie sheet but not touching.

Remove the excess dough between and around the stars. You will reuse this dough.

Sprinkle the stars with the colored sugar before baking.

I placed a smaller star on top of the cut out star and sprinkled sugar inside the cutout. This gives a pretty nice edge and keeps the excess sugar from going onto the cookie sheet.

If you don't have a smaller star cookie cutter just sprinkle on the sugar.

Bake at 350˚ for 12 minutes.

Cook on wire rack. Repeat the process until all of the dough is used.
Nutrition
Serving:
2
Cookies
Calories:
171
kcal
Carbohydrates:
17
g
Protein:
1
g
Fat:
10
g
Saturated Fat:
2
g
Sodium:
86
mg
Potassium:
38
mg
Fiber:
1
g
Sugar:
8
g
Calcium:
4
mg
Iron:
0.4
mg