If you're looking for a nutritious and delicious breakfast that can be made with minimal effort, then crockpot apple cinnamon oatmeal is it! This wholesome, comforting breakfast takes no more than 10 minutes of prep time, and then all you have to do is set it in the slow cooker overnight. Come morning time, your kitchen will be filled with the sweet aroma of apples and cinnamon - an automatic mood booster!
Never underestimate the power of a great bowl of oatmeal. It sounds so simple but delivers so much comfort ... and satisfaction! I could have oatmeal every morning and never get tired of it.
I will admit that sometimes, first thing in the morning, I just can't open my eyes enough to boil a pan of water.
It seems I can always stumble into the kitchen, but things might get limited after that.
Something I can do, though ... I can open the lid of a slow cooker and scoop some fruity, creamy hot oatmeal into a bowl.
All that's left is to pull out a spoon and relax over a delicious bowl of morning breakfast.
I'm sure you've had lots of bowls of oatmeal before. Have you ever had oatmeal with apples? It's a match made in heaven. Apple pie comes to mind.
Maple syrup comes to mind with oatmeal too. I've added it in these photos because it's just pretty, but you really don't need the extra sweetener at all. Not that maple syrup is a bad thing.
I buy jugs of the stuff.
Equipment Needed
Crockpot or Slow Cooker
Cutting Board
Knife
Apple Corer (Optional)
Measuring Cups and Spoons
Ingredients
Fresh Apples- Chopped apples give this slow cooker oatmeal its delicious flavor.
Apple Juice- Adds sweetness and moisture to the oatmeal.
Old-Fashioned Rolled Oats- Provide bulk, texture, and nutrition. (Not quick cooking oats)
Brown Sugar- Enhances the sweetness of the oatmeal.
Ground Cinnamon- Adds a subtle warm flavor.
How To Make Crockpot Apple Cinnamon Oatmeal
Add chopped apples, juice, rolled oats, brown sugar, and cinnamon in your slow cooker and mix thoroughly. Cook on low heat for 7-8 hours or overnight. Give it another stir, then serve and enjoy!
Note: Do not use quick cooking oats or instant oats in the slow cooker for this recipe.
Popular Substitutions & Additions
For additional sweetness, add a few tablespoons of maple syrup.
Steel cut oats can be used in place of old-fashioned rolled oats.
For extra protein, add your favorite vegan protein powder to the slow cooker.
If you don't have apple juice on hand, use water.
Add other fruits, diced bananas, or strawberries for more flavor and color.
For extra crunch, add chopped pecans or granola to the slow cooker.
If you like more of a creamy texture oatmeal, use your favorite plant-based milk instead of apple juice. Almond milk, coconut milk, oat milk, or soy milk would all work in this slow cooker oatmeal.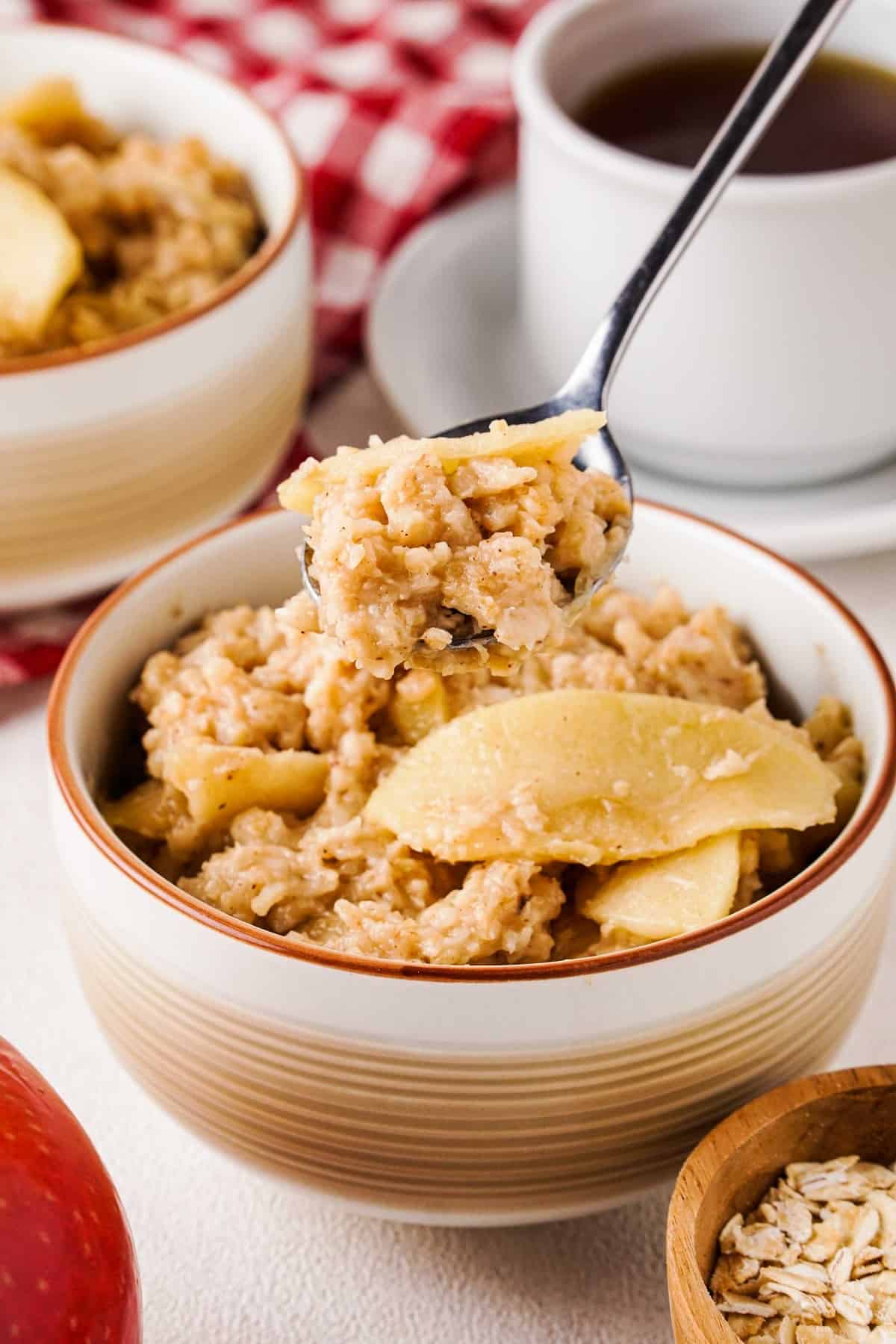 Hints for Making Slow Cooker Apple Cinnamon Oatmeal
You can peel the apples, but you don't have to.
Cut the apples into larger slices. I like to cut them in half and then each half into thirds or fourths. So, each apple will give you six to eight slices, depending on the size of the apple.
Tree Top has an apple juice that has apple as the only ingredient.
If you like, you can use half water and half apple juice.
You can sure double the ingredients but use a larger crockpot.
Do you know something else you could do? Add a few chopped dates. Right at the beginning with everything else. Wouldn't that be good? Like I said, I could eat oatmeal every day.
This may sound crazy, but I have 4 different slow cookers. A 3 qt. one, a large one that has a removable insert for washing (love that one), an even bigger oval one, and one was a gift. It's that short flat kind with two pots for a party.
You can tell I'm hooked on crock-pots. They really do make life easier. I absolutely believe that cooking apple cinnamon oatmeal in the crockpot for your mornings is the way to go. So good!
Helpful Tools:
Slow Cooker -You don't need a large crockpot for this recipe.
or - Slow Cooker, Programmable - I still don't have a programmable one, but it's on my wish list.
Paring Knife - A small sharp knife makes dealing with fruit and veggies so much easier.
Measuring Cups - Nice glass classics.
Crockpot Apple Cinnamon Oatmeal FAQs
How do I make sure my apple cinnamon oatmeal doesn't burn in the slow cooker?
The key is to make sure your ingredients are mixed together thoroughly and that you have enough liquid (apple juice or water). You should also keep an eye on it when it's cooking, stirring it every few hours if possible. If necessary, you can also reduce the cooking time. If you are worried about
Can I use steel-cut oats in crockpot oatmeal?
Yes, you can use steel cut oats for this recipe, but you'll need to adjust the liquid and cooking time accordingly. Steel-cut oats take longer to cook than rolled oats, so you may need to increase the cooking time and/or add more liquid.
How do I store leftover slow cooker apple cinnamon oatmeal?
Store leftover oatmeal in an airtight container in the refrigerator for up to a week. Reheat it on the stovetop or in the microwave when ready to serve.
Can I freeze this slow-cooker apple cinnamon oatmeal?
Yes, you can freeze cooked oatmeal for up to 3 months. To reheat, defrost overnight in the refrigerator and then warm it up in a saucepan on the stovetop. You may need to add a bit more liquid if it has become dry.
📋 Recipe
Crockpot Apple Cinnamon Oatmeal
Overnight oatmeal cooked in a slow cooker is delicious & comforting. Wake up to the aroma of cinnamon and apples and have it as your breakfast without any wait.
Ingredients
2

apples, cored and sliced

2 ¼

cups

apple juice too

1 ½

cups

old-fashioned rolled oats

1

tablespoon

brown sugar

½

teaspoon

ground cinnamon
Instructions
Place all of the ingredients in a 3 to 4 quart size slow cooker. Stir.

Cook on low for 7 to 8 hours.
Nutrition
Serving:
1
Cup
Calories:
335
kcal
Carbohydrates:
51
g
Protein:
4
g
Fat:
2
g
Sodium:
8
mg
Potassium:
341
mg
Fiber:
5
g
Sugar:
25
g
Vitamin A:
50
IU
Vitamin C:
5.4
mg
Calcium:
32
mg
Iron:
1.6
mg