A great go-to recipe to make the most delicious homemade Pizza dough. Whether you like your crust thin and crispy or thick and chewy, I've got you covered. With only 6 ingredients this easy vegan pizza dough will make you never want to order pizza again!

Every great pizza begins with a great crust. And we all know that people can be pretty particular about its thickness, texture and let's not forget the pizza toppings.
Well, now you can make your very own homemade vegan pizza dough any way you like, bake it just right, and fix it with different toppings to please the whole family.
I also love that I can make a few batches of this dough, all at the same time and freeze it. Then whenever that pizza craving arises, from anyone in the family, I am all set!
Smaller portions make excellent little mini pizzas too. So instead of cutting your dough into two pieces cut it into four.
Well, you might be thinking; why not just buy frozen pizza dough? I am certainly not going to deny that it's super convenient but there is nothing quite like a from-scratch pizza dough.
Besides making the crust exactly how you like it, the delicious flavors, the texture, and that wonderful fresh dough smell can only come from a homemade version.
Once you make it, there is seriously no going back.
This is also a super easy recipe and even great for beginners. Once you get the hang of it, which is the first time around, it becomes a low-fuss pizza dough you'll want to make for cozy pizza nights.
Tips for Making Vegan Pizza Dough
It all starts with some basic ingredients: flour, water, yeast, and salt but because we're making the base of a pizza, extra virgin olive oil is added for a wonderful flavor.
Yeast: I use active dry yeast that first needs to be dissolved in a small amount of warm water before it is added to the rest of the ingredients. It is usually sold in individual packets, and you only need one for the dough to double in size.
Water: I use ¼ cup warm water (100 to 110 degrees) for the yeast and another 1 ¼ cup at room temperature to mix in the flour. After testing and making this recipe numerous times, I think this is the perfect amount of water to make this pizza crust.
Extra Virgin Olive Oil: olive oil is another wonderful flavor enhancer. It's added to the inside of the bowl too. That will help with handling the dough better during shaping.
Flour: My go-to crust is half white and half wheat. I like to use unbleached all-purpose flour because it has aged naturally after being milled. No chemical agents are used to speed up the process (as is done with bleached flour.)
I also like to mix in whole wheat pastry flour. It's a great way to add some whole grain goodness to your dough without compromising its texture. Well, it also tastes better.
Salt: this spice is, in my opinion, essential because without it the dough can taste flat, no matter what toppings you choose. It's definitely a flavor enhancer!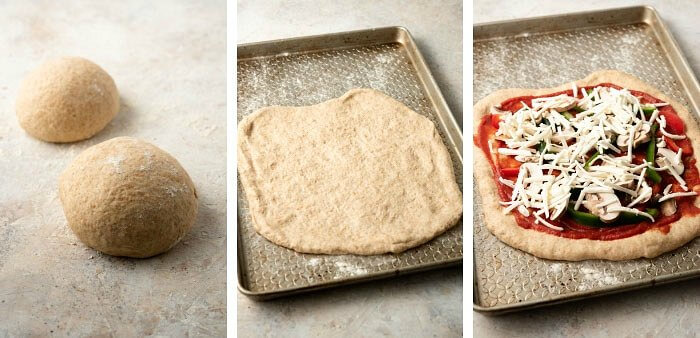 Fill Up The Layers
Now comes the best part, shaping and adding the toppings you love.
Okay, I don't normally use a rolling pin, and you don't need to either. When ready to shape it into a pizza crust, start pressing down on the dough with your fingertips. Gently stretch and flatten it into a circle.
It's a lot of fun and you can involve your kids. You have total control on the thickness of your crust.
In the picture below, I made a thin, sort of crispy crust, the way my husband likes it! I did use a rolling pin on this one to make it as evenly thin as I could.
And this picture was taken 6 years ago when I first created this recipe - and I'm still using the same one at home.
For the Toppings? Well, you are a little bit on your own here, because this is so personal.
Can't decide? Then try this version with onions, green bell pepper, red bell pepper, mushrooms and oh, yeah, plant based mozzarella, of course.
You can get totally Italian inspired and add black or kalamata olives and artichoke hearts too.
I have six pizza recipes on the blog and they all utilize this recipe as the base. For inspiration go on over and check out the Vegan BBQ Veggie Pizza.
Homemade pizza dough is simply the best and I know that you are going to prefer making this version every single time when pizza night is around the corner!!
Let me know, what your favorite pizza toppings are?
📋 Recipe
Vegan Pizza Dough
Vegan Pizza Dough with restaurant quality is one of those things that people are always looking for. Well, this one is it. Thick or thin.
Ingredients
1 ½

cup

whole wheat pastry flour

2

cups

unbleached all purpose flour

1 ¼

cup

water

¼

cup

warm water for the yeast

1

packet yeast

2

tablespoons

extra virgin olive oil

1-½

teaspoon

salt
Instructions
Oil the inside of a large bowl and set aside. This is for the dough to rise.

Pour ¼ cup warm water (100 to 110 degrees) in a large warmed bowl (the microwave will warm the bowl).

Stir in the yeast and set aside for 10 minutes.


Stir in the remaining water (1-¼ cup), oil and the salt.

Add the flours and stir until pretty well blended. It will not be smooth.


Turn out onto a floured counter and knead until smooth, adding a little more flour when you need to keep it from sticking.

A little sticky is okay.

Form into a ball.

Place the dough ball in the large greased bowl and turn the dough so that it gets oil on all sides. If you don't do this you will get a dry crust on the outside of the ball.


Cover the bowl and set aside (out of a draft) until the dough has doubled in size - 40 to 60 minutes.

Divide the dough in half for 2 thin crust 15" pizzas.

Divide again for smaller pizzas.

Shape the dough into balls and set on a floured counter.

Cover again with a towel and let rise another 20-30 minutes.

You can freeze the balls at this point or roll them out and freeze flat.

To continue making a pizza now - put the dough on your pizza pan.

Push out with your fingers to the size of pizza you want.

Cover with a towel again and let it rest for 10 to 15 minutes.

Add your pizza sauce and any toppings that you desire.

I used onion, green bell pepper, red bell pepper and mushrooms. Oh, yeah. And vegan mozzarella.

Bake in a hot oven at 425° for 18 minutes. Slice.

One Serving is ¼th of the pizza for the nutritional facts but dine on whatever you like.
Notes
You can freeze the dough in an airtight freezer bag up to 4 months.
TO PREPARE AFTER FREEZING:
Remove from the freezer and put in the refrigerator the day before serving. When defrosted roll out, top and bake as described above.
Nutrition
Serving:
1
Serving
Calories:
443
kcal
Carbohydrates:
80
g
Protein:
12
g
Fat:
8
g
Saturated Fat:
1
g
Sodium:
297
mg
Potassium:
230
mg
Fiber:
6
g
Calcium:
25
mg
Iron:
4.5
mg