Mexican Style Baby Shiitake Mushroom Pizza has a good head start with the use of naturally spicy Shiitake mushrooms. Tasty, great and easy.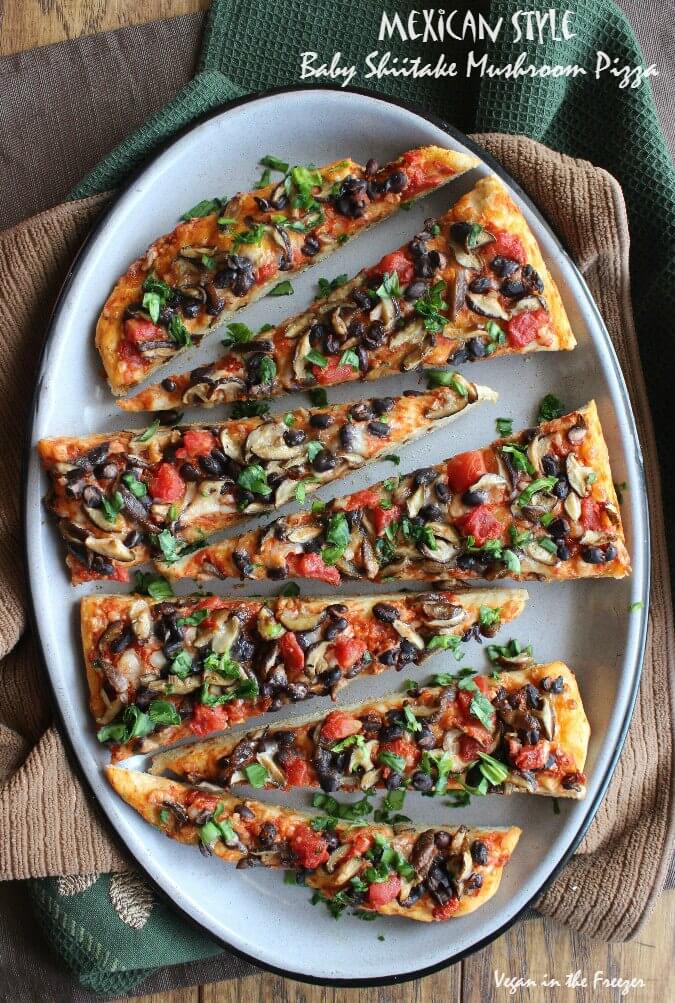 Pizza has evolved into an American obsession. An absolute fun and tasty obsession. Recipes range from the basic child's pizza to one with every option imaginable. And … they are still coming.
It turns out that I figured out how to mix and match the flavors of Asia and Mexico for a sublime pizza.
The Shiitake mushroom is native to Asia and the baby Shiitake is tender and spicy where you can even eat the stems. Nothing goes to waste.
I had a blast playing with these pizza ingredients and ended up making the complete recipe which turns out to be two pizzas. Since it is just Ed and I living in our house guess what I had for breakfast.
Baby Shiitake Mushroom Pizza leftovers were fantastic!
Before I jump into the recipe for Baby Shiitake Mushroom Pizza I have to tell you of a new resource that I found that has an unbelievable selection of organic mushrooms (dried and fresh plus oils and teas).
Also greens and berries that are delivered right to your door. That is where these baby Shiitakes came from. Whole Earth Harvest. My new love. Farm to Table. Oregon.
I wish I could get everything right now but I have to remember there is only so much we can eat all at once.
Connect with Vegan in the Freezer
Facebook | Pinterest | Instagram | Bloglovin
Print
Mexican Style Baby Shiitake Mushroom Pizza
Mexican Style Baby Shiitake Mushroom Pizza has a good head start with the use of naturally spicy Shiitake mushrooms.
Ingredients
For the dough:
1 1/2

cups

water

1

tablespoon

maple syrup

2

tablespoons

coconut oil, olive oil is good too

1 1/2

teaspoons

salt

4 1/4

cups

bread flour

2

teaspoons

yeast
Pizza toppings:
1

cup

pizza sauce

1/2

cup

dairy free mozzarella cheese, I like to process mine into very small pieces

1

pound

baby Shiitake mushrooms, cleaned and sliced

1

tablespoon

coconut oil

1

cup

black beans, drained and rinsed

2-3

Roma tomatoes, diced small (you can use canned tomatoes)

favorite greens for sprinkling after baking, baby spinach, wild leek tops (that is what I used), romaine - chopped small
Instructions
This will make two pizzas on two 9" x 13" baking sheets.

If you would like to make your pizza dough by hand, not in a bread machine, please see the recipe for

Antipasto Pizza

. If you would like to use a bread machine follow these directions.

Place the ingredients into the bread machines bread pan in order as listed below. If the pan has a paddle - make sure it is already in the pan.

/2 cups water

tablespoon maple syrup

tablespoons coconut oil (olive oil is good too)

/2 teaspoon salt

/4 cups bread flour

teaspoons yeast

Firmly place the bread pan into the bread machine.

Plug into the outlet.

Select the DOUGH option. Press the start button. It depends on your machine but it will take about 90 minutes to finish.

While the pizza dough is working heath the oil in a saute pan over medium high heat.

Saute the mushrooms for about 15 minutes and then set aside until needed.

When the dough has finished remove the pan and scoop out the dough with your fingers onto a lightly floured surface.

Invert a large bowl over the dough and let rest for 10 minutes.

Divide the dough in half. Set one aside and keep covered with the bowl until you get to it. Spread a bit of coil on two pans and lightly sprinkle with cornmeal.

Pick up the one ball of dough and flatten it in your hands and carefully start flattening it out and stretching the dough in a round. Place on the prepared pan and start to push the dough out into the thickness and shape that you are looking for.

Start to layer your pizza with the ingredients.

Spread the pizza sauce over the bottom so that you can barely see the dough. Sprinkle with the non-dairy mozarella cheese. Sprinkle on the black beans and sauteed baby shiitake mushrooms. Spread around some of the diced tomatoes.

Bake at 425° for 20 minutes.

Repeat with the remaining dough for a second pizza or wrap the dough tightly and place in a freezer bag for future use.
Nutrition
Nutrition Facts
Mexican Style Baby Shiitake Mushroom Pizza
Amount Per Serving (1 Slice)
Calories 326
Calories from Fat 81
% Daily Value*
Fat 9g14%
Sodium 868mg36%
Potassium 545mg16%
Carbohydrates 71g24%
Protein 14g28%
Vitamin A 300IU6%
Vitamin C 5.5mg7%
Calcium 37mg4%
Iron 2mg11%
* Percent Daily Values are based on a 2000 calorie diet.
You can wash off the mushrooms in water. Just rinse a handful at a time and pat them dry. Don't let them soak. That is where you would have trouble because mushrooms soak up any liquid – like crazy.
This conversation is sponsored by Whole Earth Harvest. The opinions and text are all mine. The feelings and thoughts are all mine. I love this website!