If you're looking for a delicious and nutritious meal but don't feel like going through the hassle of spending hours in the kitchen, then sheet pan roasted vegetables may be just what you need! These oven-roasted veggies are incredibly easy to make and packed with tons of flavor. Whether it's a weeknight family dinner or an extra special occasion, roasted vegetables will no doubt become a fast favorite!
Why You'll Love This Roasted Veggie Recipe
Healthy and Delicious– These oven-roasted vegetables pack a ton of flavor with minimal effort! Plus, it's high in vitamins and minerals like vitamins A, B6, C, potassium, and magnesium.
Versatile– You can easily adapt this roasted vegetable recipe to suit different tastes. Add in fresh herbs, Italian seasoning, butternut squash, broccoli, sweet potatoes, brussels sprouts, or other veggies, along with your favorite vegan parmesan cheese or feta cheese for a unique flavor.
Great For Meal Prep– Make this dish ahead of time and store it in the fridge for up to 3 days. That way, you can enjoy delicious roasted veggies all week long!
Easy To Make– All you need is sheet pans, some veggies, and a few ingredients. You can have this dish ready in no time!
What Are Sheet Pan Oven Roasted Vegetables?
Sheet pan-roasted vegetables are an easy and delicious way to make oven-roasted veggies. All you need is a sheet pan, some veggies, and a few ingredients. The dish is then cooked in the oven until the vegetables are tender and full of flavor. Roasting vegetables in this way helps bring out even more flavor from them than other cooking methods.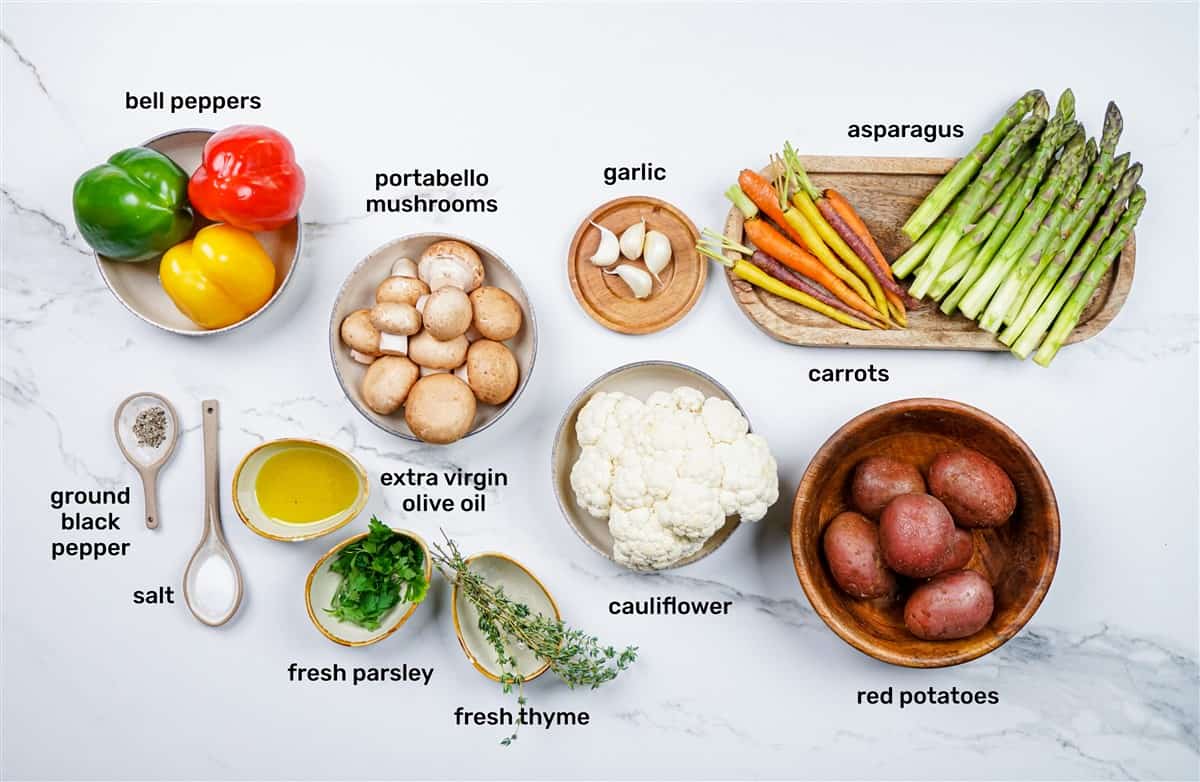 Equipment Needed
Cutting Board
Knife
Large Baking Sheet
Measuring Cups and Spoons
Ingredients
Extra Virgin Olive Oil- Helps to give the oven-roasted vegetables a delicious flavor and golden brown color.
Asparagus- Adds a hint of sweetness and crunch to the dish.
Carrots- For an earthy flavor.
Red Potatoes- Provides a delicious starchy flavor and texture.
Cauliflower- For a subtle nutty flavor and complimenting the other roasted vegetables.
Portabello Mushrooms- Adds an earthy and savory flavor.
Bell Peppers- Use whatever color bell peppers you have at home. Yellow bell pepper, green, orange, and red bell pepper provide a bright pop of color and a natural sweetness to the other vegetables.
Garlic Cloves- A flavorful addition that helps to bring out the natural flavors of roasted vegetables.
Fresh Thyme- Adds an herbal flavor and aroma to the dish.
Fresh Parsley- For garnish.
Salt- Enhances the flavor of the vegetables.
Ground Black Pepper- Adds an additional layer of flavor to the roasted veggies.
How To Make Sheet Pan Roasted Veggies
Roasting vegetables is an easy way to add a nutritious side dish to all of your main dishes. Preheat your oven to 400F. While the oven is preheating, clean and cut all of the vegetables into similar-sized pieces. Place the vegetable mixture in a single layer on a baking sheet. Drizzle with olive oil, so they are evenly coated, and season with salt, black pepper, and sliced garlic. Cook the vegetables in a preheated oven for approximately 40 minutes, careful to toss them halfway through. After that, cook until they reach your desired tenderness, and remove the sheet pan from the oven. Allow this delicious dish to cool before serving.
Note: Cooking time may vary depending on the type of vegetables you use.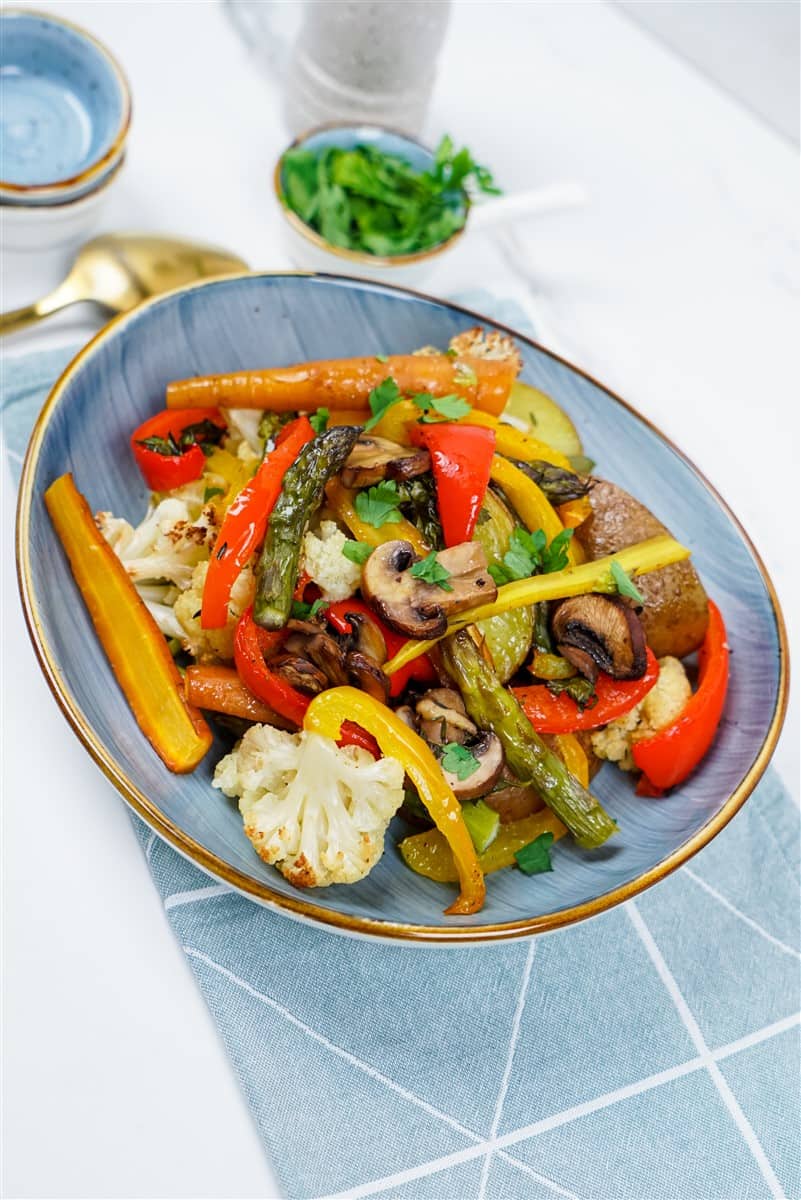 What to Serve With Vegan Oven-Roasted Vegetables
These sheet pan roasted veggies are incredibly flavorful and delicious all on their own. But, if you want to serve these roasted vegetables as a side dish, here are some ideas of what to serve them with.
Quinoa or brown rice.
A light salad.
Toasted bread for dipping.
Vegan soup.
Hummus and crackers.
Baked Tofu
No matter how you serve it, oven-roasted vegetables are an incredibly delicious and nutritious way to enjoy your veggies. Enjoy!
Popular Substitutions & Additions
Substitute the olive oil for your favorite cooking oil, such as coconut, avocado, or sunflower oil.
Use whatever mixed vegetables you have in your fridge. Other great ingredients to use are broccoli, acorn squash, green beans, sweet potatoes, Brussels sprouts, grape tomatoes, cherry tomatoes, butternut squash, and red onion or white onion.
For a flavorful kick, mix in some crushed red pepper flakes or chili powder.
Add some fresh herbs for an extra punch of flavor. Basil, oregano, and rosemary all work great.
Adding a few tablespoons of balsamic vinegar or lemon juice can really enhance the flavors of the vegetables.
Can You Freeze Roasted Vegetables?
Yes! You can freeze roasted vegetables for up to 3 months. Simply let the dish cool off completely before transferring it to an airtight container or freezer bag. When you're ready to enjoy your sheet pan roasted veggies again, just thaw them in the fridge overnight and reheat them in a 350F oven until warmed through.
Roasted vegetables can also be stored in the refrigerator for up to 4 days. Just store them in an airtight container and reheat them in the oven or microwave before serving.
Roasted Sheet Pan Veggie FAQs
Can I add other spices and seasonings to my sheet pan roasted vegetables?
Absolutely! Feel free to experiment with different seasonings and spices. Garlic powder, oregano, rosemary, cumin, curry powder, garlic salt, and paprika are all delicious additions that you can mix with roasted vegetables.
Do I need to use any cooking spray before roasting the vegetables?
No, you don't need to grease the pan. The oil from the vegetables should be enough to keep them from sticking as they roast. However, for easier cleanup, line baking sheet with parchment paper before adding the mixed vegetables.
Can I use frozen vegetables instead of fresh ones?
Yes, you can use frozen vegetables. Just be sure to thaw them beforehand, so they're completely defrosted.
Is it best to roast vegetables in one layer or multiple layers?
For even cooking, it's best to spread the vegetables out in a single layer on your baking sheet, so each piece is exposed to direct heat. Otherwise, some will cook faster than others.
📋 Recipe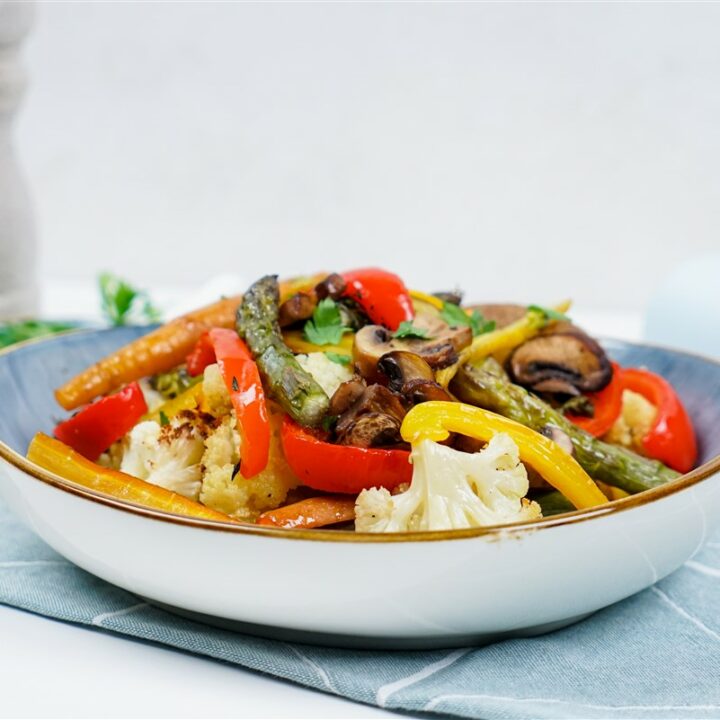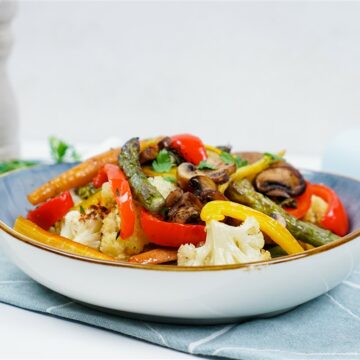 Sheet Pan Roasted Vegetables
Ideal for any gathering, these veggies are an effortless way to whip up something nutritious. They will tantalize your taste buds and satisfy the whole family!
Ingredients
2

tablespoons

Extra virgin olive oil

1

pound

Asparagus -

a bunch, cleaned and cut crosswise

2

cups

Carrots -

about 8-10, cleaned and cut

1

pound

Red potatoes -

washed and cut in half, if the potatoes are largish, cut into quarters

2

cups

Cauliflower -

cut into florets, ½ head

8

ounces

Portabello mushrooms -

or cremini mushrooms, cleaned and sliced

1 ½

cups

Bell peppers -

green, red, yellow, orange or a combination, cleaned and sliced

4

cloves

Garlic -

sliced thinly

3-4 sprigs fresh thyme

3-4 sprigs fresh parsley for garnish

1

teaspoon

Salt

¼

teaspoon

Ground black pepper
Instructions
Preheat the oven to 400 F.

Clean and cut vegetables then spread the vegetables in a single layer on the baking sheet.

Drizzle with olive oil then add the herbs, sliced garlic, salt and pepper

Bake for 30-40 minutes or until all vegetables are tender. Stir gently after about 20 minutes.

Remove from the oven and allow to cool a bit before serving.
Notes
One serving is about 1 ½ cups.
You don't have to use all the veggies listed. You may pick and choose, as well swap in some of your favorites.
Nutrition
Serving:
1
Serving
Calories:
158
kcal
Carbohydrates:
25
g
Protein:
5
g
Fat:
5
g
Saturated Fat:
1
g
Sodium:
447
mg
Potassium:
957
mg
Fiber:
6
g
Sugar:
8
g
Vitamin A:
8866
IU
Vitamin C:
78
mg
Calcium:
53
mg
Iron:
3
mg