Mujadara Baked Rice and Lentils is straight up comfort food. Made richer with full-flavored spices and brought to your dinner table in a pretty casserole.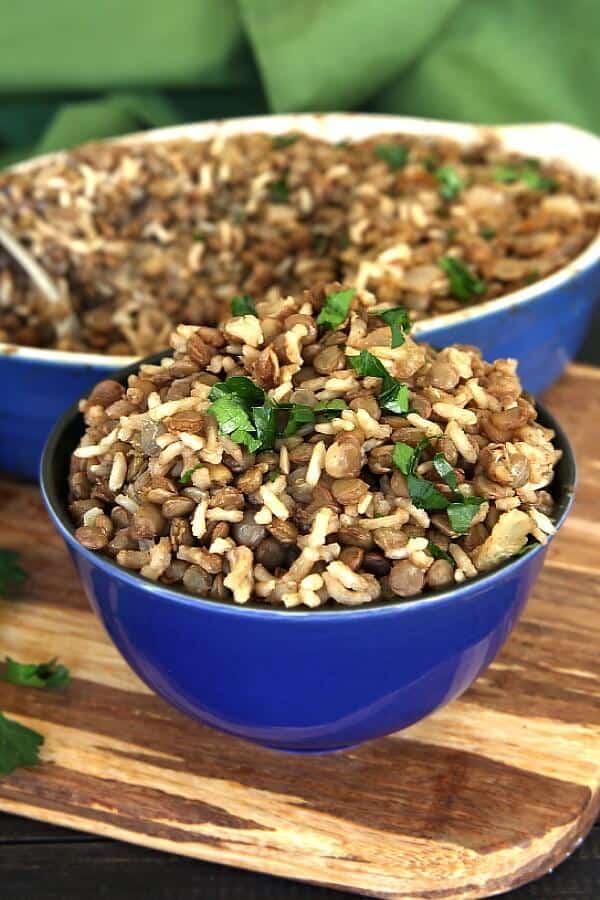 If you're looking for an inexpensive and easy recipe then this is the one. Mujadara is a classic recipe and is a staple in the Middle East. People have been making it for over 500 years.
Because this dish consists of a legume and grain it is a complete protein and also very high in protein per cup. It's just one of those perfect dishes.
Mujadara is not normally baked but it is so easy this way and it comes out perfect every time. About all you have to do is combine everything in a casserole and then it just takes care of itself in the oven.
Baked brown rice seems to come out so much more substantial and satisfying. It certainly has more nutrition than white rice.

I did pre-saute the onion before I added it to the mixture because I just like the extra sweetness that comes out of the onion that way.
Mujadara as a Side Dish
You can serve it as a main dish with other smaller sides such as Pure Delicious Cauliflower. It is actually fun to have only side dishes for dinner.
I'm not sure is mujadara is considered a side dish in Palestine but it sure is delicious. You could add a loaf of crusty bread too and definitely a salad. So good!
Now you have it. Lentils and rice made richer with full-flavored spices and brought to your dinner table in a pretty casserole.

This post contains affiliate links. Read my disclosure policy here.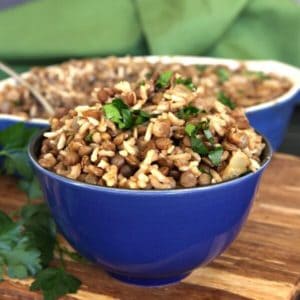 Mujadara Baked Rice and Lentils Casserole
Mujadara Baked Rice and Lentils is straight up comfort food.
Ingredients
1

tablespoon

coconut oil

1/2

cup

onion, diced

3

cups

vegetable broth - use low sodium to watch for your sodium intake

1

cup

dried brown lentils

2/3

cup

brown rice

1/2

teaspoon

ground cumin

1/4

teaspoon

ground cloves

1/4

teaspoon

ground cinnamon

1

teaspoon

sea salt

1/4

teaspoon

black pepper
Instructions
In a skillet heat oil to medium high and then turn it down to medium and saute the onion until it is translucent - about 10 minutes.


Heat 3 cups of vegetable broth to a boil.


Meanwhile, to an 8" x 10" casserole add rice, lentils, all the spices and sauted onion. It could be a 9" x 9" or close to its size also.

Be careful and pour the broth over everything in the casserole dish.

Stir until all is evenly dispersed. The rice and lentils will settle on the bottom.

Cover with a fitted lid or cover tightly with foil. Leaving enough foil to go over the edges, liberally.


Bake at 325 degrees for 60 minutes.


Check and see if the liquid has absorbed and the rice is tender. If not add another 10 minutes.

It will still be very moist.

Serve and sprinkle with fresh parsley - if you like.
Notes
A serving is about 1 1/4 cup each.
IF FREEZING:
Please follow any of the directions defined in my article How to Prepare Food for the Freezer.
TO PREPARE AFTER FREEZING:
If you have frozen leftover mujadara in smaller rigid containers then take out the containers and put in the fridge the day before serving. Heat in a microwave on high, stirring about every 2 minutes until heated through.
Nutrition
Serving:
1
Cup
Calories:
321
kcal
Carbohydrates:
57
g
Protein:
18
g
Fat:
2
g
Sodium:
58
mg
Potassium:
724
mg
Fiber:
16
g
Sugar:
2
g
Vitamin A:
20
IU
Vitamin C:
3.6
mg
Calcium:
49
mg
Iron:
4.6
mg