Best Mini Blueberry Muffins are a special little treat. These cute 'two bites' vegan muffins are deliciously filled with fresh blueberries. Fill up a bowl and serve at breakfast or brunch.
Everyone loves these mini baked treats. And if you just finished taking a batch out of your oven, the smell is terrific.
As you can see they look really beautiful piled high with that feeling of overabundance. It's an inviting look for any breakfast or brunch table.
They're also so versatile. All you need are a couple of baby muffins for yourself are they're also a perfect size to have for an afternoon tea or to take on a picnic.
You can even enjoy them as a quick snack or as a small after-dinner dessert.
In other words, they're going to be very useful.
Baking with Blueberries
Blueberries are probably one of my favorite fruit to use in baking. And there is a reason why I love making these muffins with blueberries.
They are nutritious and naturally sweet.
Blueberries are low in sugar, high in fiber and contain tons of vitamins.
The fruit also gives you that lovely juicy texture with each bite because they stay intact better during baking.
Fresh blueberries are a pleasure to work with and easy to work with too.
Don't Have Fresh Blueberries?
You don't have to wait until blueberry season to make these muffins. S0metimes they can be found out of season but then they are super expensive.
So if you don't have fresh berries, substitute with frozen ones.
Thaw them first and gently dry the fruit with paper towels before folding them into the batter. You don't want any excess water that comes from thawed fruit in your muffins.
Both frozen and fresh blueberries can crush easily, so add them last.
Bakers Tips:
The batter is quickly blended and is best if put into mini muffin tins that have paper linings. It makes it much easier to remove them from the pan.
You can minimize streaking by gently hand folding them in at the end and try not to mash any berries.
Adding them in a lighter batter made with whole wheat pastry flour makes it easier to keep the fruit intact also.
Note that frozen blueberries have more fragile skin and can sometimes "melt" when you bake the muffins. But that doesn't mean that they are less moist or tasty.
I think sweet muffins are a rare indulgence but you aren't carbing out so much when your choice is just a couple of baby muffins.
I think we all know you should treat sweets as a rare indulgence. The good thing is that these cute mini muffins aren't going to sacrifice your health, only satisfy your sweet cravings.
Warning, they will also bring a big smile to your face.
One more thing, I want to show you a pic of Banana Blueberry Bread too. It's a favorite on the blog and it is dee-licious!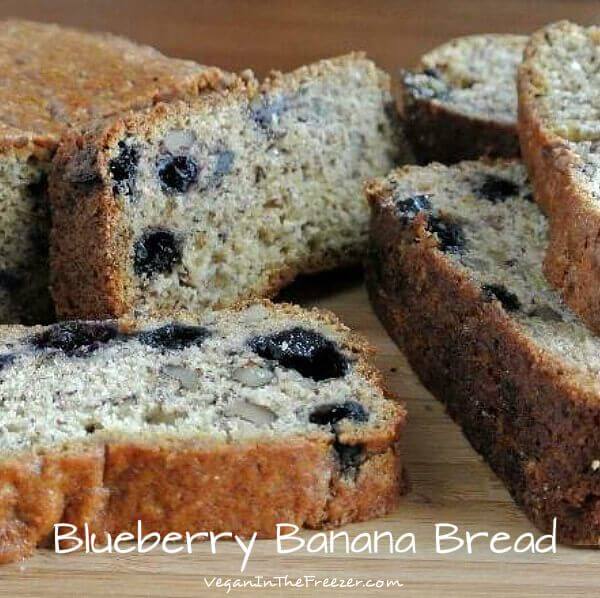 The photo below is from my original post in 2013. They were just as delicious but I baked them in muffin tins that had much smaller cups.
They were more like 'one bite' muffins instead of two.
I like my photography better now too. 🙂
To Make Regular Sized Muffins:
You can make the full-size muffins too but the batter will make about 8 to 9 muffins instead of 36 mini muffins.
You'll also need to bake the larger muffins for 30 - 40 minutes.
Can You Freeze Mini Blueberry Muffins?
Yes!
TO FREEZE:
After they have cooled, you may freeze them using any of the methods shown in my article Preparing Food for the Freezer.
TO DEFROST:
They defrost quickly, so it doesn't take any planning. Yay!
Best Mini Blueberry Muffins
Mini Blueberry Muffins are a special little treat for breakfast or brunch.
Ingredients
1

cup

Whole Wheat Pastry Flour

⅔

cup

granulated sugar

1

teaspoon

baking powder

1

teaspoon

ground cinnamon

¼

teaspoon

salt

1

Tablespoon

flaxseed meal with 3 Tablespoons water for the 'egg'

¼

cup

vegan butter

melted

½

cup

vegan sour cream

1

cup

blueberries

fresh or frozen, defrosted
Instructions
Fit in 36 mini muffin paper cups into the mini tins.

Mix the one Tablespoon flaxseed meal with 3 tablespoons of water. Mix well and set aside.

In a large bowl add the flour, sugar, baking powder, ground cinnamon and salt.

Add the 'egg', vegan butter, and vegan sour cream.

Mix until just combined.

Gently fold in blueberries.

Divide the mixture evenly among the mini muffin cups.

Bake at 375° for 30 minutes or until a toothpick when inserted in the center of a muffin comes out clean.

Put on a wire rack and let cool.
Notes
TO FREEZE:
After they have cooled, you may freeze them using any of the methods shown in my article Preparing Food for the Freezer.
TO DEFROST:
They defrost quickly, so it doesn't take any planning. Yay!
Nutrition
Serving:
1
Muffin
Calories:
70
kcal
Carbohydrates:
11
g
Fat:
2
g
Sodium:
63
mg
Potassium:
42
mg
Sugar:
6
g
Vitamin A:
95
IU
Vitamin C:
0.6
mg
Calcium:
10
mg
Iron:
0.2
mg