This Tabouli Salad Recipe is super fresh and bright tasting thanks to the fresh herbs (parsley and mint). A tabbouleh salad is a delicious healthy side dish and it's also great on its own for lunch. Made with 2 grains for extra nutrition, texture, and flavor!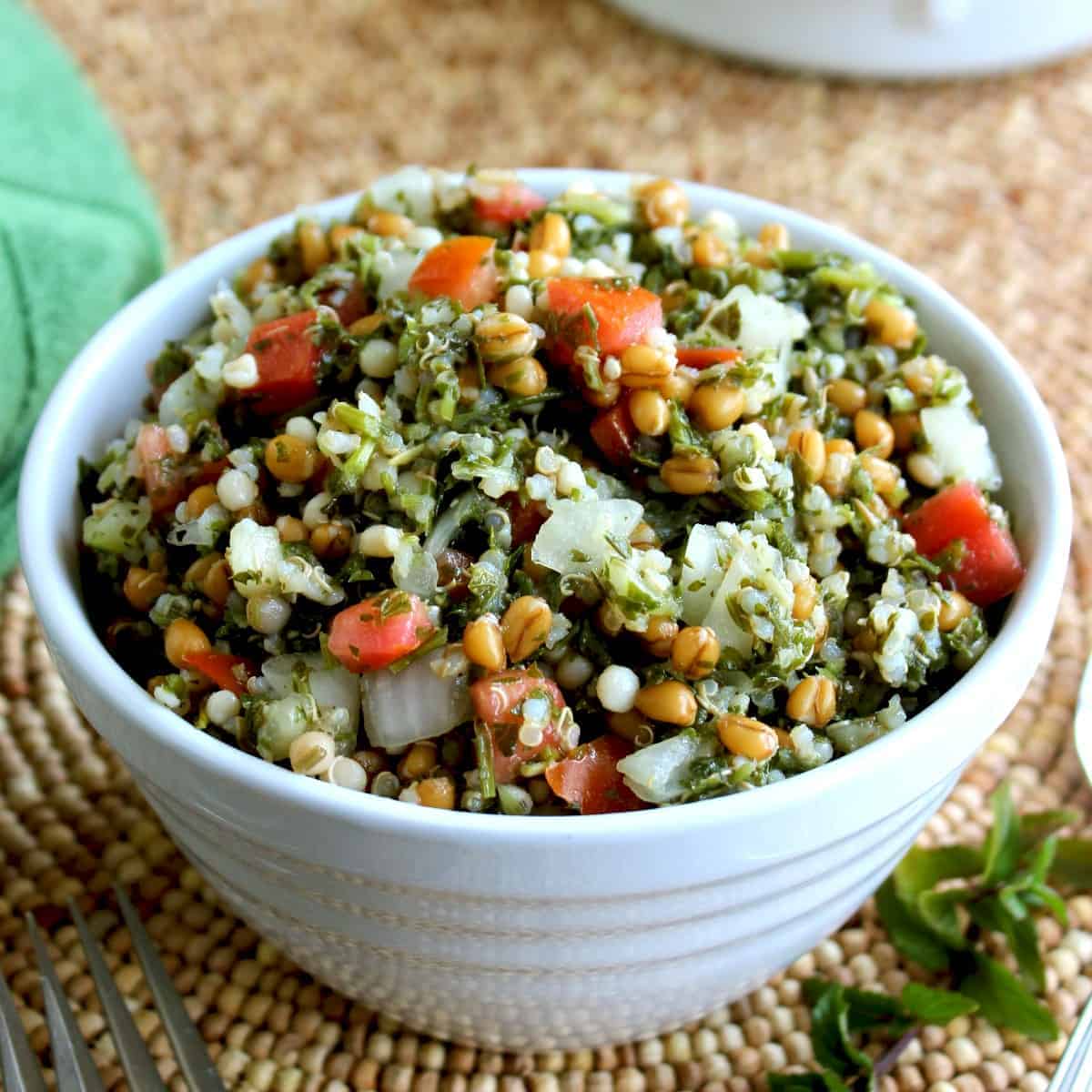 This is not your mother's tabouli but a new updated twist using two grains and couscous. Also, there are two widely used names for this salad - Tabouli and Tabbouleh. Different name same great salad.
I fell in love with unusual grains this year and have been experimenting more and more. The grains are easy to find these days and I am so happy!
Let me tell you a little story. So here I am in the kitchen and I have all my ingredients for this recipe all lined up on the counter.
I take a peek in the couscous box thinking how pretty - then I set it down. I cut off the top of my bag of red wheat berries and look inside. Ohhh, ahhh.
Then it gets set back on the counter. Very clumsily, I might add, because it falls over and the berries start rolling ... and bouncing.
The sound is kind of nice if you didn't know what was really happening.
I grab the bag to set it back up to stop the avalanche and I hit the couscous box. Stop the insanity!
Jump to:
Luckily it was aimed more towards the back of the counter so only a few of those roll onto the floor. Sigh.
Everything gets picked up and cleaned and I get back into making Mediterranean Tabbouleh. It didn't take long and it sure was good!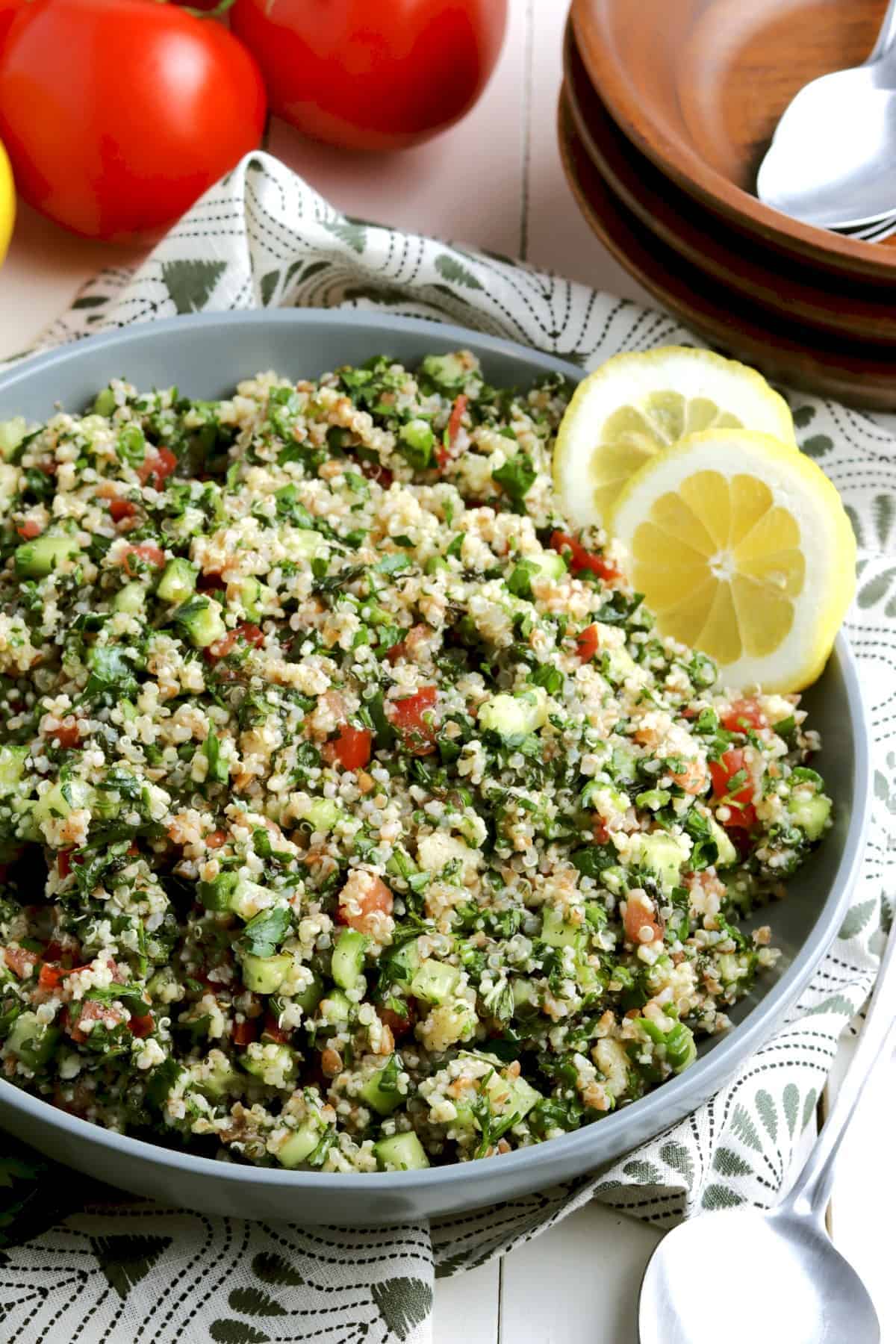 Tabbouli ingredients
Wheat Berries - wheat berries are a whole grain and loaded with fiber, protein, and iron.
Couscous - couscous is essentially a tiny pasta that resembles a grain.
Quinoa - quinoa not only contains less calories and carbs than rice but it has more protein and fiber as well.
Lemon Juice - for best flavor, use freshly squeezed but you can use bottled if that's all you have on hand.
Extra Virgin Olive Oil - because the olive oil isn't cooked, I recommend using a high quality extra virgin olive oil for better flavor.
Scallions - also called green onions
Fresh Herbs: Flat-leaf parsley and fresh mint leaves. Parsley is a key ingredient in a tabouli salad. You can also use curly parsley instead of flat-leaf.
Cucumber - remove the seeds before dicing into small pieces.
Tomatoes - such as plum or Roma tomatoes. You'll dice into small pieces. The fresher the tomatoes, the better.
Sea Salt and Ground Black Pepper - season to your taste preference.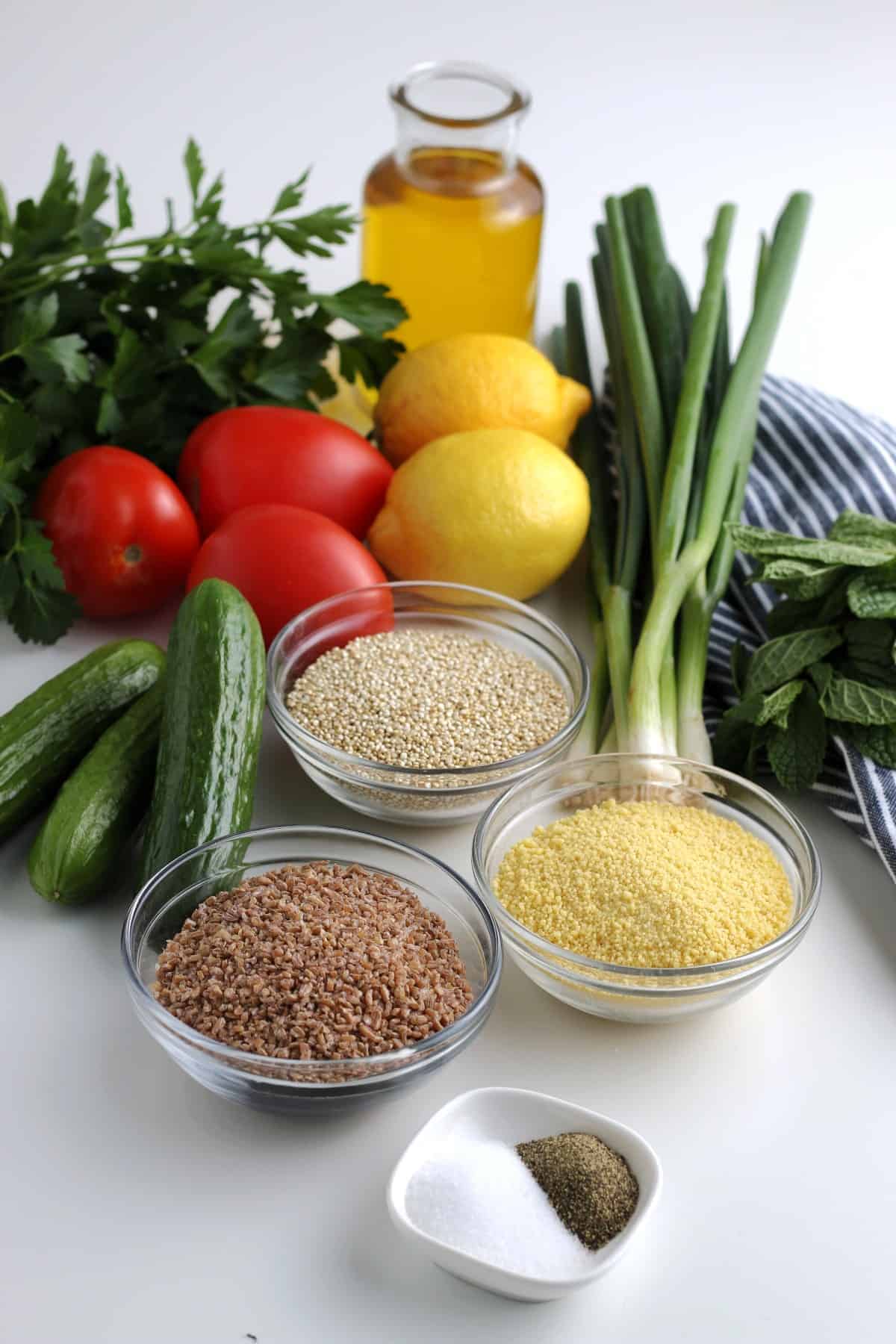 How to make a tabouli salad
Cook the Grains. The red wheat berries take the longest to cook so start them first, then cook the quinoa and couscous. For extra flavor, you can substitute vegetable broth or stock for the water when cooking any or all of the grains.
Toss the Tabbouleh Salad Ingredients. Add the cooked grains and remaining ingredients to a large bowl and toss to combine. Give it a taste and adjust seasoning, if needed.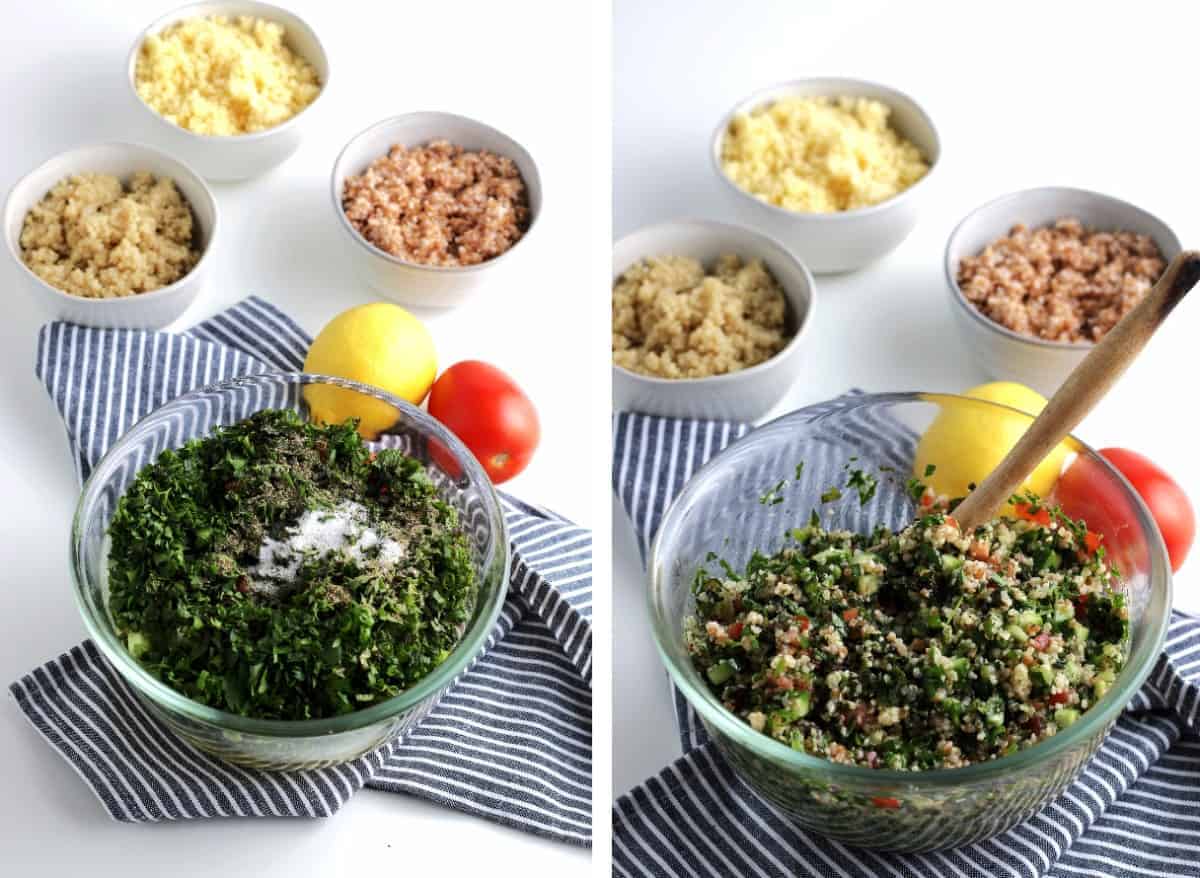 Serve or Store. Enjoy immediately or store in the fridge until ready to eat. The flavors will meld from being stored in the fridge for a day or two.
What is tabouli?
Tabouli is another name for a Lebanese Tabbouleh Salad. It's a vegan grain salad that is traditionally made with bulgar, chopped veggies, and lots of parsley and mint. In this Tabouli Salad recipe we're using 2 grains - wheat berries, and quinoa.
FAQs
How long does leftover tabouli salad last?
Leftover tabouli can be stored in an airtight container in the fridge for up to 4 days.

The flavors will continue to meld as it sits. Due to the high water content in cucumbers, and the fresh tomatoes, and herbs this salad cannot be frozen.
Can you make tabouli salad ahead of time?
Yes, you can make tabbouleh ahead of time. In fact, I think the flavors are better when they've had a day or two to develop in the fridge.
Is this tabouli salad recipe healthy?
This quinoa Tabouli salad is a healthy option! The grains provide lots of fiber and plant-based protein and parsley is an anti-inflammatory with immune system benefits.
How do you eat tabouli?
This quinoa tabouli is best served chilled or at room temperature. It can be eaten as a side dish or on its own.

Traditionally, Lebanese tabbouleh is served as part of a mezze (or appetizer spread) with items like falafel, hummus, and pita. You can also scoop it into lettuce leaves for serving.
Recipe tips
Cook the grains ahead of time! You can even cook extra to use in other recipes throughout the week.
Finely dice the cucumbers and tomatoes into even-sized pieces.
If the tomatoes seem extra juicy, you can remove some of the core to reduce the liquid.
For extra flavor, I love cooking my grains in vegetable stock or broth instead of water.
This recipe easily doubles to feed a crowd!
Don't like one of the grains? You can omit and use more of the other one or more couscous.
Other healthy pasta or grain salads
Pearl Couscous Salad - Pearl Couscous Salad has an array of veggies along with the Israeli couscous including asparagus, olives, and more.
Superfood Salad - Superfood Salad with Maple Vinaigrette comes together fast with fantastic flavor. Combine eleven superfoods for a perfectly balanced dressing.
📋 Recipe
Tabouli Salad
Tabouli is fresh and filling and a very easy recipe.
Ingredients
½

cup

wheat berries

- red, cooked (bulgur)

½

cup

couscous

- cooked

½

cup

quinoa

- cooked

¼

cup

lemon juice

- freshly squeezed, about 2 lemons

¼

cup

extra virgin olive oil

½

cup

scallions

- chopped

1

cup

flat-leaf parsley

- chopped

½

cup

fresh mint leaves

- chopped

1

cup

cucumber

- seeded, diced very small

¾

cup

tomatoes

- diced, such as plum or Roma

2

teaspoons

sea salt

1

teaspoon

ground black pepper
Instructions
Start cooking the red wheat berries first because they take the longest. Follow the package directions.

While the red wheat berries cook the couscous and quinoa according to their package directions. You can substitute vegetable broth for water when cooking but it's not necessary.

Drain and add all of the cooked grains to a bowl.

Add the oil, scallions, parsley, mint, cucumber, tomatoes, sea salt and pepper.

Mix well.

Season to taste and serve or cover and refrigerate.

You can not freeze this salad. It is great fresh and actually improves after being kept in the refrigerator a day or two.
Notes
I recommend pre-cooking more of all three grains than what is needed for this recipe. Then you'll have extra throughout the week to toss into other dishes.
Nutrition
Serving:
1
Serving
Calories:
259
kcal
Carbohydrates:
36
g
Protein:
7
g
Fat:
10
g
Saturated Fat:
1
g
Sodium:
787
mg
Potassium:
288
mg
Fiber:
5
g
Sugar:
1
g
Vitamin A:
1255
IU
Vitamin C:
23.3
mg
Calcium:
51
mg
Iron:
2.4
mg