Superfood Salad with Maple Vinaigrette comes together fast with fantastic flavor. Eleven superfoods are combined with a perfectly balanced dressing.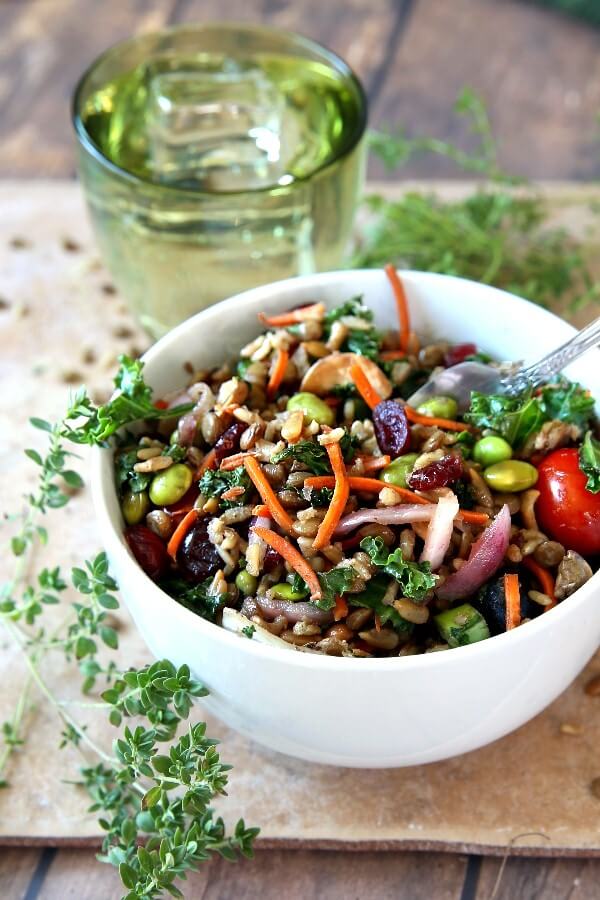 Salads have so much going for them. Whether they're leafy green salads or veggie salads or pasta salads there seems to be no end to the variety.
They also all seem to be easy to make with a bright fresh taste. They may not be packed with superfoods but they are so good for you. 'A salad a day' is my motto.
Now, if you want to concentrate on superfoods then this is the salad to set your eyes on. Eleven different nutrient and vitamin packed foods all in one recipe.
This happens to be a hefty salad that will fill you up for hours and it has lots of protein all working for you.
What are Superfoods?
Superfoods are rich in nutrients, vitamins, and minerals. They are often also a source of antioxidants.
Always good for your heart and your overall health.
Work them into your well-balanced diet of whole grains, fruits, and vegetables and you'll be golden.
Here are a few of the most popular superfoods.
Kale, Kiwi, Beans, Blueberries, Nuts and Seeds, Cabbage, Acai Berry, Pomegranate, Quinoa, Chia, Oatmeal, Green Tea, Broccoli, Strawberries, Spinach, Ginger, Apples, Cranberries and last but not least Lentils.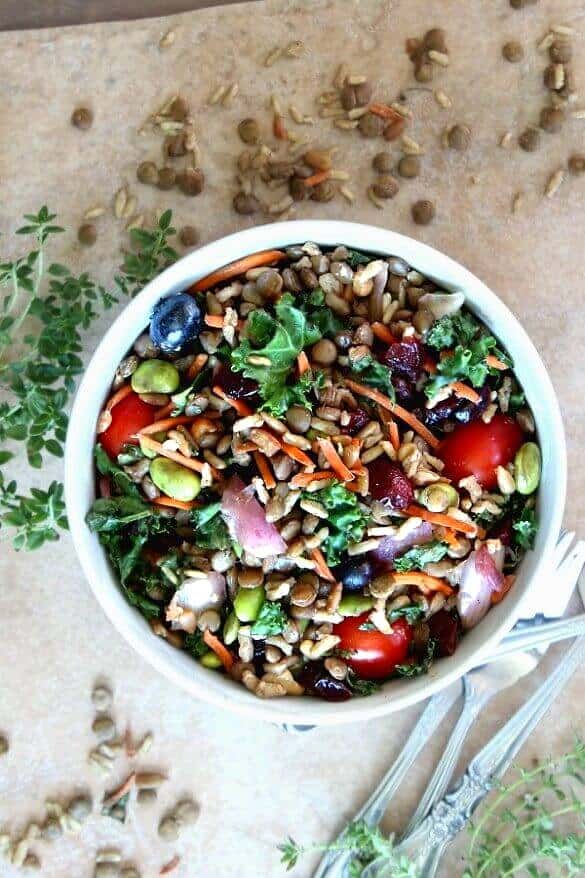 Should Frozen Edamame Be Cooked Before Adding to Salads?
Yes! Frozen edamame needs to be pre-cooked before adding to salads.
In fact, they need to be cooked before adding to any other dish. If you miss this step then your edamame will be tough.
Follow the directions ont he package. Let cool and refrigerate until using.
Now, you're golden.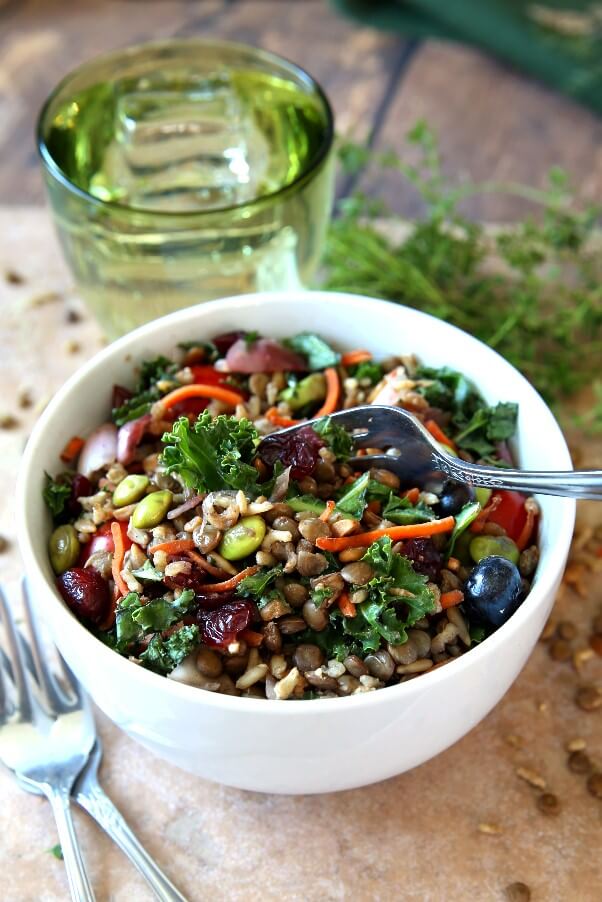 What Makes a Great Maple Vinaigrette?
To start with, the measurement of oil to vinegar is usually 3 parts oil and 1 part vinegar. Not always, usually.
Use extra virgin olive oil or avocado oil and apple cider vinegar is very nice for the vinegar. Red wine vinegar, tarragon vinegar, and even balsamic vinegar are sometimes used.
Now to add the extra flavors. Maple syrup of course but just a little bit.
Dijon mustard is often used but I don't know of a vegan Dijon mustard. That's okay. A little yellow or brown mustard goes a long way and tastes just right.
If you know a certain Dijon is vegan then, by all means, use it. Dijon may have ingredients processed with animal by-products so that would probably entail emailing the company.
Always salt and pepper.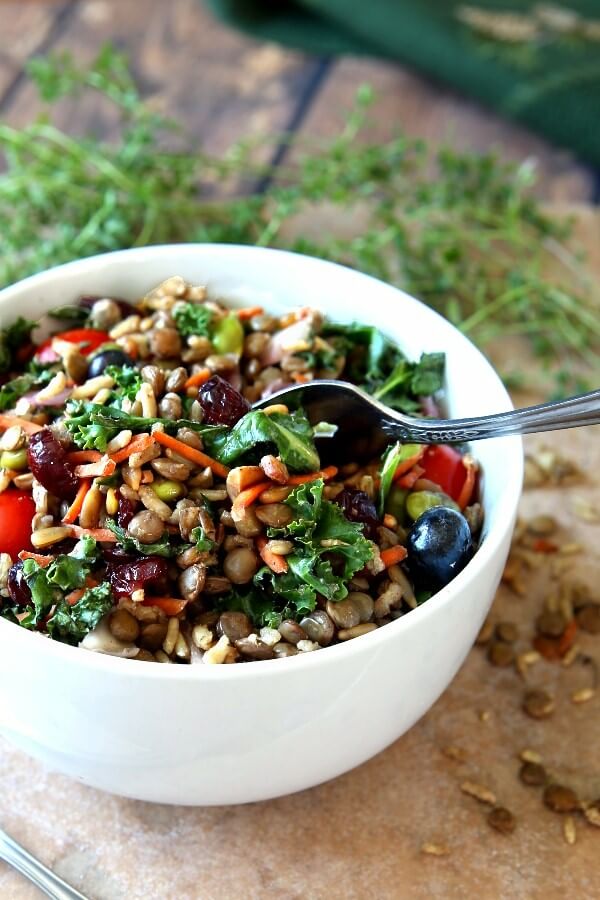 A Salad Bonanza
I have a few other salads that are majorly healthy in the superfoods department. If you want to take a quick and jump on over to them by clicking on their links.
They are:
Vegan Apple Broccoli Salad. You may already have seen this as it is one of the most popular recipes on my blog.
A substantial recipe is Fully Loaded Black Bean Salad. That makes a great lunch any time of the year.
Last but not least is the beautiful Asparagus Couscous Salad which makes a great side dish too.
And then I have six pasta salads and one potato salad. I guess you can see I really really like them.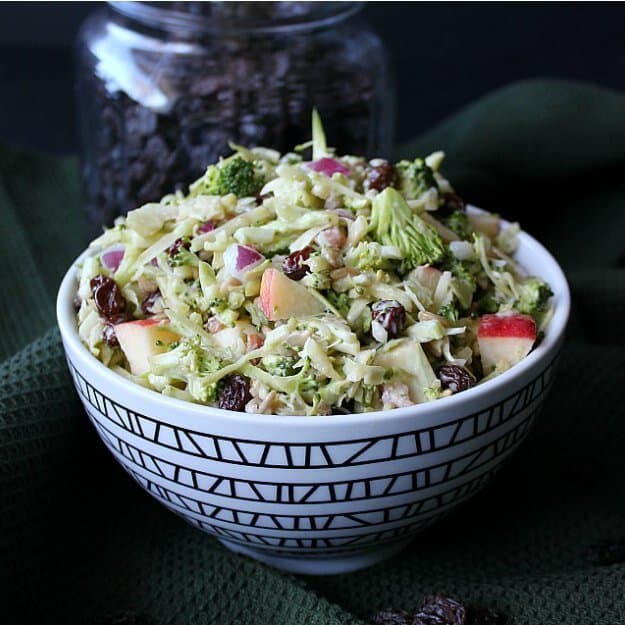 You really don't need any special tools for this super superfood salad. A rice cooker would help a little with the rice and lentils but everything else is fresh with no preparation.
Well, wait! Let me show you a few goodies to make life easier.
Helpful Tools for Superfood Salad
That rice cooker I was talking about has multi-functions.
Measuring cups and spoons are always helpful and look at all the sizes.
How about a nice big bowl for mixing. I love classic glass.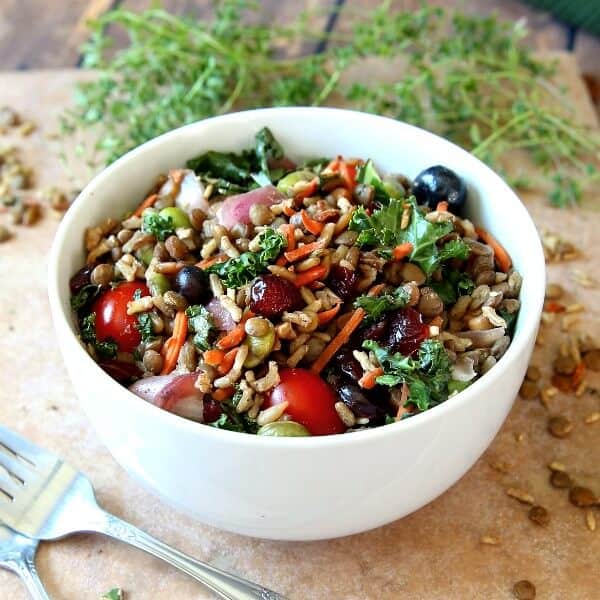 📋 Recipe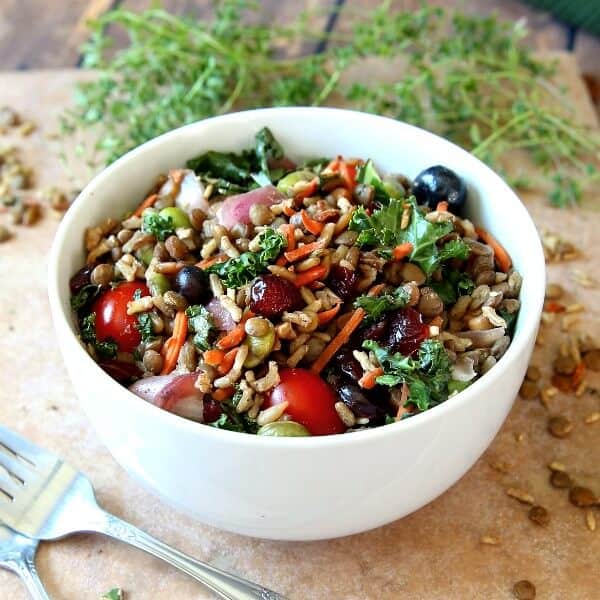 Superfood Salad with Maple Vinaigrette
Superfood Salad with Maple Vinaigrette comes together fast with fantastic flavor.
Ingredients
The Superfoods!
1

cup

cooked lentils

1

cup

cooked brown rice

½

cup

edamame from a can and drained

½

cup

about 1 carrot, grated

½

bunch

kale

¼

cup

fresh or frozen blueberries

¼

cup

dried cranberries

¼

cup

walnuts, chopped

¼

cup

sesame seeds

½

cup

onion

- red onion, chopped

½

cup

grape tomatoes
The Maple Vinaigrette
½

cup

extra virgin olive oil

¼

cup

apple cider vinegar

2

tablespoons

maple syrup

1

tablespoons

spicy brown mustard

¼

teaspoon

salt

pinch

ground black pepper
Instructions
In a small bowl, mix the Maple Vinaigrette.

Break up the kale into small pieces and place in a large bowl.

Pour the dressing over the kale and massage it with your fingertips. This breaks down the kale and makes for a delicious salad green. It only takes a couple of minutes.

Add all of the superfoods to the bowl and toss. Serve!
Nutrition
Serving:
1
Serving
Calories:
370
kcal
Carbohydrates:
30
g
Protein:
7
g
Fat:
21
g
Saturated Fat:
2
g
Sodium:
134
mg
Potassium:
378
mg
Fiber:
5
g
Sugar:
9
g
Vitamin A:
1185
IU
Vitamin C:
17.6
mg
Calcium:
110
mg
Iron:
3
mg