If you love oatmeal cookies but want to make a vegan-friendly version, then this recipe for vegan oatmeal cranberry cookies will be the perfect answer! Not only are these oatmeal cookies amazing, but they're also super easy to make. This vegan wonder is filled with tart cranberries and hearty oats that come together to create an irresistible cookie that is sure to please.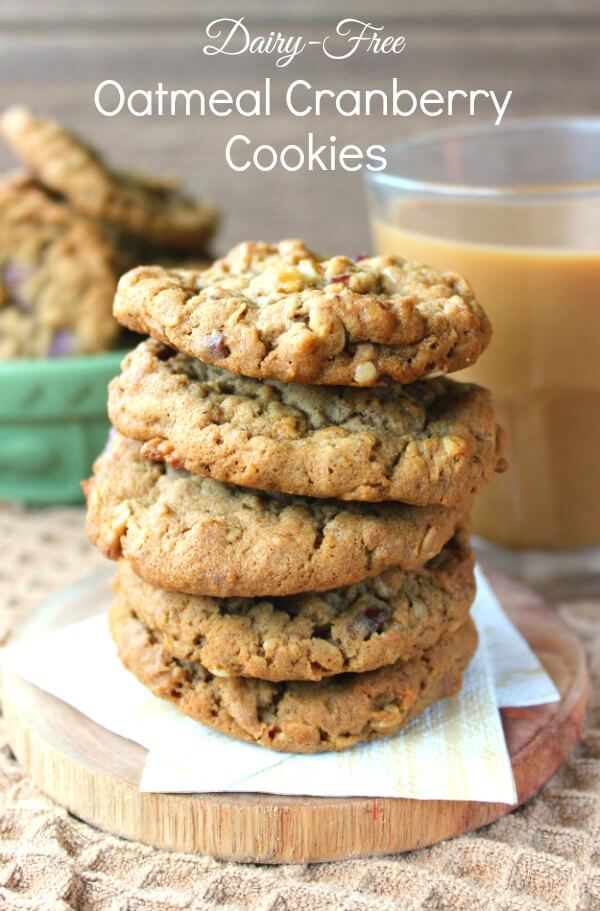 Why You'll Love This Vegan Cranberry Oatmeal Cookies Recipe
Delicious- The combination of tart cranberries and sweet oatmeal creates a delicious cookie with irresistible flavor.
Doesn't Require Fancy Equipment- These oatmeal cranberry cookies can be made with a couple of mixing bowls and a hand mixer!
30-Minute Recipe- From start to finish, these vegan oatmeal cranberry cookies can be made in just 30 minutes.
Simple Ingredients- Most of the ingredients in this vegan cranberry oatmeal recipe you should already have at home.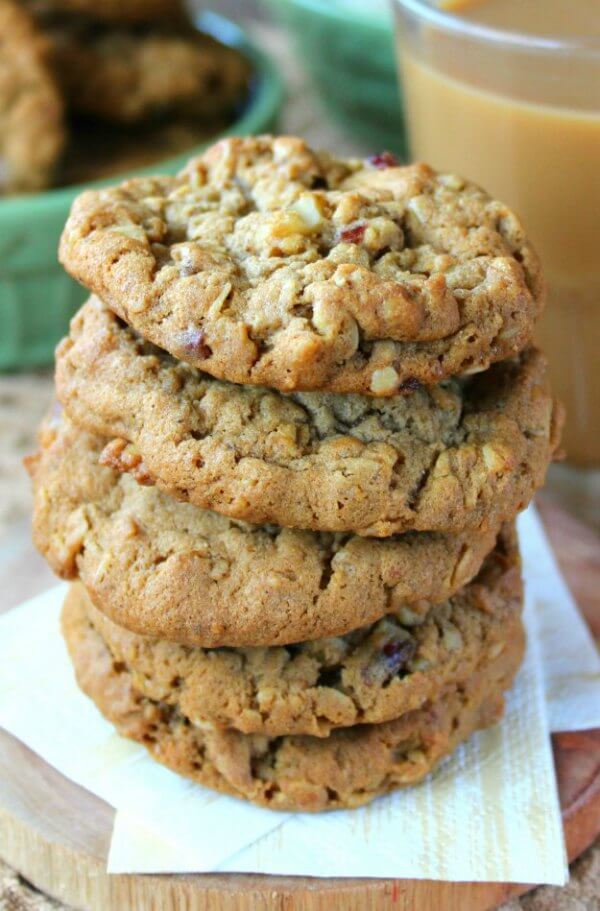 What Are Oatmeal Cranberry Cookies?
Traditional oatmeal cranberry cookies are classic cookies with a chewy texture. They combine the hearty flavor of oats with the tartness of dried cranberries, along with sugar, cinnamon, and baking soda. They are typically baked in the oven on a baking sheet until golden brown. Cranberry oatmeal cookies make for an excellent snack or dessert. This vegan version is sure to satisfy any cranberry oatmeal cookie craving!
Equipment Needed
Baking Sheet/Cookie Sheet
Silicone Baking Mat (Optional)
Parchment Paper (Optional)
Medium Bowl
Large Bowl
Hand Mixer
Stirring Spoon
Cooling Rack
Measuring Cups and Spoons
Ingredients
Vegan Butter- Vegan butter is used to give the oatmeal cookies their classic texture and flavor.
Coconut Sugar- Coconut sugar helps to add sweetness and a caramel-like flavor to these vegan oatmeal cranberry cookies.
Brown Sugar- Brown sugar helps to add an extra layer of sweetness.
Vanilla Extract- Vanilla extract adds a hint of sweetness and enhances the flavors in the cookies.
Dairy-Free Milk- Helps to bind the flour, oat, and dried cranberries, as well as gives the cookies a bit of extra moisture.
Whole Wheat Flour- Used to give the cookies a heartier texture.
Baking Powder- Helps the vegan oatmeal cranberry cookies to rise and become light and fluffy.
Rolled Oats- Provide texture and bulk to the cookies while adding extra crunch when they bake.
Dried Cranberries- Creates a tart flavor that pairs wonderfully with the oatmeal.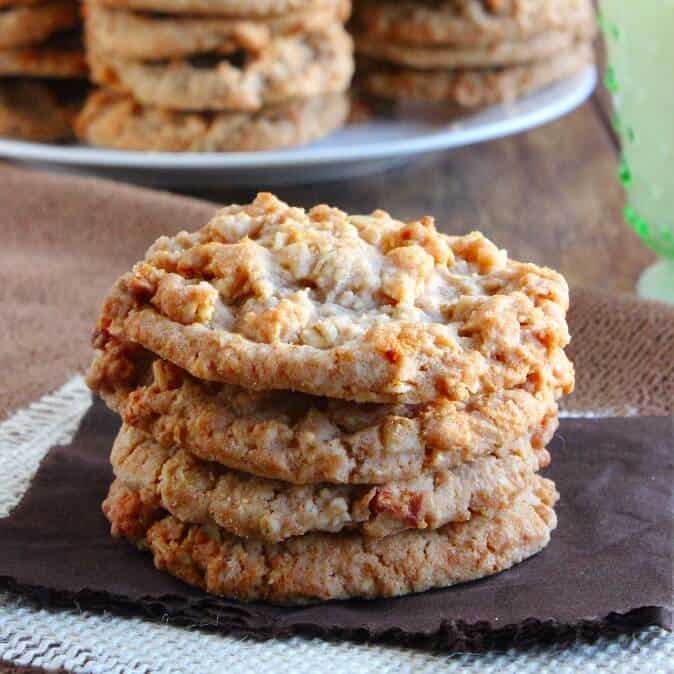 How To Make Vegan Oatmeal Cranberry Cookies
To begin, set your oven to 350F and prepare a baking sheet by lightly greasing it, line with parchment paper, or use a silicone mat. Next, in a medium bowl, use a hand mixer to beat the vegan butter and sugars until they become light and fluffy. Then, mix in the vanilla and milk.
Hand-mix the flour and baking powder in a separate bowl using a spoon. Combine the wet ingredients with all of the dry ingredients in the same large bowl and stir in the rolled oats and cranberries by hand.
Place tablespoons of cookie dough on the prepared cookie sheet, keeping them about 2 inches apart. Use the bottom of a flat drinking glass to gently flatten each tablespoon of cookie dough.
Bake the oatmeal cranberry cookies in the oven for around 12 minutes or until golden brown. After that, let them cool for a few minutes before transferring them to a wire rack. Finally, serve the cookies as desired and enjoy!
Note: For firmer cookies, cook for an additional 2-3 minutes. For more chewy cookies, bake for 2-3 minutes, less than the recipe notes call for.
Popular Substitutions & Additions
If you want to customize this recipe, here are a few ideas:
Nuts- Add in some chopped pecans, almonds, walnuts, or peanuts for an added crunch.
Dark Chocolate Chips- You can swap out the cranberries and add in some dark chocolate chips for an extra sweet treat.
Flour- Use oat flour, almond flour, gluten-free flour, or coconut flour in place of the flour the recipe calls for.
Banana- Add some mashed banana to give your vegan oatmeal cranberry cookies some natural sweetness.
Spices- Enhance the flavor with ground cinnamon or nutmeg for a warm and comforting cookie.
Cranberries- Use fresh cranberries in place of dried cranberries for a more tart flavor. Just make sure to chop the fresh cranberries into small pieces before adding them to the cookie dough.
Coconut- Swap out the oats and add some shredded coconut for an extra tropical twist.
Sweetener- Use maple syrup, agave syrup, coconut sugar, or white sugar in place of brown sugar in the cookie dough.
Vegan Milk- Your favorite dairy-free milk, like soy milk, oat milk, and almond milk, will all work with these vegan oatmeal cranberry cookies.
No matter what you decide to do, these vegan oatmeal cranberry cookies are sure to be delicious!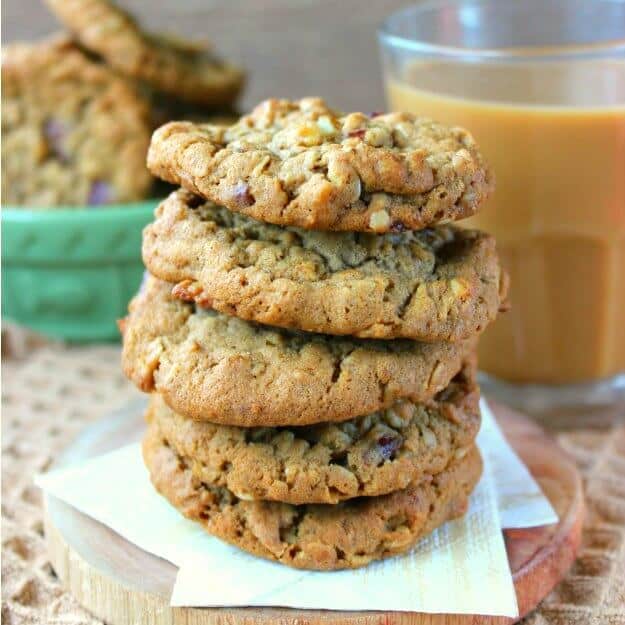 Can You Freeze Oatmeal Cranberry Cookies?
Yes, you can freeze these cookies for up to 3 months. To freeze them, let the vegan oatmeal cranberry cookies cool completely before transferring them to an airtight container or baggie. When you're ready to eat them, just let them thaw at room temperature and enjoy!
Vegan Oatmeal Cranberry Cookies FAQs
Can I make these vegan oatmeal cranberry cookies without vegan butter?
Yes, you can substitute vegan butter with plant-based oil like coconut oil or olive oil. Just be aware that this will change the flavor and texture of the cookies.
Is it possible to make this vegan oatmeal cranberry cookie recipe gluten-free?
Yes, you can substitute whole wheat flour for your favorite gluten-free flour blend to make this vegan oatmeal cranberry cookies entirely gluten-free.
Do I have to use old-fashioned oats?
No. You can use quick oats or steel-cut oats if that is what you have on hand. Just keep in mind that the texture of your vegan oatmeal cranberry cookies will change depending on the type of oats you use.
How do I store leftover cranberry oatmeal cookies?
Store leftover vegan oatmeal cranberry cookies in an airtight container at room temperature. They will stay fresh for up to a week.
📋 Recipe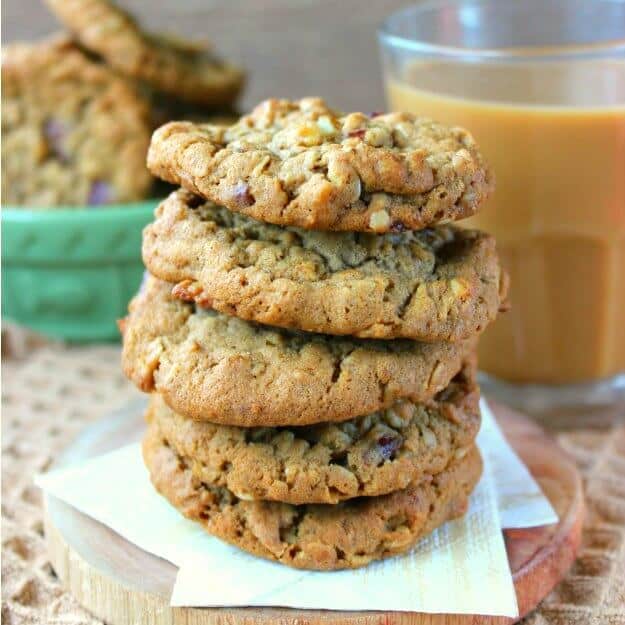 Vegan Oatmeal Cranberry Cookies
Tart, red cranberries, hearty oats, whole wheat flour, and sugar baked until perfectly browned create a cookie that will be absolutely irresistible to everyone.
Ingredients
¾

cup

dairy free butter

⅓

cup

coconut sugar

¾

cup

brown sugar

1

teaspoon

vanilla extract

½

cup

dairy free milk

1

cup

whole wheat flour

¾

teaspoon

baking powder

3

cups

rolled oats

1

cup

dried cranberries
Instructions
In a medium bowl and with a hand mixer beat the dairy-free butter and sugars together until light an fluffy.

Beat in the vanilla and dairy-free milk.

In a large bowl mix flour and baking powder. Stir.

Add the butter mixture to the dry ingredients and mix well.

By hand, stir in the oats and cranberries.

Spoon tablespoons of dough onto the baking sheet 2" apart.

Flatten slightly with the bottom of a flat drinking glass.

Bake at 350 degrees for about 12-15 minutes.

Remove the cookies from the oven and let set a minute or so and then remove them to a cooling rack.
Nutrition
Serving:
3
coookies
Calories:
99
kcal
Carbohydrates:
15
g
Protein:
1
g
Fat:
3
g
Sodium:
36
mg
Potassium:
57
mg
Fiber:
1
g
Sugar:
7
g
Vitamin A:
185
IU
Calcium:
17
mg
Iron:
0.5
mg