Apple Turnovers with Puff Pastry use Granny Smith apples and dried cranberries. Both are mellowed out with an apple jelly mixture and baked to golden perfection with this apple turnover recipe.
Here ya go! Easy apple turnovers with puff pastry that just happens to be premade and vegan. All it takes is a few tweaks and just a few more ingredients to get six beautiful fruit turnovers.
I'll show you simple step by step instructions for this apple turnover recipe and you will think it came from one of the finest bakeries.
It is really nice that we have so many dried fruit options to choose from in our grocery stores. It didn't use to be like this. You use to have to wait for Christmas season to get your cranberry on.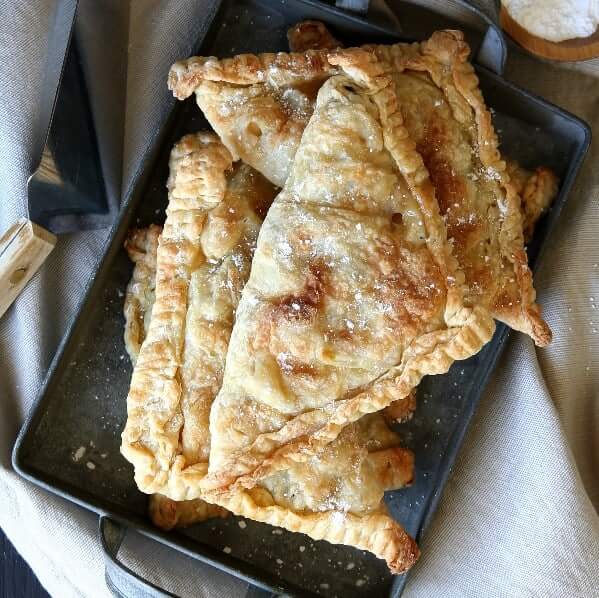 Fall is just around the corner, and in a home baker's mind, that means one thing: Apple Season!
And what better way than using some of these delicious farm apples than in a simple apple turnover recipe.
These turnovers are SO GOOD. You might think that it takes a lot of work to bake turnovers but it doesn't.
Especially when you already have the pastry ready to go. No kneading and folding necessary.
These delicious baked goods have just seven simple ingredients.
How do You Make Apple Turnovers with Puff Pastry?
It's so simple! Buy any brand you'd like of pre-made vegan puff pastry. If you're having trouble finding it Pepperidge Farms is vegan and delicious.
Roll out to a 12" x 18" rectangle. It can be a little rough around the edges as you can manipulate it a bit when you fold the squares over to a triangle shape.
Cut down the center and then through the width to get six squares just like the photo below.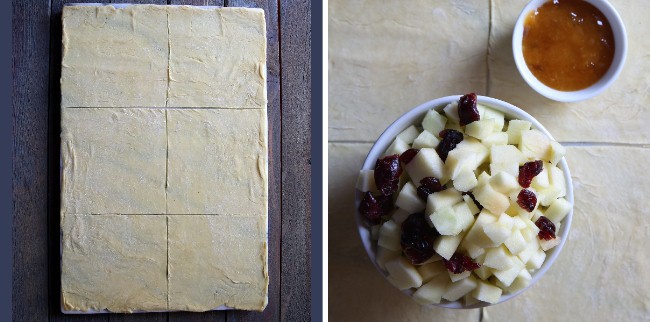 Dice the apples small as in the photo above.
Heat the apple jelly (or apricot jelly) just a bit and then mix with the cornstarch and cinnamon.
Mix the apples, applesauce and jelly mixture together. Divide equally onto the six squares.
Fold one corner over the mixture and press down the edges.
Fold over the edges by just about ½" and then press fork tines along the edge to help seal the pastry.
The filling will really fill up the triangles but it works. You need this mush because the filling will bake down considerably just like in an apple pie.
Place each turnover on a lightly greased baking sheet and bake ay 400º for 20 minutes. Eat up!
Apple and Cranberry Shopping
I remember when our family used to make the trek to Hadley's in Cabazon, California to get our beautiful plump dried dates and cranberries.
Mother spent a fortune to stock up but it was well worth it. Especially for us kids because we got to enjoy all of the wonderful recipes that she made.
An extra bonus is now we all have this wonderful family memory of outings and fun. Nowadays, when I am driving out of Arizona and back to the beach I will stop at Hadley's and see what there is.
Of course, now there are Factory Outlet Stores and a casino right next to it but the whole conglomeration is still way out there in the desert. The old quaint store is as good as ever and I just love that.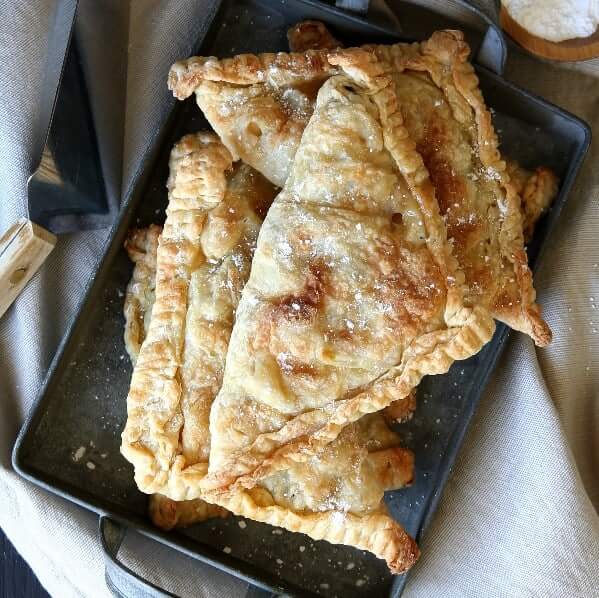 📋 Recipe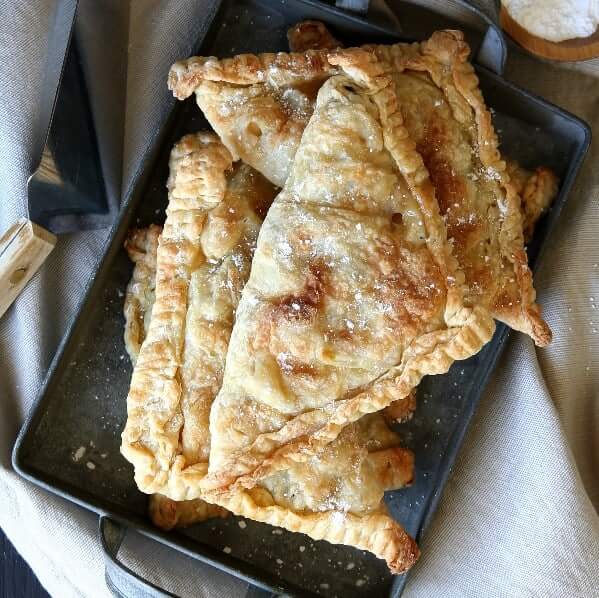 Apple Turnovers with Puff Pastry and Cranberries
Cranberry Apple Turnovers use Granny Smith apples and dried cranberries.
Ingredients
2

cups

Granny Smith apples

- 2 Granny Smith apples are perfect, diced small

¼

cup

dried cranberries

6

tablespoons

apple jelly

- (I have also used apricot), warmed until it is just melted

1 ½

tablespoons

cornstarch

⅛

teaspoon

ground cinnamon

1

sheet

puff pastry

- thawed - they come two to a pack so keep the other one in the freezer until you need it

2

tablespoons

dairy-free butter

- softened
Instructions
Defrost the pastry sheet - it takes about 20 minutes.

On a floured surface roll out the pastry sheet in one direction so that it makes a longer rectangle. The final rectangle will measure 12" x 18".


In a bowl mix the cornstarch, melted jelly and cinnamon together.

Add the apples and cranberries - mix well.

Cut the sheet down the center, lengthwise, so that there are 6" on each side.

Now cut each side, twice, so that there are 6 squares that measure 6" x 6".

Dollop the apple mixture, evenly in the center of each square.

Dot the vegan butter on top of each pile of the apple mixture.

Fold over the squares to line up the edges to form a triangle.

Press the edges with your fingertips and fold over a small edge if you can.


Use the tines of a fork to go around the edges to crimp a better seal.

Place on a lightly oiled baking sheet.

Bake ay 400 degrees for 20 minutes.

Remove from the oven and then place the turnovers on a rack to cool.

Sprinkle powdered sugar over the top of the turnovers, if you wish.
Notes
You can enjoy these little gems any time of the day.
They freeze perfectly too.
IF FREEZING:
After they have cooled you may freeze them in any of the methods shown in my article Preparing Food for the Freezer.
They defrost quickly so it really doesn't take any planning. The microwave will also zap them in 20 seconds.
You can also heat them in a 350 degree preheated oven for 10 minutes.
Nutrition
Serving:
1
Serving
Calories:
325
kcal
Carbohydrates:
32
g
Protein:
3
g
Fat:
12
g
Saturated Fat:
4
g
Sodium:
139
mg
Potassium:
85
mg
Fiber:
2
g
Sugar:
18
g
Vitamin A:
23
IU
Vitamin C:
4
mg
Calcium:
11
mg
Iron:
1
mg