Chocolate Frosted Lemon Cupcakes are so inviting with a chocolaty top and the cupcakes have just a hint of lemon. Two favorite dessert flavors all in one.
It is about time for a new decadent treat to be gracing these pages. On my Recipe Index page, there are little thumbnail photos lined up of all my recipes, in order, in which they were introduced on the blog. Newest to oldest.
Well, I scanned down the page and it was way too long of a scan before I found any chocolate. Heavens!
I need to keep close attention. Also, there were no cupcakes! It is all fixed now and I can breathe a sigh of relief. Frosted  Chocolate Lemon Cupcakes!
All is right with the world.
Health Benefits of Chocolate
Chocolates powerful antioxidants can continue to protect your body from oxygen free radicals that cause you to age.
Chocolate is rich in flavanols which helps blood flow. That's always good for the brain.
Chocolate has loads of polyphenols which keeps the lousy LDL down and in turn, helps healthy HDL stay up.
A glass of red wine and chocolate reduces inflammation.
Even chocolate has protein.
As always, use moderation.
What Fruit Pair Well with Chocolate?
You know I'm going to answer with lemon first. You won't believe how fantastic these lemon cupcakes are with chocolate frosting.
Bananas go great. Have you ever had Chocolate Banana Bread? If not you need to try it and if so you need to make it again.
OMG! Cherries! These Black Forest Cherry Muffins are super special.
Don't forget coconut. You probably already have so many chocolate and coconut recipes that you don't even realize it. I even have a cookie recipe on the blog called Coconut Chocolate Chip Cookies.
Pears can make a dynamite paring too!
Raspberries are so dang good with chocolate.
You can dunk a slice of dried apricots in chocolate and let them dry as you would whole fresh strawberries. Kiwi too!
I'm trying not to mention too many of my recipes on this list but I must really like to mix fruit and chocolate. These Apple Bars have chocolate and oats.
I'm sure you've bought a box of chocolate covered raisins before. So good!
I almost forgot grapes. Slide them on a skewer and dip them in chocolate. That's an easy treat.
I started this list with citrus and I'll end it with another great fruit chcolate pairing. Oranges!
This post contains affiliate links. Read my disclosure policy here.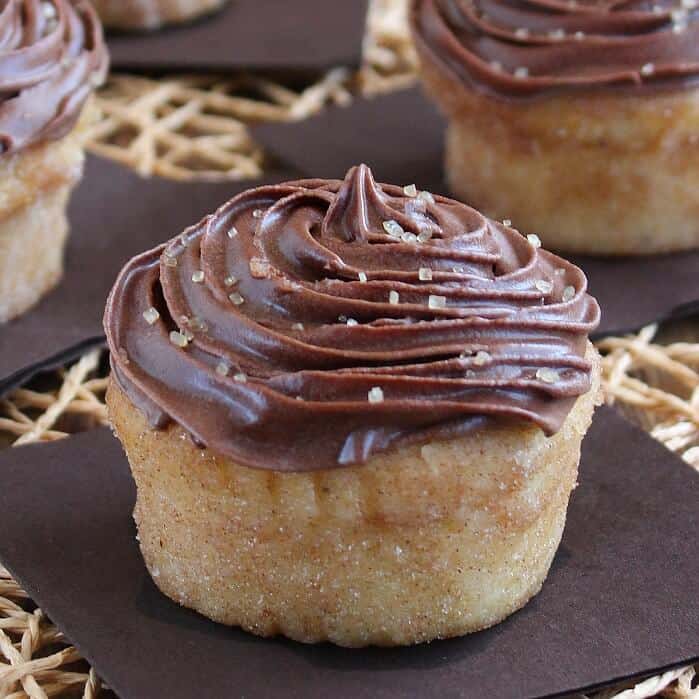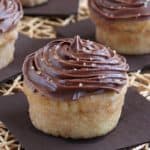 Print
Chocolate Frosted Lemon Cupcakes
Chocolate Frosted Lemon Cupcakes are so inviting with a chocolaty top and the cupcakes have just a hint of lemon.
Ingredients
For the Cupcakes
1/2

cup

coconut oil, solid from the fridge if necessary

1

cup

coconut sugar

1/2

teaspoon

salt

2

eggs - I used an Egg Replacer - you may use any of your favorites

1

teaspoon

baking powder

1 1/2

cups

all-purpose flour

1/2

cup

dairy-free milk - I used coconut milk

1

teaspoon

lemon juice - if the batter does not taste as lemony as you like then you can add up to 1 teaspoon more
For the Frosting
1

cup

organic powdered sugar

1/8

cup

vegan butter

1/8

cup

coconut milk

1/2

cup

plus 2 tablespoons unsweetened cocoa powder

1/4

teaspoon

organic vanilla extract
Instructions
For the Cupcakes:
Mix the 'eggs' according yo your package directions. Some use more water than others. Set aside.

Beat together the coconut oil, coconut sugar, salt and lemon juice until light and fluffy. About 3 minutes.

Add the 'eggs' and beat in well.

In a separate bowl mix the baking powder with the flour.

Add the flour alternately with the coconut milk into the sugar mixture. Start and end with the flour. Mix until smooth.

Preheat the oven to 350 degrees.

Line 12 muffin cups with cupcake liners.

Spoon some of the batter into each liner until they are all pretty even.

Bake the cupcakes at 350 degrees for 18-20 minutes, or until a cake tester inserted into the center comes out clean.
For the Frosting:
While the cupcakes are baking, make the frosting.

Cream the powdered sugar and vegan butter together.

Add the remaining ingredients and mix well.

When you remove the cupcakes from the over - remove the cupcakes from the pan to a baking rack and let cool completely.

Scoop the frosting into a decorating bag with any tip you like, and frost the cooled cupcakes.

I sprinkled some raw sugar (turbinado) on the tops. That is what the little glistening decoration on top of the chocolate.
Nutrition
Nutrition Facts
Chocolate Frosted Lemon Cupcakes
Amount Per Serving (1 Cupcake)
Calories 249
Calories from Fat 99
% Daily Value*
Fat 11g17%
Sodium 145mg6%
Potassium 122mg3%
Carbohydrates 36g12%
Protein 2g4%
Vitamin A 110IU2%
Vitamin C 0.2mg0%
Calcium 38mg4%
Iron 1.4mg8%
* Percent Daily Values are based on a 2000 calorie diet.
IF FREEZING:
Freeze without the frosting. You may freeze them in any of the methods shown in my article Preparing Food for the Freezer
They defrost quickly so it really doesn't take any planning. Just put them in the refrigerator to defrost overnight or set out on a plate and it will take an hour or so to defrost.
Make your frosting and frost.
One more pic for posterity (and facebook 🙂