This sweet treat is bursting with flavor and can be a great way to start your day. Not only does it smell amazing while baking in the oven, but it looks stunning on a plate as well. Whether you're trying to reduce your consumption of animal products or just want something different from your usual breakfast routine, this dish is sure to please everyone at the table.
Why You'll Love This Vegan Blueberry Banana Bread Recipe
Flavorful- The combination of blueberries and bananas makes for a moist and delicious loaf!
No Fancy Equipment- You don't need any fancy equipment to make this vegan banana bread recipe; just a few simple ingredients and a hand mixer, and a loaf pan!
Customizable- This recipe is also customizable; you can add nuts, chocolate chips, or even other fruits to make it your own!
Great For Gifting- This vegan banana bread with blueberries makes a great gift for friends, family members, and neighbors, or you can make it for yourself and enjoy a slice with your favorite cup of tea.
What Is Blueberry Banana Bread?
Traditional blueberry banana bread is a classic recipe that has been around for generations. It's typically made with mashed bananas, fresh or frozen blueberries, butter, eggs, baking soda, and white flour and can be served as a breakfast or dessert. Unlike traditional blueberry banana bread, this vegan version uses plant-based ingredients such as flax egg, dairy-free butter, and whole wheat pastry flour. This creates a healthier and more nutritious version free from animal products. With its deep flavor, moist texture, and subtle sweetness, this vegan blueberry bread recipe is sure to be just as amazing as the classic.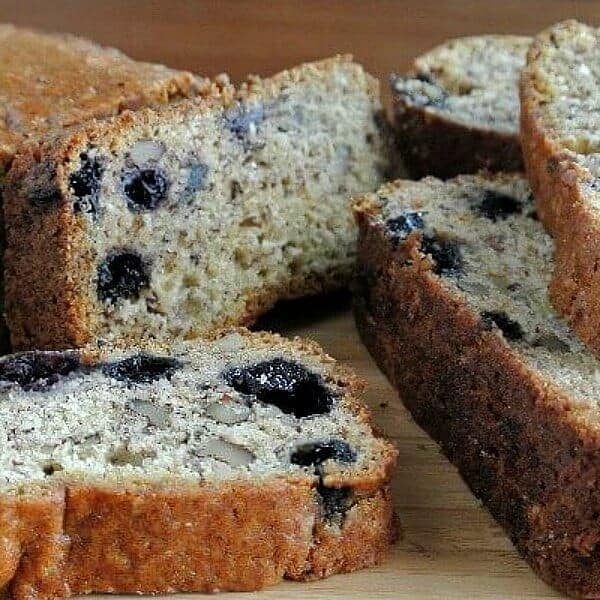 Equipment Needed
Loaf Pan
Small Bowl
Large Bowl
Hand Mixer
Stirring Spoon
Measuring Cups and Spoons
Ingredients
Whole Wheat Pastry Flour- This flour is lighter than traditional all-purpose flour and creates a moist and fluffy texture.
Baking Powder- This helps the vegan bread rise while baking.
Baking Soda- This helps create a light and fluffy texture.
Salt- This helps to enhance the flavor of the banana bread.
Flaxseed Meal- Use the flax meal to make an egg substitute called a flax egg, which is used to bind ingredients in a recipe instead of a regular egg.
Water- This helps to activate the flax meal and binds ingredients together.
Vegan Butter- Gives this delicious loaf its richness and adds moisture and flavor.
Organic Sugar- This helps to sweeten the banana bread.
Ripe Bananas- Very ripe bananas provide sweetness, moisture, and that amazing banana flavor to the loaf bread.
Frozen Blueberries- These add a burst of flavor and color to the vegan banana blueberry bread.
Walnuts- Adds a nice crunch and nutty flavor to the finished product.
Non-Stick Spray- Prevents the blueberry banana loaf from sticking to the pan while baking.
How To Make Vegan Blueberry Banana Bread
To begin, grease a 9x5 loaf pan and preheat your oven to 350F. Use a small bowl to mix the flax meal and water together. Set it aside to allow it to thicken.
With a hand mixer in a large mixing bowl, cream the vegan butter and sugar together until it is light, fluffy, and airy. Stir in the thickened flax egg and mashed banana. Next, add the flour, baking powder, baking soda, and salt. Stir until just combined, making sure not to overmix the batter. Lastly, fold in the frozen blueberries and walnuts.
Pour the banana bread batter into the prepared loaf pan and spread it out evenly. Bake in the preheated oven for about an hour or until a toothpick inserted in the center comes out mostly clean. Allow to cool for about 10 minutes before transferring it to a cooling rack to cool.
What To Serve With Vegan Banana Blueberry Bread
This bread is delicious on its own, but you can also serve it with a variety of other breakfast favorites.
Side of fresh fruit
A hot cup of coffee or tea
Your favorite dairy-free yogurt
Toast the blueberry bread and spread vegan butter on top.
Popular Substitutions & Additions
Vegan banana bread with blueberries is already delicious as-is, but you can also make a few substitutions or additions to customize it. Here are some suggestions:
Substitute whole wheat pastry flour for traditional all-purpose, almond flour, coconut flour, wheat flour, or a gluten-free blend.
Add some spices such as cinnamon, nutmeg, or ginger for a depth of flavor.
Use coconut oil in place of vegan butter.
Replace the frozen blueberries with fresh blueberries or substitute them for other fruits like chopped strawberries or other frozen berries.
Add an extra banana for more moisture and sweetness.
Replace part of the flour with almond flour for added nuttiness and texture.
Add a teaspoon of vanilla extract for extra flavor.
Top it off with chopped walnuts, shredded coconut, chia seed, ground almonds, or vegan chocolate chips for some crunch.
Can You Freeze Blueberry Banana Bread?
Yes, you can freeze this banana bread. To do so, first, allow it to cool completely, then wrap the loaf in plastic wrap and foil. Place it in an airtight freezer-safe container or bag and store it in the freezer for up to 3 months. When you're ready to eat it, just thaw the frozen loaf overnight in the refrigerator. You can reheat the bread in the microwave or oven.
Vegan Blueberry Banana Bread
Can I use this blueberry banana bread recipe to make muffins?
Yes, you can easily adapt this recipe from a loaf pan, cake tin, or muffin tin to make delicious vegan blueberry banana muffins. Just fill a greased muffin tin with the batter and bake for about 25 minutes or until a toothpick comes out clean.
How do I store blueberry banana bread?
Blueberry banana bread should be stored in an airtight container at room temperature. It will keep for up to 4 days, or you can store it in the refrigerator for up to 1 week. It also freezes well so that you can store it in the freezer for up to 3 months.
Can I make this recipe gluten-free?
Yes, you can easily make this a gluten-free blueberry banana bread loaf. Just substitute the whole wheat pastry flour for a gluten-free all-purpose flour blend. Be sure to check the ingredients list on the package for any potential allergens, and always use certified gluten-free products if necessary.
📋 Recipe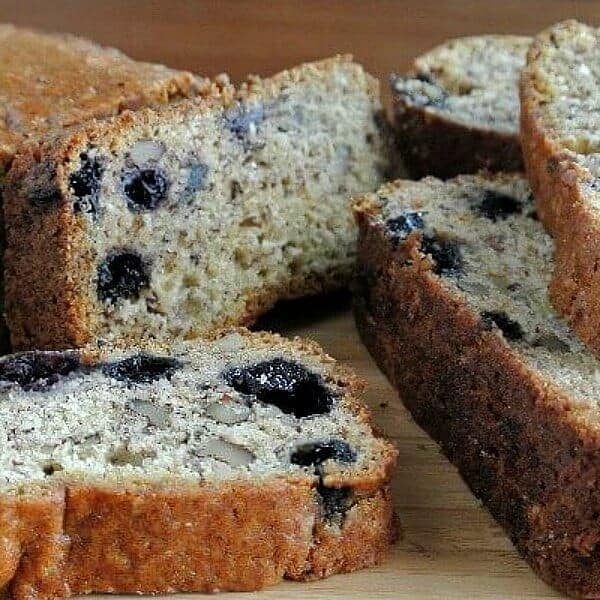 Vegan Blueberry Banana Bread
With sweet bananas, beautiful blueberries, and an aroma to fill the house, this tasty loaf will be your new go-to breakfast favorite the whole family will love.
Ingredients
1 ½

cup

whole wheat pastry flour

½

teaspoon

baking powder

½

teaspoon

baking soda

½

teaspoon

salt

1

tablespoon

flaxseed meal

3

tablespoons

water

- for the flax egg

⅓

cup

dairy-free butter

⅔

cup

sugar, organic

1

cup

banana,

it's okay if it is a little bit more or a little bit less

½

cup

frozen blueberries, defrosted

½

cup

walnuts, chopped
Instructions
Grease a 9" x 5" loaf pan.

Mix the flax seed meal and water together and set aside to thicken.

In a large bowl, with a Hand Mixer, cream the vegan butter and sugar together until it is light and fluffy. This takes about 5 minutes.

Stir in the flax seed 'egg' mixture and mashed banana.

Add the flour, baking powder, baking soda and salt and stir until it is just blended. Do not over mix.

Fold in the blueberries and walnuts.

Pour into the prepared loaf pan and spread evenly. Bake at 350 degrees for 1 hour.


Remove from oven and let sit for about 10 minutes. Turn out on a rack and let cool completely.

Notes
This is great at room temperature and also toasted with dairy free butter spread on top.
TO FREEZE:
After the loaf has cooled you may freeze it in any freezer save container. I would probably pack it in a freezer bag and then slip it into another freezer bag.
The loaf defrosts quickly so it really doesn't take any planning. Just take out of the freezer and put in the refrigerator the night before.
Nutrition
Serving:
1
Slice
Calories:
223
kcal
Carbohydrates:
33
g
Protein:
3
g
Fat:
9
g
Saturated Fat:
1
g
Sodium:
220
mg
Potassium:
203
mg
Fiber:
3
g
Sugar:
17
g
Vitamin A:
300
IU
Vitamin C:
2.6
mg
Calcium:
23
mg
Iron:
0.9
mg