This Blueberry Banana Bread is so moist and perfect that I actually think it might be the best one I have ever made. On top of that it is simple and fast.
Don't you just love banana breads?  They are such an easy quick bread and always turn out good.  This time I have done a Blueberry Banana Bread.  It is so moist and perfect and I actually think it might be the best one I have ever made.  How can that be possible?
Well, sometimes I think I might be crazy but it is really really good.  I crack myself up.  All these conversations going on in my head.  Well, who else am I going to discuss my recipes with?  Haha!  Anyway, I digress.  Make this banana bread because it is simple and, quite frankly, delicious!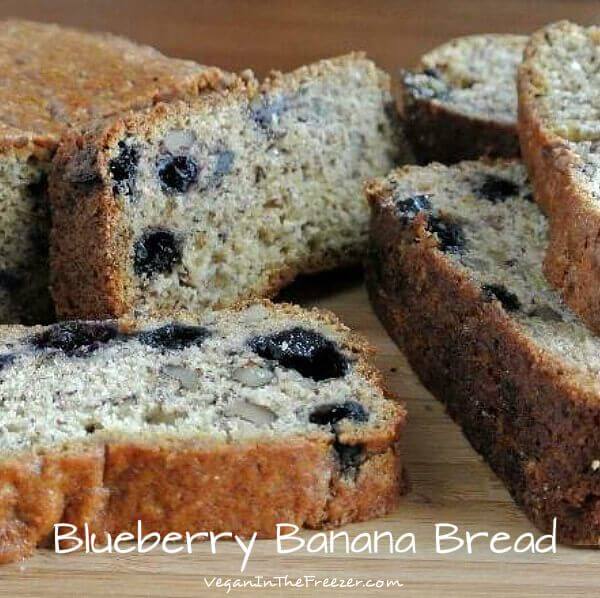 Connect with Vegan in the Freezer
Facebook | Pinterest | Instagram | Bloglovin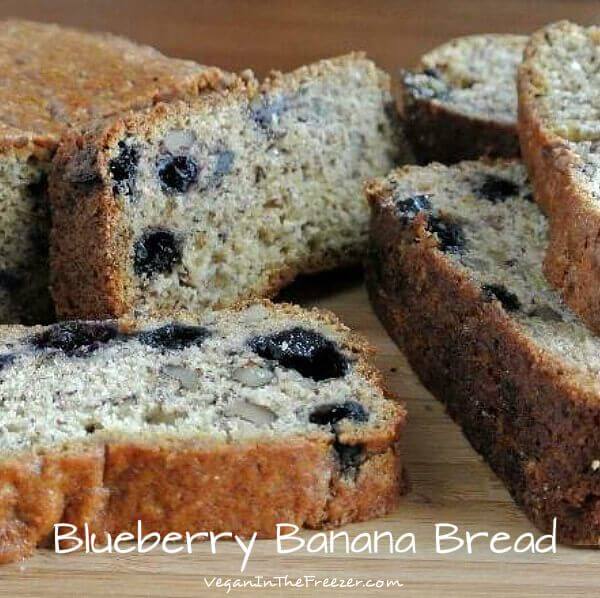 Blueberry Banana Bread
Total Time
1
hour
15
minutes
Ingredients
1 1/2

cup

whole wheat pastry flour

1/2

teaspoon

baking powder

1/2

teaspoon

baking soda

1/2

teaspoon

salt

1

Tablespoon

Flax Seed Meal and 3 Tablespoons water

1/3

cup

vegan butter such as Earth Balance

2/3

cup

granulated sugar

1

cup

large banana or 2 small bananas mashed to measure about 1 . This means it is okay if it is a little bit more or a little bit less - but just a little bit.

1/2

cup

frozen blueberries, defrosted

1/2

cup

walnuts, defrosted
Instructions
Grease a 9" x 5" loaf pan.

Mix the flax seed meal and water together and set aside to thicken.

In a large bowl, with a Hand Mixer, cream the vegan butter and sugar together until it is light and fluffy. This takes about 5 minutes.

Stir in the flax seed 'egg' mixture and mashed banana.

Add the flour, baking powder, baking soda and salt and stir until it is just blended. Do not over mix.

Fold in the blueberries and walnuts.

Pour into the prepared loaf pan and spread evenly.

Bake at 350 degrees for 1 hour.

Remove from oven and let set for about 10 minutes.

Turn out on a rack and let cool completely.

Store as you would bread.
Recipe Notes
This is great at room temperature and also toasted with vegan butter spread on top.
TO FREEZE:

After the loaf has cooled you may freeze it in any freezer save container.br]I would probably pack it in a freezer bag and then slip it into another freezer bag.
The loaf defrosts quickly so it really doesn't take any planning. Just take out of the freezer and put in the refrigerator the night before.