This delicious vegan Blueberry Banana Bread recipe is filled with plenty of blueberries and walnuts. It's a super moist banana nut bread and I think it might be the best one I've made yet. On top of that, it is a simple and fast recipe that you'll love making over and over again.
Don't you just love banana bread? They are such an easy quick bread and can be changed up so easily.
This time it's a Super Moist Banana Nut Bread with Blueberries. It is perfect and I actually think it might be the best one I have ever made. How can that be possible?
It is so comforting to know that one is sitting on your kitchen counter and you can snack on it whenever you please. This version is also quite nutritious because it's packed with healthy wholesome ingredients and sweetened with organic sugar.
It also doesn't take long before it pops out of the oven and you can enjoy that first bite. All the more reason to love this recipe—quick, easy to make and it always turns out good.
The flavor combination is amazing!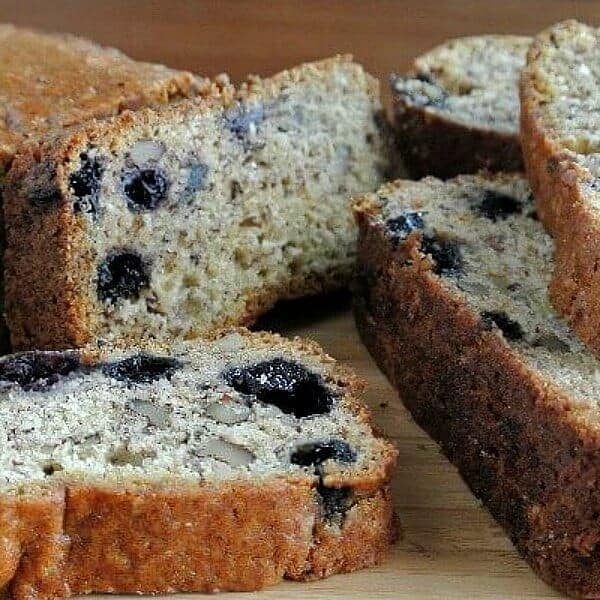 Blueberries and Walnuts are The Stars!
As if a regular vegan blueberry banana bread recipe isn't already a treat in itself—try my Breakfast Banana Cake—this loaf has something extra special with each bite:
Wonderful sweet blueberries!
These fruits add a burst of juiciness to every bite. No need to top it off with any jam, because these berries have already got you covered.
A simple slice such an excellent snack in itself.
I used frozen berries for the photos in this recipe. But you can use fresh blueberries anytime you can get your hands on them
Walnuts add a nice crunch to banana bread. They're naked in so they're a little softer than raw walnuts.
They're also full of fiber and contain tons of healthy fats too.
I particularly like them in this recipe because of the earthy flavor they add to the bread. They balance the sweetness in this bread.
Chef's Tips
When baking with blueberries always fold them into the batter at the very end to make sure that they stay intact. It is to prevent any blue streaking before the mix goes into the oven.
You can see the nice color of the batter in the photo below. The raw batter doesn't come up too far in the pan but it rises well to give you a nice thick slice.
Enjoy this vegan Blueberry Banana Bread Any Time of the Day!
I really mean this. There is no wrong time to enjoy this homemade quick bread.
The smell is fantastic. But I do recommend to let it cool a bit first. And I promise that you will be rewarded for the wait.
It slices much better when it's cooled.
We enjoy it as a snack, for breakfast, and even dessert. Cold or toasted it is great! I slather dairy-free butter on it when it's toasted.
Make this banana bread because it is simple and, quite frankly, delicious!
This post contains affiliate links. Read my disclosure policy here.
What Do You Think?
If you take a photo of your beautiful fresh Super Moist Banana Nut Bread I would love to see it. Let those blueberries shine. Follow me over on Instagram and tag me on your photo @vegan_in_the_freezer.
Your opinion means a lot to me and if you'd like to leave a comment and possibly a star rating I'd love to hear your thoughts.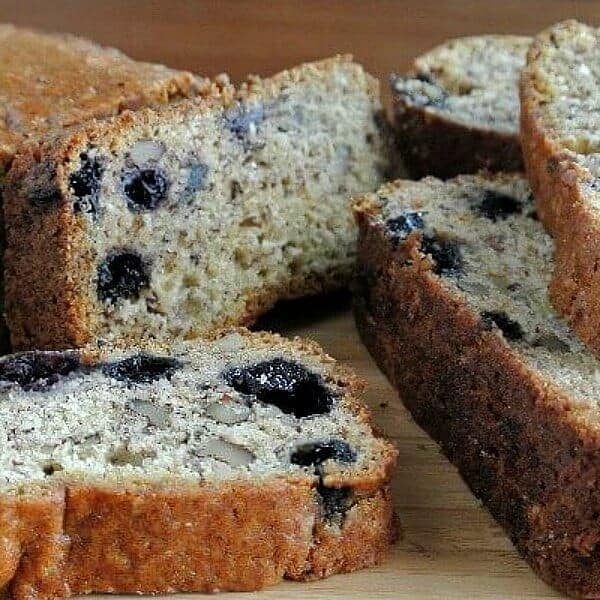 Blueberry Banana Bread
This Blueberry Banana Bread is so moist and perfect that I actually think it might be the best one I have ever made. On top of that it is simple and fast.
Ingredients
1 ½

cup

whole wheat pastry flour

½

teaspoon

baking powder

½

teaspoon

baking soda

½

teaspoon

salt

1

tablespoon

flaxseed meal

3

tablespoons

water

- for the flax egg

⅓

cup

dairy-free butter

⅔

cup

sugar, organic

1

cup

banana,

it's okay if it is a little bit more or a little bit less

½

cup

frozen blueberries, defrosted

½

cup

walnuts, chopped
Instructions
Grease a 9" x 5" loaf pan.

Mix the flax seed meal and water together and set aside to thicken.

In a large bowl, with a Hand Mixer, cream the vegan butter and sugar together until it is light and fluffy. This takes about 5 minutes.

Stir in the flax seed 'egg' mixture and mashed banana.

Add the flour, baking powder, baking soda and salt and stir until it is just blended. Do not over mix.

Fold in the blueberries and walnuts.

Pour into the prepared loaf pan and spread evenly. Bake at 350 degrees for 1 hour.


Remove from oven and let sit for about 10 minutes. Turn out on a rack and let cool completely.

Notes
This is great at room temperature and also toasted with dairy free butter spread on top.
TO FREEZE:
After the loaf has cooled you may freeze it in any freezer save container. I would probably pack it in a freezer bag and then slip it into another freezer bag.
The loaf defrosts quickly so it really doesn't take any planning. Just take out of the freezer and put in the refrigerator the night before.
Nutrition
Serving:
1
Slice
Calories:
223
kcal
Carbohydrates:
33
g
Protein:
3
g
Fat:
9
g
Saturated Fat:
1
g
Sodium:
220
mg
Potassium:
203
mg
Fiber:
3
g
Sugar:
17
g
Vitamin A:
300
IU
Vitamin C:
2.6
mg
Calcium:
23
mg
Iron:
0.9
mg
This recipe has been updated from when it was originally published in November 2013. More information was added for clarity and quality.