As far as ingredient swaps go, fish sauce may be towards the bottom of the list of things to worry about for most folks. This uniquely flavored condiment is not exactly used in a ton of different applications as its flavor profile is best suited for particular dishes. However, when you need it, you really need it!
We're happy to report that there are plenty of vegan fish sauce substitutes in the sea, meaning yes, you can create a homemade vegan version of your favorite Asian takeout meals! Next time you need to replace fish sauce in a recipe or adapt a dish to suit a vegan diet, just use one of the following top 10 options.
What is Fish Sauce?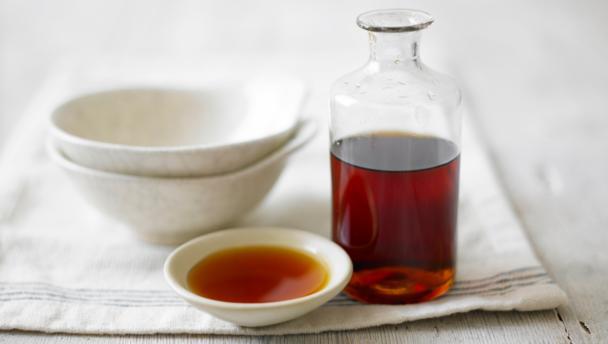 As the name suggests, fish sauce is indeed made from fish! Typically made from anchovies or other small fish, traditional fish sauce is the liquid produced after the fish have been salted and allowed to ferment for several months, sometimes up to a year or longer!
Due to the nature of fermented fish (even if you've never smelled or tasted the stuff, you can certainly imagine!), the sauce takes on an extremely assertive flavor which is salty, earthy, and just a bit sweet all at the same time. One taste stands at the forefront though and that is of course, umami flavor. Due to a high glutamate--an amino acid found in certain foods--content, fish sauce is deeply savory!
What is Fish Sauce Used For?
Fish sauce adds depth of flavor to any dish and can be used as part of a marinade or dipping sauce. You'll often find it rounding out the complex flavors of Southeast Asian dishes like soups, stir fries, noodles, and rice dishes. This extremely popular Asian condiment is most likely to be found in the cuisines of countries such as Thailand, Vietnam, Taiwan, Malaysia, and the Philippines, among others.
10 Best Vegan Fish Sauce Substitutes
If you are vegan, or if the idea of a sauce made of fermented fish simply doesn't appeal to you, you may be looking for an alternative! Thankfully, there is no shortage of plant based ways to incorporate that craveable umami flavor into your cooking.
Our favorite vegan fish sauce alternatives are:
Soy Sauce
Tamari
Coconut Aminos
Miso Paste
Seaweed
Mushroom Broth
Vegemite or Marmite
Vegan Fish Sauce
Vegan Oyster Sauce
Vegan Worcestershire Sauce
Before choosing a substitute for fish sauce, be sure to carefully consider all of your reasons for making the swap. If you are simply looking for a vegan option, then any of the following choices will suit perfectly! But if there are other issues afoot such as taste preferences or allergies, be sure to take note of the particulars of each alternative.
Look towards the end of our article for more on the different considerations to make when selecting a replacement option!
1. Soy Sauce
Soy sauce is an excellent vegan option for replacing fish sauce in a recipe as not only is it one of the most comparable in terms of taste and texture, but it is also one alternative which you are most likely to already have on hand! Most folks have a bottle of soy sauce in the pantry or at the very least, a few packets leftover from the latest order of Chinese takeout.
Seeing as this dark brown liquid is made from fermented soybeans, it carries many of the same amino acids and flavorful elements as actual fish sauce does. It does not taste quite as earthy or tangy as fish sauce, but you may be able to bring a bit of extra flavor to the table by adding one of the ingredients mentioned below.
Keep in mind that most soy sauce contains wheat therefore is not suitable for gluten-free cooking. In addition, if your dish already calls for soy sauce, as many Asian recipes do, you may want to carefully consider other options before simply adding more of the stuff as it could easily turn your recipe too salty.
How to Substitute:
You'll need:
Soy sauce
Optional flavor boosting ingredients: rice vinegar, lime juice, brown sugar
You can go right ahead and replace fish sauce in any recipe with soy sauce at a 1:1 ratio. If you'd like to make the flavor a bit more complex, add a few drops of rice vinegar or lime juice and whisk in a pinch of brown sugar to impart a more fish sauce-like tang.
2. Tamari
Tamari is often assumed to be the same product as soy sauce, however the truth is, it is a different thing altogether! Though both of these sauces result from fermented soybeans, tamari is actually a byproduct of miso paste production. This results in the tamari being a bit thicker than soy sauce as well as less salty in flavor.
As is the nature with byproducts, one batch or brand may vary from the next but generally speaking, tamari has a rich dark color and intense flavor with plenty of umami to be found, making it one of the best vegan alternatives for fish sauce. Another important note is that tamari does not contain wheat (although you should always double check the label of your particular variety!) therefore this option is suitable for those who avoid consuming gluten.
How to Substitute:
You'll need:
Since it is stronger in flavor than soy sauce, it's important to start your substitution off more slowly. Try a 2:1 ratio at first, replacing the quantity of fish sauce your recipe calls for with just half the amount of tamari. Taste and add more as needed!
3. Coconut Aminos
Where fish sauce is made from fermented seafood, and soy sauce is made by fermenting soybeans, coconut aminos is made by fermenting--you guessed it--coconut! The key distinction here though is that it is not made from fermented coconut flesh, rather it is made by fermenting the sap of the coconut plant. The result is a dark, rich, savory liquid that is extremely similar in taste to both soy sauce and tamari, albeit slightly sweeter than either of those two products.
Coconut aminos is a great option for those who deal with allergies or intolerances as it is both soy free and gluten free. Though it does not actually taste like coconut--not even a little bit!--it definitely would not be suitable for someone with a coconut allergy.
The downside to coconut aminos is that it tends to be quite expensive as compared to other similar flavoring ingredients, but nevertheless, is a great choice for eliminating animal products and/or fishy flavor from any recipe that calls for fish sauce.
How to Substitute:
You'll need:
Coconut aminos
Salt, if desired
You can use coconut aminos to replace fish sauce at a 1:1 ratio of replacement in any recipe. You may need to add a bit more salt to compensate for the fact that coconut aminos is inherently less salty than fish sauce, but we recommend that you do so to taste and after considering any other salt or salty ingredients that the recipe calls for.
4. Miso Paste
Yes, another fermented soybean option makes our list of best vegan substitutes for fish sauce! Miso paste is made by mixing soybeans with koji (cultured rice and/or soy) and salt, then allowing the mixture to ferment for a length of time that depends on the desired result.
Depending on how long the miso ferments, it will produce one of several varieties of miso. White miso is more mild and ferments for the least amount of time while red miso is stronger and ferments for far longer.
All of this fermentation produces a decidedly funky, salty, slightly sweet paste that has a flavor profile that is right in line with that of fish sauce, sans fishy flavor of course. Even if you use red miso, which is our recommendation, to replace fish sauce in your recipes, you'll find that the flavor is not quite as robust. Therefore you will need to add more miso to achieve a similar level of umami.
How to Substitute:
You'll need:
Miso paste, preferably red miso
Warm water
Start with a 1:2 ratio, replacing the amount of fish sauce your recipe calls for with twice as much miso paste, then add more as needed. Since miso is a thick paste whereas fish sauce is a thin liquid, you'll need to whisk your miso into a bit of warm water in order to more easily incorporate it into the rest of your recipe.
5. Seaweed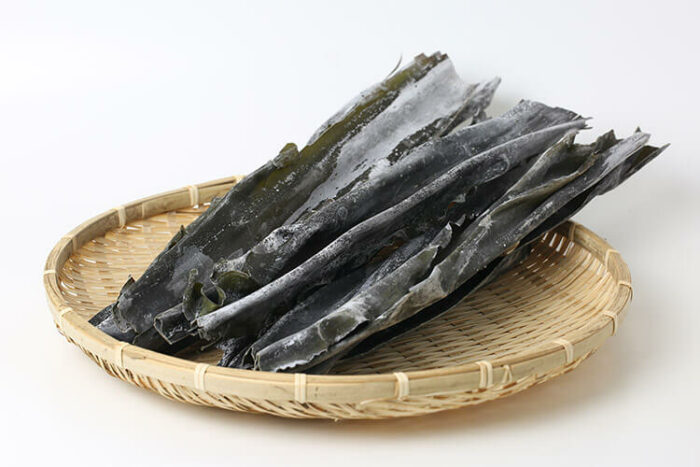 Seaweed makes for a surprisingly great fish sauce substitute--and an excellent vegan gelatin substitute!--as it has that briny, oceanic flavor. It is naturally high in those umami rich glutamates, meaning adding seaweed to your recipes will serve to impart a deeply savory as well as slightly sweet flavor. Using seaweed as a vegan substitute for fish sauce is ideal if you want your recipe to have a touch of that "fishy" flavor--without the seafood of course!
As you may already know, "seaweed" is not any one particular type of plant, rather it is an umbrella term for many species of aquatic plants that grow in the ocean. Many of these are used in culinary applications and you may find packages of dried kelp, nori, kombu, or wakame seaweed.
We recommend either nori or kombu for this purpose, but no matter which dried seaweed you opt for, it will come with a natural sodium content thanks to spending its life floating around those salty seas! It won't be quite as much as fish sauce though, so you may want to add a bit more to your recipe in the form of soy sauce or actual salt.
How to Substitute:
You'll need:
Dried seaweed, either sheets or flakes
Soy sauce or salt, if desired
Seaweed is available in many forms, therefore how you use this option to replace fish sauce in a recipe all depends on the format! If using seaweed sheets your best bet would be to simmer in a small amount of water to extract their flavor until you have a concentrated seaweed broth, then season to your liking with soy sauce.
If using flakes, you may be able to sprinkle them right into your soup or stir fry recipe. Also keep an eye out for seaweed seasoning blends such as furikake, which includes sesame seeds or, if you like it hot, shichimi togarashi, which is a mixture of seaweed flakes and dried chilies.
6. Mushroom Broth
This option will unfortunately require a bit more effort as compared to the other choices thus far. We do think the results are well worth the additional labor though, as this quick vegan fish sauce recipe combines the best of all worlds--incorporating the deep earthiness of dried shiitake mushrooms with the bright brininess of seaweed and just the right salty, subtle funk of soy sauce.
Not only is this option completely plant based, but you can tailor it to your tastes in terms of how strong a role you want each flavor to play, as well as how concentrated the broth is. This is also a great replacement for fish sauce if you are watching your salt intake as you can easily reduce the quantity of sodium depending on what you add. Take note that dried mushrooms work much better than fresh mushrooms here as their dense flavor will result in a much more strongly flavored broth.
How to Substitute:
You'll need:
Dried shiitake mushrooms
Dried seaweed, such as kombu or nori
Soy sauce
Other seasonings, as desired
You can change up the ratios, but we recommend starting with ¼ cup dried shiitakes and 1 4-inch strip of seaweed per 2 cups of water. Combine the ingredients in a saucepan and simmer over medium heat until reduced halfway.
Strain out the solids, then season with soy sauce to taste and feel free to add garlic powder, dried chili, or other flavorings if you like. Go lightly at first! You can always add more as needed.
You can use this broth to replace fish sauce in your recipes, but the exact ratio will have to be determined by you as the broth will vary depending on concentration, among other factors! Refrigerate any leftovers in a sealed container.
7. Vegemite or Marmite
This might seem like an off the wall substitute for fish sauce, but sometimes these out of the wall solutions are among the best! Whether you have tasted these products before or are only vaguely familiar with them, there's no debating the fact that each of them is well suited for the role of a vegan fish sauce substitute.
They do have slightly different flavor profiles from one another, with Vegemite having a slightly bitter flavor where Marmite errs on the sweeter side. The commonality, however, is that both of these yeast-derived spreads are deeply savory, umami-rich, and dark in color–perfect for replacing fish sauce in recipes!
Of course these two products are both notably thicker in texture as compared to fish sauce so some adjustments must be made to compensate for this type of textural difference. Also, it's worth noting that while Marmite is certified vegan, Vegemite does include some artificial colorings, which some plant based eaters prefer to avoid.
How to Substitute:
You'll need:
Marmite or Vegemite
Water
Whisk together equal parts Marmite or Vegemite and warm water, then use this mixture as an equal replacement for any quantity of fish sauce your recipe calls for!
8. Store Bought Vegan Fish Sauce
If you're looking for an easy solution to your fish sauce dilemma, there are actually many plant based fish sauce varieties out there, meaning all you need to do is toss one in your shopping cart! Most recipes for vegan fish sauce contain many of the other ingredients we've already talked about here, such as seaweed, mushrooms, and miso paste.
This combination of flavors used in, as well as the commercial processing of vegan fish sauces, results in richly colored sauces which are an ideal plant based substitute for real fish sauce whether you plan to use it in a recipe, as a dipping sauce, or as a seasoning agent.
The downside however, is that these sauces do tend to be overall more expensive than the DIY options we've covered so far, in addition to the fact that not every local store or supermarket will carry a vegan fish sauce option. If your store does stock it, you're likely to find it in the vegan food section of your store, or perhaps in the aisle right alongside the traditional fish sauce!
How to Substitute:
You'll need:
Store bought vegan fish sauce
You can use store bought vegan fish sauce as a 1:1 replacement for regular fish sauce, easy as that!
9. Store Bought Vegan Oyster Sauce
Whereas regular oyster sauce is made from the namesake shellfish, vegan oyster sauce is made with mushroom extracts, typically shiitake mushrooms or--you guessed it--oyster mushrooms!
Vegan oyster sauce will work in place of fish sauce in most recipes, however, oyster sauce does have a noticeably thicker consistency as compared to fish sauce and is usually somewhat syrupy. This means that using vegan oyster sauce as a substitute won't be ideal in all cases, especially situations where you may be cooking with extremely high heat as the consistency of oyster sauce makes it prone to burning.
Also, oyster sauce is definitely much sweeter and more caramelly in flavor as compared to fish sauce so keep this in mind when considering the overall flavor profile of your dish and add a bit of soy sauce or salt if needed.
How to Substitute:
You'll need:
Prepared vegan oyster sauce
Soy sauce or salt, if desired
Start by replacing the amount of fish sauce your recipe calls for with just half the amount of oyster sauce, then add more if the sweetness and thickness are suitable. Add a dash of soy sauce or salt to round out the sweetness if needed!
10. Store Bought Vegan Worcestershire Sauce
Another darkly colored, richly flavored sauce that is readily available in vegan versions, store bought Worcestershire sauce can easily be used to replace fish sauce as well. Worcestershire will add that rich color to your recipe as well as deliver a deep umami flavor, however, the specific spice and flavoring notes will be a bit off.
Different Worcestershire sauce recipes contain different ingredients of course, but it's not uncommon to find ingredients such as onion, garlic, tamarind, molasses, soy sauce, and other spices such as cinnamon and black pepper!
How to Substitute:
You'll need:
Store bought vegan Worcestershire sauce
Due to the myriad of flavors that combine to make Worcestershire sauce, you may want to go easy at first. For any amount of fish sauce your recipe calls for, add just half the amount of vegan Worcestershire sauce then adjust as needed.
Things to Consider When Choosing a Vegan Fish Sauce Substitute
With so many great options to choose from, it can be tough to know where to start when choosing a vegan replacement for fish sauce. If one doesn't jump out at you right off the bat, here are a few factors you may want to take into consideration to aid you in your decision.
Flavor
Is it important to you that your vegan fish sauce replacement have some semblance of "fishy" flavor, or is this precisely the thing you are looking to avoid? Some replacement options, such as seaweed, can offer that seafood-esque effect, without the seafood of course. However if this flavor is not to your taste, we totally get that and there are plenty of fish sauce alternatives that are simply salty-savory, without the funk.
Texture
Many of the vegan fish sauce alternatives we've covered have a viscosity that is similar to that of actual fish sauce, which is like a watery syrup, and these are great choices for replacing fish sauce in instances where the texture really matters. For dishes where the texture is less important, such as for use in a marinade, making use of one of the paste style options will do just fine as well.
Sodium Level
Generally, fish sauce is incredibly salty--even saltier than soy sauce! If you are looking to come up with a substitute that can match the salt level that regular fish sauce would bring to the table, you may need to add some additional salt. Carefully consider any other salty ingredients in the overall dish before doing so though, as roasted nuts, seasoned vegetables, and even noodles cooked in salt water can boost the salt content of your dish in an unexpected way.
Color
In most cases, perfectly matching the color of traditional fish sauce probably won't be a primary goal of yours. Generally fish sauce is used more for its flavor than its appearance, but if your particular dish is relying on the deep caramel coloring that fish sauce brings to the table, opt for one of the options that are most similar in appearance such as soy sauce, tamari, coconut aminos, or one of the ready-to-use vegan sauces you can pick up at the supermarket.
Final Thoughts on the Best Vegan Fish Sauce Substitute
Whether you want to try your hand at Vietnamese cuisine or you aim to replicate your favorite Thai dishes from your local takeout, one of these vegan substitutes for fish sauce can help you to explore the wide world of Asian cuisine in an entirely plant based way of course!
Each of these 10 vegan and vegetarian fish sauce options will deliver plenty of umami to your dishes, whether you opt for soy sauce, miso paste, vegemite, or one of those ready-made vegan sauces. Though some of these substitute ingredients may be unfamiliar to you, don't be afraid to try something new! Cooking is, after all, all about experimentation and you might just discover a new favorite flavor profile.