Make this Moroccan food couscous recipe in the Slow Cooker for a healthy, beautiful and rich tasting meal. Vegetables, protein-rich chickpeas, and spices go in the crockpot and at dinner, serve over simple flavor infused couscous.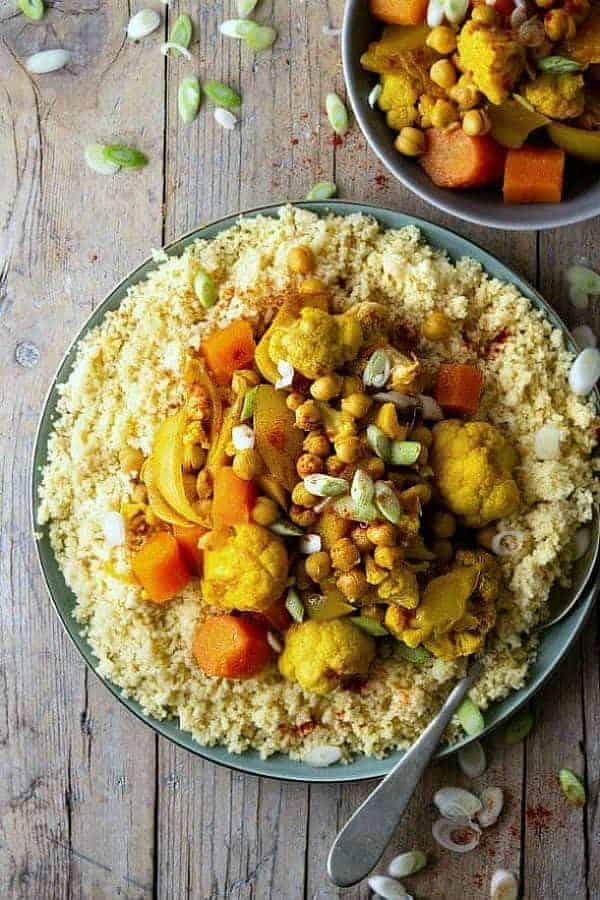 We are so lucky to have international flavors at our fingertips. From Asian to Mexican and in the case of this recipe, North African.
The intense aromas of this spice-laden vegetable and chickpea stew will take you there as those wonderful smells invite you to one of the most famous healthy cuisines in the world.
Here is a recipe that not only will spice up your cooking repertoire but you can also enjoy this dish all year round.
Couscous is a typical staple food in North African cuisine, and a variety of root vegetables are dominant in their stews and salads.
Add that to some beautiful North African spices like cinnamon, turmeric, and cumin, and you get delicious homemade food.
Are you ready to incorporate North African flavors into your cooking? And I promise this is easy!
A crockpot is my go-to solution for when I want to bring beautiful flavors together but don't have a lot of time to spend over the stove. A vegetable dish such as this chickpea vegetable one is perfect for the crockpot.
You also have probably noticed that I use the slow cooker year round, even in the summer, and it can get sweltering here in my neck of the woods. There is a solution.
Under the shade of the deck or patio is perfect. It even makes it more fun as you feel as if your dining al fresco. I often put the crockpot outside under the shaded deck so that our house will stay cool.
Slow Cooker Chickpea Curry is another of my vegan crockpot recipes that is on the blog. Check it out because it's a good one!
If you ever do that be prepared to have your neighbors come and ask what is smelling so good on your patio.
Look how pretty it is in the crockpot. Before and After!

This Slow Cooker North African Couscous is a one-pot wonder!
It is beautiful, delicious and so simple to make. Just place all fourteen ingredients in the slow cooker, mix well and let this vegetable comfort stew slowly come together.
It is a filling and protein-rich plant-based dish that is also fiber-rich and incredibly nourishing.
Although the choices of seasoning are quite simple, it is the overall blend that turns this recipe into a savory meal!
My favorite way of serving this North African inspired meal is with couscous, a quick and healthy side dish:
Although couscous somewhat resembles a lot like short-grain rice, it is made from grains of durum wheat and more like tiny pasta.
It is a great simple side dish that pairs well when mixed with hearty vegetables
When prepared, it is chewy, fluffy with still has a slight firmness to each bite.
Vegan butter is added when cooking it in vegetable broth so the grain also is deliciously buttery.
A less known fact is that couscous is a good source of fiber and plant-based proteins, making it an optimal food choice for vegetarian and vegan diets.
Pair it with chickpeas and you have a very high-protein vegan meal.
Last but not least it is effortless to prepare. What I love most of it is that it tends to take on the flavors of the ingredients you pair it with, making it an incredibly versatile side dish!
Look How easy it is to Prepare the Couscous!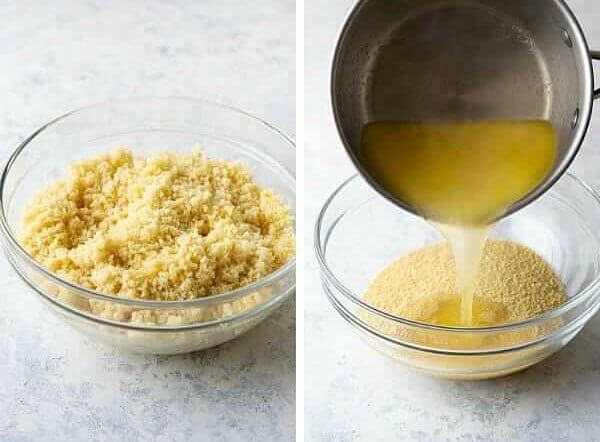 So, I have to tell you that while making this dish and enjoying the incredible aromas, I started wondering.
What about maybe growing vegetables in containers this year. Cauliflower would be really pretty in a container box.
I think this flavorful stew piqued my interest in expanding my options for growing vegetables. Now I'm wondering what ideas the aromas of this Slow Cooker North African couscous recipe will invoke in you!
Let's eat!
P.S. Another great option to serve on the side is black olives.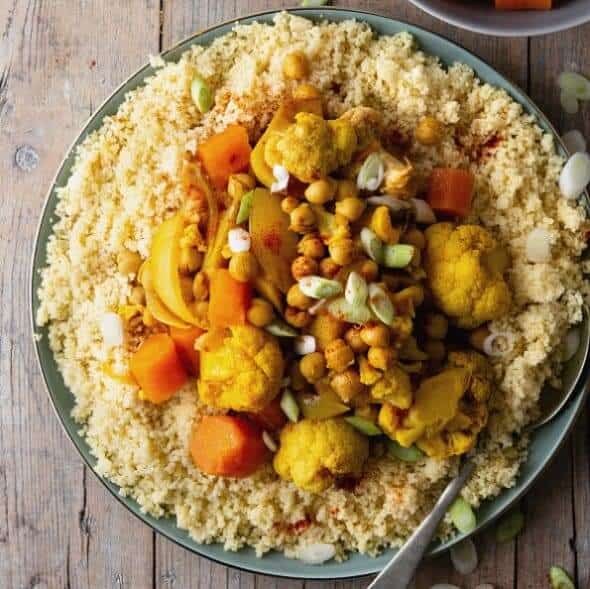 📋 Recipe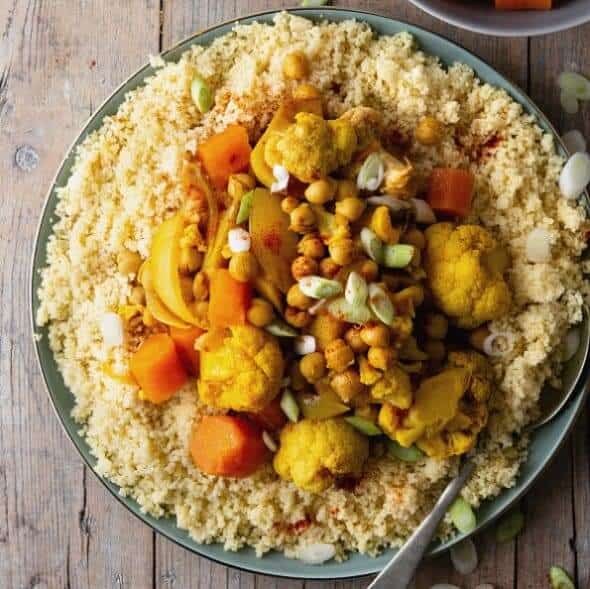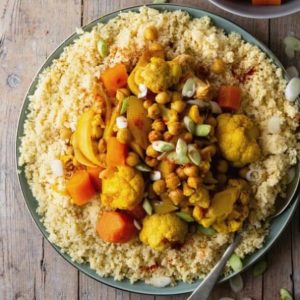 Slow Cooker North African Couscous
Slow Cooker North African Couscous is rich in flavor and so easy to prepare.
Ingredients
For the slow cooker
2

cloves

garlic

- finely chopped

2

cups

cauliflower

- one head of cauliflower, cut into florets

1 ½

cups

carrots

- 2 carrots, peeled and cut into large chunks

2

cups

potatoes

- about 4 potatoes, New Red, Yellow Fin or Yukon Gold potatoes, peeled and quartered

1

cup

onion

- one onion, white onion, quartered

15

ounces

chickpeas

- drained

2

tablespoons

tomato paste

½

teaspoon

hot sauce

4

cups

water

1

tablespoon

coconut oil

1

tablespoon

ground turmeric

½

teaspoon

ground cumin

½

teaspoon

ground cinnamon

1

teaspoon

sea salt

paprika for garnish

scallions for garnish

For the couscous!

1

cup

couscous

- plain

1

tablespoon

dairy free butter

1 ½

cup

vegetable broth

½

teaspoon

sea salt
Instructions
Mix the first 14 ingredients, in the slow cooker.

Turn on low for 8 hours.
For the couscous
Place the couscous in a heat proof bowl that will hold at least 3 cups.

Right before you are ready to serve, Heat the vegan butter and broth to a boil.

Pour over the couscous.

In about 5 minutes all of the liquid will be absorbed.

Serve the couscous and spoon the slow cooker veggies on top.

Sprinkle with paprika and scallion if you wish.

Place the extra liquid from the crock-pot in a bowl just in case someone wants more.

This dish does not freeze well because of the potatoes but it will keep in the fridge for four days.

The flavors meld nicely too.
Notes
The color of the couscous will become the color of your broth.
Mine was homemade and a darker color but there are also some very pretty lighter vegetable broths.
Nutrition
Serving:
2
Cups
Calories:
503
kcal
Carbohydrates:
86
g
Protein:
20
g
Fat:
9
g
Saturated Fat:
4
g
Sodium:
1066
mg
Potassium:
1145
mg
Fiber:
15
g
Sugar:
10
g
Vitamin A:
8305
IU
Vitamin C:
20.1
mg
Calcium:
133
mg
Iron:
7.8
mg