This Vegan Chickpea Curry Recipe is made from scratch with very little effort. The thick sauce is made in the slow cooker & then you just spoon it over rice
Are you looking for a recipe that you can put into the slow cooker in the morning and have no fear of it cooking all day long?
That is what this easy to make Vegan Chickpea Curry Recipe will do.
Do check it when you get home and see if you'd like it even more 'saucier'. You can add another cup of water the last hour or two.
That will give it time to cook in and thicken with the rest of the flavors.
When I made this recipe I wanted to make sure it was one that could be made for a person who had to go to work or leave the house for many hours. But ...
If you're going to be around the house and you get a late start in getting this started you can definitely cook it on high for 4 to 5 hours. It will be great too.
In my early years of cooking, I got confused by the word curry. I came across a recipe that didn't even have curry in it. What? Well, it turns out there are different meanings for curry.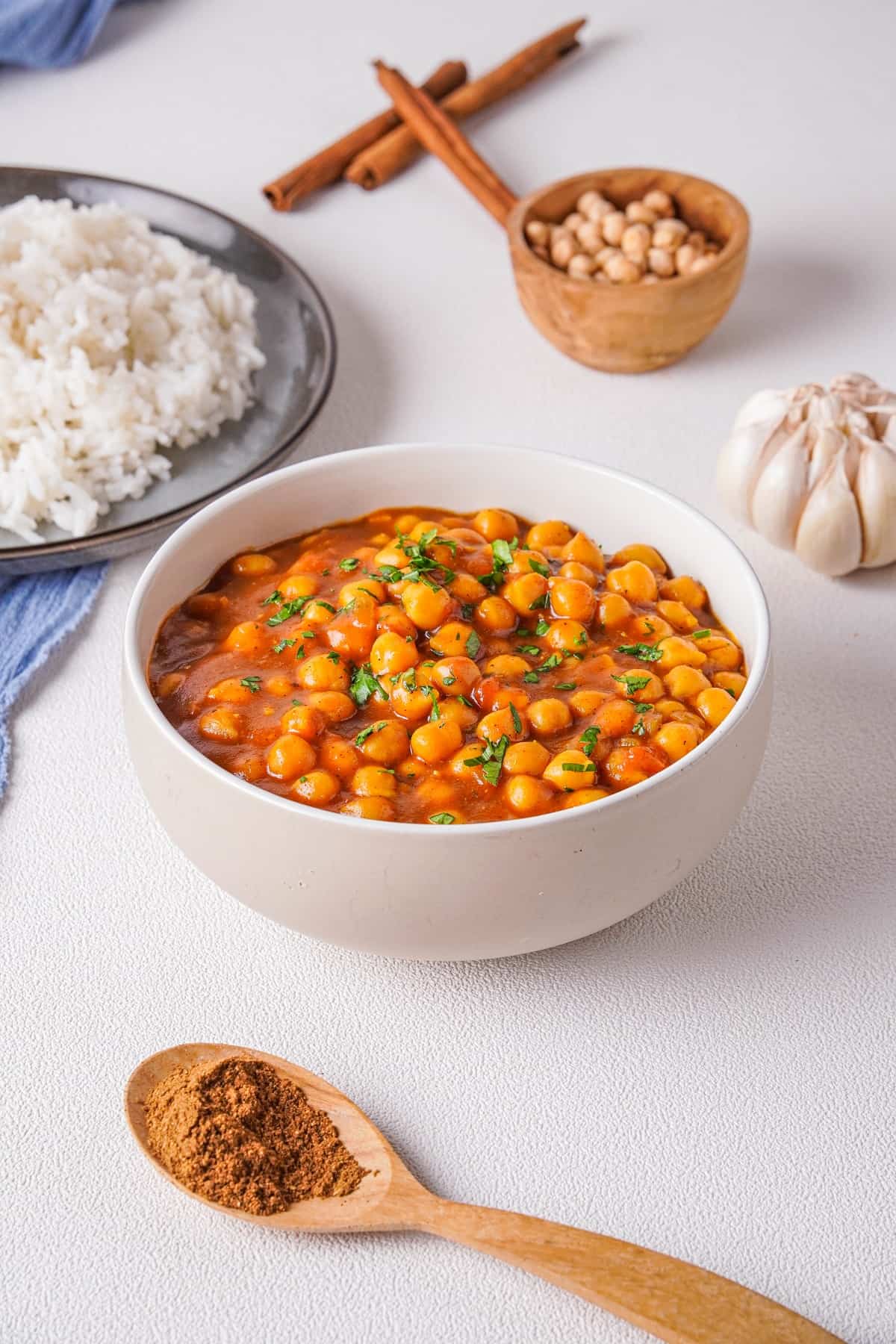 What is Curry?
Curry is a lot of things. It comes in all kinds of shapes and forms.
For this recipe, it is the sauce as in a spicy spiced curry that mixes so well with noodles and rice. No curry included. The curry is actually the sauce.
Curry powder is probably sitting in your cupboard right now. It's made up of many different spices and comes to us in a little jar to help us give depth to our cooking.
You can buy curry pastes in jars and they come as red curry paste and green curry paste. A little bit goes a long way.
There are also small curry cubes that are used in Japanese cooking. Not so spicy but a great addition to sauces.
So you can see there's no reason to ever be confused. You are now armed with the information you need to talk 'foodie'.
Do You Have to Use Oil in Sautéing?
This brings me to another quandary in the cooking world. Sautéing!
I almost always sauté my onions in oil. You don't have to though. If you're skipping oil for some reason you can actually sauté in water. Even another liquid such as vegetable broth.
You don't want to boil the onion though so just a little bit to get them started and then add a drop along the way if needed.
Mushrooms aren't in this recipe but they are even easier at sautéing with no oil as they release so much water as they're cooking.
Doesn't that look good? I just remembered I've got another chickpea curry recipe on the blog. It's actually a Vegetable Curry though as it has many other vegetables included.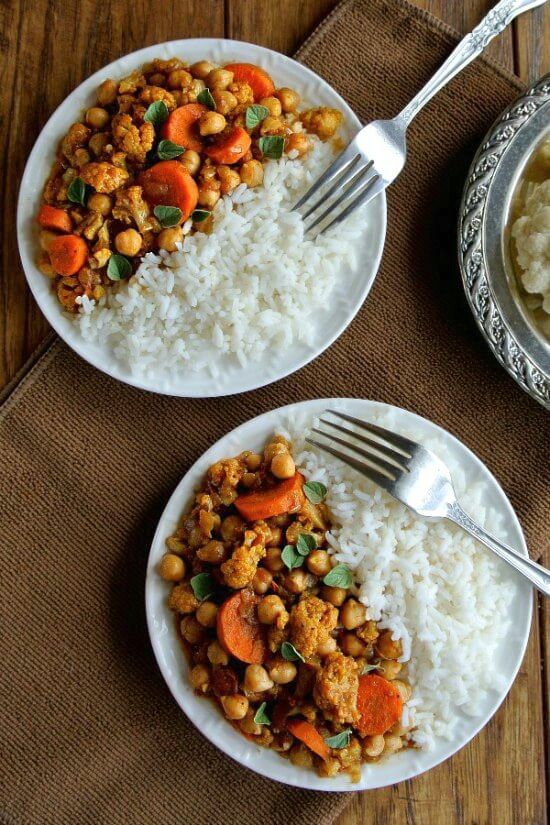 It's also a super fast recipe. Just 30 minutes. But that's for another day.
Helpful Tools:
6 Qt. Programmable Slow Cooker - this makes working life even easier. It can turn off on time and it's still safe to let dinner sit in the crockpot a little longer.
Garlic Press - I can never find mine so I end up chopping my garlic a lot but this press sure is great when I can get my hands on it.
Measuring Spoons - I like the strong stainless steel ones the best.
It's that easy. As you know it's the simple things in life that make everything better.
Since this slow cooker, chickpea curry recipe makes such a large quantity you may be lucky enough to have leftovers.
FREEZING:
Go ahead and freeze any that you have left. If you have extra rice freeze it too. Freeze separately though and that would give you more options for the future.
You might want to serve the slow cooker chickpea recipe over noodles next time and maybe use the rice with a coconut cream based curry. Those are delicious too.
📋 Recipe
Slow Cooker Chickpea Curry Recipe
Slow Cooker Chickpea Curry Recipe is made from scratch with very little effort.
Ingredients
16

ounces

chickpeas, dried

1

tablespoon

olive oil

1 ½

cup

onion, diced

5

cloves

garlic, finely chopped or minced

¼

cup

tomato paste

2

cups

tomatoes, diced

1

tablespoon

curry powder

1

tablespoon

cumin

1

tablespoon

garam masala

2

teaspoons

cayenne pepper

1 ½

teaspoon

turmeric

½

teaspoon

ground cinnamon

¼

teaspoon

baking soda

- this helps chickpeas to soften when cooking, just ¼ tsp.

3

cups

water
Instructions
The night before place the chickpeas in a 6 to 8 quart slow cooker and cover with water to soak. Do NOT turn it on. In the morning drain and replace the chickpeas in the slow cooker.

In a large skillet heat the oil over medium high heat.

Add onion and saute for 10 minutes. Add the garlic and cook 5 more minutes.

Scrape into the slow cooker.

Add all of the remaining ingredients and stir well.

Cook on low 8 to 9 hours. Serve with Basmati rice.
Notes
If you would like more 'liquid in your sauce you can add a 14 oz. can of full fat coconut milk. It's not necessary but some people like more with the rice.
Nutrition
Serving:
1
Serving
Calories:
363
kcal
Carbohydrates:
60
g
Protein:
17
g
Fat:
7
g
Sodium:
270
mg
Potassium:
1145
mg
Fiber:
16
g
Sugar:
14
g
Vitamin A:
695
IU
Vitamin C:
17.4
mg
Calcium:
148
mg
Iron:
7.9
mg