Healthy Slow Cooker Mushrooms and Rice is one of those recipes that everybody loves. Only 5 ingredients and it's also versatile as a side dish or main dish. Dinner was never so easy.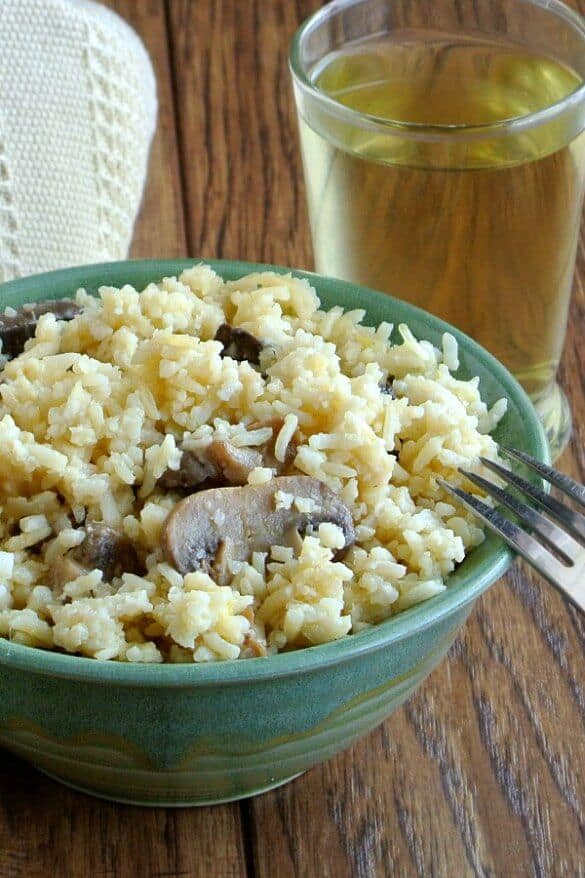 I am always looking for a new recipe that makes my life easier.
There is a double challenge because I have to make sure my husband will like it. You probably know just what I mean, There are the children too. Well, here is just that recipe.
It's simple and quick to throw into the crockpot too. It's what I would call a dump and go recipe for anywhere from 6 to 8 hours.
You can change out the portabello mushroom soup for another type of mushroom soup if you want a bit of a milder taste. I am seeing this vegan mushroom soup in all of the grocery stores now.
It comes in a box and really has a wonderful flavor. Now as for the mushrooms! Just let me talk about the mushrooms. First of all, I love them and I would have one kind or another in just about any recipe I make.
In this recipe, I used the little white button mushrooms instead of baby portobellos. The reasoning for this is that the soup ingredient is already using portobello's and I didn't want to take a chance on it being too strong.
I was right. To me the balance is perfect and I find that button mushrooms are accepted by picky eaters more readily too.
Try this extremely simple recipe and keep it as a go-to for those busy days.
Helpful Hints for Make Healthy Slow Cooker Mushrooms and Rice
You know how rice floats when it is in liquid? This information will help - a lot.
Place all of the liquid ingredients, except the mushrooms in the crockpot first. Stir well.
Now add all of the mushrooms and don't stir.
See the photo right below here? That's how it's going to look when you put the lid on. The mushrooms hold down the rice and everything cooks beautifully.
If you'd like to stir everything together halfway to three/quarters through the cooking time, you may, but it isn't necessary.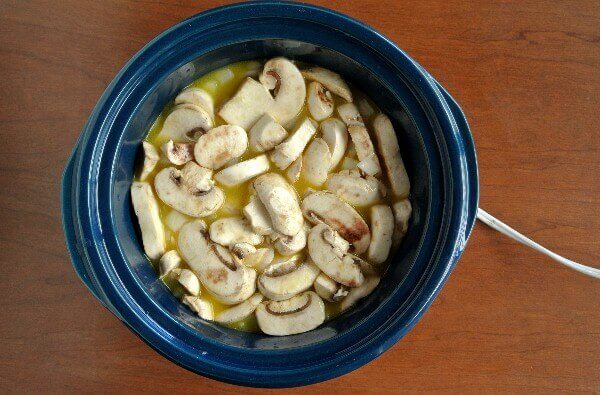 If you see my recipes on a pretty regular basis you probably already realize that I use the crock~pot for many types of meals. I also use mushrooms a lot.
Two recipes I have on the blog are pretty much straight mushrooms. Both are simple and delicious and help round out a meal.
The first is Slow Cooker Balsamic Glazed Mushrooms and you can have this as a side or piled on top of a nice thick slice or seitan or marinated fried tofu.
Here's a picture of the Balsamic Glazed Mushrooms.
Helpful Tools:
You don't need a large crockpot for this recipe. A 3 qt. would be great and you could even double the recipe in a 3 qt. This one from Hamilton Beach is programmable.
Measuring Cups and Spoons are a necessity for so many recipes and this one is made of stainless steel and has so many sizes!
I like a paring knife that is a little bit longer than 3 or 3-5 inches. I think this Wusthof 4.5" Utility knife is perfect for chopping onions.
Healthy Slow Cooker Mushrooms and Rice has been a staple in our house for quite a few years now. It just comes in so handy when I'm trying to think of a meal to build on or when I need an extra side dish.
It really only takes a few minutes to put together into the slow cooker and nothing is hard at all. Just cover turn it on and go.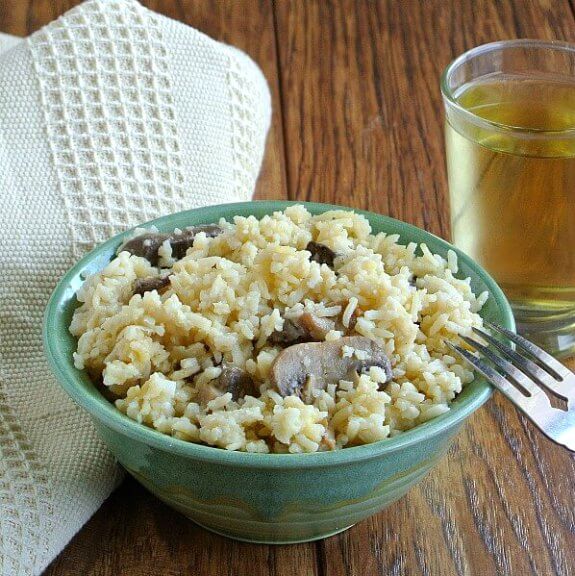 📋 Recipe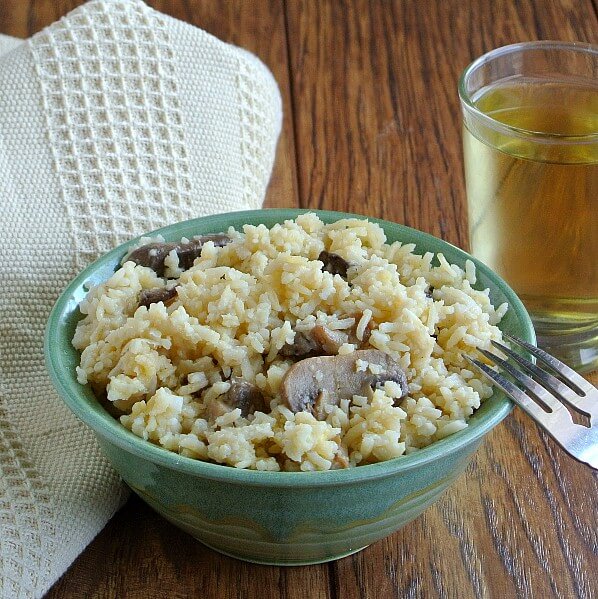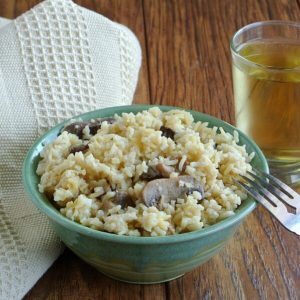 Healthy Slow Cooker Mushrooms and Rice
Healthy Slow Cooker Mushrooms and Rice is one of those recipes that everybody loves
Ingredients
16

ounces

rice

- long grain

½

cup

dairy free butter

- melted

1

cup

onion

- chopped

32

ounces

portabello mushroom soup

- it comes in a box, you can also use your favorite mushroom soup - if it is condensed make it at least 16 oz. of soup and the rest liquid - just add enough water or vegetable broth to make 32 ounces

8

ounces

mushrooms

- sliced

2

teaspoons

sea salt

- it seems to need this much salt to balance the mushrooms - you can just add 1 teaspoon until after cooking and see if you want to add the other teaspoon

¼

teaspoon

black pepper
Instructions
Add to the

slow cooker

- rice, soup and water if you bought a condensed soup to make 32 ounce total liquid, onion, melted butter, salt and pepper.

Mix well.

Lay the sliced mushrooms on top of the ingredients in the crockpot. Push down lightly.

This helps keep all the rice under the liquid and allows the mushrooms to cook at a bit of a slower pace.

Cook on low 6 to 8 hours on medium or 3 hours on high.

Uncover and fluff to incorporate the mushrooms.

All done.
Nutrition
Serving:
1
Cup
Calories:
436
kcal
Carbohydrates:
64
g
Protein:
6
g
Fat:
16
g
Saturated Fat:
3
g
Sodium:
910
mg
Potassium:
246
mg
Fiber:
1
g
Sugar:
1
g
Vitamin C:
2.8
mg
Calcium:
27
mg
Iron:
0.8
mg
IF FREEZING Healthy Slow Cooker Mushrooms and Rice:
Please follow any of the directions defined in my article How to Prepare food for the Freezer.
TO PREPARE AFTER FREEZING:
Take out of the freezer and put in the refrigerator at least 6 to 8 hours before heating (or the day before).
Heat in the microwave for about 3 minutes. Stir halfway through. Check for temperature.