Printable Vegan Grocery Shopping List - a two sided grocery list that will help you never forget an item again. You can either circle items before you go or take the list along as a product reminder.
Well, lookey what we have here. A Printable Vegan Grocery Shopping List list that is loaded with everything I could think of. Not just for me but for you too.
There is a little something extra for you at the bottom of the page too. A new smoothie recipe!
I don't think it's just me who loves to shop for groceries. My husband does too and, believe me, I have to wrestle him for the shopping list sometimes.
This might be happening tomorrow.
I just printed out our list and it is all circled and ready to go with no confusion.
I got stuffed just thinking up this Printable Vegan Grocery Shopping List!
How could anyone say "What do vegans eat?
There are so many wonderful options in a vegans life and there is not a recipe I won't tackle to make it vegan.
If you are making a specific recipe the list is divided into easily navigable sections so that you can quickly find what you want to mark for your grocery trip.
It also works as a reminder for items that you just want to have on hand.
Ideas for using the list is to circle any product that you want to buy or use a highlighter to mark what you need.
I even added a couple of blank lines under each section.
This is helpful in case there is a specific brand that you don't want to forget or if there are multiple types of a product that you would like to pick up.
Something like Silk's Unsweetened Almond Milk and Silk's Coconut Milk. Same category but different product.
I didn't put the word organic in front of each item but you know that's what I'm thinking. Buy organic if you can whenever possible.
Keep scrolling about three more sentences to print.
Under the section titled Meat Substitutes, my list equals tofu, seitan, tempeh, TVP. Add your specific choice there.
Not all grocery stores have a great organic fresh fruit and vegetable sections as in the photo above but canned goods are always well represented.
So start marking on your Printable Vegan Grocery Shopping List and get this party started.
Click on each page below

and it will open in a printable format.
Print it out!
--------------------------------------------------------------
You know I can't leave without giving you a recipe to try.
So take a gander at this colorful and dairy-free smoothie with only 4 ingredients.
Click below on the title or picture or scroll right below the photo for the recipe! Dairy-Free Strawberry Smoothie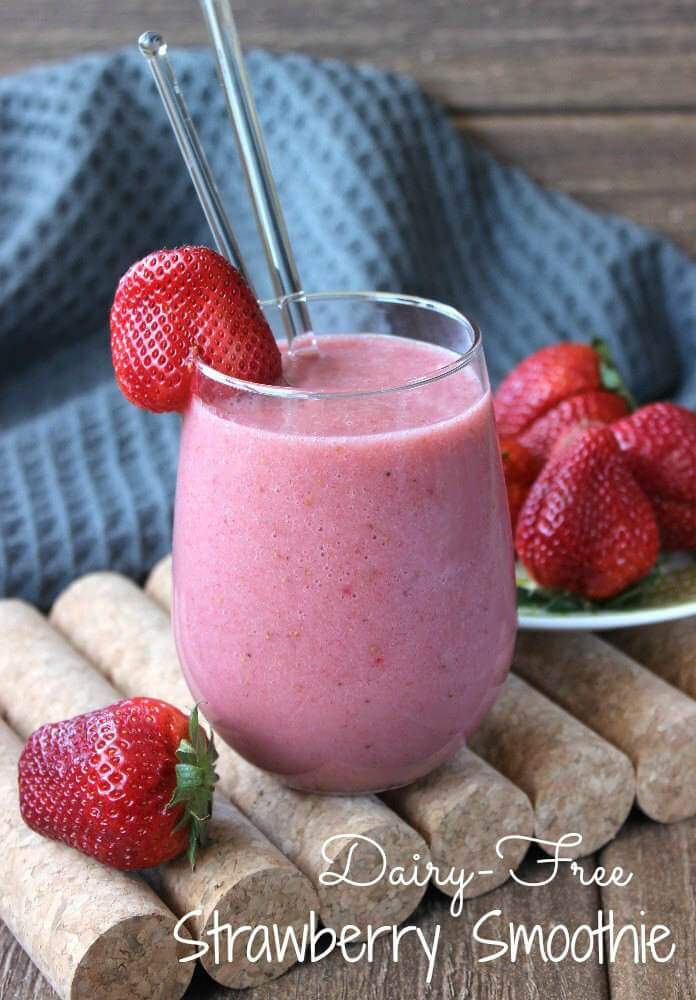 📋 Recipe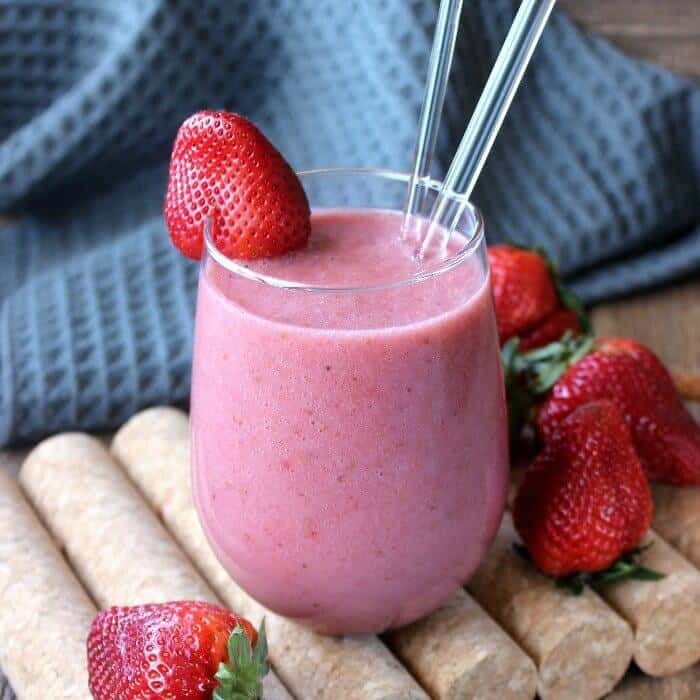 Vegan Strawberry Banana Smoothie
Vegan Strawberry Banana Smoothie is perfect for the plant-based diet and only has 4 ingredients and takes less than 5 minutes.
Ingredients
2

cups

strawberries - fresh or frozen

1

banana

¼

cup

unsweetened non-dairy milk

2

tablespoons

maple syrup - optional
Instructions
Add all of the ingredients to your food processor or blender and blend until smooth.
Nutrition
Serving:
1
Serving
Calories:
152
kcal
Carbohydrates:
38
g
Protein:
1
g
Fat:
1
g
Sodium:
21
mg
Potassium:
476
mg
Fiber:
4
g
Sugar:
26
g
Vitamin A:
40
IU
Vitamin C:
89.8
mg
Calcium:
45
mg
Iron:
0.7
mg
That's it! Get healthy and full!
You can even change out the strawberries for other berry such as blueberries or raspberries.