Caramelized onions and savory vegetable broth combine to create a wonderfully delectable vegan French onion soup that's perfect for chilly nights or a cozy evening at home. With the addition of dairy-free mozzarella and vegan butter, you'll be sure to get an amazing taste without beef broth or cheese! Plus, this French onion soup is super easy—making it great for beginner cooks who want a simple and fulfilling meal. Yum!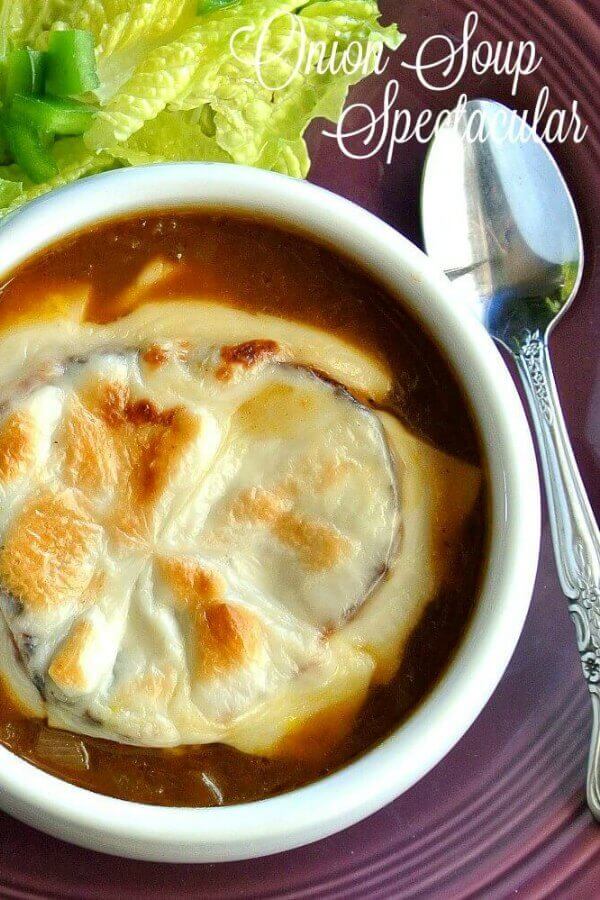 Why You'll Love This French Onion Soup Recipe
Comforting- The combination of caramelized onions and savory vegetable broth creates a delicious and flavorful soup that's perfect for cold weather or a cozy night in.
Flavorful- Dairy-free mozzarella, vegan butter, and vegetable broth give this French onion soup a rich and savory umami flavor, which can be satisfying in the absence of traditional beef broth or cheese.
Easy To Follow Instructions- This French Onion soup recipe is straightforward and easy to follow, making it a great option for beginner cooks or those looking for a quick and simple meal.
A Classic- This vegan version allows vegans and meat eaters alike to enjoy all the flavors of this classic soup.
I was a picky eater as a child. Just the looks of a recipe made me say 'No, thanks'.I didn't even have pizza until I was 15 and was shocked after my first bite. How could I have been passing up pizza all those years? Ah, the mind of a child. The same went with a French onion soup. I mean, who would like that? Onion soup?!? I was older than 15, but something made me order it one day. My guess is I liked a guy, and he was ordering it. Enough about me 🙂 It was fantastic.
Fast forward to the homemade version. French Onion Soup takes a lot of work and time to prepare. There is nothing wrong with that, but sometimes time isn't on your side.
So a little less of this, a little more of that, a tweak here and there, and Voila!
One of the best and simplest homemade onion soups you can make. That is - Homemade French Onion Soup!
The caramelized onion's flavor mellows out just right to make a lovely soup. Just imagine cutting your spoon into a crusty chunk of bread that has soaked up a deep rich flavor of comfort food.
Save yourself at least an hour by making this recipe. Of course, the rumor is that King Louis XV added champagne to his, but I don't have any champagne, and the restaurants figured out that it was an extravagant whim anyway.
I guarantee you that if you try this recipe, you will never go back. It's plant-based too!
Ingredients
Onions- The caramelized onions bring out natural sweet flavors and make the soup deep and rich.
Vegan Butter- Adds richness to the soup as well as helps to caramelize the onions further, giving it a richer flavor.
Vegetable Stock- The base of the entire soup. A flavorful vegetable stock helps to bring out all the flavors in this vegan French onion soup recipe.
Water- Helps to thin out the soup a little bit.
All-Purpose Flour- Adds texture and depth to the soup.
Freshly Ground Black Pepper- For a little kick of flavor.
Sea Salt- Balances out all the other ingredients.
Dry White Wine- Helps to boost and round out all the flavors in this vegan French onion soup recipe.
Dijon Mustard- Adds a nice tangy and savory flavor.
Bay Leaves- Gives the French onion soup complexity and a nice herbal flavor.
French Bread- A crunchy layer for serving with this onion soup.
Vegan Mozzarella Cheese- For a creamy cheesy finish.
Can You Freeze French Onion Soup?
Yes, you can! Not with the topping but the soup - yes!
Storing in the refrigerator:
Will keep covered in the refrigerator for up to 4 days.
How To Freeze French Onion Soup:
Let cool to room temperature. Freeze without the bread and cheese on top—just the basic soup.
Freeze in hard-sided freezer containers for up to 3 months.
To prepare after freezing, defrost in the refrigerator overnight because it is a pretty solid mass and will take longer to thaw.
Reheating:
Follow the directions above for heating through and adding the non-dairy cheese.
📋 Recipe
Homemade French Onion Soup
Homemade French Onion Soup is rich and flavorful and I could eat it every day. It's amazing how little time is required for this delicious soup.
Ingredients
3

pounds

onion

- large yellow onions

3

tablespoons

dairy free butter

4

cups

vegetable stock

1

cup

water

2

tablespoons

all-purpose flour

¼

teaspoon

freshly ground black pepper

½

teaspoon

sea salt

2

tablespoons

dry white wine

1

teaspoon

Dijon mustard

1

bay leaf

French bread, for garnish

dairy-free mozzarella cheese, sliced for garnish
Instructions
Thinly slice the onions; you will have 5 to 6 cups.

In a large soup pot, over medium-low heat, melt the butter.

Add the onions and cook, stirring often, until limp and soft, about 20 minutes.

This makes the onions nice and sweet.

Turn up the heat to medium-high and cook the onions until golden brown, about 10 minutes. Do not burn.

Lower the heat to medium. Add the flour and cook for 2 minutes.

Add the vegetable stock, water, salt, wine, mustard, and bay leaf. Bring to a boil, stirring frequently.

Adjust the heat to a high simmer and cook (with the lid off) for 30 more minutes.

Taste and season with more salt and pepper, if needed.

At this point you may refrigerate or freeze the soup; otherwise, ladle the soup into individual broiler-proof bowls.

Bean bowls with handles are great.

Lightly lay a slice of French bread on the top of the soup. Do not push the bread down into the soup.

(Alternatively, you can cut up more than one slice of bread and fit it into the bowl to cover the soup.)

Lay the sliced non dairy mozzarella cheese over the bread completely, to keep the bread from burning.

Put the bowl or bowls on a cookie sheet (two at a time for safety).

Turn on the broiler and slide your cookie sheet under the oven broiler, on the top shelf.

Watch carefully— do not walk away.

Take out the pan when the cheese has lightly turned to a dark golden shade here and there.
Notes
Originally published in Feb, 2013. Photos have been updated.
Nutrition
Serving:
1
Serving
Calories:
290
kcal
Carbohydrates:
47
g
Protein:
6
g
Fat:
9
g
Saturated Fat:
1
g
Sodium:
1412
mg
Potassium:
517
mg
Fiber:
6
g
Sugar:
16
g
Vitamin A:
500
IU
Vitamin C:
25.2
mg
Calcium:
85
mg
Iron:
1.5
mg