Out of all the foods that one might miss when switching to a vegan diet, butter might just be at the top of the list. Not only is this product an important ingredient in many baked goods and recipes, but it also serves as a commonly used condiment, sitting on most dining tables right alongside those ever-present salt and pepper shakers.
Historically speaking, in lieu of butter, your next best bet was turning to plain sources of plant based fats such as olive oil or coconut oil, which, while plenty tasty and useful in their own ways, don't quite hit the same mark as traditional butter.
These days, there are thankfully a great deal of vegan butter options on the market. This amazing variety clearly pointed us in the direction of our next mission: to taste test and evaluate as many of the most popular and widely available plant based butter brands out there in a quest for the best vegan butter alternative!
What is Vegan Butter?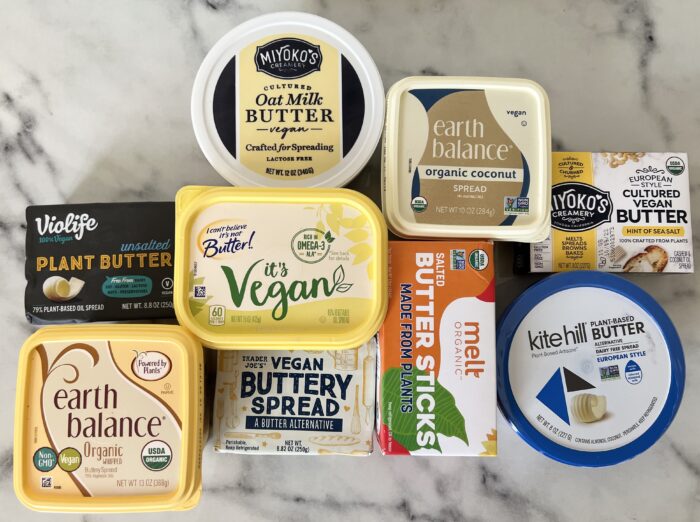 Also referred to as "plant based butter", vegan butter products strive to be similar to traditional butter in terms of taste and usefulness--without the use of animal products, of course. There are many different recipes out there, but most vegan butters are made from a combination of fats like coconut oil, avocado oil, soybean oil, or palm oil. Some varieties may also contain other ingredients such as nut butter, butter beans, or coconut cream, as well as salt, flavorings, and stabilizers.
It's important to note that not every dairy free butter is a vegan product. Some "plant based" butter alternatives that are free of actual dairy may still contain dairy-derived ingredients such as lactose or casein. Always check that ingredients panel!
While vegan butter substitutes used to be quite a specialty item, nowadays you can find vegan butter in most mainstream grocery stores, health food stores, across a wide range of online retailers, and via grocery delivery platforms.
Vegan Butter Brands We Tested
In our efforts to discover the best vegan butter brands out there, we tested and evaluated the following 9 widely available vegan butter options:
Earth Balance Vegan Butter: Organic Coconut Spread
Earth Balance Vegan Butter: Organic Whipped Buttery Spread
I Can't Believe It's Not Butter "It's Vegan" Spread
Kite Hill European Style Plant Based Butter
Melt Organic Salted Butter Sticks
Miyoko's Creamery European Style Cultured Vegan Butter
Miyoko's Cultured Oat Milk Vegan Butter
Trader Joe's Vegan Buttery Spread
Violife Unsalted Plant Butter
How We Tasted and Reviewed These Products
We broke our vegan butters into 4 categories and sought out the top performer in each of the following: Best Vegan Butter for Spreading, Best Vegan Butter for Baking, Best Vegan Butter for All-Around Use, and Best Specialty Vegan Butter.
During our evaluating and ranking process, we took the following criteria into careful consideration:
Taste & Texture: the overall flavor and consistency of each butter substitute and its relation to traditional butter.
Appearance: looking specifically at the color and appearance of each product, as well as how appetizing it looked when used to top foods.
Nutrition Content: including macronutrient profile, quantities of saturated vs. unsaturated fats, and sodium content.
Unique Characteristics: such as additional flavors, special ingredients used, or unique preparation style.
Value: the price per ounce.
Production & Availability: each product's place of origin, where it is sold, and how likely it is to be readily available to most shoppers.
Packaging: including container size, convenience of packaging, and quality of information on the label.
1. Best Vegan Butter for Spreading: I Can't Believe It's Not Butter "It's Vegan" Spread
To kick things off, we thought it most fitting to judge our collection of vegan butters according to how well they each fulfilled a primary purpose of butter and butter-like products: spreadability! We looked for butter which would easily and appetizingly slather a piece of toast, as well as look equally great whilst slowly melting atop a pile of fluffy mashed potatoes or crisp-tender green beans.
About I Can't Believe It's Not Butter "It's Vegan" Spread
When it launched in 1981, the original I Can't Believe It's Not Butter product joined other popular margarine varieties as a revolutionary alternative to traditional butter. The problem for plant based eaters however, is that the product contained (and actually continues to contain!) some traces of milk ingredients. Then, in 2017 as veganism was growing ever-popular, the brand started to make their own vegan butter--a version of their regular product which is completely free from any of those dairy ingredients.
As promised, the best thing about this vegan butter is that we found it to be supremely easy to spread. Whether you leave the tub sitting at room temperature for a bit, or you prefer a fridge-to-plate approach, this vegan butter is completely spreadable in either state. It also has an attractive, pale yellow coloring which makes for an appetizing appearance when topping breads, muffins, and other foods.
Nutritionally speaking, this butter spread boasts that it is rich in Omega-3's, providing 375 milligrams per tablespoon! And, we love that it features the lowest calorie and saturated fat content, coming in at 60 calories per serving with just 2 grams of saturated fat. The side of the tub has a fun looking QR code which, when scanned, takes you to a signup page where you can subscribe for coupons, recipes, and other freebies! And, a similar looking link will take you to a section of their website that gives you a boatload of information on their environmental efforts.
Despite these environmentally-friendly claims, we can't help but notice that this product contains palm oil and palm kernel oil, and is not transparent about the sustainability of sourcing these products. As many folks know, palm oils are controversial ingredients as they are leading contributors to deforestation. Also, the flavor of this one was not quite as yummy as some of the other, albeit less spreadable, options we tested and we don't love that this vegan butter advises against freezing it.
Pros:
Perfectly spreadable in texture, even when used straight from refrigeration!
Pleasing pale yellow coloring and creamy texture give this product a great look when used as a topper for all types of foods.
A 1-tablespoon serving provides over 20% your recommended daily intake of Omega-3 ALA's.
Lowest in both calorie and saturated fat content out of all the brands and varieties we tested.
Informative label features a helpful signup link for recipes and freebies, as well as details of the company's environmentalism.
Cons:
Contains palm oil as a primary ingredient, which may not suit the buying preferences of some folks.
Overall flavor is not quite as tasty as some of the other vegan butters we tested.
Storing this product in the freezer is not recommended.
2. Best Vegan Butter for Baking: Melt Organic Salted Butter Sticks
In addition to being one of the most popular toppings in town, regular butter and butter replacements have another vital purpose: adding moisture and richness to baked goods! When evaluating which vegan butter brand is best suited for baking and cooking with, we looked for a product that was easy to handle, would melt cohesively, and would have the right flavor profile to blend into a wide range of recipes.
About Melt Organic Salted Butter Sticks
This product from Melt, a relative newcomer to the plant based butter scene, met all of these criteria and more. The fact that world-famous restaurants such as Eleven Madison Park are making use of this brand's products for their vegan cooking needs tells you just about everything you need to know: this Melt Organic Butter is one of the best vegan butters in town.
Their vegan buttery sticks are crafted from a blend of coconut, sunflower, and palm oils which result in a--we're actually going to use the word "perfect" here--1:1 replacement for traditional butter in any baking applications. We absolutely love that this vegan butter comes in stick form, with tablespoon measurements printed right on the wrapper no less!
The individually wrapped quarter-pound portions are easy to store (as opposed to those big clunky tubs that some other options came packed in), and bonus you can even pop them in the freezer! This product melts nicely and is nut free and soy free. Along with all of these great qualities come a slew of certifications. It is USDA certified organic, non-GMO verified, and Rainforest Alliance certified. Not convinced yet? This vegan butter is also the most affordable of all the brands and varieties we tested, costing just $0.37 per ounce!
One factor which may be an upside or a downside depending on where you sit is that this product, like several other vegan butter brands, does contain that pesky palm oil. However, the packaging takes care to point out that they carefully source and utilize sustainable palm oil sources only.
In addition, we found the taste of this plant based butter to be a bit salty, so keep in mind that you may need to reduce other sources of added salt when baking with this stuff. We also found the coloring of this product to be just slightly off-putting. Instead of the dreamy pale yellow of some other options, Melt butter sticks are pretty pale, looking more like a stick of vegetable shortening than butter. However, since the goal here is successful baked goods, we consider this a pretty small grievance!
Pros:
The combination of oils results in an ideal 1:1 replacement for butter in any baking or cooking recipe.
Is packaged in individual baking sticks--just like regular butter--which feature measurements on the wrapper for easy tablespoon by tablespoon portioning.
This product can be frozen!
Has a uniform consistency, even after melting.
Nut free and soy free.
USDA certified organic, non-GMO, and Rainforest Alliance certified.
Has the lowest price tag of all vegan butters we encountered!
Cons:
Does contain palm oil as a key ingredient, however the packaging indicates this particular ingredient to be sustainable and ethical in nature.
Has a salty flavor, meaning you may want to reduce other sources of salt in your cooking and baking recipes.
These buttery sticks have a somewhat strange, pale color as opposed to "butter yellow", making them not ideal for use in any situations where you are counting on imparting a buttery coloring to your dish.
3. Best Vegan Butter for All-Around Use: Trader Joe's Vegan Buttery Spread
Whether you mainly use your vegan butter for spreading or topping, baking or cooking, sometimes you just want a straightforward option that checks all of the boxes. Therefore, we have the "All-Around Use" category, in which we sought a vegan butter variety which would be as versatile as it is reliable.
About Trader Joe's Vegan Buttery Spread
When it comes to dairy-free products, the folks at Trader Joe's never cease to amaze us. Their butter blend has a few more components than some others, as it is composed of not only coconut oil, canola oil, and sunflower oil, but also contains shea nut butter and fava bean protein as well!
Somehow, all of these ingredients seamlessly blend together, producing a creamy butter-like product that, as the packaging claims, is "great for spreading, cooking, and baking." True, true, and true! The fact that this plant based butter comes in block form makes it as easy to scrape off and spread on your toast as it is to chop up into uniform pieces for your next batch of pie crust (such as that of our Vegan Pecan Pie!) or flaky biscuits.
We found this stuff to have an especially good, buttery flavor and color, making it ideal to keep in your butter dish for serving tableside And while we generally like to nod towards products that are sourced and crafted locally, we're counting the fact that this product is a German import as a pro this time. The fact that European countries know what's up when it comes to making superior quality butter products is well-known!
Unlike some of the other blocks of vegan butter alternatives we tried, this one sadly did not come with any measurements printed on the wrapper, making it just a little tougher to measure out by the teaspoon, tablespoon, or cup when baking with it. Also, coming in at 100 calories per 1-tablespoon serving, this dairy free butter is among the highest we tested and is actually on par with real butter itself.
Pros:
Is a true multitasker, as this vegan butter is tasty and easy to work with when spreading, cooking, and baking.
Comes packaged as a block, making it easy to portion whether you are topping your pasta or chopping for your favorite plant based pastry recipes.
Excellent butter-like flavor and coloring--perfect for setting on the table!
Is crafted in Germany exclusively for Trader Joe's. Fancy!
Cons:
Is packaged in a convenient block yet does not feature convenient measurements on the wrapper.
Packs a full 100 calories per 1-tablespoon serving, which is the highest calorie content of all products we tested and equivalent to that of regular butter.
4. Best Specialty Vegan Butter: Kite Hill European Style Plant Based Butter
Throughout all of our taste testing, there were several products that really stood out for one reason or another, yet didn't exactly qualify as "Best for Baking" or "Best All-Around". Nevertheless, one left an impression on us in terms of its flavor and uniqueness, and should you have a space in your heart for specialty products, the "Best Specialty Vegan Butter" category is for you!
About Kite Hill European Style Plant Based Butter
Whether your butter is dairy-based or plant-based, you can expect that anything called "European Style" is going to have a few special qualities to it. European style dairy butter differs from regular butter in terms of butterfat content (European style contains a higher percentage) as well as the fact that it is cultured. Historically, this culturing occurred naturally as a result of the longer churning process required to produce that high butterfat percentage, but nowadays, isolated cultures are simply added to the finished product for a safer, more controlled microbial environment.
While plant based European style butter of course cannot go through the same churning/culturing process as dairy cream, the folks at Kite Hill have done an amazing job mimicking the taste and textural experience of European style butter in a completely plant based way! In addition to cocoa butter as well as coconut and sunflower oils, this product contains a couple other ingredients that set it apart from the other products in our lineup, namely cultured almond milk. With a bit of research, we learned that the cultures used by Kite Hill are proprietary strains which are grown on 100% vegetable based mediums. When these special cultures are added to the plant based butter, the resultant product takes on a deliciously nutty, tangy, and savory flavor which sets it apart from the other, more basic vegan butters we tasted our way through.
As you may already know, where there are cultures, you can be sure there are additional health benefits as well! This product contains no artificial flavors or preservatives and is non-GMO verified as well as is palm oil free. Also, we were able to learn that this company takes great pride in sourcing almonds from a dedicated and sustainable farm which is local to their California operations facility and are also actively protecting the pollinators that are so vital to their particular agricultural operations as well as those of the entire globe!
It's important to consider that this product is definitely not mild on the flavor--which we love!--but is not ideal for baking as it will likely affect the final flavor profile of your dish. In addition to the rich nuttiness, it's also heavier on the coconut flavor than some of the other options we tasted, and of course, is not suitable for those with nut allergies.
We also noticed this product has a dramatically short shelf life, reading "best if consumed within 7 days after opening"! We're guessing it will take a bit longer than that to actually spoil, but still, that might be a lot of vegan butter for some folks to get through in a week.
Pros:
Expertly mimics a traditional European style butter in terms of richness and deeply savory, tangy flavor.
Contains cultured almond milk, contributing to the unique flavor profile as well as delivering a dose of microbial goodness!
No artificial flavors, preservatives, or GMOs.
Is palm oil free!
Company makes efforts towards sustainability and pollinator protection.
Cons:
Has a much more distinct flavor than many of the other vegan butters, taking away some versatility and limiting the range of use in some baking and cooking circumstances.
Not suitable for anyone with nut allergies!
Features a surprisingly short shelf life, instructing you to consume the product within 7 days after opening.
Final Thoughts on the Best Vegan Butter Brands
There you have it, our top 4 picks for the best vegan butters! Perhaps you rely on your vegan butter for the continued success of your famous oatmeal raisin cookies, or, you simply want to have an easier time buttering your breads, muffins, and biscuits. Maybe you want a reliable vegan butter you can use for just about anything, or you want to give a new, taste bud tantalizing plant based butter a shot!
Whichever the case, one of the vegan butters we taste tested is sure to meet your needs. So, step away from the olive oil and pick up one of our favorite vegan butters on your next grocery run!