Vegan Muffuletta Sandwich is loaded with layers of flavorful ingredients. The main one being all kind of olives. It's just waiting for you to take a big bite.
The full name for this sandwich should be The New Orleans Cajun Olive Salad Muffuletta Sandwich. Mmmmm, that sounds delicious and fun all in one name.
Loaded with typical hoagie ingredients but it also has to have lots of olive salad. Naturally this sandwich is now completely vegan.
I thinly sliced seitan to mimic the original sandwich meats but that is an optional ingredient.
New Orleans Muffuletta sandwichs are made on one huge round loaf and then cut so that the serving is a loaded wedge of goodness.
I used a smaller size loaf that is about half the size of the typical boule loaf that you see in the grocery store.
There are more grocery stores having these smaller uncut loaves. I think it's because they have a bakery in back and it is easy for them to do. Not necessary though. A big loaf if the tradition.
This muffuletta is bringing back some very good memories. The majority of my family lives in California. My cousin got married to a southern girl and we were all invited to the wedding.
Little did that poor girl's family know that we are all travelers and we try to go to every major family event. So, over 20 of us flew to New Orleans for the the big occasion.
We rode on a paddleboat up the Mississippi, walked on Bourbon street at night, went to gardens, walked on the Moon Walk, took a boat into the swamp to see alligators, went to an antebellum home, attended parties before the wedding, went to the wedding and, last but not least, ate.
Breakfast lunch and dinner we ate! Such good memories. Restaurants everywhere! One of the many food take-aways I have is the memory of the Muffuletta Sandwich.
I made some changes to this recipe since I became vegan and the famous Muffuletta has also became vegan. Score!
What Kind of Bread is Used for Muffuletta?
Any firm large loaf of bread that has not been sliced. Something like the French bread called a boule.
A variety that is flatter from bottom to top or you need to spoon out some of the bread from the inside.
A firm loaf such as Italian or Sourdough not Sheepherders. Sheepherders is too soft.
How Do You Serve This Vegan Muffuletta Sandwich?
Something that is often done is that the sandwich is wrapped in waxed paper or parchment paper and then weighted down with an iron skillet, for a period of time, before cutting.
Muffuletta Sandwiches are cut in half or then quartered and served this way, as a wedge.
You can also rewrap the quarters and serve them wrapped. This works great for BBQ's and picnics.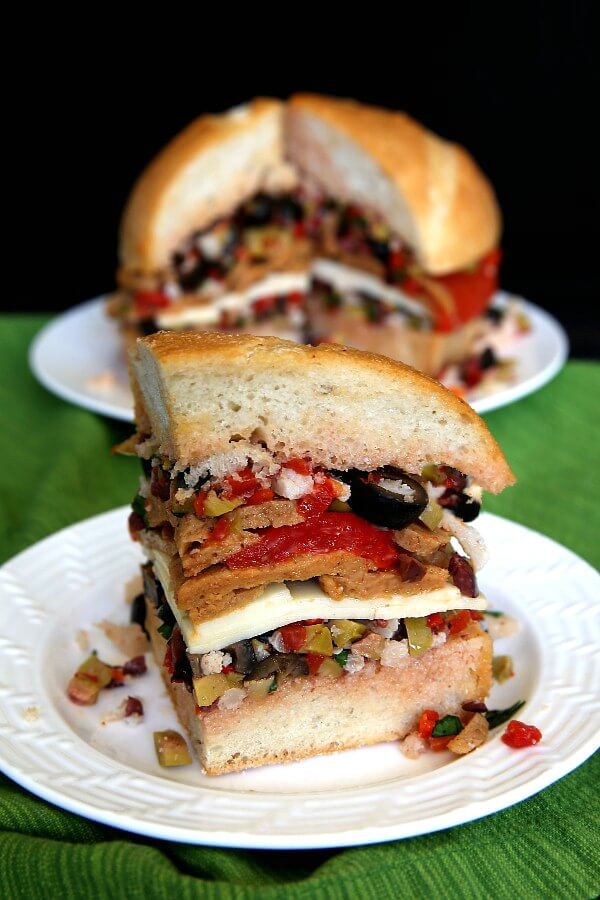 I don't want to take your focus off this beauitful and tast sandwich but I thought of another sandwich that I think you'll like.
It's roasted vegetables and layered thick.
The Roasted Vegetable Sandwich is something you shouldn't miss. The juices and flavors and just dang delicious!
I'll show you a picture way down at the bottom because I love to tempt people with gorgeous food. It's my calling 🙂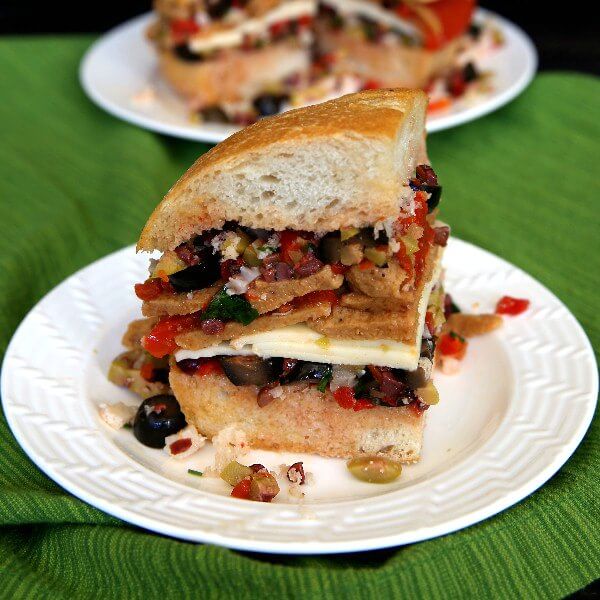 📋 Recipe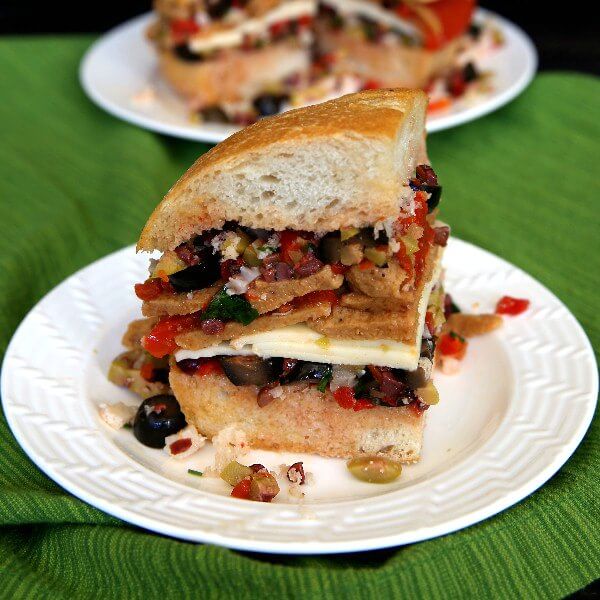 Vegan Muffuletta Sandwich
Vegan Muffuletta Sandwich is loaded with layers of flavorful ingredients.
Ingredients
1

Boule bread loaf

1 ½

cup

green olives

- pimento stuffed, chopped

1 ½

cup

kalamata olives

- pitted and chopped

1

can

black olives

- 15 ounces black olives, drained and chopped

½

cup

roasted red bell pepper

- chopped

½

cup

Italian mixed vegetables

- chopped - giardiniera comes in a jar

2

ounces

vegan white cheese slices

⅔

cup

oil of your choice, I used avocado oil but extra virgin olive oil is also great

1

cup

fresh chopped flat leaf parsley

2

tablespoons

capers

1

teaspoon

salt

¼

teaspoon

pepper

4

ounces

seitan, sliced thin
Instructions
This sandwich mixture needs to sit overnight for all the flavors to meld.

Place all three olive varieties in a bowl. Add chopped roasted red bell pepper and giardiniera. Add the oil, parsley, capers, salt and pepper.

Mix well, cover and put into the refrigerator for at least 12 hours.

About an hour before serving. - slice your loaves in half.

Scoop out some of the center of each roll if it is too fat. Save the breadcrumbs for another recipe. They freeze for months.

Spoon half of the olive salad on your roll. Add a layer of sliced dairy free cheese, a layer if seitan, if used, a layer of red bell peppers and pile on more olive salad.

Top with the other half roll. Wrap tightly with waxed paper or parchment paper.

Set the sandwich or sandwiches on a big plate and place a heavy weight on top to compress the sandwiches. Something like an iron skillet.

This helps the juices to be absorbed a bit into the bread.

Chill for 1 hour.

Unwrap and slice into quarters. Serve.
Notes
This helps the juices to be absorbed a bit into the bread.
Unwrap, slice and eat.
So good.
Nutrition
Serving:
1
Serving
Calories:
564
kcal
Carbohydrates:
49
g
Protein:
13
g
Fat:
30
g
Saturated Fat:
3
g
Sodium:
958
mg
Potassium:
220
mg
Fiber:
5
g
Sugar:
2
g
Vitamin A:
1085
IU
Vitamin C:
18.8
mg
Calcium:
99
mg
Iron:
5.5
mg