Vegan Black Bean Burgers Recipe is healthy & one of the most popular burgers out there.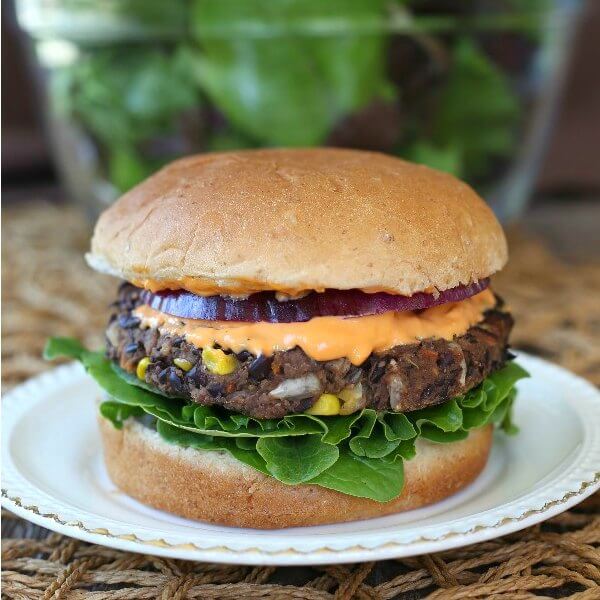 Vegan Black Bean Burgers Recipe is healthy & one of the most popular burgers out there. An added bonus is these have little bits of carrots and corn.
The weather is perfect. Mid 70's and we can hear the kids in the pool next door. There are more bikes on the streets than usual and I am aching to have some outdoor fun too.
Think I'll make a casual meal where we can kick around and eat al fresco. The bean burgers won't be casual though.
They'll be loaded with spices and veggies and will be cooked just right.
Black Bean Burgers are the way to go. These burgers hold together great too.
What are Some Tricks for Making Black Bean Burgers?
A trick with any bean burger is that they should be packed firmly when you are making the patty and shape with pressure.
While they're cooking don't press on them with the back of the spatula because that actually separates the ingredients.
So, form the pattys the size that you want to start with. I always eyeball the size of my buns and shape accordingly.
You can't beat a warm burger with all your favorite toppings for a lunch or dinner. It just grabs you sometimes and you gotta have one.
Use your favorite buns and lettuce and start piling. Sliced red tomato would be a nice layer on these burgers too.
But you know what? I like my tomatoes on the side.
This post contains affiliate links. Read my disclosure policy here.
I get a little sandwich crazy when the weather gets nice. I think it's because outdoors is calling my name and they transport so easy. Even if it is only to the outdoor table and chairs.
Oh, another sandwich that is really good is the Spicy Green Lentil Burgers recipe. It's got some really good flavors too.
Well, maybe next weekend because I really want these loaded black bean burgers today!
Want to try this Black Bean Burgers Recipe?
PIN IT

to your Main Dish or Side Dish board to save for later!
Find me on Pinterest for more great recipes!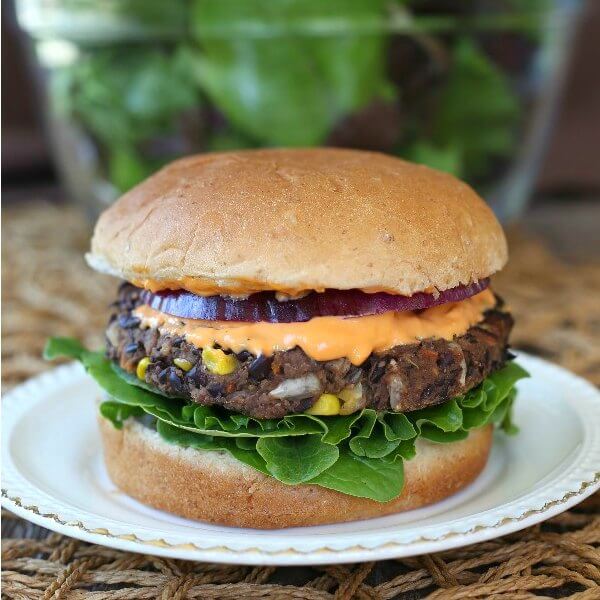 Print
Vegan Black Bean Burgers Recipe
Vegan Black Bean Burgers Recipe is healthy & one of the most popular burgers out there.

Ingredients
1

tablespoon

extra virgin olive oil

for sauteing

1

cup

onion, diced

1/2

cup

carrot

finely diced

1

ear of corn

shucked and cut from the cob or canned corn, drained, about 8 ounces

2

cloves

garlic

finely diced

1/2

teaspoon

dried oregano

2

teaspoons

chili powder

1/4

teaspoon

cumin

1

teaspoon

salt

1 1/2

cups

bread crumbs

fresh

29

ounces

black beans

2 cans about 14.5 oz, each, drained. You should even rinse and pat them dry. You want to make sure they aren't wet when mashing and adding to the rest of ingredients.

2

egg substitutes

I used chia meal/flour which is 2 tablespoons chia meal and 6 tablespoons water

1/4

cup

sunflower seed kernels
Instructions
Make your bread crumbs using a food processor and set aside. If you have any leftover breadcrumbs it can be frozen for 6 months.

Prepare the egg substitutes and set aside.

Heat the oil in a large skillet and add the onion and carrot and saute about 10 minutes.


Add corn and cook another 3 minutes.

Add spices and garlic to the onion and cook another minute.


In a large bowl add the black beans and mash with a potato masher or the back of a fork. You could pulse in a food processor instead but not too fine.

Stir in the prepared egg substitutes.

Mix in the onion mixture, bread crumbs and sunflower seed kernels.

Make into 6 patties.

At this point you can freeze the patties - before frying.


Fry the patties in medium hot oil until browned on each side.

Serve with your favorite bun and toppings.
Nutrition
Nutrition Facts
Vegan Black Bean Burgers Recipe
Amount Per Serving (1 Patty)
Calories 277
Calories from Fat 36
% Daily Value*
Total Fat 4g 6%
Sodium 608mg 25%
Potassium 498mg 14%
Total Carbohydrates 47g 16%
Protein 12g 24%
* Percent Daily Values are based on a 2000 calorie diet.
Can You Freeze Vegan Black Bean Burgers?
Yes! You can lay parchment paper between each patty and freeze that way either in freezer bags or hard sided glass freezer containers.
TO PREPARE AFTER FREEZING:
Take out of the freezer and put in the refrigerator a few hours before frying – about 3-4 hours.
They don't have to be completely defrosted, but almost.
In a large skillet. Heat one tablespoon of oil and fry the patties on each side until browned.