Lentil Burgers- Dried green lentils are cooked and mixed with a combination of flax egg, carrots, onions, and flavorful spices. Crispy on the outside and juicy on the inside. Form handmade patties and pan-fry with coconut oil. Lentil burgers are perfect for summer barbeques, outdoor parties, or busy weeknights.
Veggie burgers are becoming more and more popular these days as people look for healthier alternatives to traditional meat burgers. There are many reasons why someone might choose to eat a veggie burger instead of a meat burger. For one, meatless burgers are usually lower in calories and fat than meat burgers. They also tend to be higher in fiber and nutrients, making them a more nutritious option. Additionally, meatless burgers are better for the environment because they require less land and water to produce. As more people become conscious of their food choices impact on the planet, veggie burgers are likely to become even more popular.
These spicy green lentil burgers are my favorite veggie burgers to make! They are packed with delicious flavor, have a great texture, and, best of all, they are easy to make. Lentil patties are pan-fried in coconut oil, making the outside layer nice and crispy. Serve the plant based burgers on buns with your favorite toppings. They're sure to be a hit at your next barbecue!
Why You'll Love This Lentil Burger Recipe
Perfect For Parties- Lentil burgers are a crowdpleaser. They perfect for summer barbecues or outdoor parties
Healthy and Nutritious- With wholesome ingredients like green lentils, carrots, and onions, lentil burgers are high in fiber and nutrients and low in calories and fat.
Delicious Flavor- These green lentil burgers are packed with flavor thanks to the variety of spices used. They are a little spicy, a little earthy, and very satisfying.
Easy to Make- This veggie burger recipe is easy to follow and can be made in about 40 minutes.
Versatile- Serve on buns with your favorite toppings. You can also enjoy them as a salad topper or side dish without a bun.
Equipment Needed To Make Spicy Green Lentil Burgers
Large Saucepot
Small Mixing Bowl
Large Mixing Bowl
Collander
Frying Pan
Food Processor
Chopping Knife
Measuring Cups and Spoons
Ingredients For Lentil Burgers
Dried Green Lentils
Onion
Carrot
Rolled Oats
Pepitas
Flaxseed Meal
Bread Crumbs
Low-Sodium Tamari
Ground Ginger
Smoked Paprika
Salt
Pepper
Coconut Oil
How To Make Green Lentil Burgers
To make these delicious lentil burgers, you will start by preparing the lentils. Add dried green lentils and water to a saucepot and bring to a boil. Once boiling, turn down the heat and cook for about 20 minutes. Drain the liquid off of the lentil and set them aside for later.
Prepare your flax egg with flaxseed meal and water in a small mixing bowl and set it aside to thicken up.
Add cooked lentils, flax egg, and the remainder of the ingredients to a large mixing bowl and mix well—form patties out of the lentil mixture to match the size buns you are using.
Heat coconut oil in the frying pan and cook until crispy on each side. Once the burgers are done, add them to buns and top with your favorite burger toppings and condiments.
What to Serve/Pair With Lentil Burgers
While these vegan burgers are delicious on their own, they are even better when served with a few sides. Try pairing them with roasted veggies, a simple salad, or sweet potato fries. For a complete meal, serve them alongside roasted potatoes and a side of steamed broccoli.
Popular Substitutions & Additions
This vegan burger recipe is versatile and can easily be customized to fit your needs. Here are a few popular substitutions and additions:
-For a gluten-free option, use gluten-free buns or serve the burgers on a bed of greens.
-Add avocado, tomato, or pickles to the burgers for an extra flavor boost.
-Try using different spices to change up the flavor. Cumin, chili powder, and garlic powder are all great options.
-Add shredded cabbage or coleslaw to the burger mix for a crunchy texture.
-For a cheesy flavor, add vegan cheese to the burger mix or top the cooked burgers with vegan cheese.
-If you don't have flaxseed meal, you can use chia seeds or ground oats.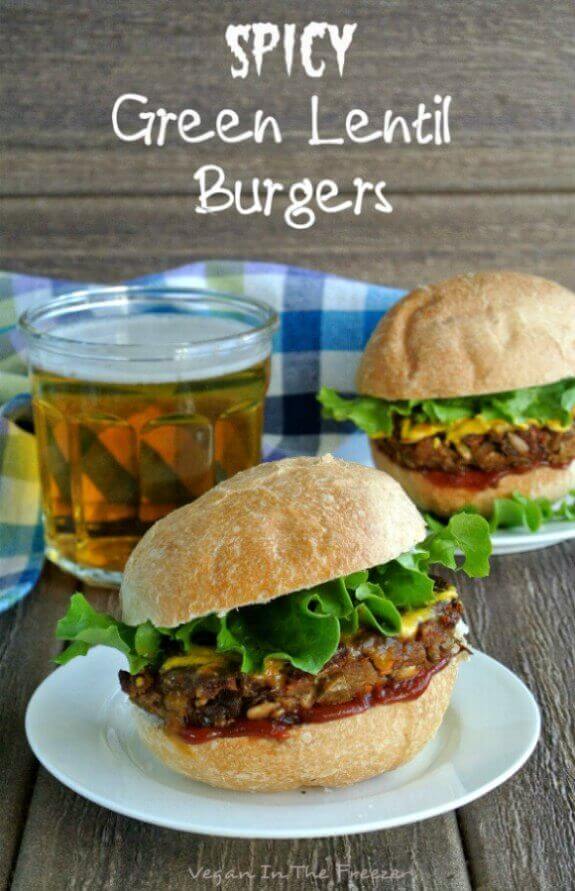 How To Reheat & Store Homemade Lentil Burgers
What Is The Best Way To Store Lentil Burgers?
Lentil burgers are best stored in an airtight container or wrapped tightly in foil or plastic wrap in the refrigerator.
How Long Will Spicy Lentil Burgers Last In The Fridge?
These green lentil burgers will last in the fridge for up to 5 days when stored in an airtight container.
Can I Freeze Green Lentil Burgers?
Yes, you can freeze these vegan burgers for up to three months. To freeze, place uncooked patties on a parchment paper-lined baking sheet spaced out evenly and place in the freezer for 30 minutes. Take the baking sheet out of the freezer and use a spatula to slide off each patty. Place a small piece of waxed paper between each patty for easy removal. Store them in a freezer-safe container or freezer bag. When ready to eat, thaw the burgers in the fridge overnight and reheat them as desired.
How To Reheat Lentil Burgers?
There are a few different ways you can reheat these vegan burgers. The easiest way is to place them in the microwave and heat for 1-2 minutes or until heated. You can also reheat them in the oven at 350 degrees Fahrenheit for about 10 minutes. If you're in a hurry, you can even reheat them in a skillet over medium heat for a few minutes.
Lentil Burger FAQs
Do I have to use a flax egg?
No, you don't have to use a flax meal egg. If you don't want to use one, you can try using a chia egg or unsweetened plain vegan yogurt.
What kind of lentils should I use?
You can use any lentils you like, but I prefer green ones because they have a delicious nutty flavor and hold their shape well.
My uncooked patties are too moist and won't keep their shape. Is there a way to keep them together better?
Yes! If your patties don't seem to be holding together well, you can slowly add more breadcrumbs to the mixture to thicken it up to help hold the patties together better.
Can I make these burgers ahead of time?
Yes, you can make the burgers ahead of time and store them in the fridge or freezer until you're ready to cook them.
Don't Forget To Come Back And Let Me Know How Your Spicy Green Lentil Burgers Turned Out!
📋 Recipe
Spicy Green Lentil Burgers
Dried green lentils cooked and mixed with flax egg, carrots, onions, and flavorful spices are formed into handmade patties and pan-fried to crispy perfection!
Ingredients
1

cup

green lentils

dried

½

onion

chopped

1

carrot

finely chopped in a processor

¾

cups

rolled oats

½

cup

pepitas

you could use sunflower kernels to

1

tablespoon

flaxseed Meal

and 3 tablespoons water, mimics an egg

¾

cup

bread crumbs

4

tablespoons

tamari, low sodium

1

teaspoon

ground ginger

1 ½

teaspoon

smoked paprika

½

teaspoon

salt

¼

teaspoon

pepper

2

tablespoons

coconut oil

for frying the 'burgers'
Instructions
Cook the lentils:
Put 2 cups water and 1 cup dried lentils in a large saucepan.

Bring to a boil.

Turn down the heat and cook for 20 minutes.

Drain the liquid off of the lentils.

Set the lentils aside.
Now for the rest:
Mix the flaxseed meal with the water and set aside so that it can gel a bit.

In a large bowl add the cooked lentils, the flax seed meal mixture and the remainder of the ingredients. Mix well.

Form the patties so that they will fit the shape of the buns that you have.

If the patties seem too moist and won't hold their shape well enough add more breadcrumbs. You can use ¼ cup of panko also.

Heat the coconut oil in a frying pan and cook the lentil patties on each side.

Spread your buns with all of your favorite condiments and add lettuce and onion of your choice too.
Nutrition
Serving:
1
Burger
Calories:
289
kcal
Carbohydrates:
38
g
Protein:
13
g
Fat:
9
g
Saturated Fat:
4
g
Sodium:
658
mg
Potassium:
467
mg
Fiber:
12
g
Sugar:
2
g
Vitamin A:
1790
IU
Vitamin C:
2.6
mg
Calcium:
59
mg
Iron:
4.2
mg