You can't beat a great recipe for zucchini muffins. It's one of the most prolific vegetables in the summer and this is just one of the delicious vegan zucchini recipes you can make. Moist and healthy in under 30 minutes.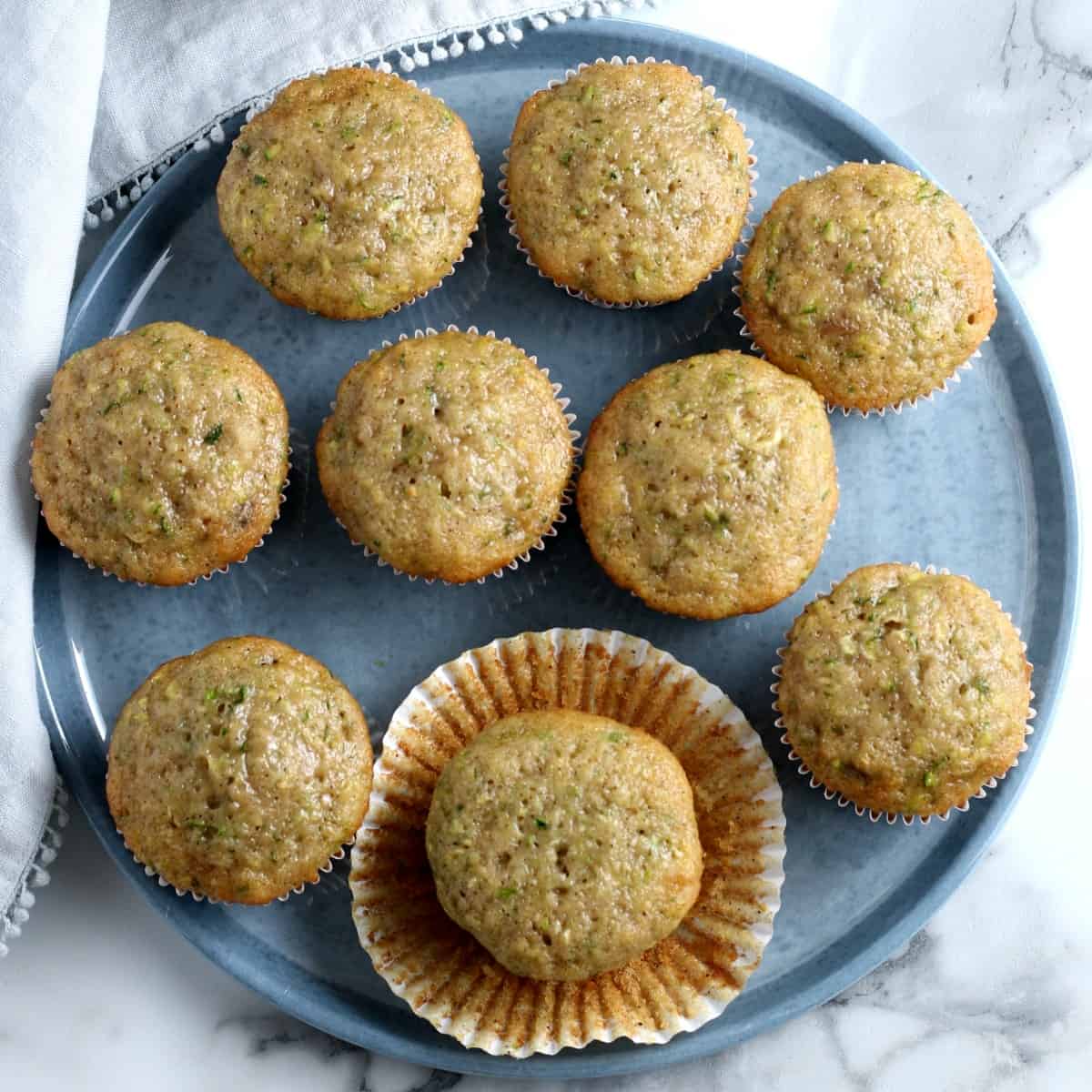 Before you know it, it will be zucchini season. And if you're anything like me, you're probably going to be looking for some delicious recipes to use up all of that zucchini.
A recipe for zucchini muffins will probably be the first one that you'll settle on. Especially this one. It's an easy recipe and is complete in under 30 minutes.
This mix is an ideal group of ingredients for healthy and sweet. They're perfect to have with your morning coffee or as a mid-day snack.
Whether you're looking for easy vegan zucchini recipes or one that's more complex you'll have to keep this recipe on your list.
You'll also be able to throw these healthy zucchini muffins in the freezer and save for later. They won't let you down.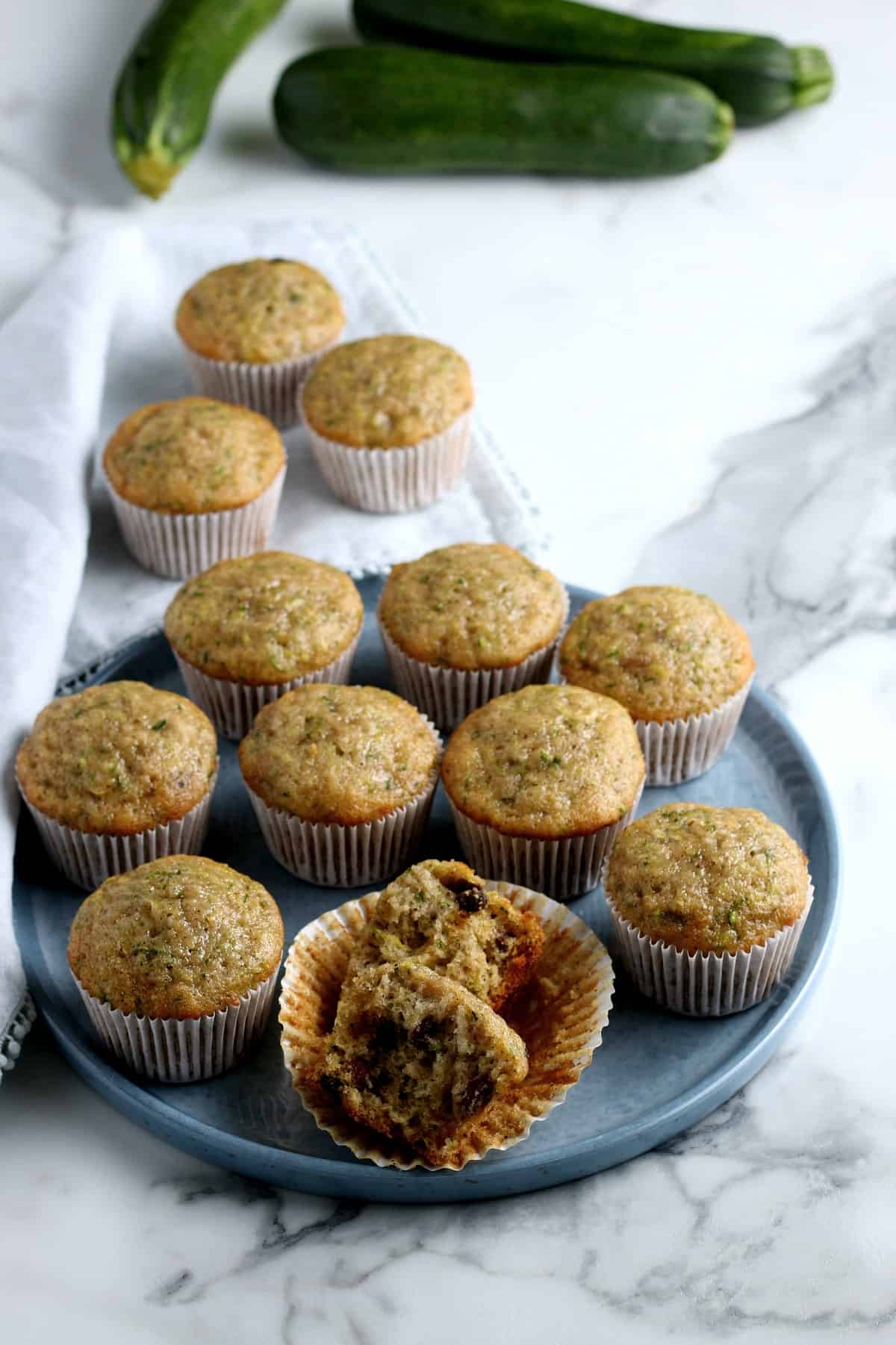 💭 Is zucchini healthy
Zucchini alone is a super beneficial vegetable. They're great for your eye health and your gut health.
It is even great for weight loss because it's so low in calories. There are only 33 calories in a medium-sized zuke.
School will be back in session before we know it and zucchini is full of B6-vitamins making them the perfect snack for an after school pick me up.
It's one of those vegetables that are easy to sneak into meals for your kids too.
💭 Quick & easy zucchini recipe
My love for zucchini muffins was grew when I learned how easy they are to make. Unlike many other muffin recipes, this one takes very little effort.
Grab your mixing bowl, your favorite wooden spoon, your prepped ingredients and you're ready to start.
These muffins are one of the many treats I feel comfortable feeding my family. They're not full of preservatives and junk that processed muffins have in them — and they aren't filled with tons of sugar, either.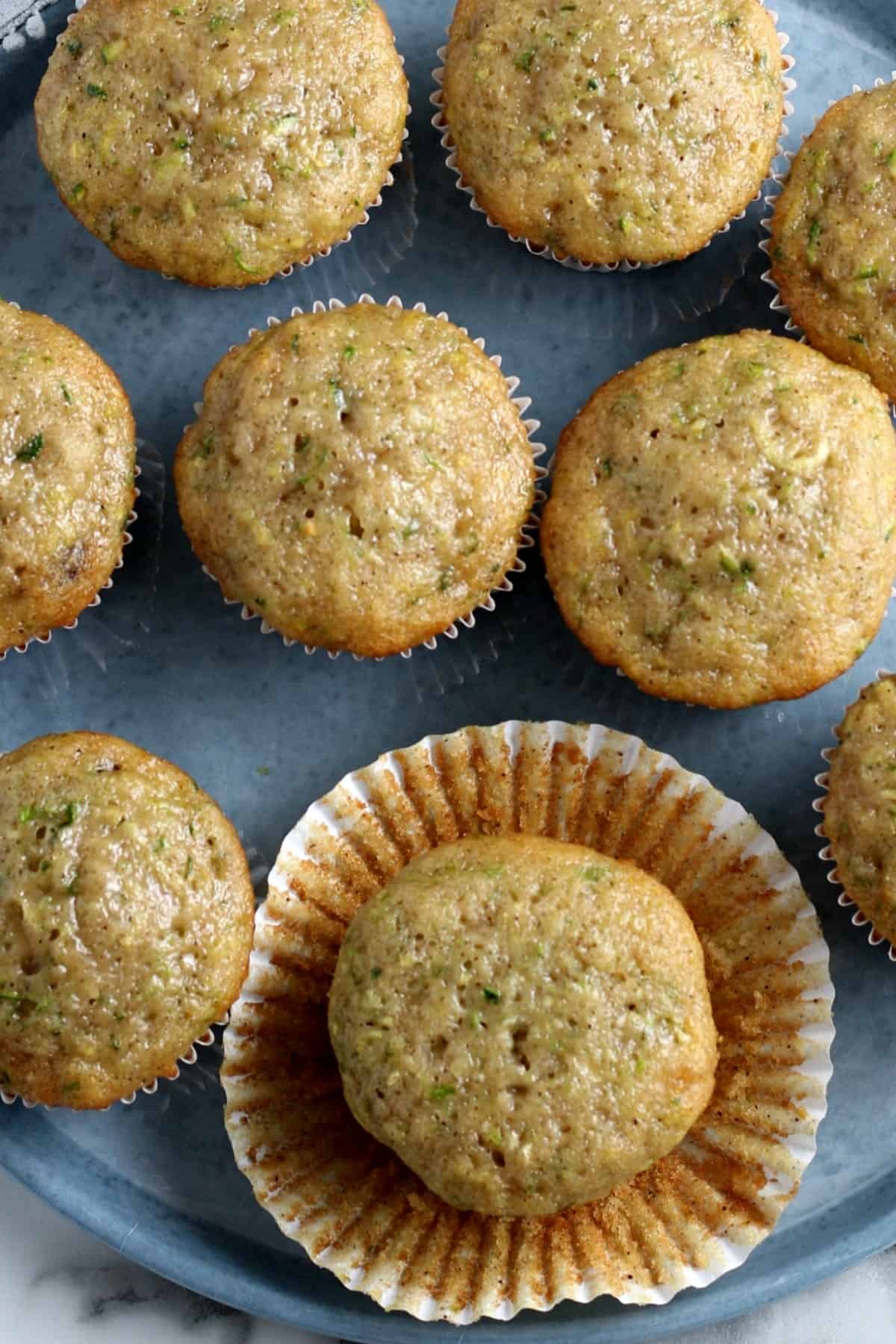 🥘 Ingredients
All-purpose flour makes the muffins lighter and has extra leavening agents included.
Organic Sugar is a delicious sweetener.
Baking powder is a leavening agent.
Baking soda is a leavening agent and reacts to the baking powder.
Salt is the perfect understated seasoning.
Ground cinnamon adds exactly the earthy spice that is needed.
Chia seed is the egg substitute used and I like the ground seeds.
Extra virgin olive oil and I like to use a light one which is the Everyday variety I have linked here.
Zucchini is a prolific and mild-tasting vegetable that is perfect when grated in baked goods.
Raisins sweeten the mix just a bit and add texture.
🔪 Instructions
This recipe is incredibly easy to make and even easier to eat.
Here's what you need to do:
Preheat your oven to 350°F
While your oven preheats, fill your muffin tins with liners.
Stir together the flour, sugar, baking powder, baking soda, salt, and cinnamon.
In a small bowl, mix the raisins with about half a teaspoon of flour — this step will stop them from falling to the bottom of the muffins while baking.
In a separate bowl, whisk together the prepared chia seed eggs and oil. You can use any of your favorite egg substitutes. Flaxseed meal works well too.
Add the liquid mixture to your dry ingredients and stir until just combined — you don't want to over mix this, it will lead to a denser muffin.
Add the grated/shredded zucchini and if you are using raisins, add them now.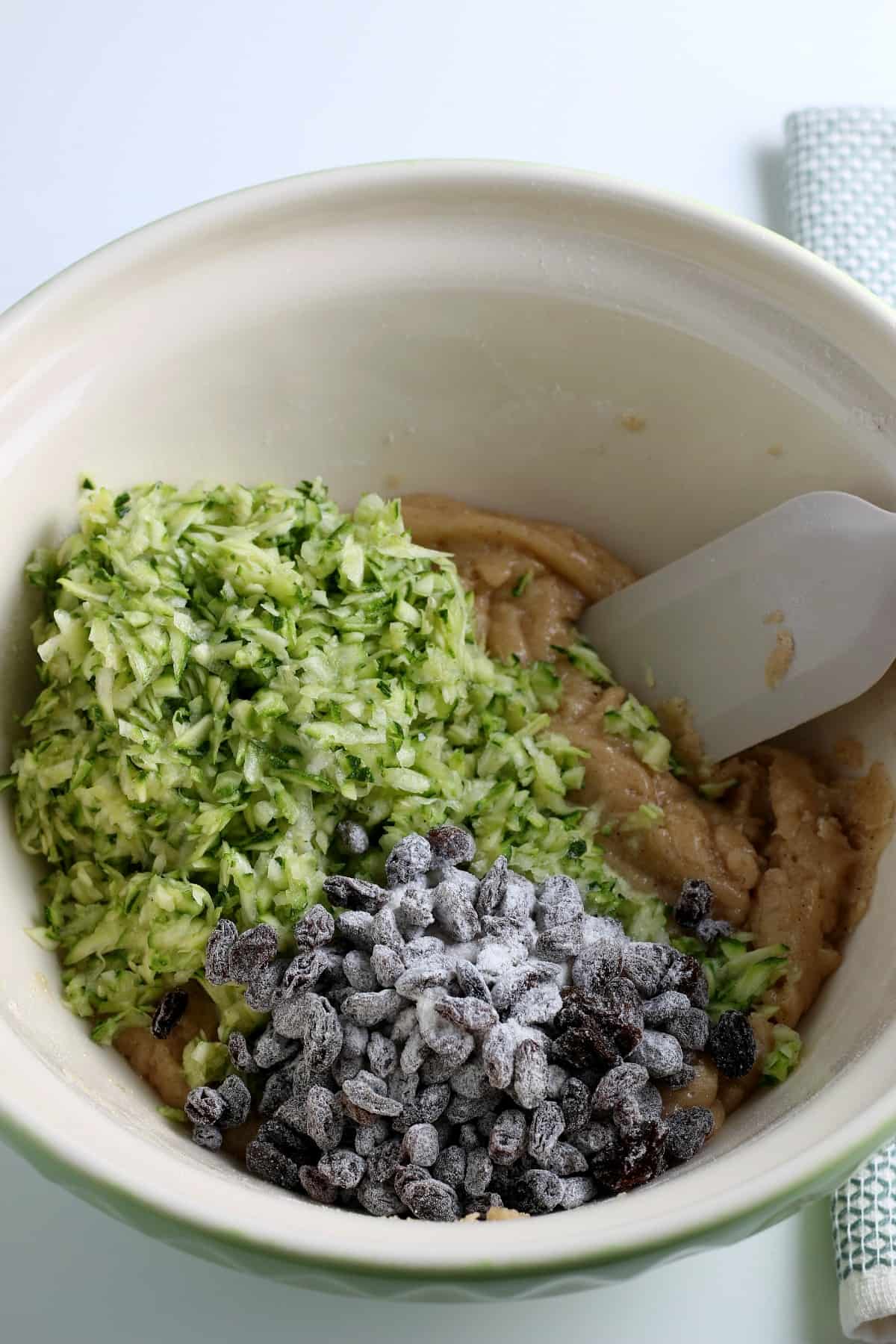 Mix until just combined but well distributed.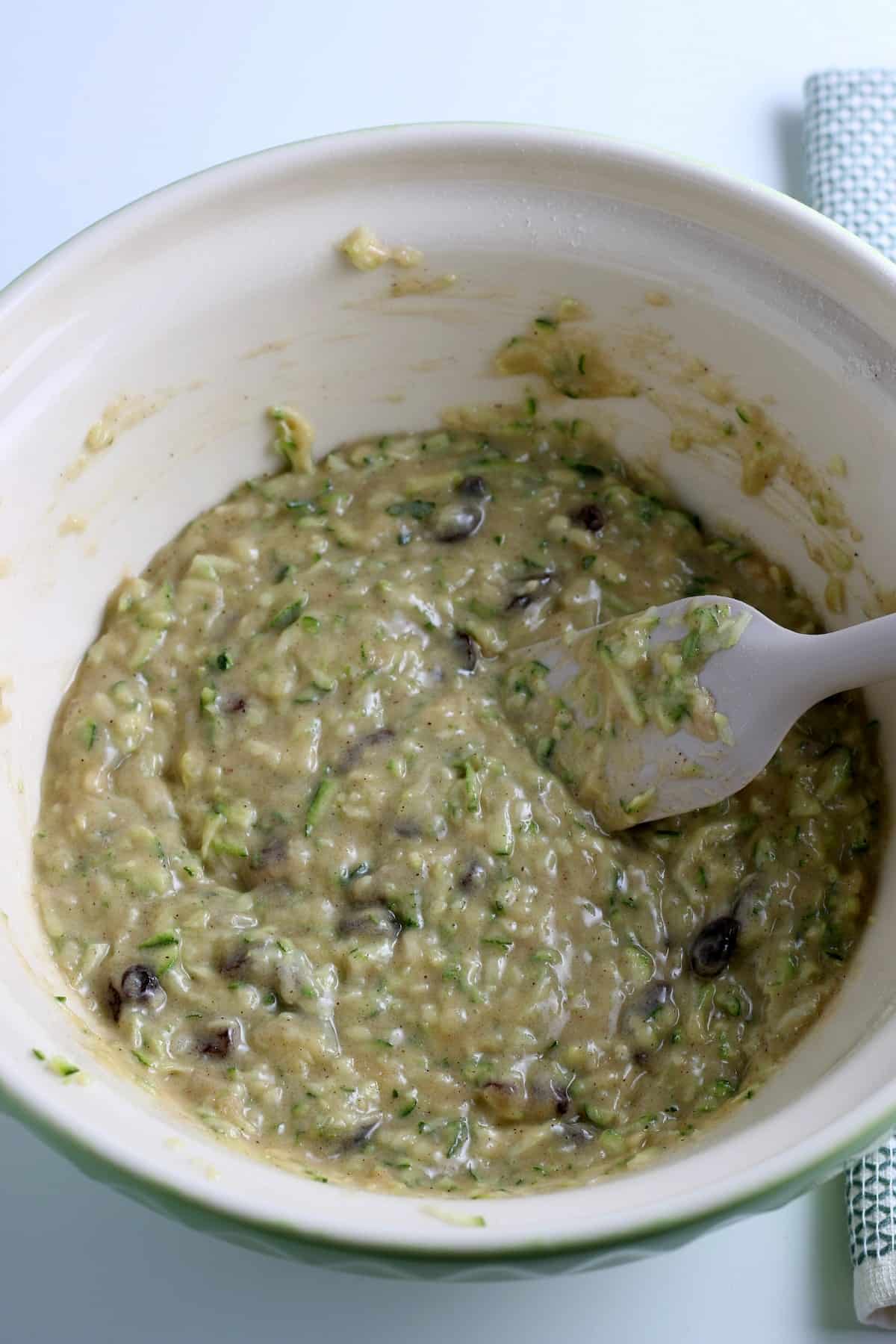 Fill the paper cups in the tin. A large cookie scoop works really well for this.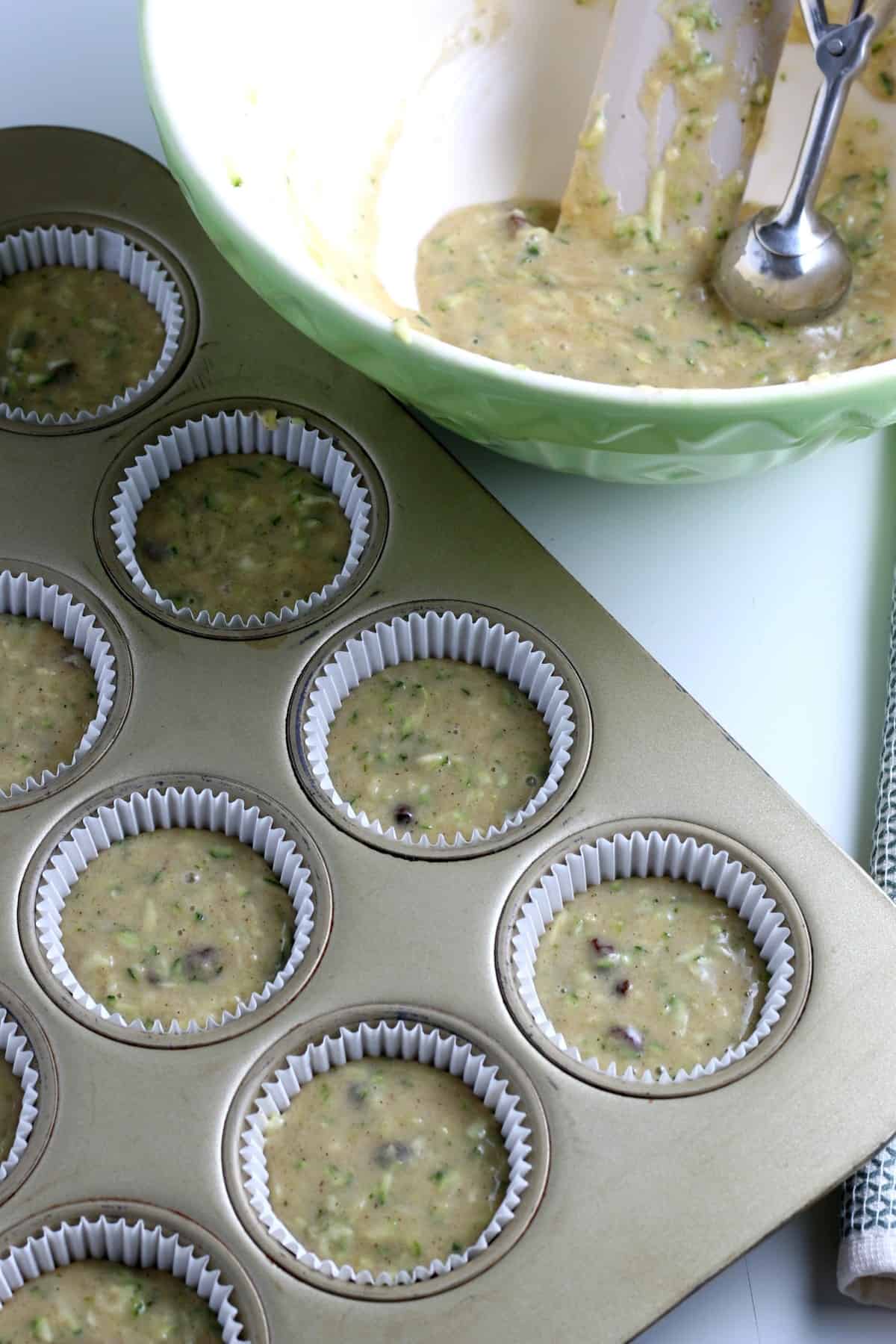 Bake the muffins for 15 minutes at 350°F or until a toothpick comes out clean when stuck in the middle of a muffin.
If you make 18 muffins then they will probably bake in 12 minutes. But do the toothpick test.
Remove the muffins from the oven and let them cool on a cooling rack.
Bam! Tasty treats without all the bad stuff in them.
💭 Can you freeze zucchini muffins
This recipe easily makes 12-18 muffins from one batch, so they are wonderful for a freezer treat. They can be frozen and will last for about two months in the freezer.
Once the muffins have cooled, all you need to do is place them in a freezer bag or airtight container and pop them in the freezer.
To thaw the muffins simply throw them in the microwave for less than a minute, or let them thaw at room temperature for an hour or so before you are ready to serve them.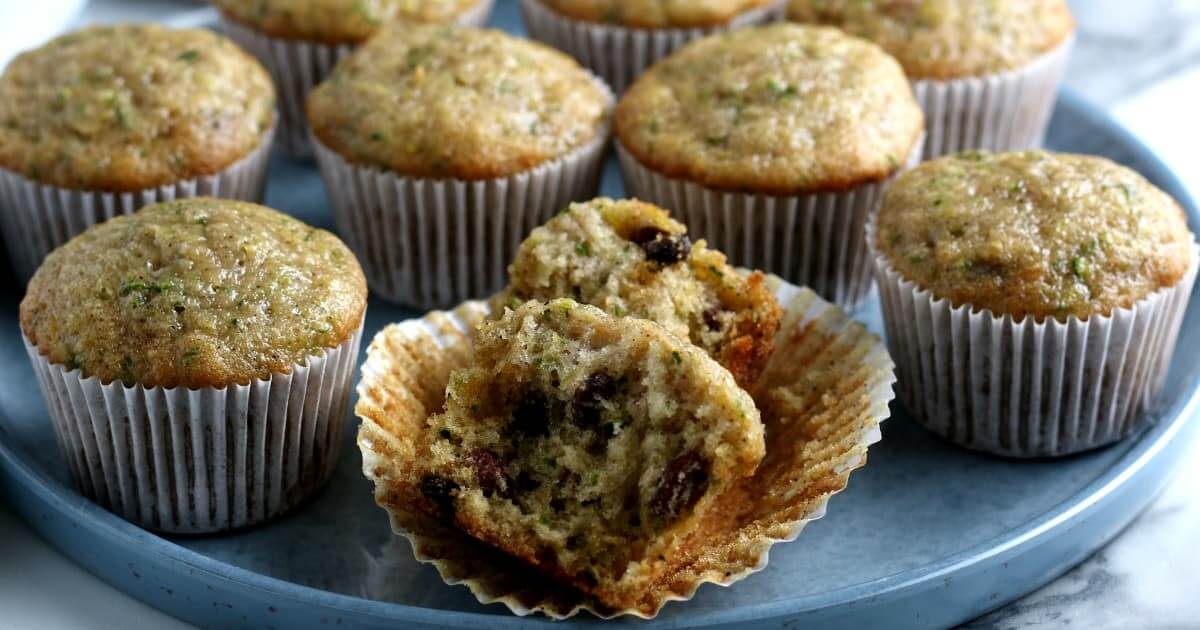 📖 More tasty zucchini recipes
You can grill outdoors or in with these absolutely delicious Grilled Barbecue Tortilla Wraps with pieces of zucchini inside.
If you'd like to dress up some frozen hashbrowns it is easy to so with this Rainbow Veggie Hashbrowns recipe.
Grilled zucchini spears are coming next week and I'll link here.
If you take a photo of this finished recipe for zucchini muffins I would love to see it. Follow me over on Instagram and tag me on your photo @vegan_in_the_freezer.
📋 Recipe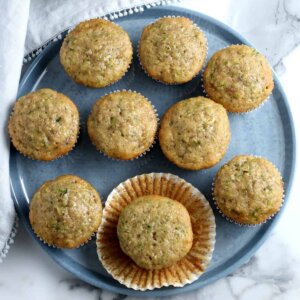 Recipe for Zucchini Muffins
Moist and healthy Zucchini Muffins in under 30 minutes.
Equipment
Mixing bowls

Wooden Spoon

Measuring cups and spoons

Grater

Paper muffin cups

Muffin tin for 12 muffins (or two 6 muffins tin)
Ingredients
1 ½

cups

all-purpose flour

1

cup

organic granulated sugar

½

teaspoon

baking powder

½

teaspoon

baking soda

½

teaspoon

salt

½

teaspoon

Ground Cinnamon

2

tablespoons

ground chia seed

- mixed with 6 tablespoons water (this is the egg substitute)

½

cup

extra virgin olive oil

2

cups

zucchini

- grated

½

cups

raisins

- optional
Instructions
Preheat oven to 350 degrees.

Mix the chia seed with water and set aside to let it gel.

Fill muffin tin with liners

In a large bowl, whisk together flour, sugar, baking powder, baking soda, salt and cinnamon

Add raisins to a small bowl and sprinkle with about ½ teaspoon of flour mixture. This will help them from sinking to the bottom.

In a small bowl, mix together the prepared chia seed mixture and oil.

Add the oil mixture to dry ingredients and blend just until combined.

Stir in zucchini and raisins, if using raisins. Don't overbeat.

Bake at 350° F for 12-15 minutes or until a toothpick inserted in a middle comes out clean.

Remove from oven and cool on a wire rack.
Notes
Muffins can be frozen after baking. Place in a freezer-safe bag or container, remove air and store for up to 2 months.
To thaw, place on the counter for a hour or so.
Nutrition
Serving:
1
Muffin
Calories:
232
kcal
Carbohydrates:
35
g
Protein:
2
g
Fat:
10
g
Saturated Fat:
1
g
Sodium:
147
mg
Potassium:
145
mg
Fiber:
2
g
Sugar:
17
g
Vitamin A:
41
IU
Vitamin C:
4
mg
Calcium:
27
mg
Iron:
1
mg