White Bean Chili has a wonderful group of spices that blend perfectly with the beans and green chilies. Not only that, slow cooker white bean chili is a great family dinner.
Using a crockpot for cooking beans is a very convenient and efficient way to make dinner. After everything is placed in the crock~pot you just set the temperature, check the time and let it cook - all by itself.
Check out the video! It's right here if you're on desktop and a couple of paragraphs below if you're on laptop!
There won't be any worries that your delicious food will burn or that it will boil over. Your chili is innocently cooking away and waiting for you to ladle it up.
At my house when it's warm outside, especially in the summer, I set the slow cooker on a table out on the covered patio or deck that is near an outlet.
It keeps the house from overheating and it makes me feel like I am cooking al fresco. It just feels like a fun way to cook.
Then on those cold days, the slow cooker is more than welcome to add heat to the house. Either way, I am in my 'easy dinner mode'.
Healthy Slow Cooker White Bean Chili
This is it! Great Northern Beans cooked with veggies and spices can't be beat. You can us your own vegetable stock or organic low sodium vegetable broth for the liquid base.
If you'd like to use fresh roasted green chilis in the sautéd mix that would work too but I find the canned ones to be so much simpler for this and they are delicious. There are organic canned mild diced green chiles too.
You know you've got to add a little nutritional yeast for more nutrients and flavor. How can anyone resist?
Slow Cooker White Bean Chili is the perfect way to take advantage of what is needed to turn out a wonderful chili. Lots of flavorful ingredients cooked low and slow.
There is a bit of prep work at the beginning but it's basic and quick. It's sautéing and that brings out another level of flavor in the veggies.
Gosh, it's making my mouth water just thinking about it.
This chili cooks a very long time so it would be a good one to let cook overnight. You won't have to cut your sleep time short to tend to it.
Or you can get it going early in the morning to have it ready for supper time.
Whichever way you go you'll be glad you took the white chili leap. And ... leftovers are just as delicious the second time around. Comfort food is in da house!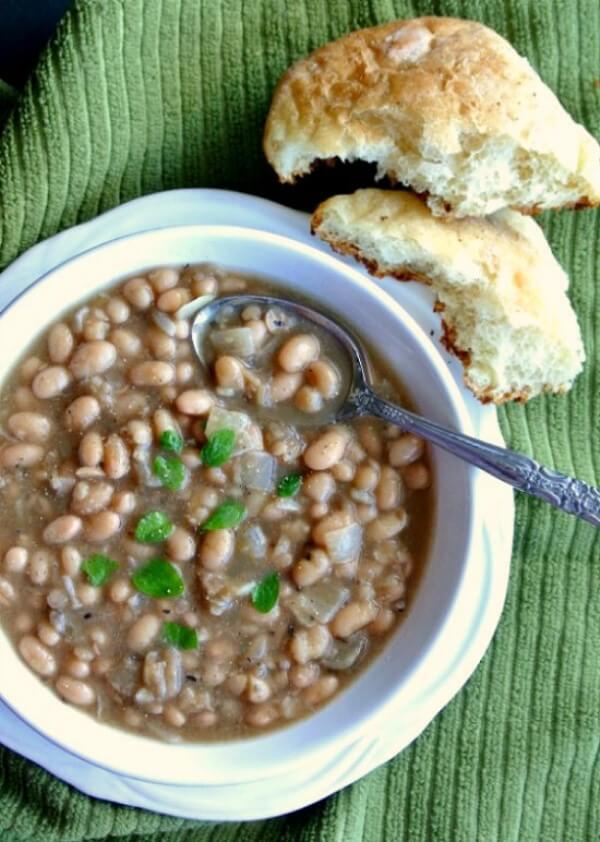 A Couple Reviews
It's so hard to find the reviews on these recipes since most of the viewing is on mobile phones these days. I mean you can scroll forever!
I brought a couple up here to show you because it may help you in your decision to the the leap into crock-pot ease.
But, by all means, scroll to the bottom if you'd like to see more.
Jenny S. says: Thank you for sharing this yummy recipe! I came home from work today, in the pouring rain, and opened my door to a delicious smell in the crockpot! This chili tasted so amazing… I love the ground cloves, it makes it!! Thanks again for sharing!!!
Shauna says: This is my go-to White Bean Chili recipe! It's simple and delicious. I cook it exactly as the recipe states, it turns out perfect every single time!
Can You Freeze Slow Cooker White Bean Chili?
While Bean Chili will keep in the fridge for 3 days or you can freeze for up to 4 months.
You could also make this White Bean Recipe with a couple of carrots added. Just peel and slice the carrot into about 1 to 1-½ inch thick rounds.
IF FREEZING:
TO PREPARE AFTER FREEZING:
Take out of the freezer and put in the refrigerator a few hours (about 6 hours) before heating. Heat in a large saucepan or in the microwave.
Serve hot.
📋 Recipe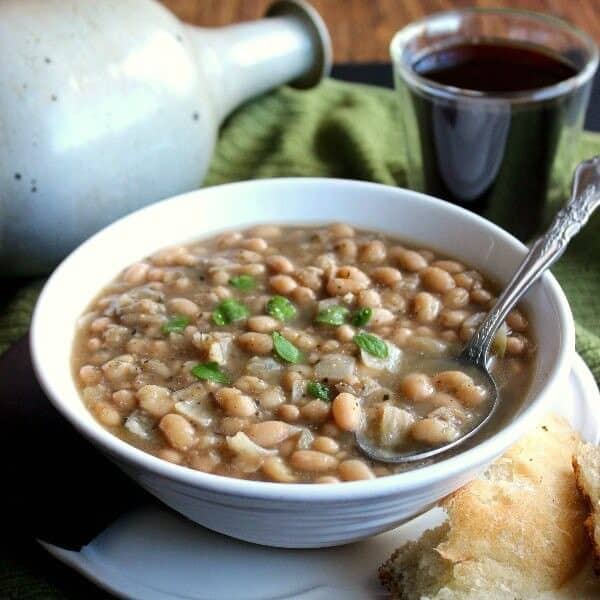 White Bean Chili
White Bean Chili from the Slow Cooker has a wonderful group of spices that blend perfectly with the beans and green chilies.
Ingredients
1

pound

Great Northern beans

dried

2

tablespoons

extra virgin olive oil

1

yellow onion

large, chopped

3

cloves

garlic

3-4 depending how big they are, finely chopped

8

ounces

mild green chiles

2 cans, 4 ounces each

6

cups

vegetable broth

2

tablespoons

nutritional yeast

2

teaspoons

ground cumin

1 ½

teaspoon

dried oregano

¼

teaspoon

ground cloves

½

teaspoon

cayenne pepper

1 ½

teaspoon

salt

dash

black pepper
Instructions
The Night Before:
Pick over the beans and rinse.

Place the beans in a

large pot

and cover with water by about 2 to 3 inches.

Let soak overnight - the beans will swell.
In the Morning:
Heat the oil in a large skillet.

Saute the onions until translucent - about 10 to 15 minutes.

Add the garlic, chiles, ground cumin, dried oregano, ground cloves and cayenne pepper.

Saute 2 minutes.

Add 2 cups of the vegetable broth and bring to a boil.

Take off of the heat and pour into the slow cooker over the beans.

Add the rest of the vegetable broth, nutritional yeast, salt and pepper.

Turn on low for 6 to 8 hours or high 3 to 4 hours. Check at the quickest time and then check every 30 minutes until done.
Nutrition
Serving:
14
ounces
Calories:
159
kcal
Carbohydrates:
22
g
Protein:
7
g
Fat:
5
g
Sodium:
1331
mg
Potassium:
365
mg
Fiber:
6
g
Sugar:
2
g
Vitamin A:
580
IU
Vitamin C:
2.8
mg
Calcium:
65
mg
Iron:
2.2
mg
Here is an older photo of mine from 2013 where I used more nutritional yeast. I like it better without so much.