Watermelon Vodka Cocktail is a refreshing drink with a gorgeous deep red color. Sweet homemade watermelon puree and sour apple liqueur is a match made in heaven.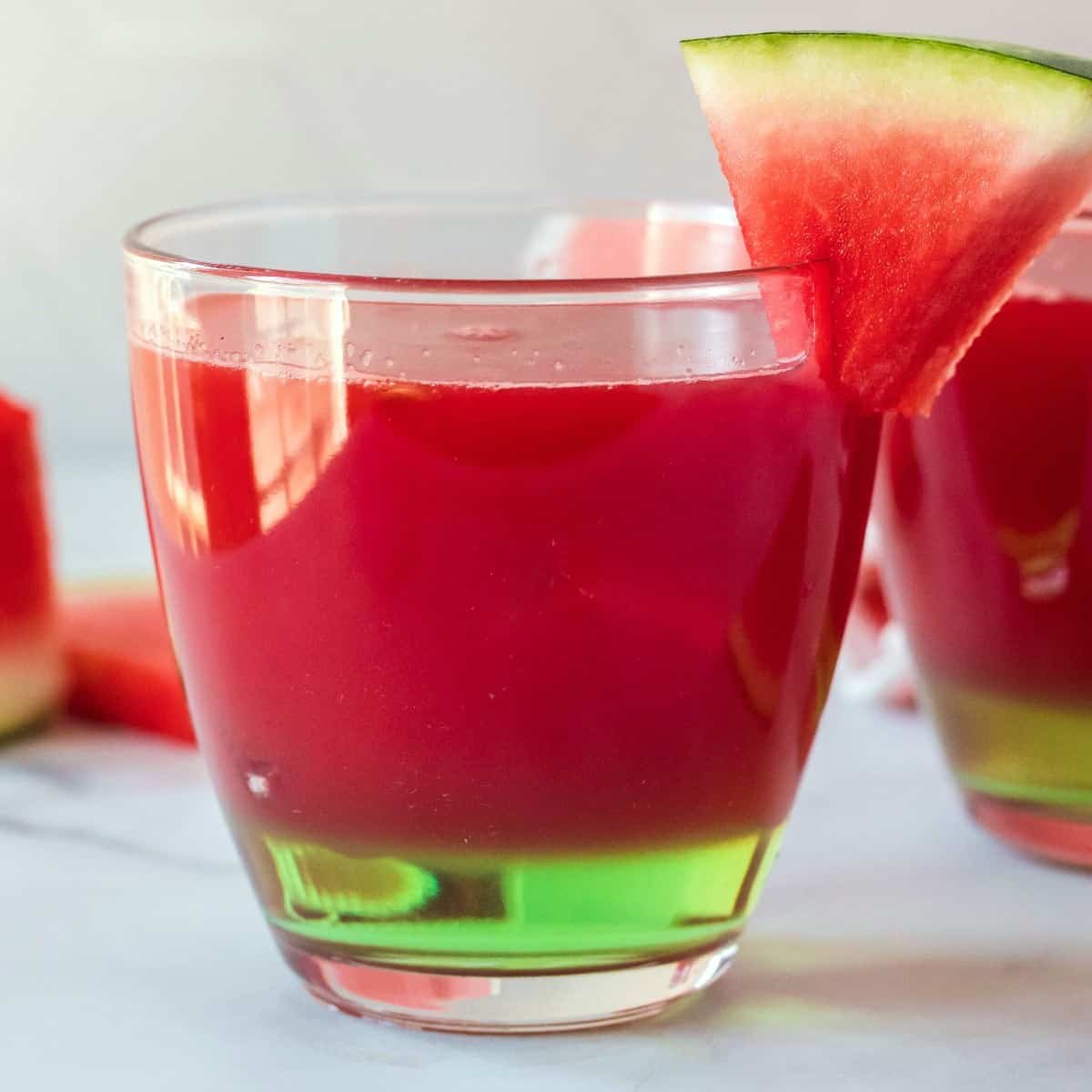 A Watermelon Vodka Cocktail isn't a treat you run into too often. The fresh puree is easy to make and it will make you feel very accomplished. Then you get to relax and enjoy your drink.
Watermelon puree not only becomes a great base for a delicious cocktail but it is also a healthy and cooling treat for all ages. Just spoon some up in a small bowl and enjoy it.
You can let it melt a bit and sip it straight with a straw. If you'd like the straight puree sweeter you could add a drop of maple syrup. In fact, you could do that in your cocktail too.
But the flavors are well balanced in this cocktail and if you want a stiffer drink, add extra vodka.
Jump to:
The sour apple liqueur is another fun ingredient to explore. There are a few good ones around but I really like Dekuyper sour apple pucker.
It sounds like I've got some sponsored work going on in this recipe but I don't. I just really want to tell you what I've learned with products that I've come across in case you'd like some help.
🍸 What type of vodka should I buy
Now when it comes to vodka I have about four favorites and I think you may have your own too. The prices really vary on vodkas but you can get some really good ones at affordable prices so just buy what you like.
Especially when you're mixing a drink you don't need to spend a lot of money on the very best.
📋 Ingredients
Watermelon
Vodka
Apple Sour Mix
🍉 Making the fruit puree
I'm going to give you directions here for making the puree as if you are going to use your whole watermelon.
The reason for this is that you can make the puree up to three days ahead and you can even freeze it for up to 3 months. This makes it a great choice for being prepared for a get-together.
If you only want to make the puree for these two drinks then you need 4 cups of watermelon. It breaks down to about half the amount when pureed.
When picking a perfectly ripened and freshly harvested watermelon, you don't need to do a lot with it to make it delicious.
You can pick a big melon or one of the baby ones. The seedless sugar babies are pretty easy to deal with.
Slice through the center and then slice through again to get a round that is only about ½" wide. This will be what you use to cut out your garnish wedges.
See the section below for cutting your wedges for the watermelon garnish.
Now, cut the rind off the watermelon and cut the fruity center into chunks. If there are any seeds then scrap them out of the flesh. If you miss any that's okay because you will be putting the blended watermelon through a sieve.
Put the fruit in a blender or food processor. If you use a blender you'll have to mash with a wooden spoon before starting the blender to get the blending started.
Puree until smooth and then pour into a sieve over a large bowl.
Use the wooden spoon (or your fingers) to swish around in the sieve and push as much as you can through the meh.
🍉 Watermelon garnish
With cocktail recipes, it's all about presentation!
Lay your watermelon round on a cutting board and make triangle cuts with the rind being the bottom edge.
You can see in the photos what I mean by this.
Go all the way around the edge cutting little wedges. Add the leftover watermelon from the center of the round to your food processor to be pureed.
👩🏻‍🍳 What if I can't find a watermelon
I don't want to keep you from enjoying this drink in case you can't get your hands on a watermelon. Luckily there are some really good top shelf watermelon puree mixes you can buy.
Besides online, you can also find them in a well-stocked liquor store. BevMo! comes to mind.
🍸 This cocktail is
Perfect for summer get-togethers and on into fall.
A real treat at wedding showers and brunches.
Refreshing and fruity for your day off to relax.
So easy to make.
Don't forget you can freeze extra puree if you make it.
This vodka and watermelon cocktail is naturally sweetened: mainly by the fruit!
If you'd like it sweeter then just a teaspoon or two of maple syrup should work fine.
If you have simple syrup on hand then you could use just a little of that instead.
📋 Instructions
To make this watermelon vodka cocktail, here are the basic steps.
Make your own puree! Simply process the watermelon in a food processor or blender. Most blenders have the cups marked on the side, so just throw in 4 cups of watermelon and blend it up.
Then use a fine-mesh strainer to pass through the blended fruit.
Combine the puree, vodka and apple sour liqueur and then try a small taste. If you'd like it a little sweeter then add just a touch of maple syrup.
Pour over ice and relax.
🍹 More summer cocktails
If you take a photo of your bright red and refreshing cocktail I would love to see it. Follow me over on Instagram and tag me on your photo @vegan_in_the_freezer.
📋 Recipe
Watermelon Vodka Cocktail
Watermelon Vodka Cocktail is a refreshing drink with a gorgeous deep red color. Sweet homemade watermelon puree and sour apple liqueur is a match made in heaven.
Ingredients
2

cups

Watermelon puree

- made from 4 cups watermelon or something like Finest Call Premium Watermelon Fruit Puree Drink Mix

2

ounces

Vodka

½

cup

Sour apple mixer

Watermelon for garnish
Instructions
In a food processor or blender, process about 4 cups of watermelon or until you get about 2 cups worth of puree.

Run the puree through a fine mesh sieve and remove all the pulp.

Add the vodka and sour apple mixer into the watermelon puree and stir well.

Prepare two short tumbler cocktail glasses by adding some ice.

Divide the watermelon puree mix between the two glasses. Stir well and garnish.
Nutrition
Serving:
1
serving
Calories:
123
kcal
Carbohydrates:
8
g
Protein:
1
g
Fat:
1
g
Saturated Fat:
1
g
Sodium:
44
mg
Potassium:
170
mg
Fiber:
1
g
Sugar:
19
g
Vitamin A:
865
IU
Vitamin C:
8
mg
Calcium:
8
mg
Iron:
1
mg