Craving a fruity twist on your favorite dish? Look no further than this watermelon fruit pizza recipe! Yes, you heard right – we're taking the beloved fruit out of its usual context and transforming it into a delicious appetizer, snack, or dessert. Perfect for feeding a large family or impressing friends at an outdoor summer get-together, this is sure to hit all the high notes with ease.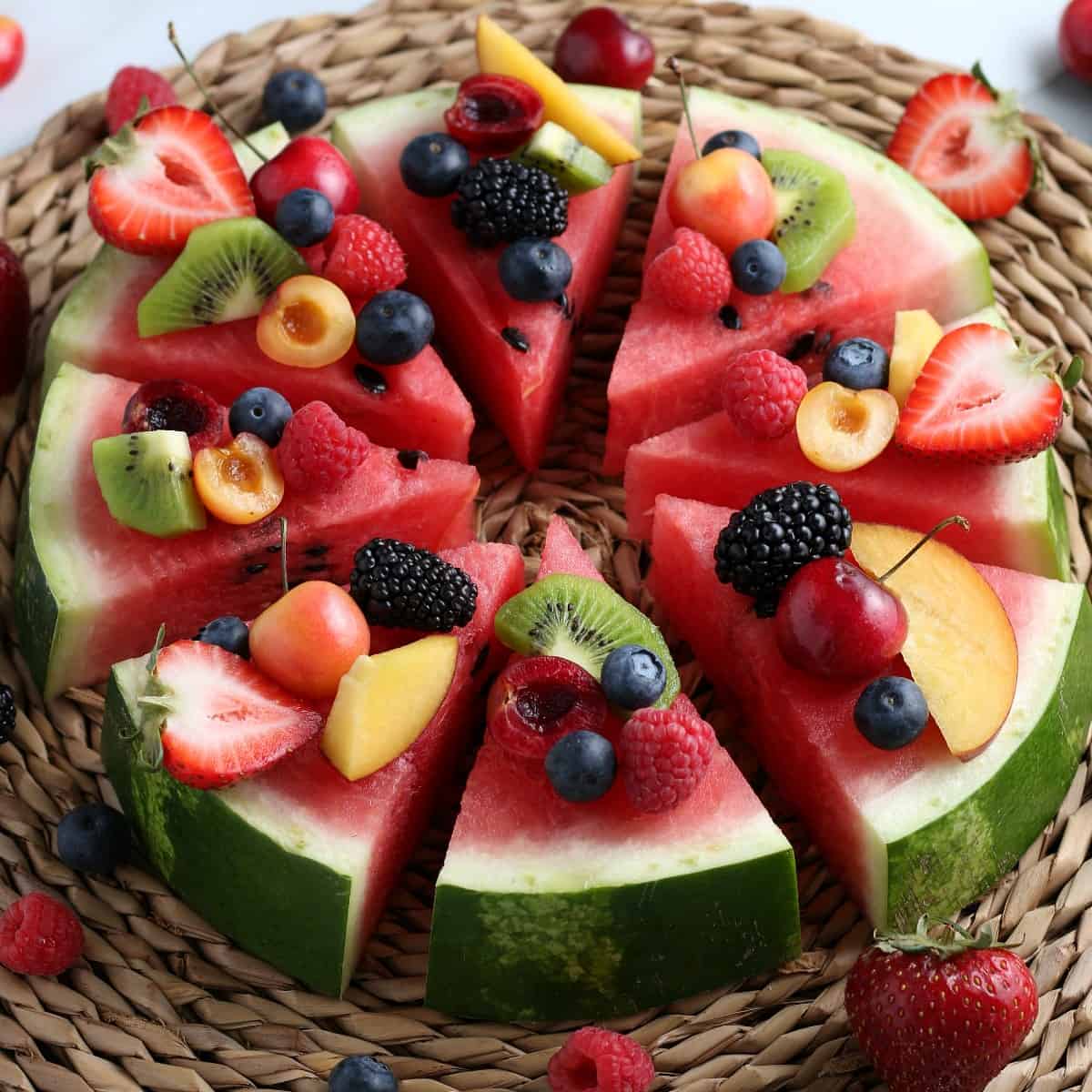 Why You'll Love This Watermelon Pizza Recipe
Perfect Summer Treat- This watermelon pizza is a perfect summer treat! It's light, refreshing, and packed with delicious flavor.
Easy To Make- Whether you're a beginner in the kitchen or an experienced chef, this watermelon pizza recipe will be sure to delight everyone!
Beautiful- The colors and presentation of this easy fruit pizza will have your guests in awe.
A Crowd Pleaser- Everyone will love this fun twist on pizza. It's a great way to surprise your friends and family with something new.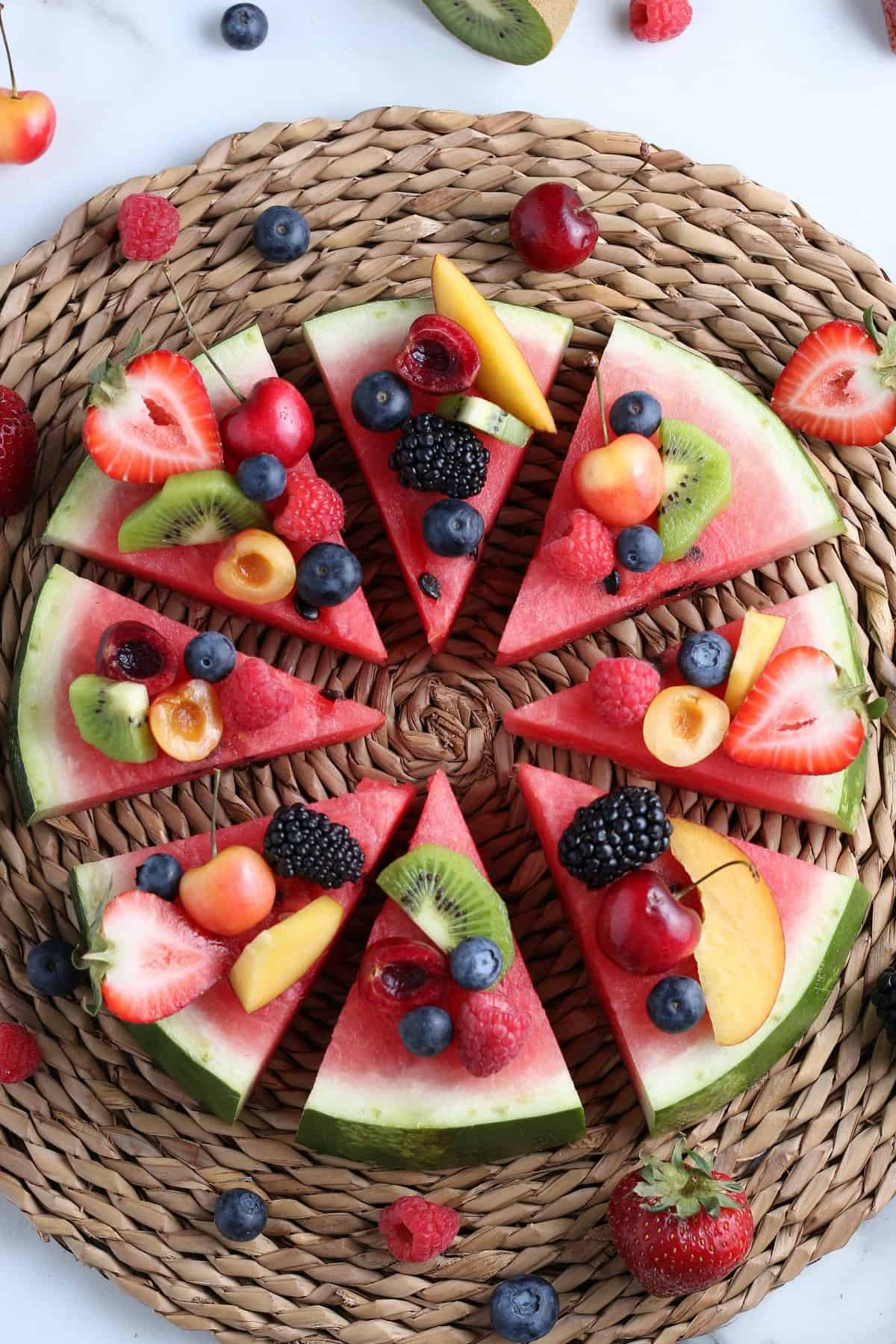 What Is Watermelon Pizza?
Watermelon fruit pizza is a fun twist on a classic dish. The crust is made from thin slices of juicy watermelon, topped with fresh fruit, Greek yogurt, or softened cream cheese icing for a perfect summer dessert. This vegan alternative uses homemade sweet cream icing in place of cream cheese and can be easily customized with any of your favorite fruits.
Equipment Needed
For The Cream Icing:
Large Bowl
Blender
Colander
Measuring Cups and Spoons
For The Watermelon Fruit Pizza:
Spoon for Spreading the Cream Icing
Sharp Knife
Cutting Board
Ingredients
For The Cream Icing:
Cashews- Soaked in water and blended, the cashews create a thick, creamy icing that serves as the base of your pizza.
Water- Used to soak the cashews and thin out the icing.
Medjool Dates- Natural sweetener and binding ingredient.
Lemon Juice- Adds a bright, tangy flavor and helps to thicken the icing.
Vanilla Extract- Enhances the sweetness of the dates and adds a depth of flavor.
Maple Syrup- Optional if you want the cream icing to be a little sweeter.
For the Pizza:
Seedless Watermelon- Triangular slices of ripe watermelon make up the crust of the pizza.
Strawberries- Adds tartness and a pretty pop of color.
Peaches- For sweetness and a juicy texture.
Blackberries- Brings a sweet and earthy flavor to the fruit pizza.
Cherries- Adds a sweet and tart flavor.
Kiwi- Provides a creamy texture and tangy flavor.
Raspberries- A zesty addition to your fruit pizza that will add a splash of color to the dish.
Fresh Mint Leaves- For garnish. And adds a layer of freshness.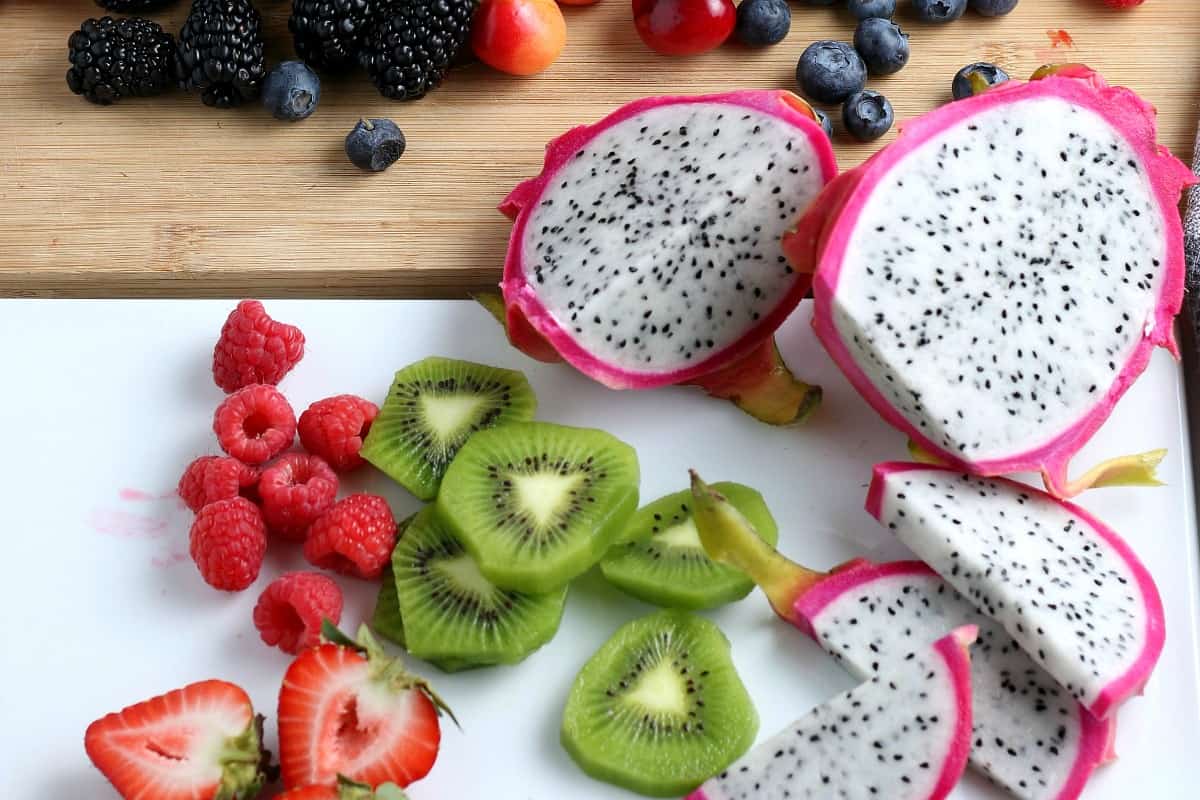 How To Make Watermelon Pizza
The creamy icing for the watermelon pizza is entirely up to you, so if you decide to use it, simply begin by soaking your raw cashews in water for around 4 hours. Once they're soft enough, drain them and add all other ingredients into a blender. Blend until velvety smooth; rest every 30-60 seconds so as not to overheat the machine. The process should take 3-5 minutes altogether!
Taste the smooth, creamy topping and, if desired, add just a few drops of syrup to sweeten it further. Remember that the fresh fruit for your watermelon pizza is naturally sweet, so you don't need too much. Place the creamy topping in a sealed container inside the refrigerator until ready to use.
Cut the watermelon into circular slices 2-3 inches thick. Then, if you're using the sweet cream icing, dollop a few spoonfuls on each round and spread it evenly - making sure to leave some rind uncovered so that they are easy to grip!
Slice the watermelon pizza rounds into sixths or eights and top with your favorite cut fruit, fresh berries, and mint. Serve immediately and enjoy!
What To Serve With Watermelon Fruit Pizza
This refreshing vegan watermelon pizza can easily be served as a light snack or dessert! Serve it with coconut whipped cream, vegan vanilla ice cream, or alongside some fruit-infused cocktails, and you have the perfect summer party platter. Or, to make it more of a complete meal, pair it with your favorite salad, grilled veggies, and veggie burgers.
Popular Substitutions & Additions
If you want to switch things up a bit, there are plenty of delicious and unique ingredients you can use in this watermelon pizza recipe.
Try adding different fruits for different flavor profiles, such as mangoes, papaya, bananas, or pineapple.
You can even top your watermelon pizza off with vegan dark chocolate chips or shredded coconut for a sweet and salty surprise.
Coconut yogurt, vegan Greek yogurt, or vegan cream cheese mixed with powdered sugar can all be used in place of the homemade sweet cream icing.
Whatever you choose to use, watermelon pizza is sure to be an unforgettable treat that everyone will love!
Can You Freeze Watermelon Pizza?
Unfortunately, watermelon pizza is not freezer-friendly. The watermelon and fresh fruit will get mushy when frozen, and the sweet cream icing will separate. However, this recipe makes plenty to enjoy in one sitting, so you won't have to worry about any leftovers going to waste!
If you do happen to have leftover watermelon pizza slices, they can be stored in the fridge for up to three days. To keep it fresh, be sure to put it in an airtight container or cover the fresh fruit pizza with plastic wrap before putting it in the fridge.
Watermelon Pizza FAQs
Does watermelon pizza need to be refrigerated?
Yes, it's best to store any leftover watermelon pizza in the fridge. To keep it fresh, cover the pizza with plastic wrap or put it into a sealed container before storing it.
I don't have any dates at home. Is there something else I can use to sweeten the cream icing?
Yes, you can use other sweeteners, such as maple syrup or agave nectar, in place of the dates.
Do I have to soak the cashews?
It is recommended that you soak the cashews for several hours before blending them in order to get the most out of them. This will help soften the cashews and make it easier for them to blend into the creamy icing.
Can I use other fruits on my watermelon pizza?
Yes! Feel free to get creative with this recipe and add your favorite fruits. Some options include bananas, blackberries, kiwi, blueberries, strawberries, dragon fruit, raspberries, or mandarin oranges. Just make sure they are fresh, ripe, and not overly sweet.
📋 Recipe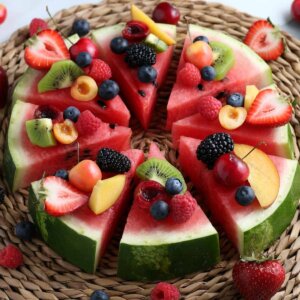 Watermelon Pizza Recipe
A fun, unique way to enjoy fresh fruit and make something special for your friends or family. With its bright colors and flavors, it's sure to delight everyone!
Ingredients
6

pounds

Watermelon

8

ounces

Strawberries

8

ounces

Peaches

8

ounces

Blackberries

8

ounces

Cherries

8

ounces

Kiwi

8

ounces

Raspberries
Instructions
If using the cream sauce simply spoon out a few spoonfuls of the cream sauce onto the watermelon rounds and top with the fruit of your choosing.

When spreading (or dolloping) the cream sauce, be sure to leave some space near the rind so you have room to hold the slices. You can use a fork too.

If not using the cream sauce slice the pizza round into eights. If it is a sugar baby watermelon you can slice it into sixths if you prefer.

Add the varieties of the prepared fruit on top of each slice.

Add the mint leaves and edible flowers if you so choose and your fruit pizza is ready to serve!
Notes
Serve with sandwiches if looking for a whole meal at lunch or at a relaxing dinner.
Nutrition
Serving:
1
Serving
Calories:
184
kcal
Carbohydrates:
45
g
Protein:
4
g
Fat:
1
g
Saturated Fat:
1
g
Sodium:
5
mg
Potassium:
718
mg
Fiber:
7
g
Sugar:
34
g
Vitamin A:
2141
IU
Vitamin C:
88
mg
Calcium:
59
mg
Iron:
2
mg