Vegetarian Quesadillas Vegan Style are an easy option for lunch or dinner that is a family favorite! Filled with veggies and topped with an easy vegan crema.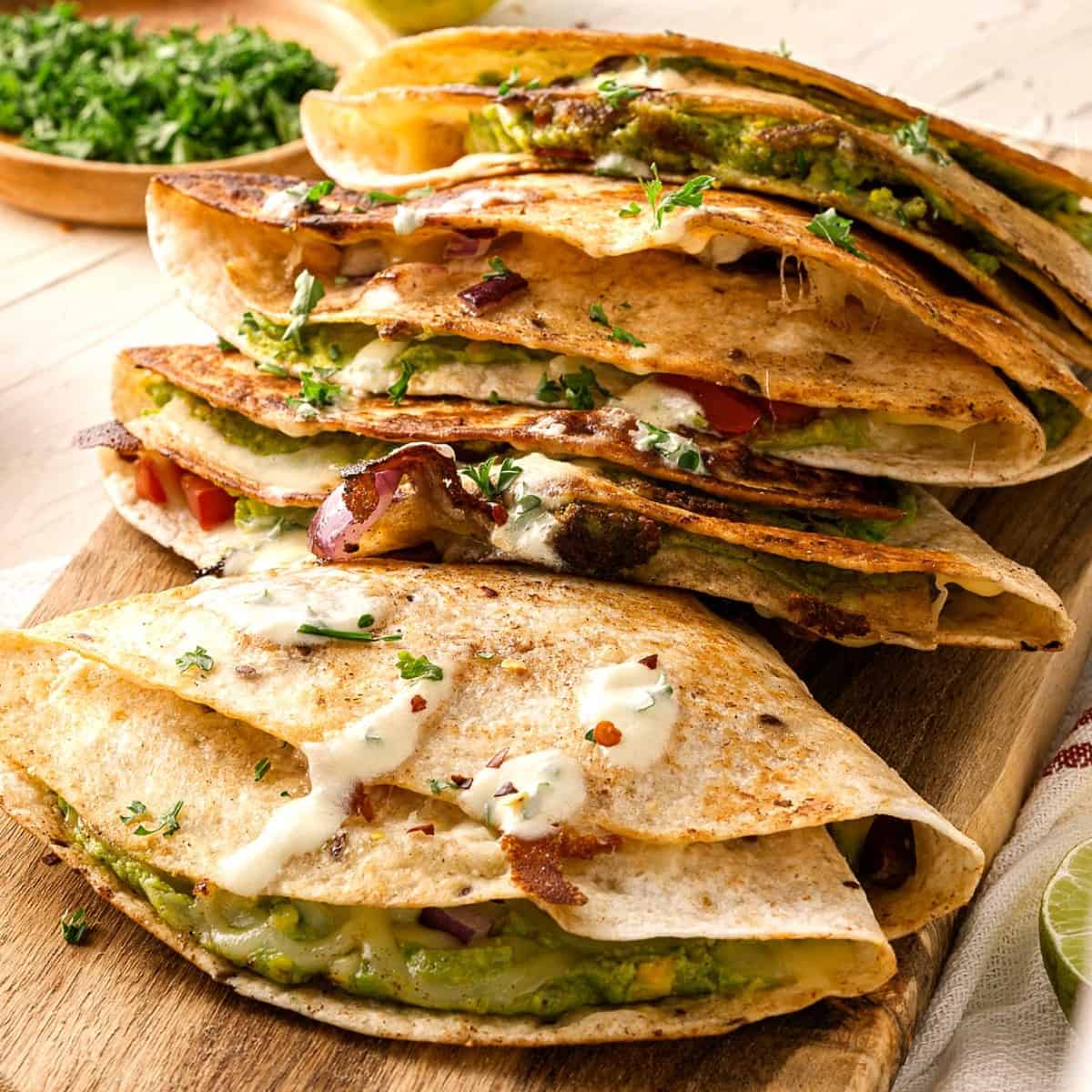 This viral Tik Tok technique for folding quesadillas is so fun. One of the videos showcase this cut n' fold method for a new way to make this favorite tortilla meal.
I'm showing you how to do it here and as vegetarian quesadillas made vegan. It's an easy way to fold the quesadilla to stack the fillings on top of each other. The result is a bit of every ingredient with each bite in a fun handheld quesadilla!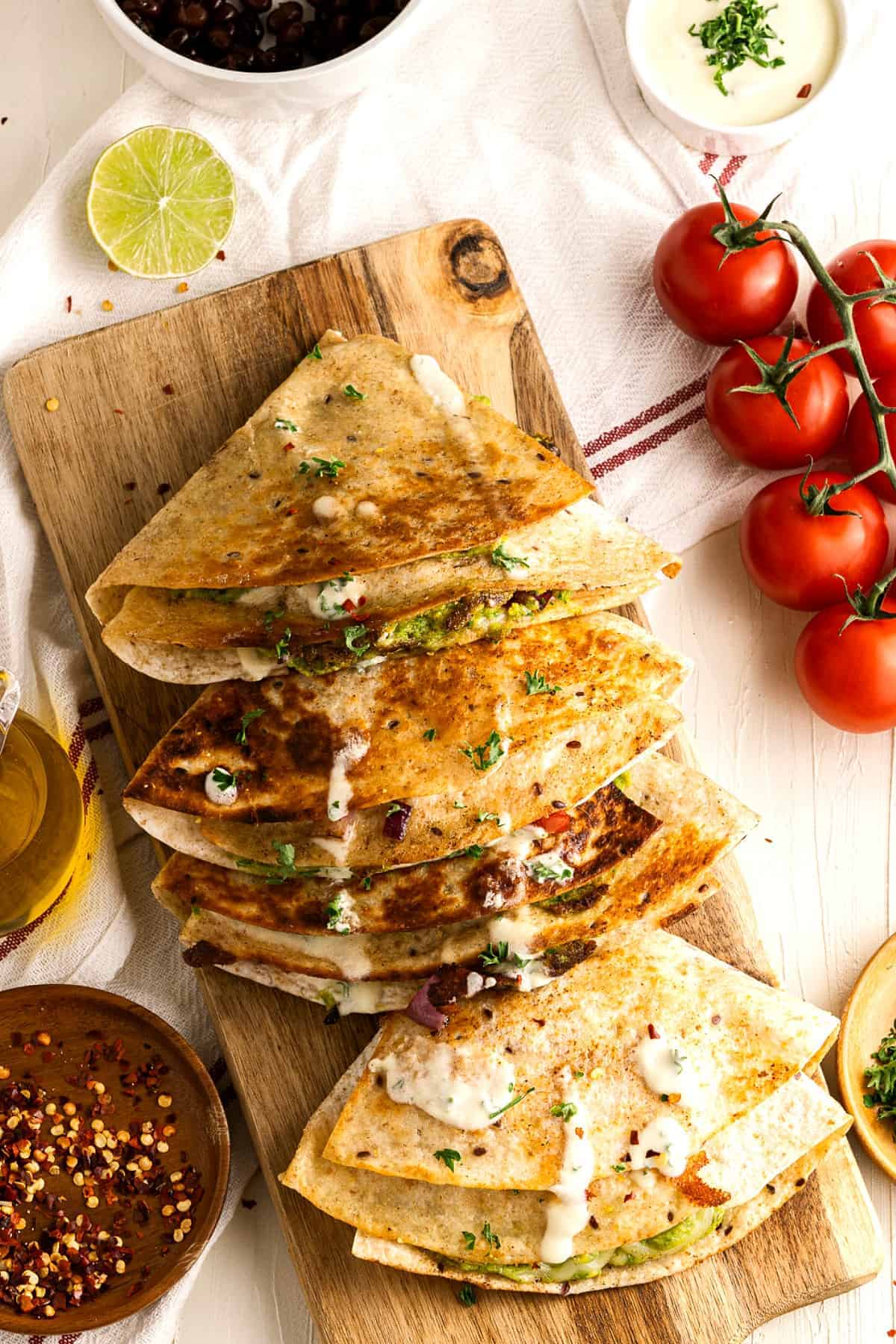 Veggie quesadilla ingredients
This vegan quesadilla recipe uses just a handful of staple ingredients. You can also swap in your favorites or whatever you have on hand.
For the Quesadilla:
Red Onion for a flavorful contrast.
Ripe Avocados - the avocados are mashed and spread on the tortilla. You can also use a ready-made guacamole.
Tortillas - use the large size so there is room to fold the quesadilla
Black Beans - canned or dried beans that have been cooked.
Dairy-Free Cheese - shredded cheese is a quesadilla must-have!
Tomatoes are diced small.
Dairy Free Butter is for cooking the quesadilla in a skillet, but you can also use oil or a cooking spray.
Salt for the best and simplest seasoning.
For the Vegan Crema:
Dairy-Free Sour Cream and you can use any of your favorite.
Lime Juice is so much better than lemon for this vegan crema.
Salt for sure.
Fresh Parsley or Cilantro - Cilantro is the more traditional choice for Mexican food, but parsley is great too!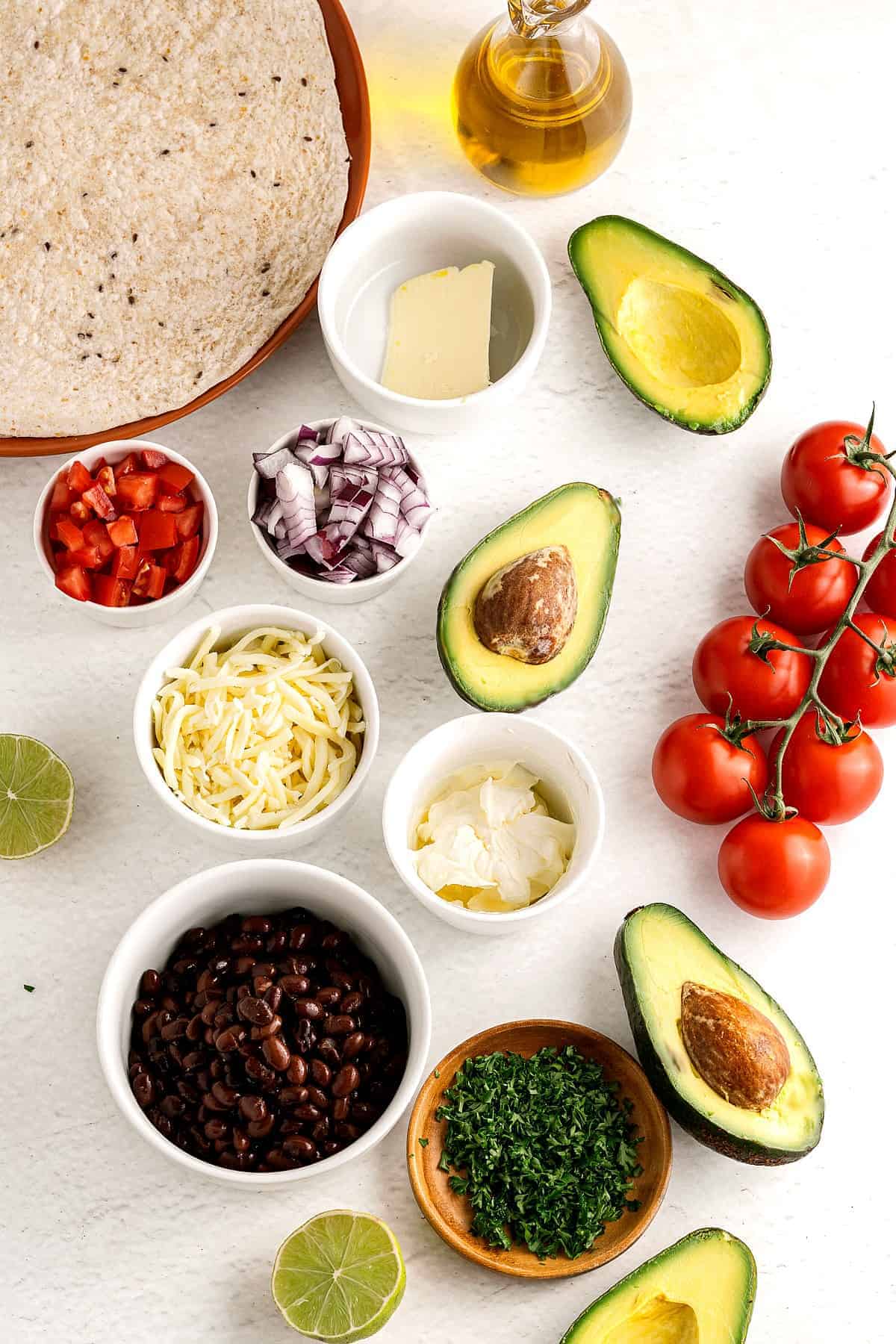 How to make folded quesadillas
The Tik Tok hack for folding a quesadilla is so easy, but it will blow your mind! See the easy steps below to make these filling vegan quesadillas:
Prep the Ingredients - Chop the tomatoes and onion into a small dice. Mash the avocado and mix with salt.
Cut Tortilla - Cut a slit in the tortilla from the center to the edge. This slit lets you easily fold the tortilla.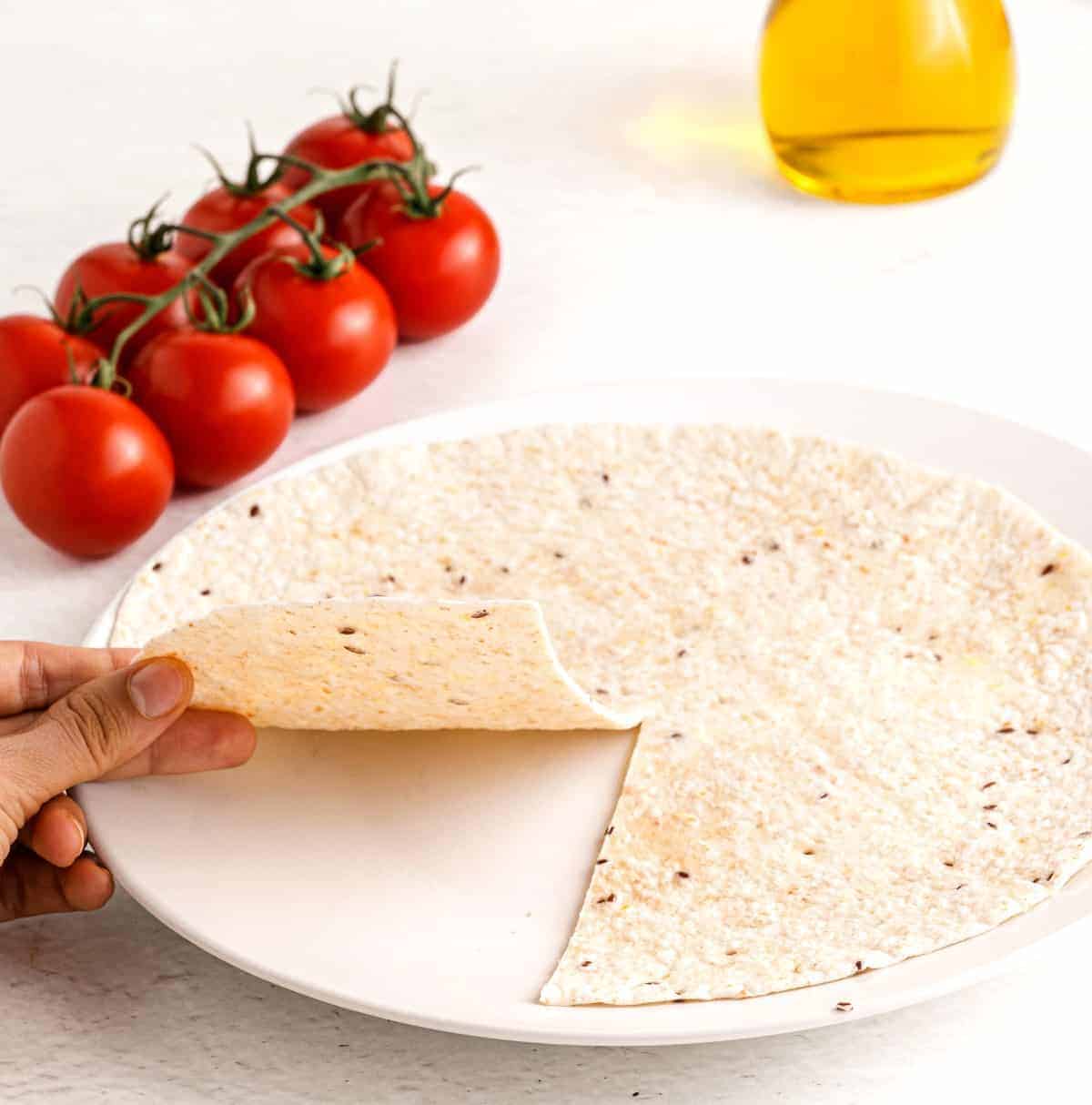 Add Fillings to the Tortillas - Add the fillings to the four quarters of the cut tortilla. Start by adding dairy-free cheese to two of the quarters - on opposite sides.
Add the tomato and onion to one of the quarters and spread the mashed avocado on another. Top the avocado with some of the black beans.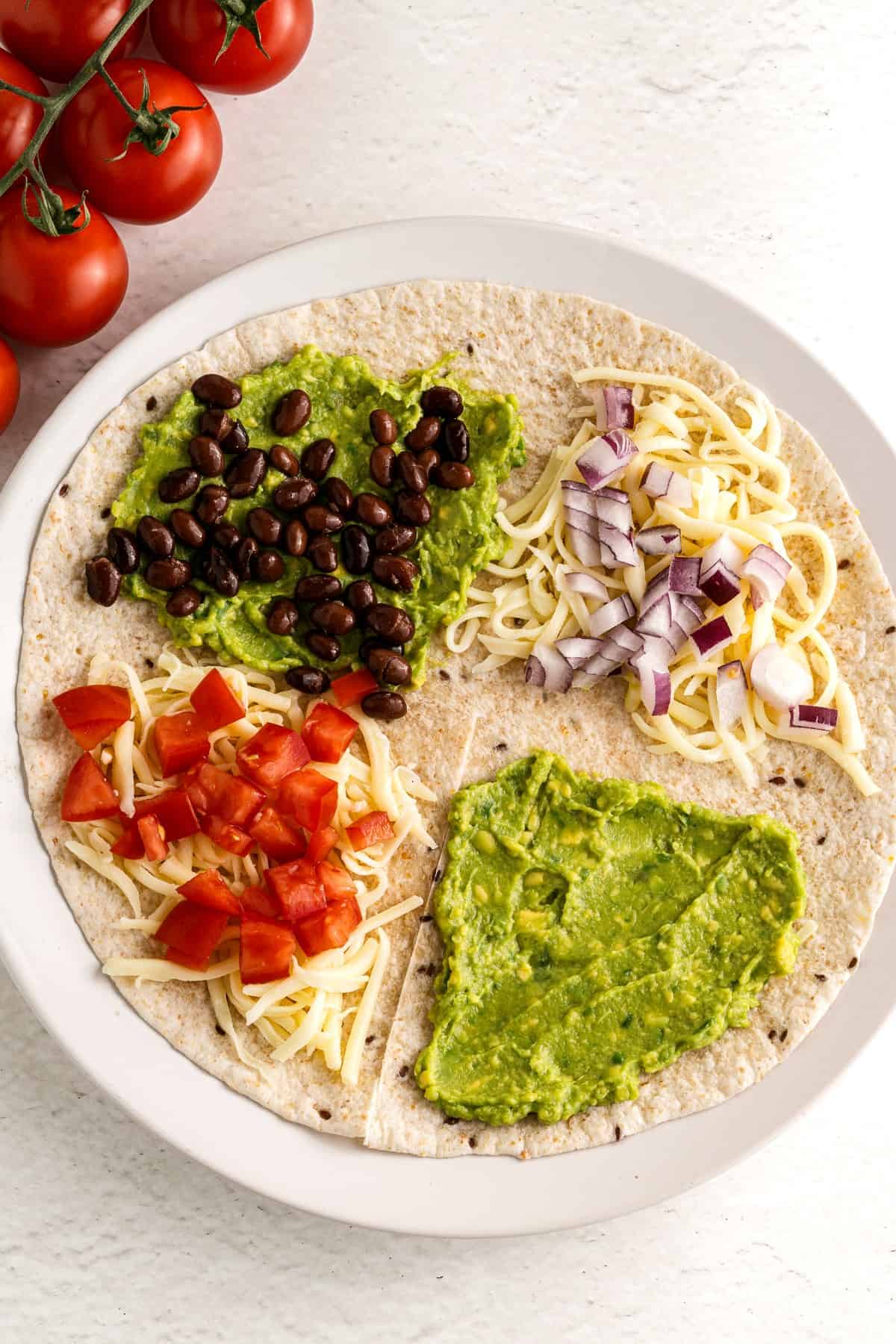 Fold the Tortilla - Fold up the quesadilla by working clockwise and flipping one quarter over the next. You'll be left with a neat and folded quesadilla triangle.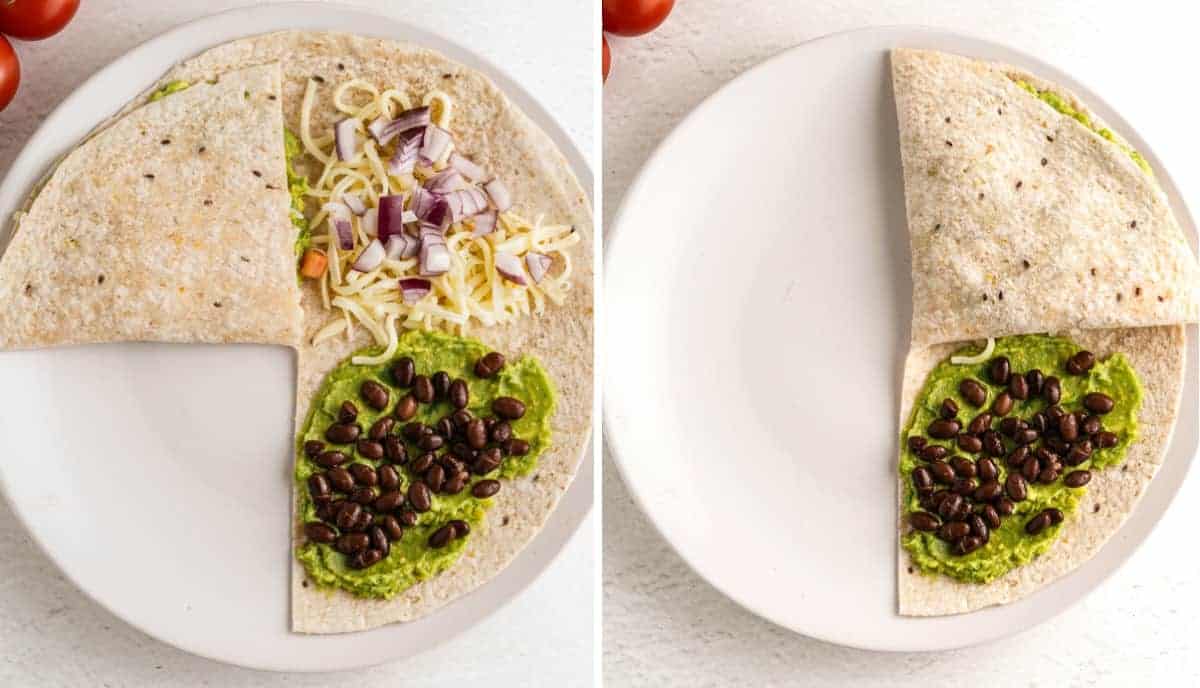 Cook the Quesadilla - Heat a skillet with the dairy free butter (or oil). Once melted and hot, cook the quesadilla on both sides until golden and warmed through so the cheese is melted.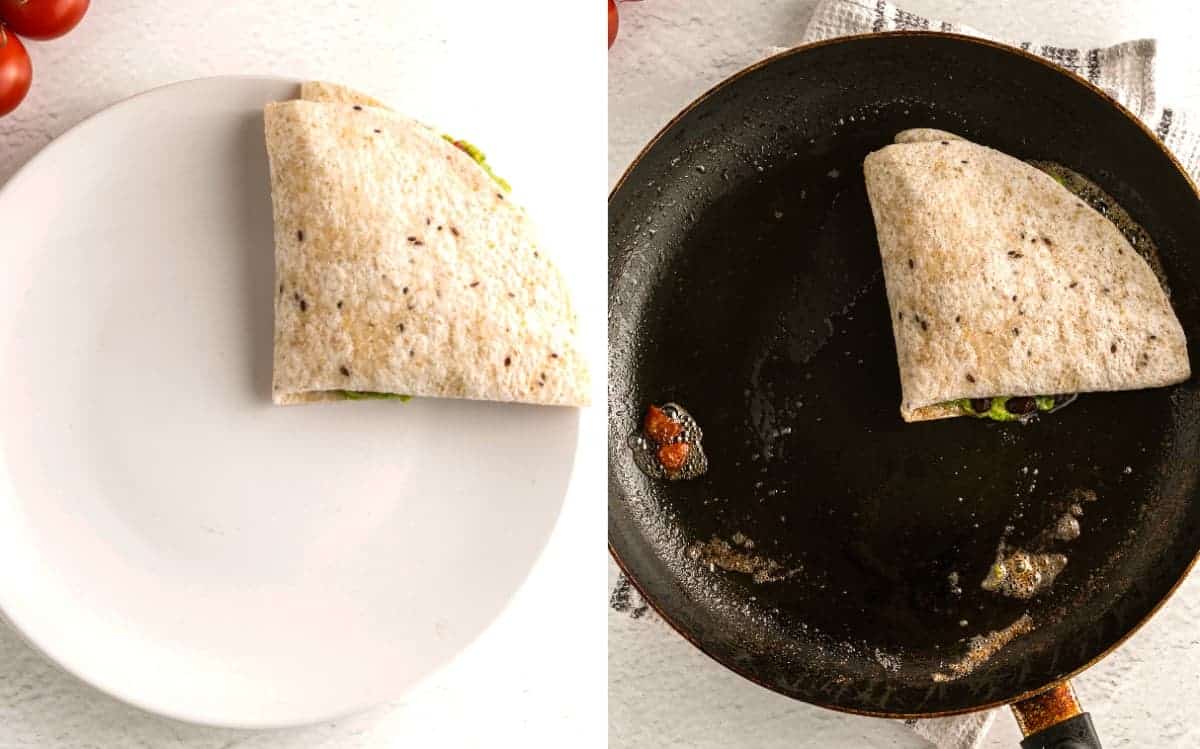 Add Crema and Serve - Mix up the vegan crema ingredients and add a dollop to the quesadilla.
Recipe notes and tips:
Use kitchen shears or a sharp knife to cut the slit. You can even stack the tortillas on top of each other to cut the middle slit all at once.
Don't cook the quesadilla over high heat. Medium heat is best to cook a quesadilla. If the skillet is too hot, the outsides will get brown before the cheese can melt on the inside.
Use a large skillet or griddle to cook more than one quesadilla at a time. If you don't have a larger pan or griddle, you can easily cook the vegetarian quesadillas one at a time.
They cook quickly, but you can always pop them into a warm oven to keep warm until all of them are cooked.
Variations
One of the best parts about this vegan quesadilla recipe is you can easily adapt for what you have on hand. Get creative and use your favorite fillings!
For this recipe, I used raw onion paired with the avocado to give it the classic guacamole flavor. Here are some other filling ideas:
Cook the onion in a skillet with other veggies like red bell pepper, carrots, and zucchini. After cooking add to your quesadilla.
For some greens, add some fresh spinach or arugula!
Thinly sliced or diced mushrooms are another great add - sautéed or not.
You can also add your favorite vegan meat substitute, such as vegan beef crumbles seasoned with homemade taco seasoning.
FAQ's
Can these be made ahead?
Yes you can make these veggie quesadillas ahead of time! You can assemble them first and then cook in the skillet later on.

If you're assembling more than a couple of hours in advance, I would wait to mash and add the avocado or it will get brown. You could also thinly slice the avocado instead of mashing.
Can these be made in the oven?
Yes, you can make these vegan quesadillas in the oven! Spray a sheet pan with cooking spray and spray the tops of the quesadillas as well. Cook in the oven until warmed and golden brown. Spraying with oil helps the tortilla get crispy.
Can they be frozen?
These vegetarian quesadillas can be frozen, but not with the mashed avocado. You can freeze after cooking for an easy reheat and eat dinner.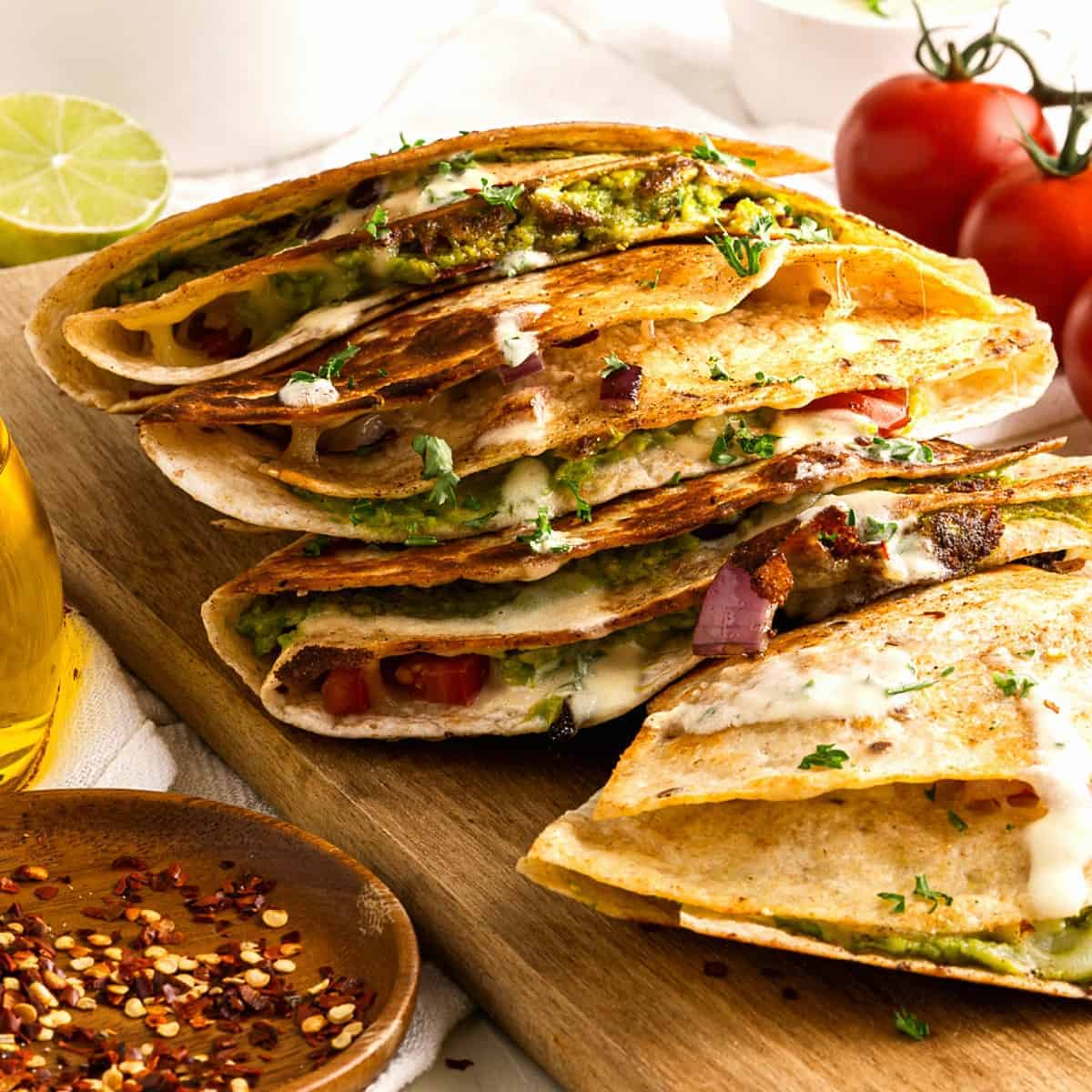 More Mexican style dinners
📋 Recipe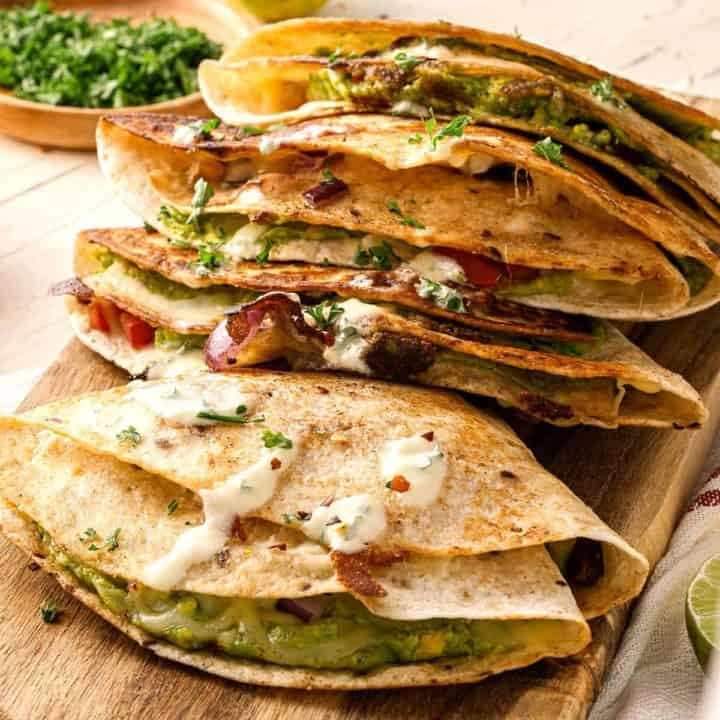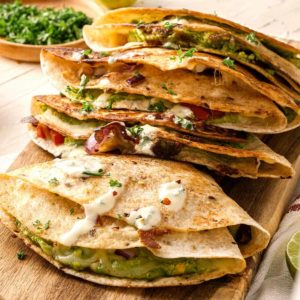 Vegetarian Quesadillas Vegan Style
These quesadillas an easy option for lunch or dinner and are a family favorite! Filled with veggies and topped with an easy vegan crema.
Ingredients
½

cup

red onion, diced

1 ½

cup

avocado, ripened - 2 avocados

4

large

flour tortillas

½

cup

black beans, canned

1 ½

cup

dairy free cheese - white or orange

1

cup

tomatoes, diced

2

tablespoons

dairy free butter
Vegan crema
¼

cup

dairy free sour cream

1

tablespoon

lime juice

¼

teaspoon

salt

2

tablespoons

fresh parsley or cilantro
Instructions
Begin by chopping the tomatoes and onion into small pieces.

Then mash the avocado and add salt to it.

To make this Tik Tok trick, you'll need to cut the tortilla from one edge to it's center. This cut allows you to flip one side over the other. The result will be a layered triangle.

Once you cut it, you'll have four quarters. In two of them, on opposite sides, put some cheese.

Add some tomato over one side and some onion to the other.

Spoon some mashed avocado in the triangles that remain empty and place some black beans over one of those avocado triangles.

Flip one triangle over the next one clockwise and continue until you have one triangle as in the photos.

Add some oil or dairy free butter to a skillet and once the oil is hot, cook each quesadilla from both sides.
Vegan crema
Chopped parsley or cilantro and mix it with sour cream and lime juice.

Drizzle the lime sour cream on top of the finished quesadillas and eat up!
Nutrition
Serving:
4
Servings
Calories:
426
kcal
Carbohydrates:
43
g
Protein:
8
g
Fat:
25
g
Saturated Fat:
6
g
Trans Fat:
1
g
Sodium:
1057
mg
Potassium:
579
mg
Fiber:
9
g
Sugar:
5
g
Vitamin A:
383
IU
Vitamin C:
16
mg
Calcium:
101
mg
Iron:
3
mg