Vegetable Jumble is a mixture of all the best and most popular vegetables.  What makes it stand out are the spices that are added.
Here is a new side dish that is simple to make with tons of texture and flavor.  It all starts with fresh produce and becomes an eye-catching vegetable jumble.
It seems like we all forget to get inventive with our side dishes.  It is usually the same old, same old. Well, this is a new one to add to your recipe box and I think it has a real good chance to always liven up your dinner table.
If I didn't think of a vegetable that you would like to include – please do so.  All the vegetables are pre-prepared  and cooked al dente before they are melded together in a skillet along with the spices.  This is a great side dish that is both fresh and tasty.
Connect with Vegan in the Freezer
Facebook | Pinterest | Instagram | Bloglovin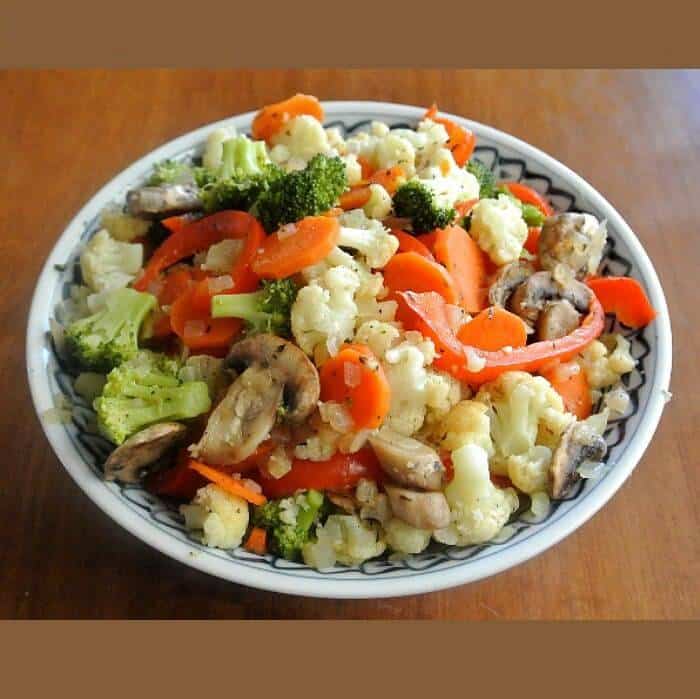 Vegetable Jumble
Ingredients
1

small head of broccoli, cut into florets

1

small cauliflower head, cut into florets

2

carrots, sliced thinly

1

red bell pepper, julienned

1

small onion, diced

8

ounces

button mushrooms

2

tablespoons

coconut oil

1/4

teaspoon

thyme

1/4

teaspoon

basil

1/2

teaspoon

salt

1/4

teaspoon

pepper
Instructions
Steam the carrots and cauliflower for 10 minutes.

Leave in the steamer and add the broccoli on top and steam 5 to 10 more minutes.

Poke all the vegetables and make sure they can be easily pierced with a fork.

Do not overcook. Al dente is best.

Heat 2 Tablespoons of oil in a skillet.

Add the onion and red bell pepper and saute for 10 minutes.

Add the mushrooms to the skillet and cook 10 more minutes.

Add all of the spices.

Stir and heat through for about 3 minutes.

Add the cauliflower mixture and heat through.

Serve.
Recipe Notes
IF FREEZING:
Package in zip lock bags or rigid sided containers. Put in the refrigerator about 8 hours before serving. Heat in a large saucepan, quickly, as to not overcook. Serve and enjoy.