Vegan Veggie White Pizza is a great way to change up regular tomato pizzas. Dough recipe is included or buy your own. Stack veggies as thick as you like!
That was a big football day last Sunday and I'm glad to say the games aren't over yet. We had a buffet full of appetizers but this time we also had light lunch options.
Besides lots of Vegan Veggie White Pizza we also had Baked Falafel Sandwiches. It was so fun and I love it when the kids are around at these daytime get togethers. They just add so much to the day.
They gobbled up the pizzas too even with onion because they are caramelized and that makes a huge difference. You know what they liked too? Extra white sauce drizzled over the top. Smart!
I'll have to admit that I always miss about a quarter of the game. It doesn't seem to matter though because when something exciting happens everyone gets extremely vocal and I'm there in no time.
Then it's back to the kids. 🙂
Can You Freeze Pizza Dough?
Yes, you can! In fact, the dough recipe below is enough to make 2 large rounds or 4 smaller pizzas.
If you're freezing the dough for the future put each ball in its own freezer bag.
I also then place all of the bagged dough balls in one freezer bag. Then it's double bagged.
The dough will keep up to 6 months in the freezer.
I thought you might like a look at the Vegan White Pizza Sauce also. It's such a tasty and versatile sauce!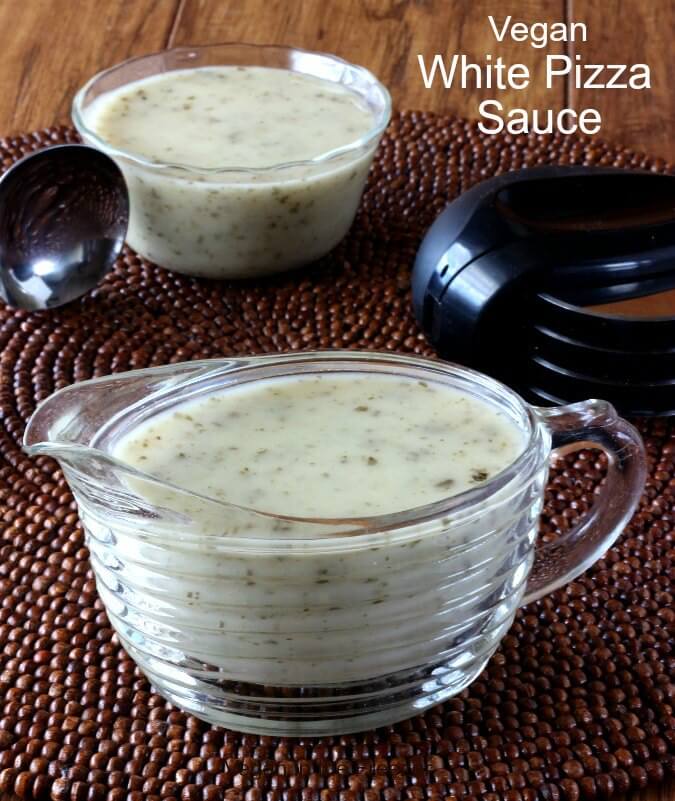 This post contains affiliate links. Read my disclosure policy here.
Vegan Veggie White Pizza
Vegan Veggie White Pizza is a great way to change up regular tomato pizzas.
Ingredients
For the Dough:
1 ½

cups

water

1

tablespoon

Maple Syrup

2

tablespoons

Olive Oil

1 ½

teaspoon

salt

4 ¼

cups

Whole Wheat Pastry Flour

2

tablespoons

active dry yeast
For the Topping:
1 ½

cups

Vegan White Pizza Sauce

½

cup

Caramelized Onion

you can add more if you like, see the directions below for a link to Slow Cooker Caramelized Onion

8

ounces

mushrooms

sliced

1

red bell pepper

fresh or 1 small jar roasted red bell peppers. Either way chop the roasted red bell peppers

1

tablespoon

coconut oil

15

ounces

chickpeas

can, each bean is cut in half (it doesn't take long, they are pretty big)
Instructions
Start to make the dough first and while it is rising prepare the veggies.
For the Crust:
In a small bowl add 2 Tablespoons yeast to 1-½ cups warm water (110 degrees)

Stir and set aside.

In a large bowl add the flour, maple syrup, olive oil, and the prepared yeast mixture.

Mix well and then turn out onto a lightly floured surface and gently knead into a smooth, firm ball.

Oil a large bowl with a teaspoon of olive oil.

Add the dough to the bowl and turn the dough all around to get the oil on the whole ball.

Cover the bowl lightly with a clean towel and put it in a warm area to let it double in size, about 1 hour.

This is a good time to prepare the toppings - while the dough is rising.

When the rising time is done - turn the dough out onto a lightly floured surface and divide it into 4 equal pieces.

These 4 balls will make 4 pizzas that are 8" to 10" in diameter. Depending how thick you like the crust. We like the thinner 10" pizza.

Cover them all, again, with a clean kitchen towel and let them rest for 10 minutes.

This is the point where you can freeze the balls or go ahead and make the four pizzas.
Prepare some of your toppings:
If you used the Slow Cooker Caramelized Onions they should have been made in advance. Alternatively you can caramelize onions in a skillet.

Roast the bell pepper according to these directions or use jarred roasted red bell peppers.

Heat the oil in a skillet over medium high heat. Add the sliced mushrooms, turn down the heat to medium and saute about 10 to 15 minutes.

One can (15 oz.) chickpeas, each bean is cut in half (it doesn't take long, they are pretty big)
Nutrition
Serving:
1
small pizza
Calories:
753
kcal
Carbohydrates:
131
g
Protein:
29
g
Fat:
16
g
Saturated Fat:
4
g
Sodium:
893
mg
Potassium:
1088
mg
Fiber:
23
g
Sugar:
12
g
Vitamin A:
960
IU
Vitamin C:
42.7
mg
Calcium:
111
mg
Iron:
8.1
mg
To Assemble Vegan Veggie White Pizza
Lightly oil a baking sheet or a round pizza pan. Sprinkle the oiled pan(s) with a little cornmeal.
Place one ball in the center and push it out, with your fingers, to the desired size pizza.
Divide all of your toppings by four either by an actual division on a plate or by eyeballing it.
Repeat this last step with the three other balls on 3 different baking sheets.
Spread Vegan White Pizza Sauce all over the bottom of the dough.
Now you can add the rest of the toppings.
First sprinkle the Caramelized Onions all around the pizza rounds.
Spread around the mushrooms.
Sprinkle the sliced chickpeas all over.
Then add the roasted bell peppers.
Bake in a hot over at 425 degrees for 15-20 minutes.
There you have it. Perfect pizza that everyone will love!
More Summertime Goodies!
Pesto Tortilla Rollups
Slow Cooker Maple Glazed Walnuts