Vegan Thanksgiving Recipes and an all-around Menu have got your bases covered. From appetizers, drinks, sides, vegan Thanksgiving main dishes and desserts. Make-Ahead recipes with quality and taste in mind.
All your bases are covered with every vegan recipe you'll need to fill out your gorgeous Thanksgiving spread. From appetizers through dessert even the pickiest eaters will be more than satisfied.
No one will know every single recipe is vegan and no flavor will be denied.
You'll also want many recipes that can be prepared ahead of time. You can make some days ahead of time and some recipes can be frozen and pulled out and put in the refrigerator the day or two before.
What Courses Do You Need For Thanksgiving?
Appetizers, finger food and dips
Cocktails, alcoholic and non-alcoholic
Vegetable Side Dishes, cold and hot
Stuffings - all you need is one
Gravy for the person who loves condiments ... and gravy
Main Course that compliments all of the other dishes
Desserts, last but never ever least
I've included a few choices for you because you know what your family needs are. At the very end of the post I'll give you the menu that I'm preparing this year!
Every recipe is from this list!
Don't Forget to Pin This List and Menu!
PIN IT

to your Thanksgiving, Dinner or Side Dish board to save for later!
Find me on Pinterest for more great recipes!
Vegan Thanksgiving Appetizers
1. Bell Pepper Bruschetta Crostini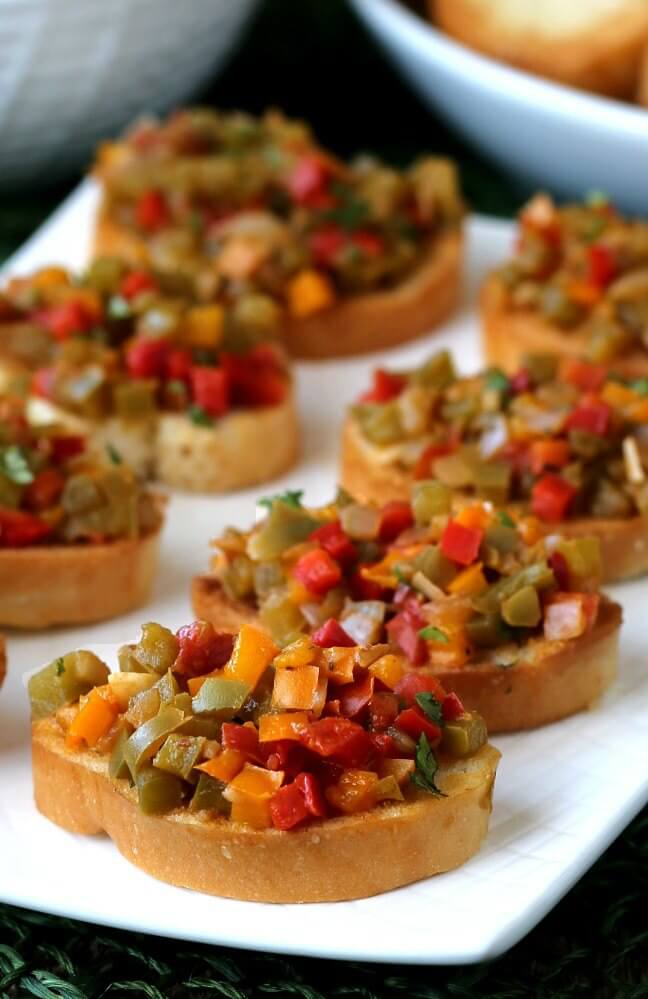 You'll want to have some appetizers that can be made ahead of time. This Bell Pepper Bruschetta Crostini is a crowd-pleasing appetizer and it can be made days ahead.
You can even make the toasts ahead of time (or buy in the deli section) and keep them in a sealed ziploc bag.
Another good point is that this bruschetta is also great as a dip with tortilla or pita chips.
A versatile dip for all of the veggie dippers is a necessity. Healthy White Bean Dip is here to help with healthy noshing. Fast, oil-free & tasty!
Serve this dip with cauliflower, cucumber, bell pepper slices in all colors, carrots, and of course chips.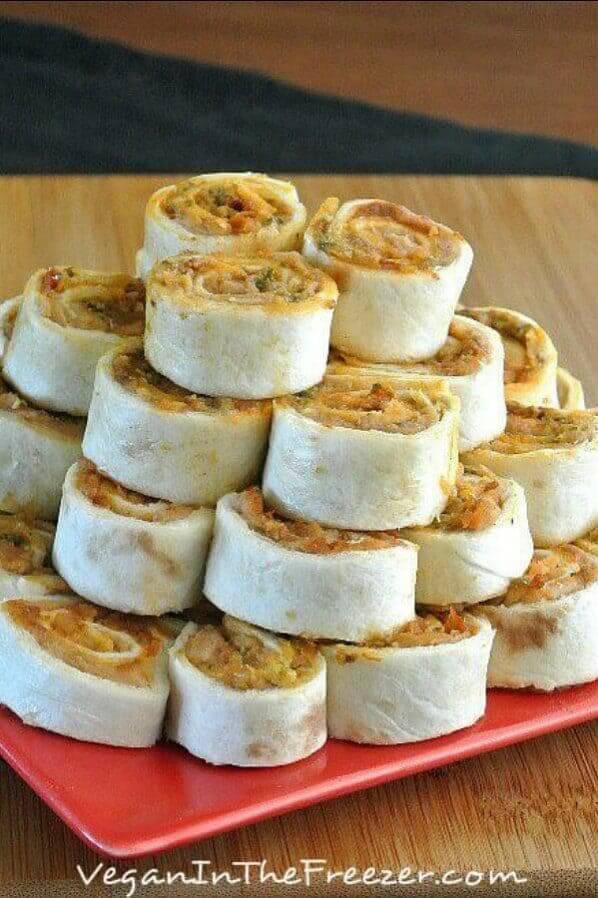 One more finger food that's easy to handle. I've never seen anyone turn down rollups and these can be made ahead of time and stacked for the get-together.
Make these appetizers 3 to 4 days ahead. There are only 5 ingredients.
Just make sure they're covered with a good seal so they don't dry out in the refrigerator. You could even precut and lay them out in a large casserole and that would be even easier to cover.
4. The Best Slow Cooker Spiced Cashews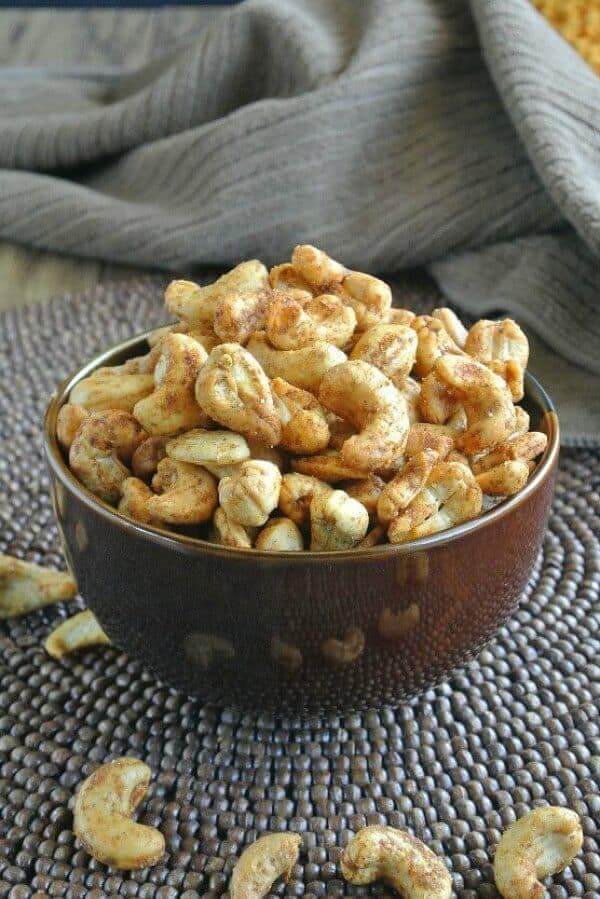 These can be made ahead of time and it is all so simple in the crockpot. Check out the spices!
Just try not to eat them all before the party. Well, like I said they are pretty easy so go ahead and make another batch if you need to.
Vegan Thanksgiving Drinks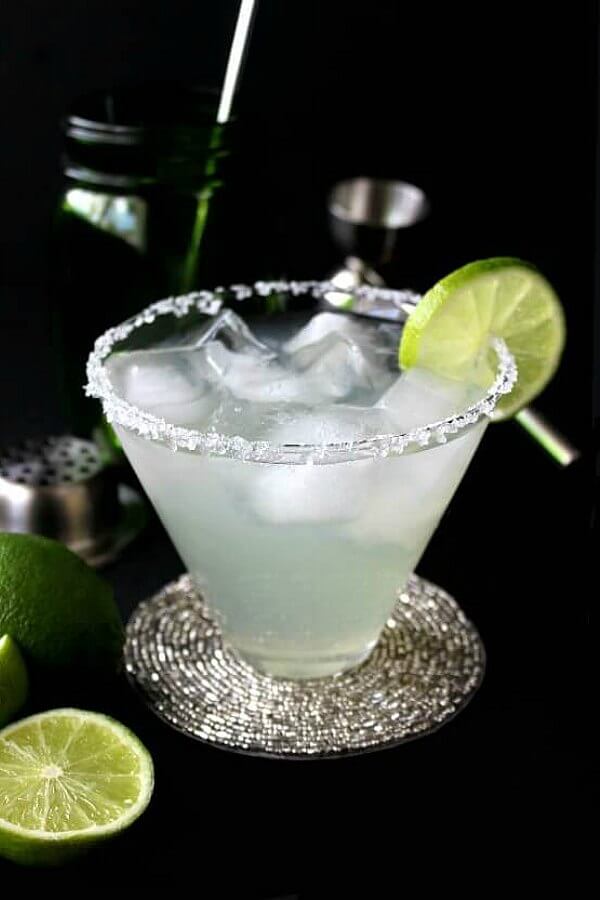 Make a pitcher or two ahead of time and then they'll be no need for mixing while the company is there. Set out the glasses, ice cubes, lime slices, and sea salt in a saucer. Done!
You can easily make pitchers full of this refreshing and fruity drink for children and adults.
This is a nice mix of fruit but you can substitute according to your whim.
Vegan Thanksgiving Side Dishes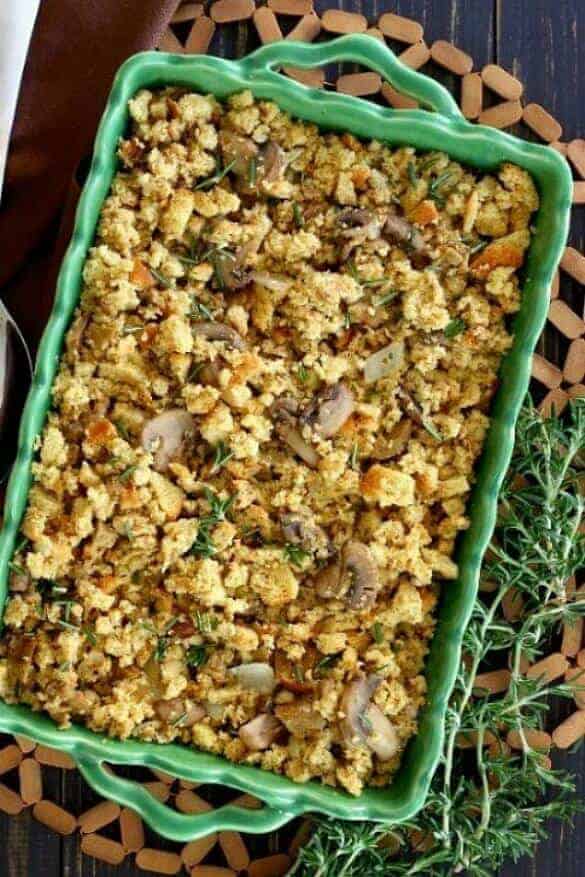 Vegan Sausage Stuffing Casserole is spiced just right and it's made with cornbread. This dressing recipe can match any dressing in any test.
8. Vegan Stuffing with Cremini Mushrooms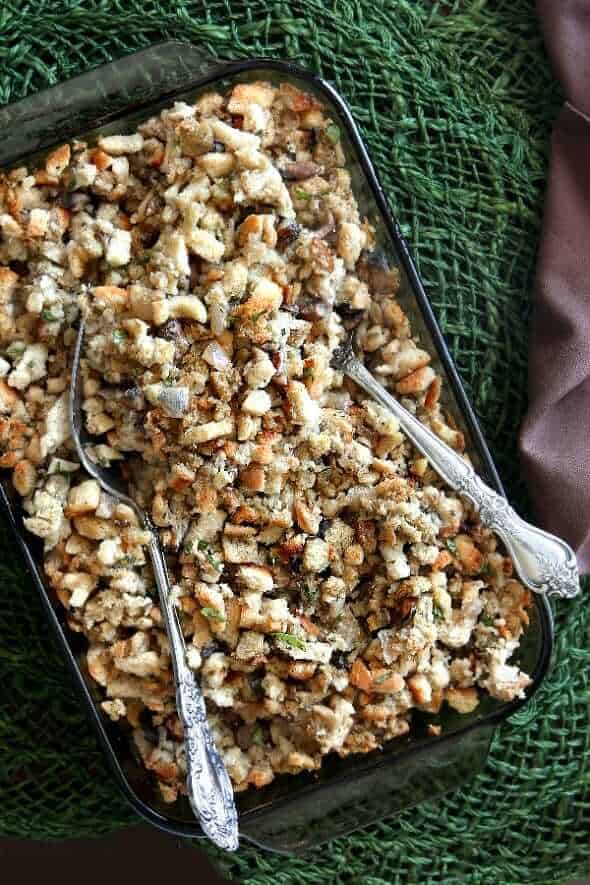 Vegan Stuffing with Mushrooms features baby portobellos and it's all wrapped up in an easy casserole recipe. Rich flavors shine as a side dish over the holidays.
9. Sweet Potato Casserole with Pecans
Vegan Sweet Potato Casserole with Pecans is a very easy updated version of the mashed sweet potato casserole. Lots of nice bites with a much more healthy topping.
10. Twice Baked Sweet Potatoes
Vegan Stuffed Sweet Potatoes are baked and then they become even better because they are mixed with ingredients for more flavor and creaminess then baked again.
It's a great make-ahead side!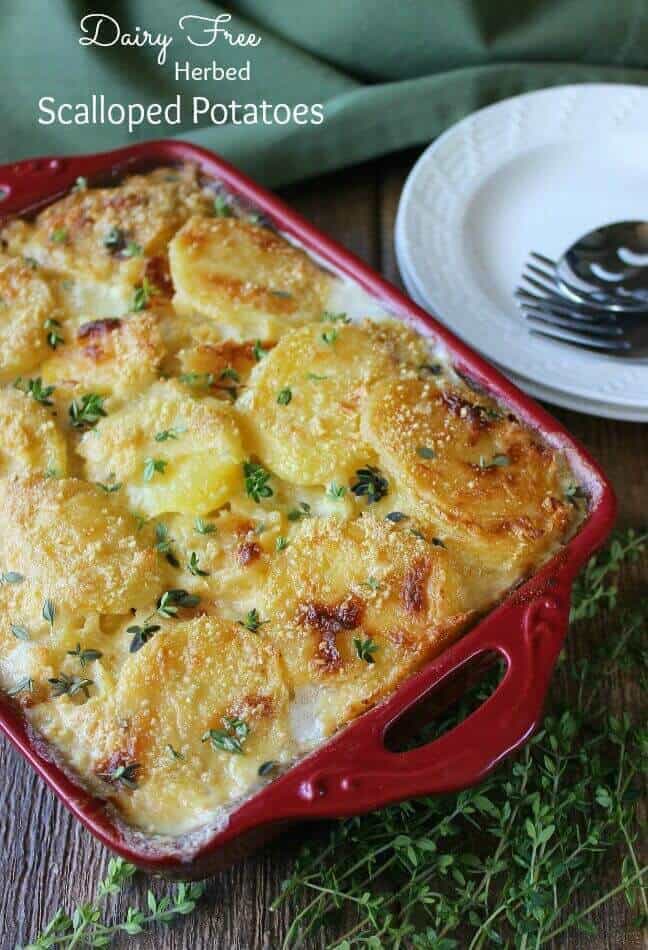 Dairy Free Herbed Scalloped Potatoes is comfort food at it's best. Potatoes baked in a casserole that has been covered with a creamy vegan white sauce.
One of the most popular recipes on the blog!
12. Braised Carrots - Rolled Cut
Braised Carrots are a perfect side dish. The carrots have an elegant cut and the recipe has only 6 ingredients.
A favorite shape is carrots rolled cut and then a favorite taste is when they are cooked down to a buttery maple glaze.
A green bean casserole to steal the show is always a good thing at your holiday table!
Mushrooms, green beans in creamy white wine sauce and topped with homemade crispy fried onions takes this savory side dish over the top.
Vegan Thanksgiving Necessities
14. Easy Vegan Gravy
You can never have too much gravy and this Easy Vegan Gravy is the traditional rich creamy gravy that's served at tables year-round.
Only six ingredients and this is a large batch recipe so everyone can use it on anything they want at their holiday table.
The best homemade cranberry sauce is made in under 20 minutes and is easy, fresh and fruity. A great side dish, sauce, and condiment for special holidays.
16. Vegan Apple Broccoli Salad
Don't forget about a nice cold salad for your guests. This one is always a hit with just the right ingredients and dressing.
Make it ahead but hold the apples until the day of to ensure the variety you use stays bright and crisp. I love using Granny Smith apples.
Vegan Thanksgiving Main Dishes
17. The Best Vegan Meatloaf Recipe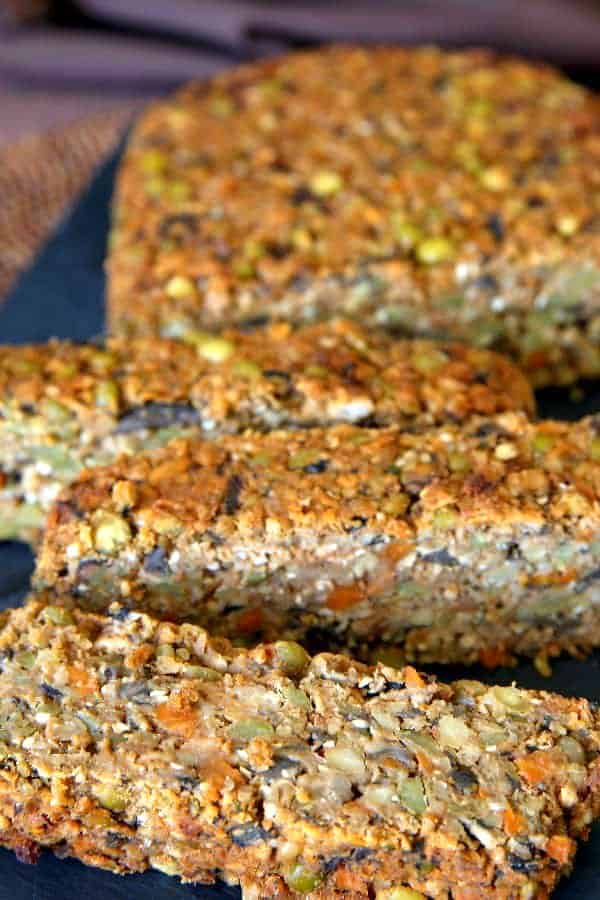 This is a fantastic mix for your table. Not a lentil in sight but there are chickpeas, split green peas, carrots and s much more.
The flavors are amazing as is or cover in rich brown gravy.
18. Lentil Mushroom Wellington
Vegan Wellington with lentils and mushrooms for the Holidays is all wrapped up in puff pastry. This would also be great server with gravy.
19. Vegan Beef Bourguignon Slow Cooker
Vegan Beef Bourguignon from the Slow Cooker is rich with taste, mushrooms, carrots and made in the crockpot.
Here's your chance to use a premade beef substitute for an easy and fantastic main dish. Its depth of flavors will amaze you.
Vegan Thanksgiving Desserts
20. Apple Turnovers with Puff Pastry and Cranberries
Talk about simple! Apple Turnovers with Puff Pastry use Granny Smith apples and dried cranberries.
Both are mellowed out with an apple jelly mixture and baked to golden perfection with this apple turnover recipe.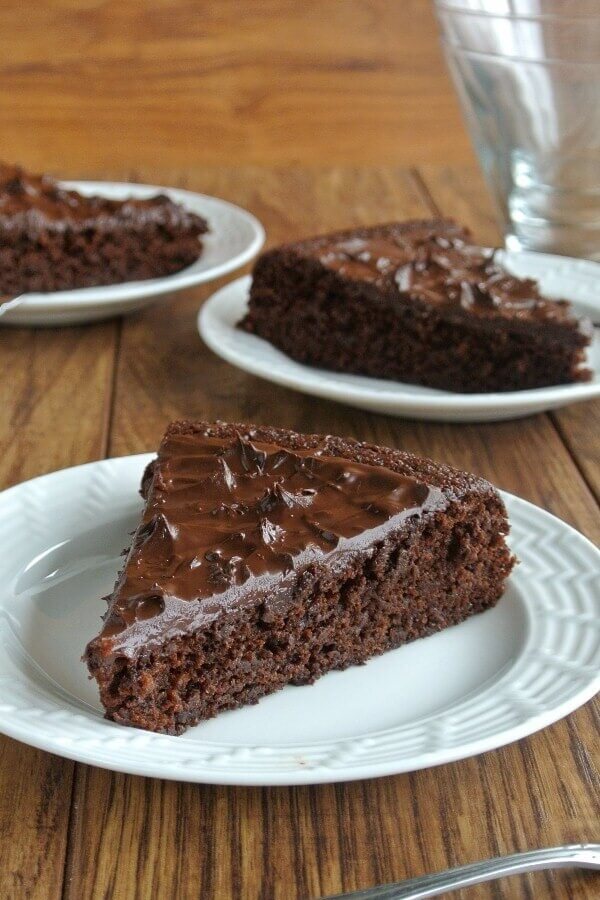 Make lots of copies for this recipe because everyone will want one. Bake this Rich deep chocolate cake in a springform pan.
You won't believe the ingredients.
This amazing vegan gluten-free pumpkin pie is unbelievable flavorful with just the right amount of sweetness and spice.
23. Mini Pecan Pies
Mini Pecan Pies are little vegan tarts that are over the top rich and perfect for the holidays. This dessert fits right in at any family gathering or elegant party.
How is that for a great variety of vegan Thanksgiving recipes? I can't leave you here because I have one more recipe that you will love.
This Healthy Vegan Pecan Pie is a dream come true. Completely plant-based with all the flavor pleasures you remember from your childhood.
Vegan Thanksgiving Menu for 2019!
I believe this is our menu for Thanksgiving this year. Now let me clarify a little bit. There are still two months for the guest list to change.
It is pretty versatile and hits all the marks for all ages. the only thing that might change is there may be another finger food added for kids like these Nuts and Bolts.
I think all of the gluten-free people are more than covered too and the omnivores won't know what hit them. They'll be so sated.
Everyone isn't going to eat everything but they will have amazing choices.
A Complete and Fabulously Festive Menu
Besides the two drinks listed here, there will also be beer and wine. Wine in red and white.
All four appetizers will be in the house. They are needed and the variety is just right.
They'll just be one stuffing this year and it will be the Vegan Sausage stuffing. I think the omni eaters will be super happy.
Because twice-baked sweet potatoes are always popular and they can be made in advance then it's a no brainer.
That super green bean casserole and homemade cranberry sauce are must makes.
Apple broccoli salad can be made ahead of time too so that will be another dish that will disappear.
Lots and lots and lots of gravy.
For the main dish, the Veggie Loaf will be right alongside all of the other dishes.
Now for the vegan Thanksgiving desserts. There probably needs to be at least two so how about that super chocolate torte and the classic pecan pie.