Fresh peaches are tossed with sugar and spices, then topped with a sweet golden pastry topping for a classic vegan dessert. This cobbler is easy to make at home and impressive enough to bring for any occasion. Serve vegan peach cobbler warm with a scoop of vegan vanilla ice cream, or let it cool and top it with a dollop of whipped coconut cream.
Fruit cobblers have been around for centuries, delighting our sweet-toothed cravings with sumptuous desserts paired with fresh fruits, creamy custards, and crunchy nuts. These days cobbler toppings tend to tilt towards brown sugar and butter combinations. Still, the cobbler core is constant - a deliciously flaky pastry that encloses sinful amounts of sweetness within its folds. Whether served as an after-dinner treat or enjoyed as a breakfast staple, you can always count on fruit cobbler to tantalize the taste buds and leave us in total bliss!
There's nothing like peach cobbler to evoke feelings of comfort and nostalgia. But a cobbler that meets a plant-based diet can be hard to come by if you're vegan. Thankfully, there are now plenty of vegan peach cobbler recipes to enjoy! Some vegan peach cobblers require a few substitutes, like vegan butter instead of traditional butter and almond milk instead of dairy cream, but the end result is a delicious, classic dessert that is sure to satisfy your sweet tooth without compromising any of your values. Enjoy this recipe, knowing you can have your peach cobbler and eat it too!
Why You'll Love This Vegan Peach Cobbler
Sweet and Delicious- This vegan peach cobbler is sweet, juicy, and flavorful! The naturally sweet fresh peaches are balanced with a hint of cinnamon, while the crumbly topping adds an irresistibly crunchy texture.
Easily Customizable- You can switch up this recipe by adding other fresh fruits, nuts, or spices for added flavor.
Perfect for Parties- Whether you're hosting a dinner party, attending a potluck, or just looking for something special to make cobbler fits the bill.
Simple Ingredients- This vegan peach cobbler requires just a few basic ingredients and can be whipped up in no time. No special equipment or complicated techniques are needed!
Equipment Needed
Large Mixing Bowl
Greased Baking Dish
Medium Mixing Bowl
Spoon for Stirring
Whisk
Measuring Cups and Spoons
Ingredients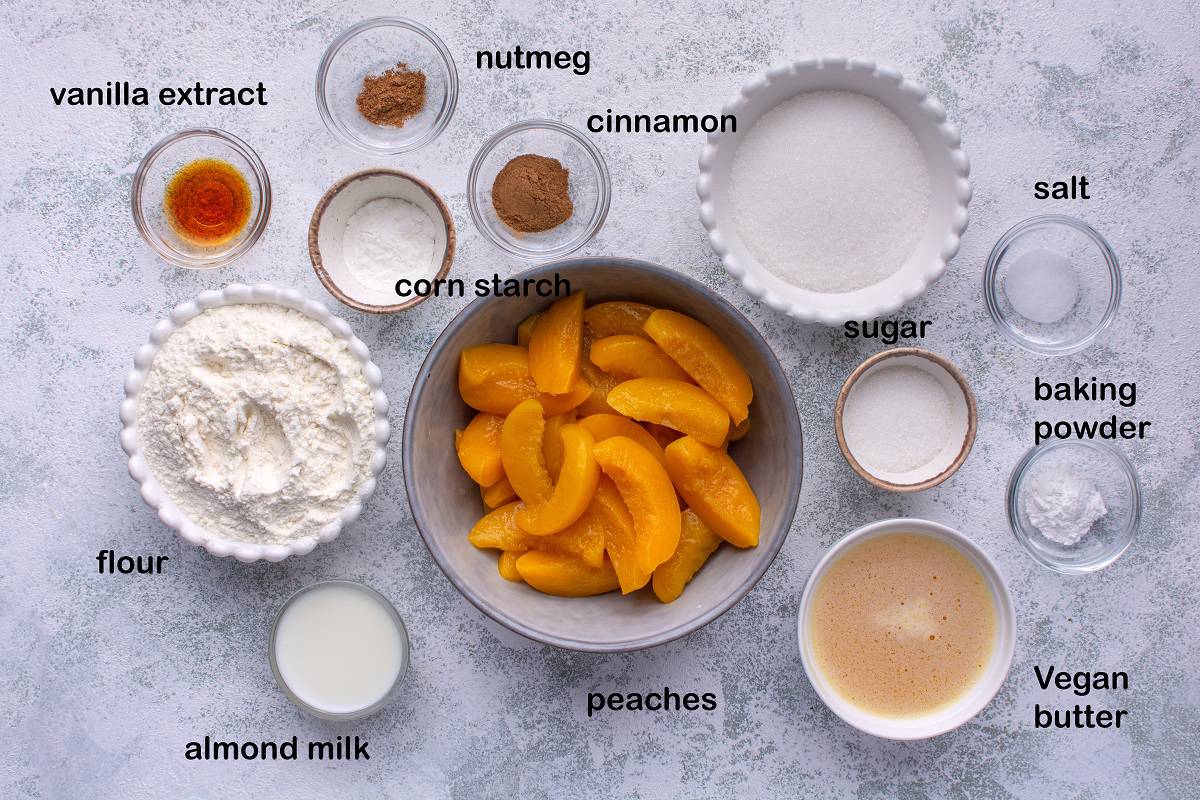 For the Peach Filling:
Sliced Peaches- Fresh peaches are the star of this vegan cobbler recipe! Look for firm, fragrant fruit that's slightly yellow and yielding to gentle pressure. You can also use canned peaches. When choosing canned peaches, make sure they are packed in water or juice and not syrup.
Sugar- Sugar sweetens the peaches in this vegan cobbler recipe.
Cinnamon- Adds a subtle hint of warmth and spice to balance out the sweetness of the peaches.
Nutmeg- Adds an earthy, nutty flavor.
Cornstarch- This is needed to thicken the fruit mixture and prevent it from becoming a soupy mess
For the Topping:
Vegan Butter-This adds a delicious richness to the cobbler topping. Look for vegan butter made with plant-based oils like coconut, avocado, or olive oil.
Sugar- Adds the perfect amount of sweetness.
Vanilla Extract- Use a dash of this sweet and fragrant extract to enhance the flavor of the cobbler further.
Salt- A pinch of salt helps balance the cobbler's sweetness.
Almond Milk- Helps to create a light, fluffy texture in the vegan cobbler topping.
Flour- A pantry staple is a must for any pastry dough. Use organic white flour for best results; it contains fewer pesticides and has a lighter texture than whole wheat or other types.
Baking Powder- This leavening agent gives the cobbler dough its lift! Be sure to use an aluminum-free variety.
How To Make Vegan Peach Cobbler
Vegan peach cobbler is a delicious treat that everyone can enjoy! With its flaky, buttery topping and sweet fruit filling, it's sure to be a crowd-pleaser, and making it at home is easier than you'd think!
Start by preheating your oven to 350°F and lightly grease a baking dish.
To make the peach cobbler, toss the sliced peaches, sugar, cinnamon, nutmeg, and cornstarch together in a large bowl. Pour it into an oven-safe greased baking dish and spread evenly.
In a medium bowl, beat the vegan butter, sugar, vanilla extract, salt, and almond milk. Next, fold in the flour and baking powder until you have a smooth batter. Finally, spread this mixture over the peach topping.
Bake in preheated oven for 30-35 minutes or until golden brown on top and bubbling around the edges.
Allow the peach cobbler to cool completely before serving. Enjoy!
How To Serve Peach Cobbler
Vegan peach cobbler is best served warm with a scoop (or two) of vegan ice cream or vegan whipped cream. It can also be enjoyed at room temperature, making it an ideal make-ahead dessert for any gathering.
For a special occasion, consider preparing individual servings by dividing the peach cobbler into ramekins before baking. You can also add a layer of crunch to the topping by sprinkling over some chopped nuts or granola before baking.
No matter how you serve it, I'm sure you'll love this vegan peach cobbler recipe!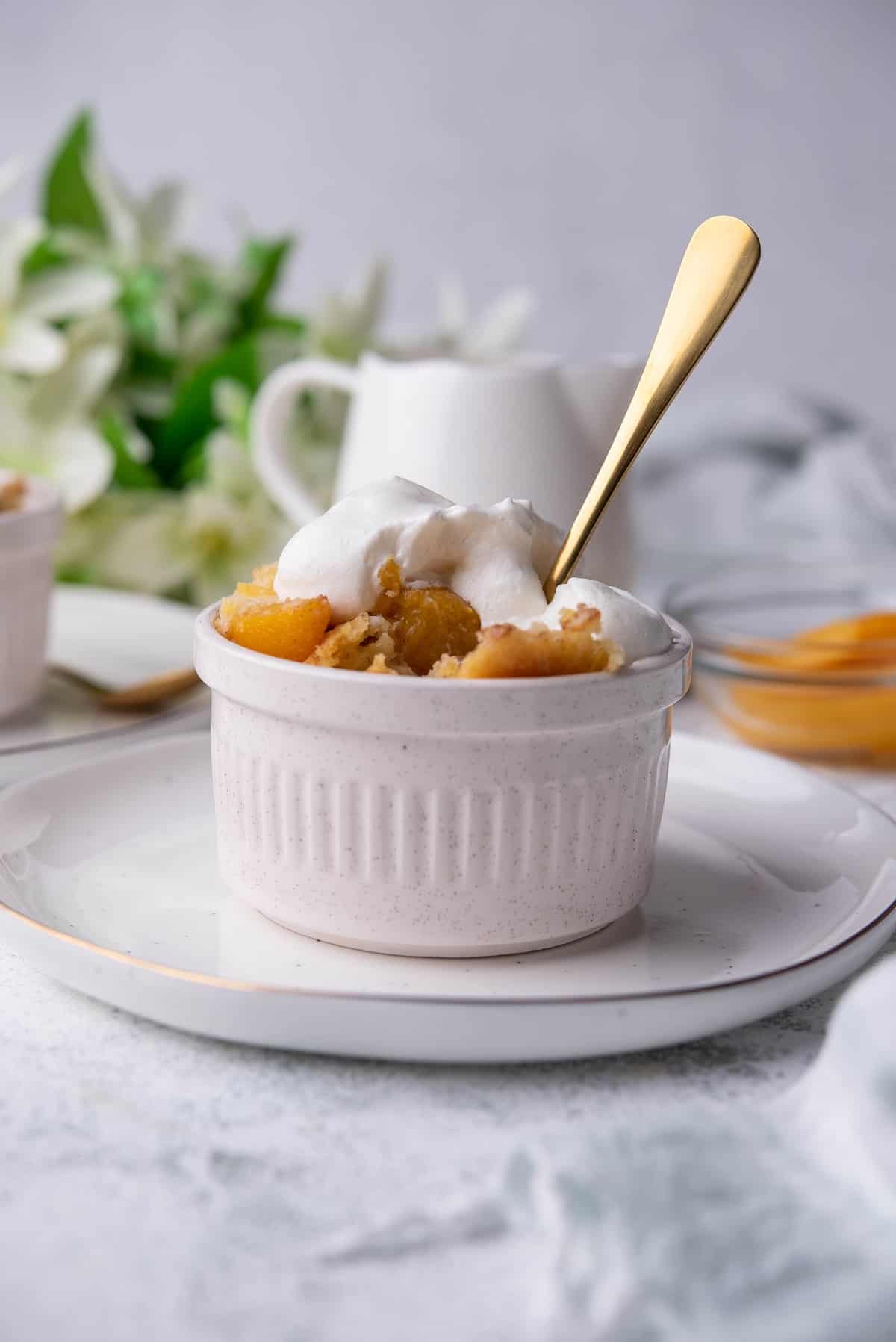 Popular Substitutions & Additions
Feel free to customize this vegan peach cobbler recipe to your preference. Here are a few ideas:
• Use other fresh or frozen fruit such as berries, apples, pears, or pineapple instead of peaches.
• Add a handful of chopped nuts for crunch and texture.
• For extra sweetness, stir some vegan chocolate chips or white chocolate chips into the cobbler before baking.
• For a healthy twist, replace some of the sugar with coconut sugar or maple syrup.
• Make it gluten-free by swapping out the flour for an almond meal or gluten-free flour blend.
• Sprinkle over vegan streusel or crumble topping for added crunch and flavor.
Enjoy! I hope this vegan peach cobbler recipe becomes a favorite in your household!
Can You Freeze Vegan Peach Cobbler?
Yes! After baking, allow the peach cobbler to cool completely before transferring it to a freezer-safe container or bag. Freeze for up to 3 months. To thaw, transfer the frozen cobbler to your refrigerator overnight and reheat it in the oven at 350°F for about 10 minutes.
FAQs
Can I make this vegan peach cobbler ahead of time?
Yes, you can prepare the cobbler up to 24 hours in advance and keep it refrigerated until ready to bake. You can also freeze the unbaked cobbler for up to 3 months. Be sure to let it thaw completely before baking.
What's the best way to store leftover peach cobbler?
Transfer any leftovers to an airtight container and refrigerate for 2-3 days. Reheat in the oven at 350°F for about 10 minutes.
Can I use frozen peaches in this recipe?
Yes, you can use frozen peaches in place of fresh peaches. Allow the frozen peaches to thaw entirely before using them. Alternatively, you can also use canned peaches. Make sure the canned peaches are packed in water or juice, not syrup, as the syrup will make the cobbler too sweet.
Is it necessary to use baking powder in this recipe?
Yes, the baking powder helps to create a light and fluffy topping for the cobbler. Without it, the topping may turn out dense or heavy.
Do I have to use almond milk in this peach cobbler recipe?
No. Any dairy-free milk will work in this recipe, such as soy milk, cashew milk, or oat milk.
📋 Recipe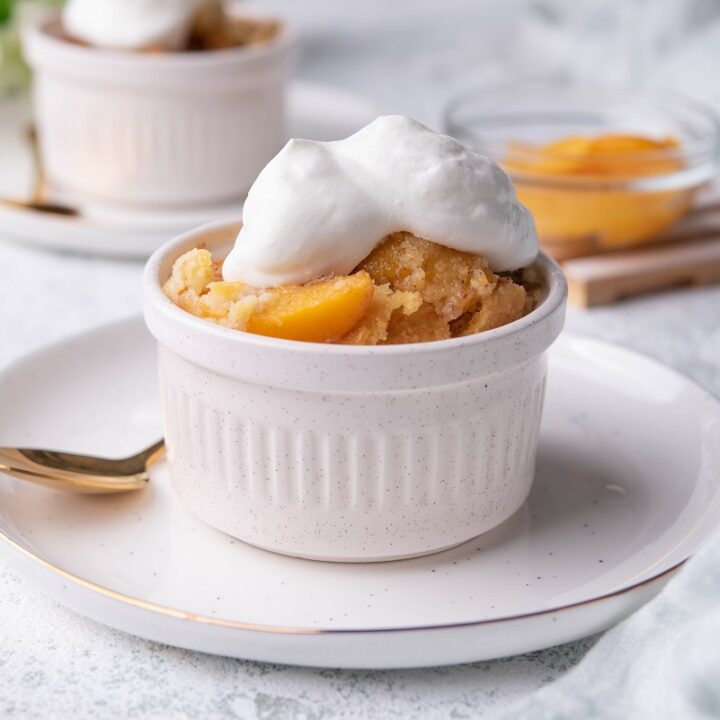 The Best Vegan Peach Cobbler
Freshly sliced peaches are tossed with sugar and spices, then topped with a sweet golden pastry topping for an irresistible cobbler that will be loved by all.
Ingredients
For the cobbler
4

cups

sliced peaches

fresh, or packed in water

2

tbsp

sugar

1

tsp

cinnamon

¼

tsp

nutmeg

1

tbsp

cornstarch
For the topping
½

cup

Vegan butter

½

cup

sugar

1

tsp

vanilla extract

¼

tsp

salt

1

tbsp

almond milk

1

cup

flour

1

tsp

baking powder
Instructions
Make the filling; combine peaches, sugar, cinnamon, nutmeg, sugar, and cornstarch in a bowl.

Transfer the mixture to a lightly greased baking dish.

Make the topping; in a bowl, beat butter, sugar, milk, vanilla, and salt. Fold in flour and baking powder. Stir until you have a smooth batter. Spread the batter over the peaches.

Bake the cobbler for 35 minutes.

Cool completely before serving.

Serve with some whipped coconut cream or Vegan vanilla ice cream.
Nutrition
Calories:
488
kcal
Carbohydrates:
65
g
Protein:
4
g
Fat:
24
g
Saturated Fat:
9
g
Polyunsaturated Fat:
5
g
Monounsaturated Fat:
8
g
Trans Fat:
0.1
g
Sodium:
337
mg
Potassium:
148
mg
Fiber:
4
g
Sugar:
35
g
Vitamin A:
1095
IU
Vitamin C:
0.5
mg
Calcium:
64
mg
Iron:
2
mg