Vegan Overnight Oats made with Pumpkin seeds (pepitas), maple syrup and matcha offer the best of all worlds. Fast, delicious, healthy and abundant.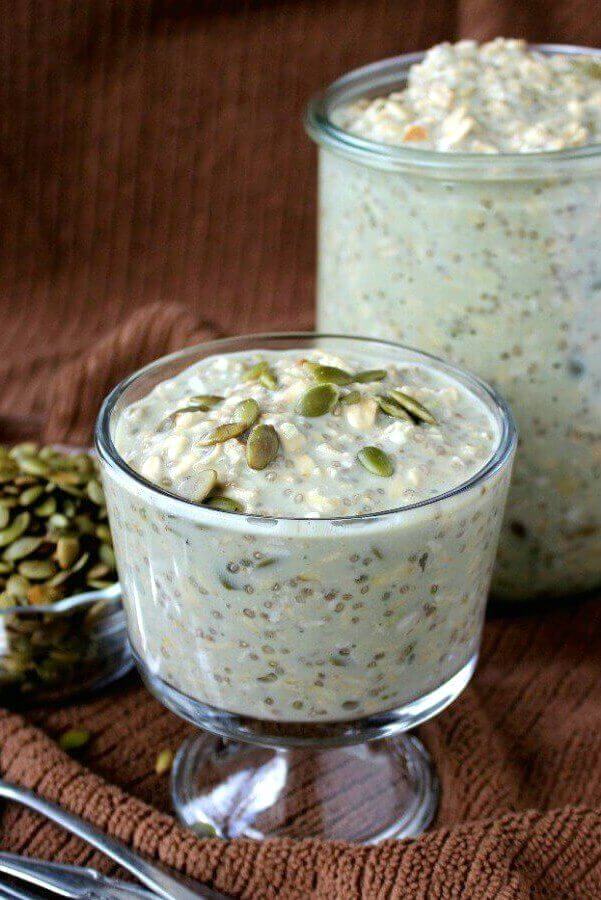 I have been having fun with a new cookbook called The Healthy Matcha Cookbook by Miryam Quinn-Doblas.
If you haven't run across matcha yet it is green tea in powder form that you use in your recipes.
It's a powerful antioxidant and the health benefits exceed that of green tea. And you know how good that is for you!
From the looks of this cookbook, there are endless opportunities to incorporate matcha into your meals. I really only knew how to put it in my smoothies so I am very grateful for Miryam's work.
There are 59 recipes and each has a color photo. All the bases are covered from energizing breakfasts onto healthy snacks into lean green meals and finally decadent desserts.
Easy to follow instructions make for many happy meals for the future.
The fudge was not only delicious but beautiful too with the soft green shade of matcha.
There is also a lovely Asian Quinoa Salad that was a perfect lunch when we had company over one day.
A Few Recipes inside the Cookbook:
There are over 60 recipes that show you how to incorporate matcha powder into every type of meal.
MATCHA ENERGY BARS
KALE AND HOT PEPPER GRILLED CHEESE
AVOCADO AND EGGS ON FLATBREAD
QUINOA BURGERS WITH MATCH HABANERO MAYO
CURRIED COCONUT BROCCOLI SOUP
ASIAN CABBAGE SALAD
This post contains affiliate links. Read my disclosure policy here.
Finally, I made my decision on what I wanted to make for you. It is the Vegan Overnight Oats. Believe it or not, I had never made them before and the ingredients were some of my favorites.
So this was a great opportunity to see how overnight oats really work.
Everything goes in a bowl and then into the refrigerator to set overnight. In the morning you have a fabulously delicious and healthy breakfast, warm or cold.
My new favorite thing in the world. Check it out!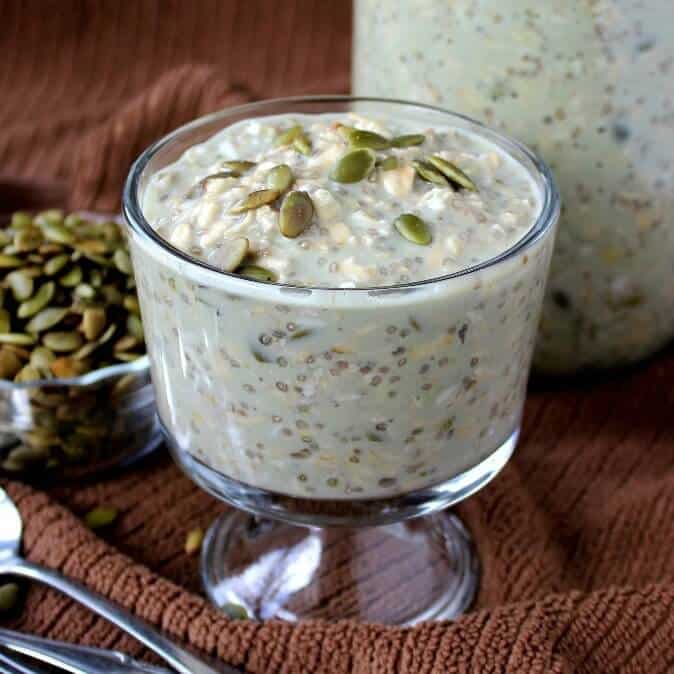 Vegan Overnight Oats
Vegan Overnight Oats made with Pumpkin seeds (pepitas), maple syrup and matcha.
Ingredients
6

cups

almond milk

4

cups

rolled oats

¼

cup

maple syrup

¼

cup

chia seeds

¼

cup

shredded coconut

unsweetened

¼

cup

pumpkin seeds

1

teaspoon

matcha powder
Instructions
In a large bowl, add all the ingredients and mix thoroughly. If you noticed the mixture is too dry, add more milk, as the rolled oats and chia seeds will absorb some of the milk overnight.

Place mixture in the refrigerator overnight.

Serve the next morning with some extra nuts and milk, if desired.
Nutrition
Serving:
1
Serving
Calories:
173
kcal
Carbohydrates:
25
g
Protein:
5
g
Fat:
5
g
Saturated Fat:
1
g
Sodium:
170
mg
Potassium:
144
mg
Fiber:
4
g
Sugar:
5
g
Vitamin A:
15
IU
Calcium:
194
mg
Iron:
1.6
mg
Miryam's Note:
You can serve these oats cold or warm. I like mine lukewarm so I warm my serving for about a minute in the microwave. I also tend to add more unsweetened coconut chips for some crunch.
Besides comprehensive information about the history and benefits of matcha, there is also a 2 week meal plan.
This overnight oats recipe keeps many days in the refrigerator. About 4-5 days!
EatGood4Life is Miryam's blog so you might want to head over there and read her about page. She has a very interesting background along with adorable children and style in the kitchen.
Don't forget to get the nitty gritty of her hardbound cookbook and ebooks either from the Cookbook's Page.