Vegan Nachos is a fabulous array of ingredients that are dotted with creamy vegan nacho cheese. Make your homemade cheese, be a sous chef and sprinkle the fresh veggies in layers for a perfect appetizer, lunch or dinner.
Nachos have been around a long time and I think the first time I remember buying them was from a corner food shack on 15th street in Newport Beach.
That was a long time ago and the memories are still there. Well, we've come a long way baby and now we can even make them vegan including the vegan nacho cheese.
Also, now you can also load them up as much as you like. This recipe has all of the best fresh veggies that mix perfectly together and give you that spicy kick.
You eat them cold just as if you were sitting at the beach or on a picnic or in your back yard. You can still heat them up with no problem but they are great as is.
Jump to:
The vegan nacho cheese is soft and does not get hard. It's more like a creamy cheese dip that tastes so very good with this recipe.
There is even a tempeh option if you'd like to add some extra protein. The black beans already have lots of protein but tempeh will take it over the top.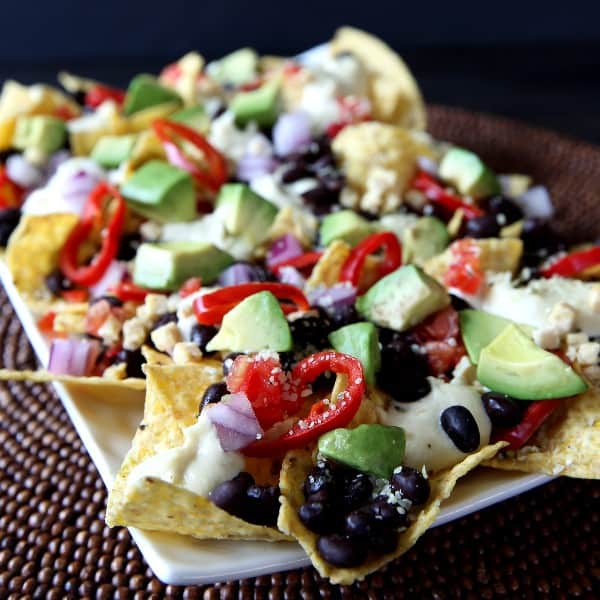 FAQ's
How should the vegetables be prepared?
Fresh and uncooked and both make a great combination.

Cut all of your vegetables thin and small. That makes for easy sprinkling and you can get a lot of different flavors in one scoop and one bite.

If you can find hot chili peppers to slice that is ideal. Jalapeño peppers are classic too and they will be green in color.

I couldn't find either this week so I sliced mini red bells very thin and sprinkled on some red chili pepper seeds to add the heat.
Here are a couple of pictures that show my techniques for cutting onion very small and slicing peppers very thin.
How to chop an onion & pepper
This is a nice safe way to deal with onions. Slice in half from end to end then lay down flat to make thin slices. Now cut straight across the slices and make diagonal cuts through the very center.
The thin cross slices just fall apart from the natural grooves of the onion and the diagonal pieces become very small too.
The mini peppers or chili are cut thinly crosswise with their seeds taken out. In the photo, the pepper seeds are discarded but since they aren't hot I am also using dried red hot chili pepper seeds for sprinkling.
Below is a visual of the rinsed black beans and small diced vegetables, tempeh, and raw hemp hearts.
Vegan nachos ingredients
How to make vegan nacho cheese
There may be a few store-bought nacho 'cheese' packages now but the only one I can think of is Daiya's. I haven't tried it yet but have no fear! There's a homemade recipe right here on this page.
It's pretty simple and the pictures show it even more clearly.
In fact, there are so many delicious flavors I even make it a general practice to just dot the cheese around at strategic spots. You don't need it everywhere.
What goes with vegan nachos
If you're planning a party, cookout or any old get-together there are a lot of great dishes that would go perfectly with nachos.
Let's start with a drink. In fact, let's start with two different kinds of drinks. A nice cold Michelada is great for a starter and this Silver Cadillac Margarita is a delicious companion.
Pile these Vegan Rice and Beef Burritos high because they are as easy to handle as they are to eat.
A pickled veggie would be a great foil too. These Mildly Marinated Cauliflower Bites aren't too tart.
How about a sweet treat for dessert. You don't have to be getting married to enjoy these Mexican Wedding Cookies.
Now that looks like a nice well-rounded party!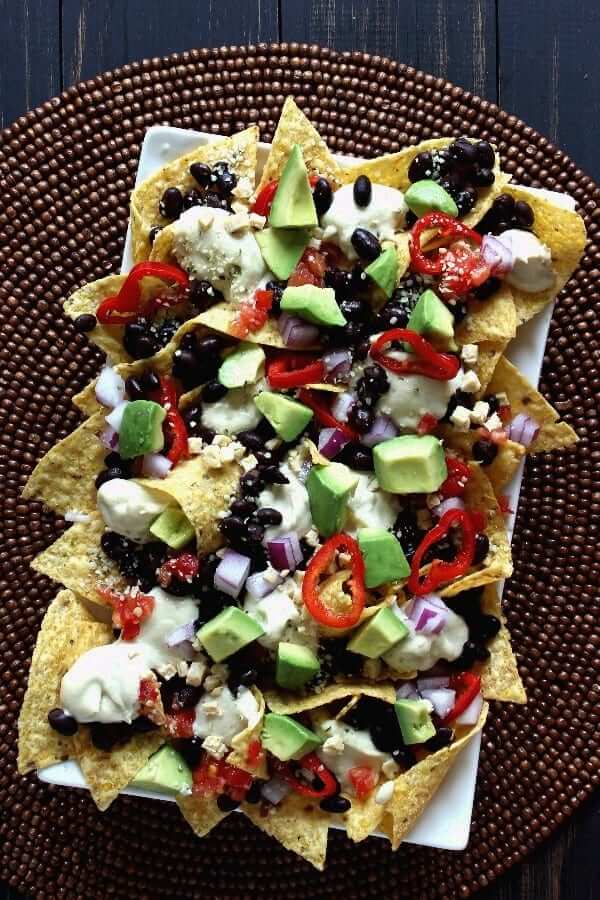 📋 Recipe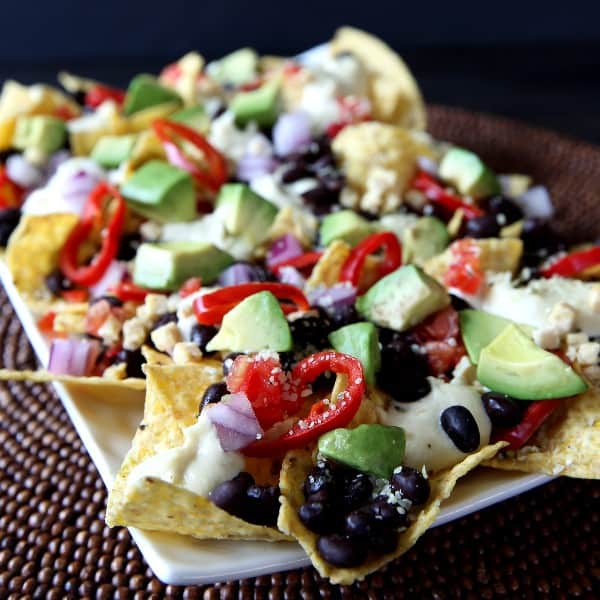 Vegan Nachos
Vegan Nachos is a fabulous array of ingredients that are dotted with creamy vegan nacho cheese.
Ingredients
14

ounces

package tortilla chips

- you can use a 10 to 18 ounce package for this recipe

14

ounces

can black beans

- drained and rinsed

8

ounces

tempeh

- diced very small

½

cup

onion

- red onion, diced

1

hot chili pepper

- sliced thin crosswise

¼

cup

Roma tomato

- diced small

2

tablespoons

hempseed

- raw shelled

1

cup

or 1 avocado

- diced

1

tablespoon

lime juice - from one lime
Cashew Nacho Cheese:
¾

cup

raw cashews - soaked from 2 hours to overnight

½

cup

water to be added to the mix when blended

1

tablespoon

nutritional yeast

2

teaspoons

tapioca starch

- or tapioca flour, they're the same thing

½

teaspoon

garlic powder

½

teaspoon

2

teaspoons

lemon juice - fresh juice
Instructions
Cashew Cheese:
Cover the cashews with water and soak rom two hours to overnight. Drain.

Add all of the ingredients to a blender and blend until smooth. Turn this blended mixture into a saucepan.

Cook on medium heat and stir until the sauce thickens a bit. It will take about 5 minutes. Take off the heat to cool.
Nacho Assembly:
Lay all the chips on a platter. Sprinkle black beans, tomato, pepper, and tempeh (if used) over the chips.

Dot with cashew cream. Sprinkle on red onion, chili pepper and raw hempseed.

Dredge the avocado in lime juice. Sprinkle diced avocado over the nachos.
Nutrition
Serving:
1
Serving
Calories:
772
kcal
Carbohydrates:
82
g
Protein:
27
g
Fat:
34
g
Saturated Fat:
3
g
Sodium:
332
mg
Potassium:
1100
mg
Fiber:
18
g
Sugar:
4
g
Vitamin A:
235
IU
Vitamin C:
22.5
mg
Calcium:
286
mg
Iron:
9
mg