Whether you stick to a vegan diet, avoid honey for allergy reasons, or simply don't enjoy the taste, surely there has been a time or two where you needed to replace this sweet ingredient in a recipe. Sometimes making ingredient swaps is a rather complex issue (ahem, vegan egg substitutes!) but the good news of the day is that there are actually plenty of vegan liquid sweeteners out there, many of which can easily fill the void left by an absence of honey.
We've gathered together our top 10 favorite vegan honey alternatives, so get your tea ready because you are just moments away from discovering your new favorite vegan honey substitute!
Honey Basics
Since you've ended up here, you're probably already well aware that honey is unfortunately not a vegan product. Bees produce honey as a food source for themselves and their young to survive winters and other times of food scarcity. The honey they make is not only full of energy to keep the hive going, but it contains natural antibiotics and amino acids to keep the bees' immune systems strong.
Therefore, the harvest (even if it is replaced with an alternative food source) and consumption of this product by humans is often detrimental to the hives themselves, especially when done so in an irresponsible or unsustainable way. As you can see, having alternatives to honey is key for keeping the population of one of the world's most prolific pollinators healthy and strong!
What Does Honey Taste Like?
Honey is a natural sweetener which, of course, is plenty sweet, but that's not all it brings to the table. It also typically features flavor notes that may be floral, fruity, grassy, or vegetal. As each hive has access to nectar from its own set of nearby plants and flowers, there is a great deal of room for variation from one honey to the next.
Even within the same hive, dramatically different honeys will be produced from year to year or depending on the season. Some batches of honey are light in color and flavor, while others are dark amber, rich, and flora-forward.
10 Best Vegan Substitutes for Honey
With this much natural variation afoot, it is tough to nail down a product which can speak to all of the nuances that honey has to offer. Nevertheless, there are some wonderful products which can act as a vegan substitute for honey--whether you are looking for something to sweeten your chamomile tea, satisfy your sweet tooth in baked goods and desserts, or deliver a punch of richness to your salad dressings and savory dishes.
Our top 10 favorite honey substitutes are:
Agave Nectar
Vegan "Honey" Products
Maple Syrup
Brown Rice Syrup
Corn Syrup
Granulated Sugar
Barley Malt Syrup
Molasses
Date Syrup
Coconut Nectar
As always, be sure to check the ingredients label of your chosen honey substitute to verify that there are no unexpected non-vegan ingredients. These days, blended sweeteners are common, and you may think you're picking up a honey substitute which may in fact have honey in it, among other things! It always pays to read the packaging carefully and look for a "certified vegan" mark.
1. Agave Nectar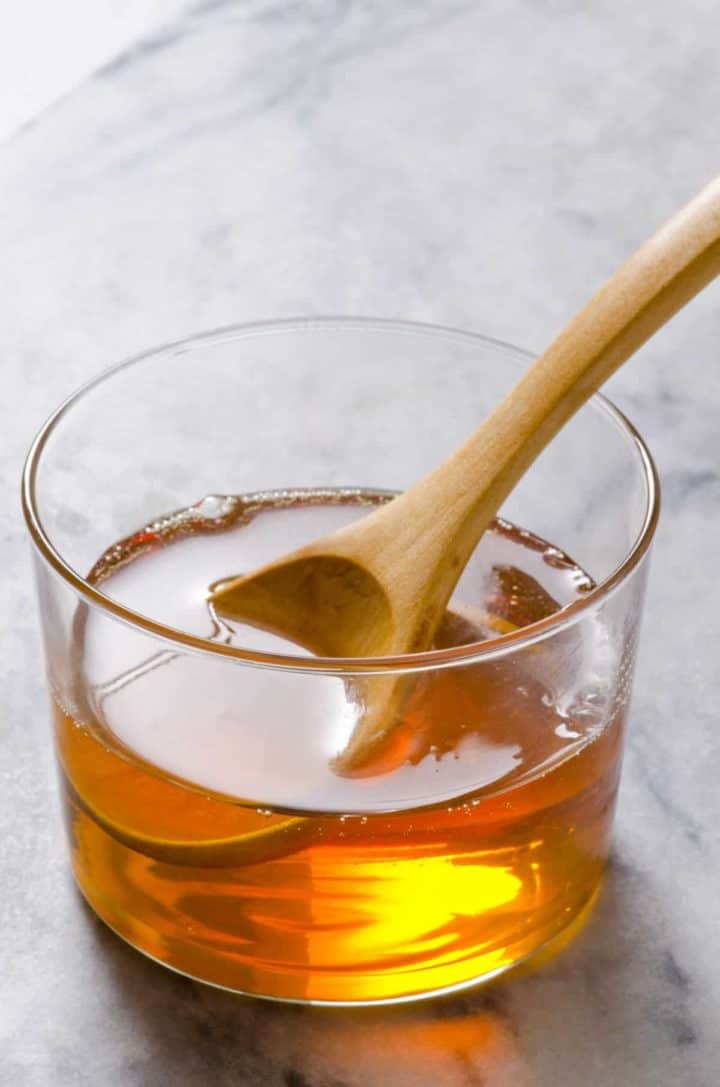 Also known as agave syrup, this sweetener is made from the sap of the blue agave plant, a prickly looking plant whose hardy nature allows it to thrive in desert conditions. You may have heard of this plant before, as those same sugars which produce agave nectar are also fermented and used to make tequila!
While agave nectar tastes more neutral and less floral than most honey, it does rank right at the top of our list of vegan honey substitutes in terms of texture and flavor. The consistency of agave syrup is just about the same as honey--albeit slightly runnier--and the taste can range from plain and sweet to grassy or caramelly. There are a few different varieties of agave nectar: light agave, amber agave, dark agave, and raw agave. As you might expect, light agave is the most neutral while dark agave is most intense and flavorful.
How to Substitute:
Generally speaking, you can use a 1:1 ratio, substituting the amount of honey your recipe calls for with an equal amount of agave nectar. If you have dark agave, you may want to use slightly less due to its strong flavor.
2. Vegan "Honey" Products
Vegan honey products may have been relatively unknown until a little company known as "Bee Free Honee" went on the hit TV show Shark Tank with their vegan honey product. It was an accident resulting from a failed apple jelly experiment, but it paved the way for other vegan "honeys" to follow suit.
Since then, Bee Free has shuttered operations, but a number of other vegan honey products are now widely available. Some are made from apple juice, while others are made using monk fruit (a very sweet fruit native to China), allulose (a sugar which is unable to be metabolized by the human system), or other naturally occurring sweet ingredients. Some of these products are even keto-friendly and may feature an especially low glycemic index, which is important for diabetics and other folks who keep a close eye on their blood sugar.
How to Substitute:
Start with a 2:1 ratio, substituting the amount of honey your recipe calls for with just half the amount of vegan honey. Taste carefully as you go though, as some of these products are super sweet, while others may contain ingredients such as fresh lemon juice that could take over the flavor profile of your dish.
3. Maple Syrup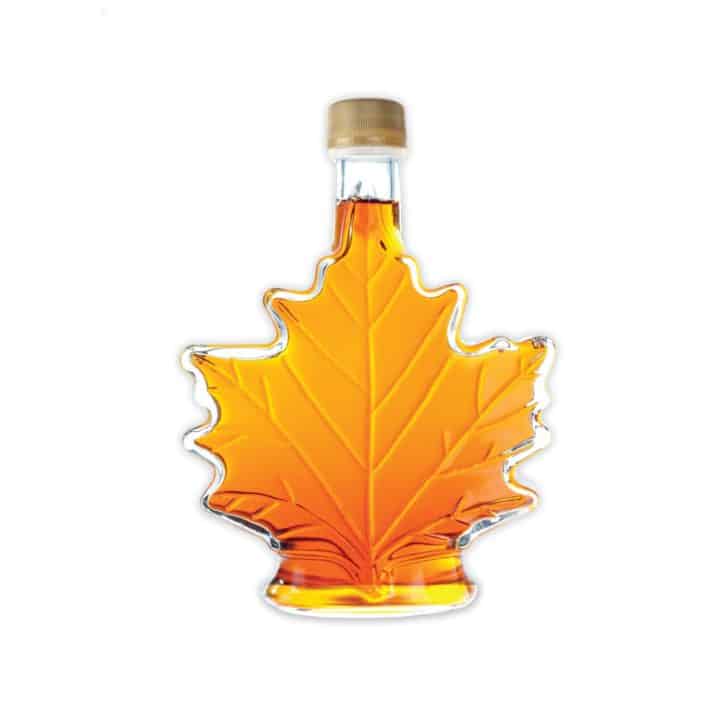 Just as agave is produced from the sap of the agave plant, maple syrup is produced by the sap of the sugar maple tree! And, just like the color and flavor of honey can vary depending on region and season, pure maple syrup can vary in characteristics as well, ranging from transparent amber all the way to a deep viscous black. These differences depend on ambient temperature and the amount of direct sunlight the maple trees receive, as well as how long the sap boiled for.
The important thing to note about maple syrup is that it definitely comes with a distinguishable maple flavor which is typically quite detectable and vastly different from that of honey. Despite this difference, the sweet taste and syrupy texture of real maple syrup is perfect for replacing honey in most situations!
How to Substitute:
Nice and easy 1:1 ratio here! Replace any amount of honey with an equal amount of maple syrup.
4. Brown Rice Syrup
You may not be as familiar with this particular ingredient, but the truth is you have most likely encountered brown rice syrup in a range of prepared food items such as pastries, muffins, granola bars, and breakfast cereals. Also known more simply as rice syrup or rice malt, brown rice syrup starts with starch-rich brown rice. The rice is taken through a special cooking process which, thanks to the help of enzymes, converts the rice starches into liquid sugar. This liquid sugar is then cooked down and reduced, producing a lightly golden, sweet syrup.
The taste of brown rice syrup is less sweet than plain sugar or honey, therefore you may need to use a bit more of it to attain the same level of sweetness. Rice syrup will also impart a bit of a toasty, nutty flavor due to the fact it is a product of a cooked grain.
How to Substitute:
Since brown rice syrup is less sweet than honey, you probably need a 1:2 ratio here. For any amount of honey called for in a recipe, add twice as much brown rice syrup.
5. Corn Syrup
We know we know, corn syrup has been labeled as the enemy for quite some time now. Rest assured though, corn syrup can be a great and useful product to use, especially when seeking a vegan substitute for honey! Made from real corn, this sweet syrup is made by converting the natural starches in the grains to sugar, and then liquifying and reducing the product.
Light corn syrup is typically completely clear and often lightly flavored with vanilla extract, while dark corn syrup has molasses added to it. Either of these will make a perfect vegan substitute for honey. High fructose corn syrup, on the other hand, contains added fructose in addition to the naturally occurring glucose, thereby making it extremely sweet. This sweetener is only available on a commercial scale though, so no need to worry about accidentally picking this one up in your local supermarket.
How to Substitute:
For light corn syrup, use a 1:1 ratio. If you happen to be using dark corn syrup as a substitute, you may want to use a bit less in order to compensate for the stronger flavor: try using just ½ to ¾ the amount of honey called for.
6. Granulated Sugar
Not surprisingly, you can easily use sugar to replace honey in a recipe! It won't behave quite the same as other liquid sweetener options, but it will add sweetness and plenty of flavor to your recipe depending on which sugar you reach for.
You want to be careful when selecting any type of refined sugar--including both white sugar and refined brown sugar--as frequently these types of products rely on an animal product called "bone char" to refine the sugar. Instead, opt for raw sugar or any type of sugar which bears an organic certification, as these are sure to prohibit the use of bone char during processing.
How to Substitute:
Honey is a bit sweeter than regular sugar, so start with a 1:1 ratio, then add a bit more if you feel like your dish isn't quite decadent enough!
7. Barley Malt Syrup
In order to make barley malt syrup, sprouted barley grains are dried and then cooked slowly until a darkly colored, richly flavored, thick syrup results. The mixture is then strained and the malt syrup is used in baked goods and is also a key component when brewing beer.
While not quite as sweet as honey, the flavor of barley malt syrup is much stronger as the malting process results in a characteristic roasted yet subtly bitter flavor that can easily take over in a recipe if you're not careful. Therefore, this substitute is best used in dishes such as richly flavored breads, muffins and cakes, or as a glaze on vegetables. It's also worth noting that barley malt syrup--and other malted products for that matter--is not gluten free.
How to Substitute:
Start with a 2:1 ratio, replacing the amount of honey your recipe calls for with just half as much barley malt syrup in order to ensure the malty flavor doesn't consume your entire dish!
8. Molasses
Molasses--known for being an extremely sticky syrup--is a natural byproduct from the processing of sugar cane and sugar beets. It goes through minimal processing and is therefore full of essential nutrients such as magnesium, iron, and copper. It is less sweet than honey or other liquid sweeteners and far more assertive with its deep, smoky flavor.
Despite these differences, molasses makes a great vegan replacement for honey, especially in strongly flavored dishes such as whole grain breads and muffins, ginger cakes or cookies, and barbecue sauces. Since it is a very concentrated syrup, you may opt to thin the molasses with a bit of warm water to reach your desired consistency, thereby making it easier to work with. We recommend staying away from blackstrap molasses when making a substitute for honey as this type of molasses is boiled even longer and has a bitter, almost salty taste.
How to Substitute:
Use a 2:1 ratio, replacing the amount of honey your recipe calls for with just half the amount of molasses.
9. Date Syrup
Also known as date paste, date nectar, and date honey, date syrup seems like a newcomer in grocery stores and on supermarket shelves. The fact is though, this sweet syrup has actually been around for thousands of years! It's no secret that dates are inherently sweet, therefore it only makes sense that there should be a way to get all of this sweetness into liquid form. To be turned into nectar, whole dates are first cooked in hot water before being blended and strained. This thick liquid is then simmered to remove excess moisture and the result is a thick and concentrated syrup.
The flavor of date syrup is rich and caramel-like, with a bit of fruity sweetness as well. Out of all of the liquid sweetener options, date syrup is one of the least processed, meaning this syrup retains plenty of the goodness found in the whole dates themselves such as minerals like potassium and magnesium as well as natural antioxidants. It's not quite as sweet as honey, but it still boasts a significant amount of flavor.
How to Substitute:
Go with a 1:1 ratio, just replace the amount of honey your recipe calls for with an equal amount of date syrup!
10. Coconut Nectar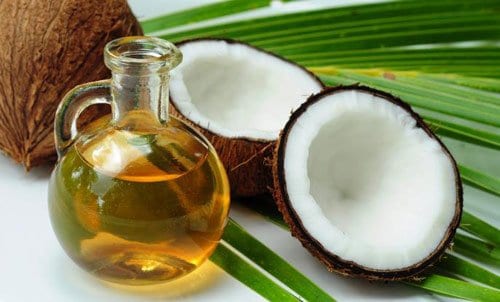 You already know that the coconut palm is a valuable source of healthy fats, protein, and electrolytes in the form of coconut oil, coconut meat, and coconut water respectively, but did you know that this plant produces a wonderful natural sweetener as well? Coconut nectar is the extracted sap from the flowers of the coconut palm, the same stuff that leads to coconut sugar as well!
The sap itself is harvested, heated, and reduced until it has a syrupy consistency and lightly caramelized flavor. As you might expect, the nectar also tastes a bit nutty as well and has lightly floral notes, making it a great vegan alternative to honey since it bears plenty of complexity of its own. In addition, the texture of coconut nectar is just about identical to that of most honeys.
How to Substitute:
Use a 1:1 ratio, replacing the honey in your recipe with an equal quantity of coconut nectar.
Best Vegan Substitute for Honey: The Bottom Line
As you can see, there's no need to suffer with a not-sweet-enough recipe ever again! If you are making a recipe that calls for honey, you have many great options to choose from which will seamlessly blend into the texture and flavor profile of your dish. Agave nectar and maple syrup are two of the best and most readily available options while less ubiquitous sweeteners like brown rice syrup and coconut nectar make for wonderful alternatives as well.
The most important thing to keep tabs on when substituting sweeteners in a recipe is the overall sugar content. If using a vegan honey substitute that is sweeter than honey, use less of it or reduce the other sugar-containing ingredients. You can always add more if needed!