Vegan Coffee Cake with Apple Cinnamon Streusel has a nice thick layer of fruity streusel topping. Perfect in the morning or as a sweet afternoon snack. Moist coffee cake that's easy to make.
Coffee cake all started so that you could have a sweet that went perfectly with coffee. It could also be flavored with a bit of coffee. Either way, it has always been a little bit of a heavier cake in texture.
Word has it that coffee cake comes from Germany and has been around since the late 1800s. That's over a hundred years, so you know it's got to be a keeper.
Coffee had been popular another hundred years before that. In fact, after the Boston Tea Party of 1773, it was sort of a patriotic duty to drink coffee instead of tea. So, thank you, Germany for a delicious addition.
It's a perfect treat to pair with coffee and to take your time and relax. That seems to be a morning activity but usually, one that only happens on the weekends.
Hopefully, it happens on the weekends!
Over the years, the concept has remained the same. The recipes have evolved, and this vegan coffee cake fits right in with the most classic.
It even has a little something extra. It's a thin layer of tiny bits of apple sprinkled in between the batter and streusel and is baked right in.
You are right! It goes great with coffee, too.
Now, you could always have hot tea, iced tea, or even some dairy-free milk alongside. It all works.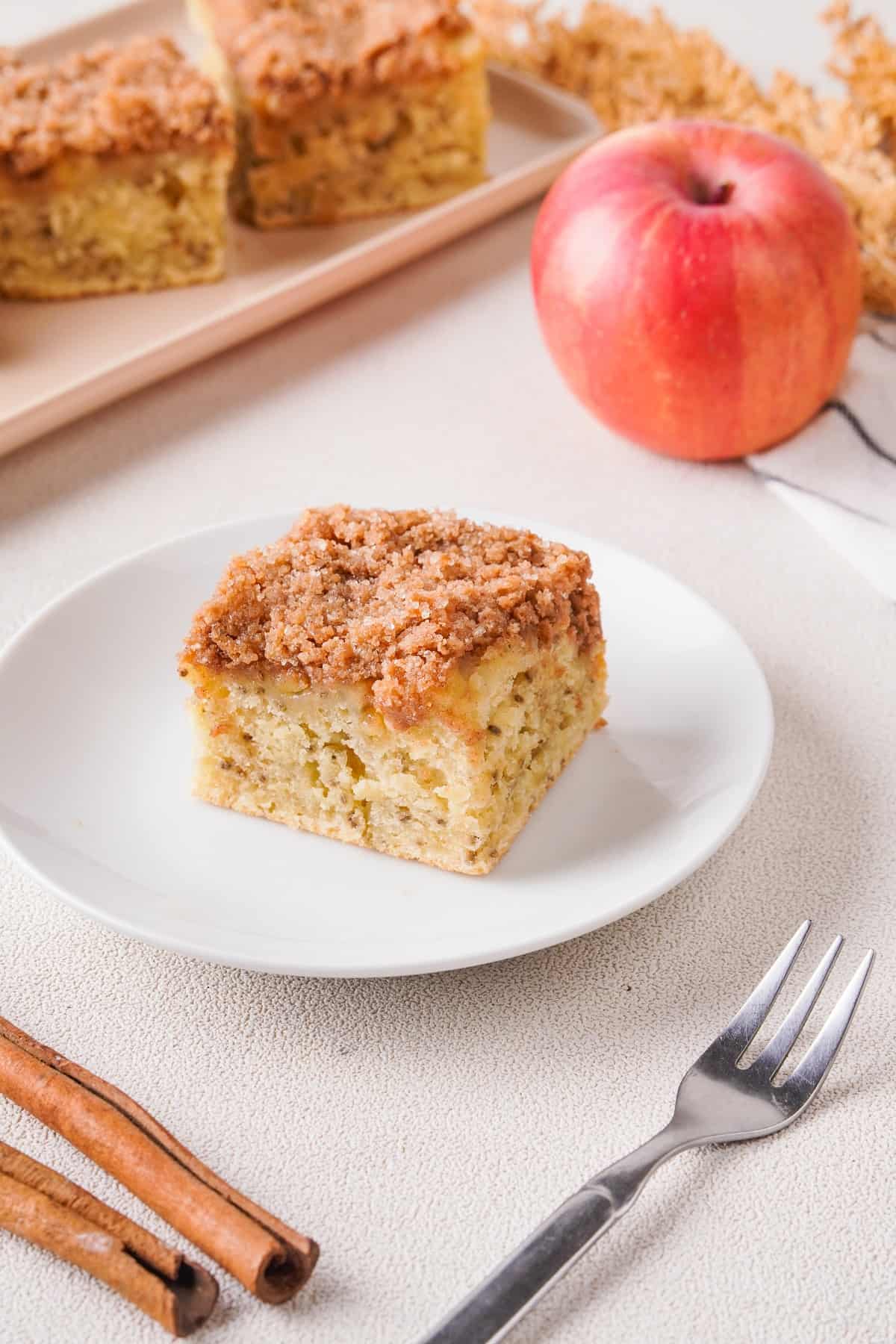 Why Use Organic Sugar?
Organic Sugar Ensures that the sugar you are using is vegan.
Regular cane sugar is filtered through bone char, so that process is out.
You can absolutely use coconut sugar. The same measurements as in the recipe, and it is delicious. The color of the cake and streusel will just be a little darker.
Truly, quite often, I use coconut sugar in my recipes. I like the flavor a lot. It's sort of a cross between maple and brown sugar.
But once in a while, I want something different for the blog. A coffee cake like this one is a whiter, more traditional cake when using organic cane sugar. Whichever one you use, the little bit of time that it took to make is going to pay off in a big way. Delicious.
What Fruit Can I Use in a Coffee Cake!
For this recipe, you can substitute many different fruits and use them in the same way as the apple pieces.
Raspberries are a classic.
No one could complain about blueberries sprinkled in as the fruit layer.
Sometimes, the fruit sinks down a bit into the batter while it cooks. That only makes the coffee cake more beautiful.
What Are Some Other Breakfast Treats That Go Well With Coffee?
Muffins! Almost any kind. Muffins tend to be heavier, and you can even use your fingers.
Quick breads are also perfect. Ones like banana bread or this Black Walnut Pear Bread.
Don't forget the donuts! Baked Maple Glazed Donuts are to die for.
I will admit that these treats aren't something that you should go for on a daily basis, but they sure are something to look forward to.
Another wonderful thing is that cakes and breads freeze really well. Not one more than the other but all of them. Even moist coffee cake.
A moist coffee cake isn't something a person thinks of when they think of coffee cake. A person tends to think on the heavier, dryer side of a cake. But as you can see from the photos this isn't mandatory.
It is absolutely achievable and has proven to be sought after since the internet has come into our lives. Moist coffee cake is a highly searched phrase; now we can have it vegan.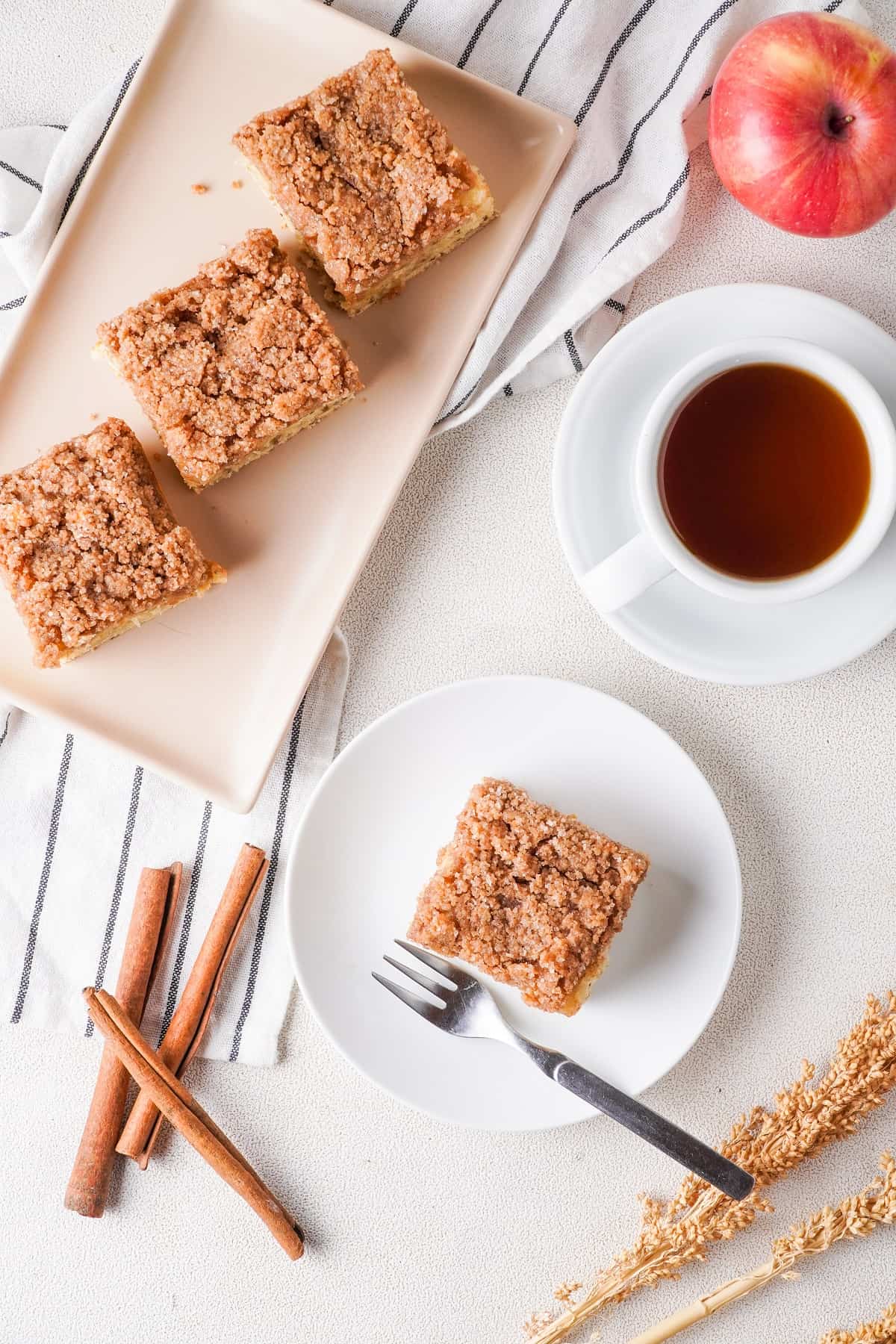 Can You Freeze Vegan Coffee Cake with Apple Cinnamon Streusel?
Perfectly!
TO FREEZE:
After the coffee cake has cooked, you can freeze it as one piece, in half, or as individual pieces.
Use freezer baggies or glass-sided freezer-proof containers. They defrost quickly, so it really doesn't take any planning.
You can keep the coffee cake frozen for up to 6 months.
📋 Recipe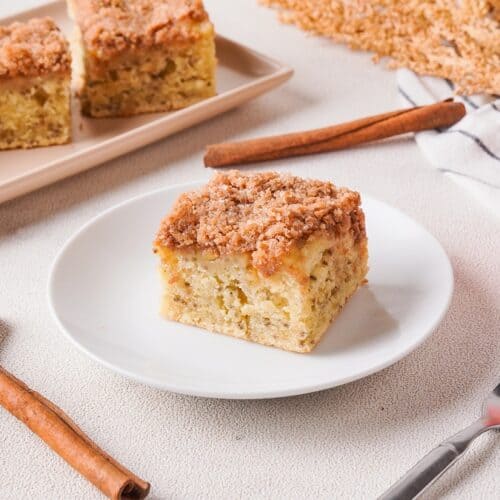 Vegan Coffee Cake with Apple Cinnamon Streusel
Vegan Coffee Cake with Apple Cinnamon Streusel has a nice thick layer of fruity streusel topping.
Ingredients
For the Topping:
½

cup

organic granulated sugar

½

cup

all-purpose flour

1 ½

teaspoons

ground cinnamon

¼

cup

dairy free butter, softened
For the Cake:
1

tablespoon

chia seed meal or flax seed meal mixed with 3 tablespoons water

2

cups

all-purpose flour

½

cup

organic granulated sugar

2

teaspoons

baking powder

½

teaspoon

salt

¾

cup

dairy free milk

¼

cup

dairy free butter, melted

1

teaspoon

vanilla extract
Apple Layer:
1 ½

cups

apple, diced very small, you could also grate it
Instructions
Preheat oven to 375°F, Lightly oil or butter a 9" square baking pan.

Place the four streusel ingredients into a bowl and mash together with the back of as fork. You should leave it a little lumpy.

Mix the chia seed or flax seed meal together with the water and set aside to gel.

To a large bowl add the flour, sugar, baking powder, salt, dairy free butter and milk, vanilla, and chia seed mixture. Mix until well combined.

Pour into the prepared pan and spread evenly.

Prepare the apple, peeled and grated or diced. This is done at the last minute to keep the apple from turning brown.

Sprinkle the apple evenly over the batter mixture.

Evenly spread the streusel mixture over the top of the apple.

Bake at 375° for 40 to 45 minutes or until a toothpick comes out clean after inserting in the center of the cake. Remove from oven and let cool for 10 minutes.
Nutrition
Serving:
1
Serving
Calories:
366
kcal
Carbohydrates:
65
g
Protein:
4
g
Fat:
8
g
Saturated Fat:
1
g
Sodium:
239
mg
Potassium:
199
mg
Fiber:
2
g
Sugar:
33
g
Vitamin A:
550
IU
Vitamin C:
1.1
mg
Calcium:
72
mg
Iron:
2.1
mg